Forex Chief is an online foreign exchange broker that offers leveraged trading as high as 1:1000 on FX pairs and CFD's, including metals, cash indices, and even cryptocurrencies. Primarily based in Vanuatu, the company is licensed & regulated by the Vanuatu Financial Services Commission (VFSC), with additional branches located in Switzerland, Singapore, and Nigeria. The broker features account types that are modeled after Cent accounts and Standard account types and allows traders to choose from separate pricing models and trading platforms. If you're interested in making an investment, you'll want to continue reading our detailed review.
Account Types
Forex Chief features four separate live account types: DirectFX, Classic+, DirectFX Cent, and Classic Cent. All accounts are available in MT4/MT5 versions. Each platform-based version of a specific account type is identical. Islamic accounts are available for the DirectFX and Classic+ account types. Each account can be opened with a $50 minimum deposit and all four live accounts allow for maximum leverage of up to 1:1000.
The primary differences come in the form of spreads and commission costs. The DirectFX account shares the same floating spreads from 0 pips with the Cent account and both accounts pay the same commission charges. The Classic+ and Classic Cent accounts share starting spreads from 0.3 pips and neither account pays commission charges. The broker mentions that the Cent accounts are perfect for beginners or professionals that want to fine-tune and test trading robots under real market conditions.
Our research revealed that the DirectFX account is almost identical to the Cent account, while the Classic+ account shares characteristics with the Classic Cent account. The only real difference between those accounts would be the total number of positions that can be opened at one time and the fact that Cent accounts are not eligible for the broker's Welcome Bonus. We've provided all of those details below.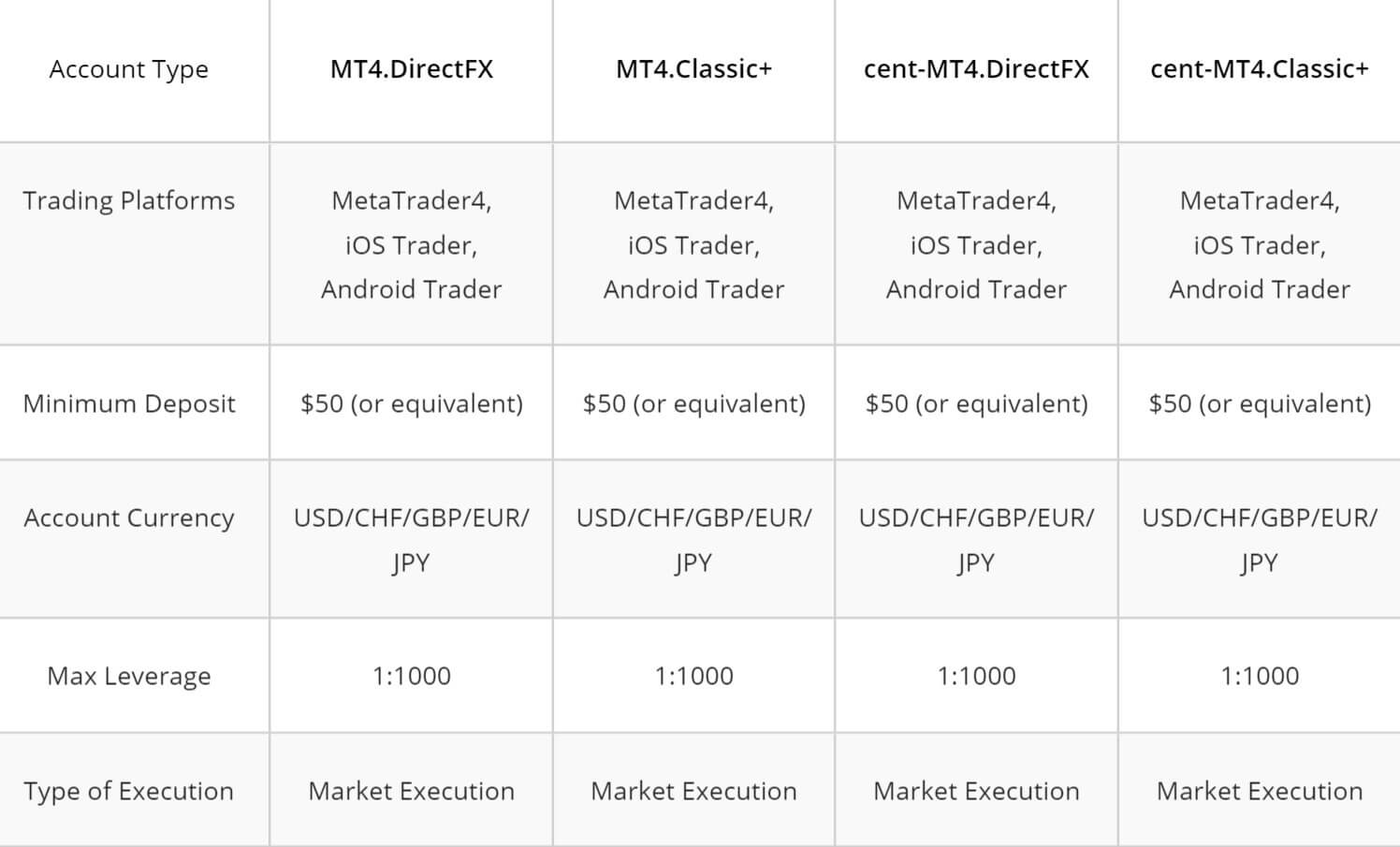 DirectFX Account (MT4 or MT5 + Islamic)
Minimum Deposit: $100 USD
Leverage: Up to 1:1000
Spread: From 0 pips (average 1.6 pips)
Minimum/Maximum Trade Sizes: 0.01/100 lots
Max. Number of open positions: Unlimited
Commission: $15 per side per 1 million USD
Classic+ Account (MT4 or MT5 + Islamic)
Minimum Deposit: $100 USD
Leverage: Up to 1:1000
Spread: From 0.3 pips (average 1.9 pips)
Minimum/Maximum Trade Sizes: 0.01/100 lots
Max. Number of open positions: Unlimited
Commission: None
DirectFX Cent Account (MT4 or MT5)
Minimum Deposit: $100 USD
Leverage: Up to 1:1000
Spread: From 0 pips (average 1.6 pips)
Minimum/Maximum Trade Sizes: 0.01/100 lots
Max. Number of open positions: 200
Commission: $15 per side per 1 million USD
Classic Cent (MT4 or MT5)
Minimum Deposit: $100 USD
Leverage: Up to 1:1000
Spread: From 0.3 pips (average 1.9 pips)
Minimum/Maximum Trade Sizes: 0.01/100 lots
Max. Number of open positions: 200
Commission: None
Platform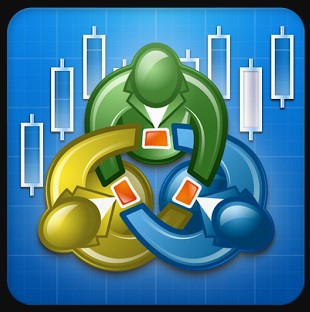 Forex Chief supports the world's favorite trading platform MetaTrader 4, alongside its popular successor MetaTrader 5. Each account is available in an MT4 or MT5 version, so traders would simply need to select the account based on the platform version they would prefer. Comparing both options is difficult since MT4 and MT5 are both powerful trading platforms that come with multiple built-in features. We suppose that it could be argued that MT5 provides more options since it comes equipped with 21 timeframes, vs MT4's 9 timeframes, plus 8 more technical indicators, and 13 more drawing tools, including the Fibonacci studies and Elliot Wave drawing tools.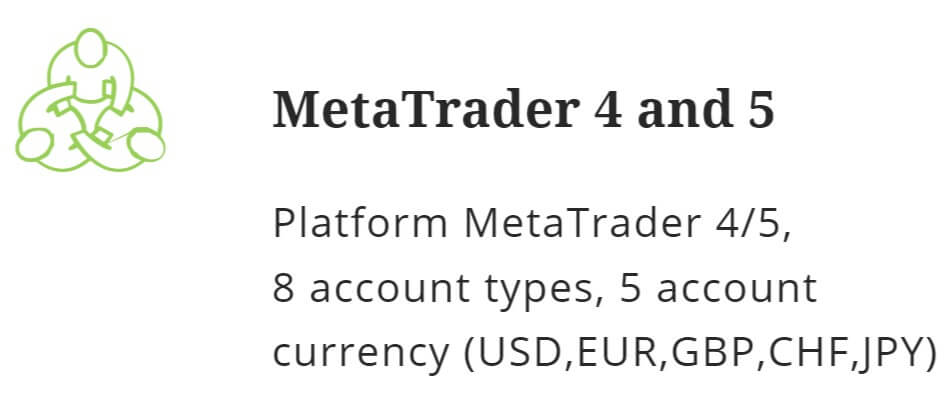 Both platforms have similar execution modes. MT5 comes equipped with 6 pending order types, while MT4 only offers 4. Still, despite MT5's advantages, MT4 remains the more preferred trading platform of the two. Regardless of which option you choose, you'll be able to access the platform via download on PC, iOS, and Android devices (including iPod/iPad and tablets).
Leverage
Forex Chief supports an impressive leverage cap of up to 1:1000 on all of their account types. Having access to such a flexible offer provides much more opportunity than the 1:30 leverage ratio that is set by European regulators. Even when others offer higher options, maximum caps typically range from 1:100 – 1:200 or possibly even 1:300, but those options still don't come close to Forex Chief's offer.

Traders should be warned – using an option that is so much higher than average can result in large losses, especially if one isn't experienced. The unusually high cap is primarily an advantage, as it allows traders to multiple their trade sizes by an insane amount. As long as one selects a leverage ratio that is based on their skill level/investment amount, then there is a real opportunity to benefit from the rare offer.
Trade Sizes
All accounts support micro tradable lots with a 100-lot maximum trade size restriction. The DirectFX/Cent account and the Classic+/Classic Cent account are almost identical. The only difference we found was the fact the DirectFX and Classic+ accounts allow an unlimited number of open orders, while the Cent and Classic Cent accounts only support 200 open and pending orders at any one time. Expert Advisors and scalping are both supported, but the website doesn't mention hedging. Stop out occurs when the account's margin falls to a level of 30%.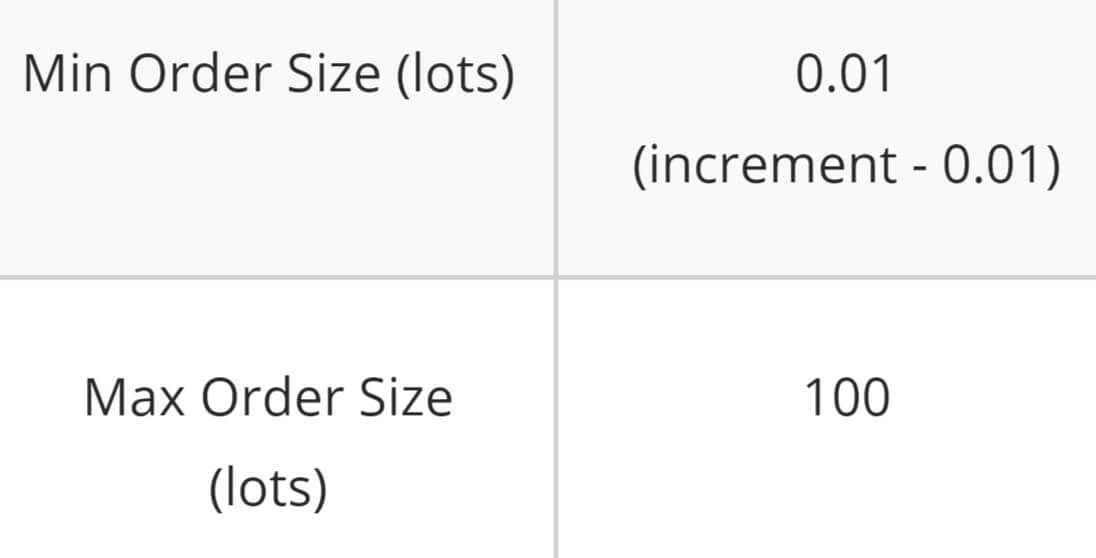 Assets
Forex Chief provides access to FX pairs, metals, energies, stock indexes, and cryptocurrencies to all account holders on both trading platforms. There are 40 currency pairs available, which include majors, minors, and a selection of exotic options. Metals are limited to the most popular instruments Gold & Silver, with no options to trade Copper, Platinum, Pallidum, etc. Energies include Brent Crude Oil, Natural Gas, and WTI Crude Oil. An additional 10 cash indices are also available. Cryptocurrency options are traded against the US dollar and the most well-known providers are offered, including Bitcoin, Bitcoin Cash, Ethereum, Litecoin, and Ripple.

Overall, traders will have access to a good variety of currency pairs and CFD's, and the addition of crypto pairs is also a plus. It would be nice to see additional commodities and possibly bonds available, but options should be sufficient enough for most traders.
Spreads
The DirectFX account shares the same spreads with the Cent account, while the Classic+ account shares the same spreads with the Classic Cent account. Minimum spreads start from 0 pips on several FX pairs on the DirectFX and Cent accounts, with average options being much higher, at around 1.6 pips and higher. The Classic+ and Classic Cent accounts have minimum starting spreads as low as 0.3 pips and average spreads are about .3 pips higher than those on the other account types. This puts the minimum spreads at 1.9 pips, although some of the average options start from 0.7 pips and others climb to 2 pips or higher.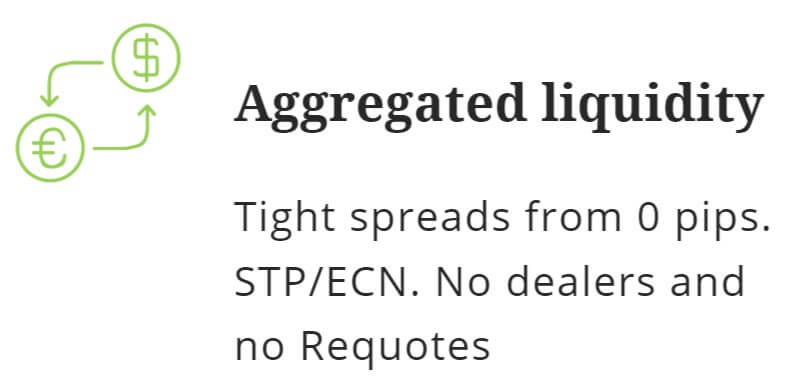 As usual, spreads can be much more volatile on metals, stocks, cryptocurrencies, and other instruments. Options seem to be ideal if you look at the minimum spreads, but traders will notice that average spreads do tend to climb higher than the industry's average 1.5 pips. If you're interested in viewing the minimum and average spreads for any certain instrument, you can do so under the "Contract Specifications" section of the website. Be sure to select the account type you're looking for and keep in mind that the MT4/MT5 versions of each account offer the same exact spreads.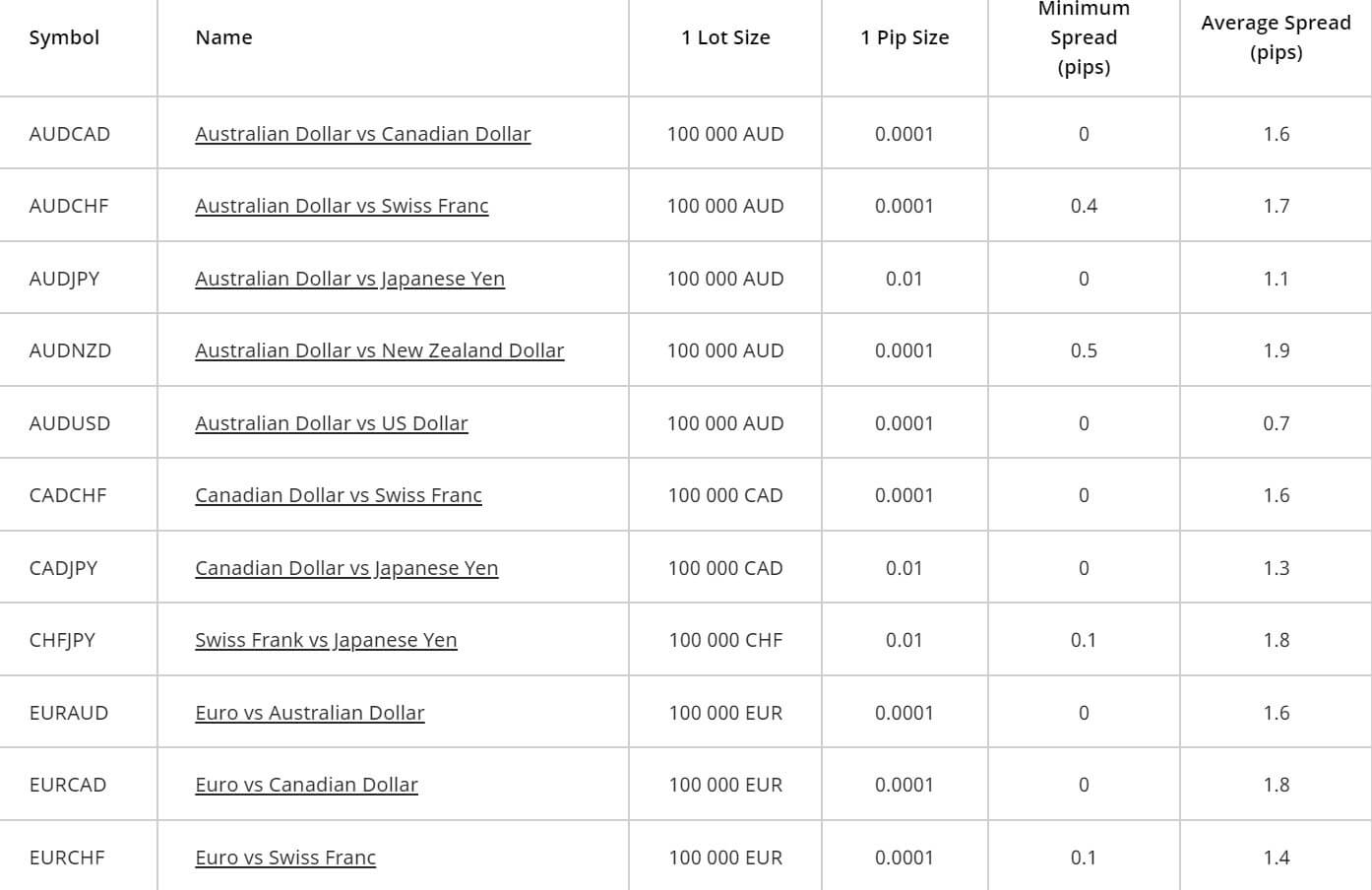 Minimum Deposit
A $100 USD deposit is required to open any of the broker's live accounts, per the FAQ area. Note, however, that the account page lists a $50 deposit minimum, so there is some confusion in this area. It is possible to find lower options elsewhere, but we must point out that many other brokers would expect larger deposits to access different account types.

Forex Chief allows traders to make a realistic deposit in order to access any of their accounts, instead of expecting deposits in the thousands for certain accounts. Many others even ask for a $200+ deposit to access a simple Cent account. The realistic deposit amounts should make it possible for traders to choose the account that suits them best, without being limited based on affordability.
Deposit Methods & Costs
Forex Chief accepts deposits made through bank wire transfer (also including Bank SEPA transfer, Indonesia local transfer, and Nigeria local transfer), credit/debit cards, and online banking methods through Nigeria, Malaysia, Thailand, and Vietnam. Several electronic payment methods are also available, including Bitcoin, Skrill, Neteller, Advanced Cash, WebMoney, PerfectMoney, FasaPay, and QIWI wallet. Aside from bank wire, most deposits are credited instantly.
It can take 24 hours to 3 business days for funds sent through bank wire transfer to clear in the trading account, depending on the exact location of the sending bank. There is a 1.5% charge added to Bitcoin deposits, a 0.8% fee (maximum $50 USD) applied to WebMoney deposits, and a 1.99% fee charged on PerfectMoney deposits. The remaining payment methods offer fee-free deposits.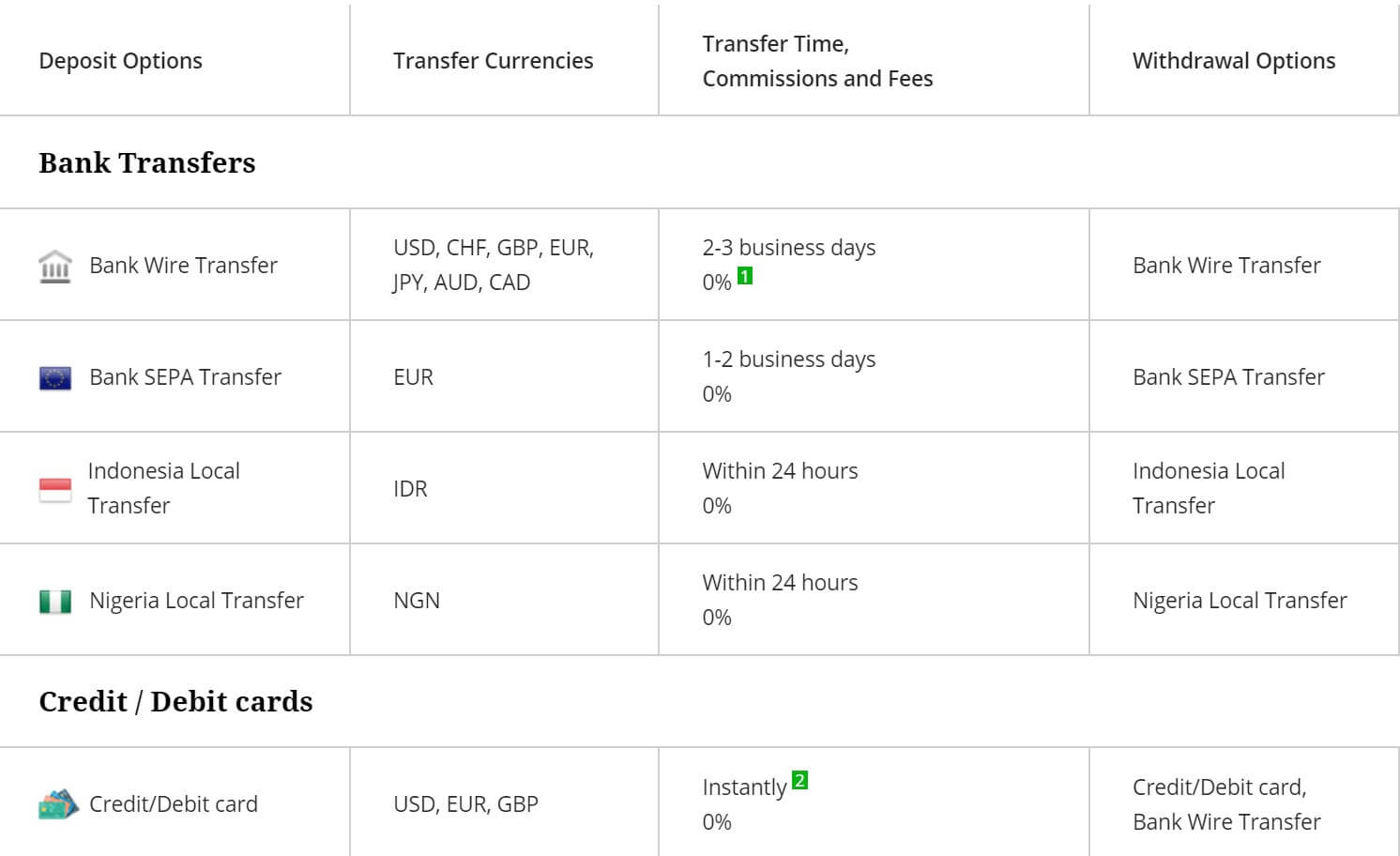 Withdrawal Methods & Costs
Conditions state that withdrawals must be processed back to the original payment method. If an account was funded by card, then the amount of the deposit must be refunded back to that card and any profits can be withdrawn through bank wire. The broker does offer a few fee-free withdrawal options, but many of the methods are charged a fee of at least 0.5% or higher. We've listed all of those fees below.
Bank Wire Methods: 0.1% (minimum $15 USD – maximum $50 USD) through bank wire/Bank SEPA transfers. There are no fees on Indonesian local transfer or Nigeria local transfers.
Bitcoin: 0%
Perfect Money & FasaPay: 0.5% fee
WebMoney: 0.8% (maximum $50 USD/EUR)
Skrill, Advanced Cash, & QIWI: 1% fee
Neteller: 1.9% fee
Credit/Debit Cards: 2% fee (minimum $5 USD)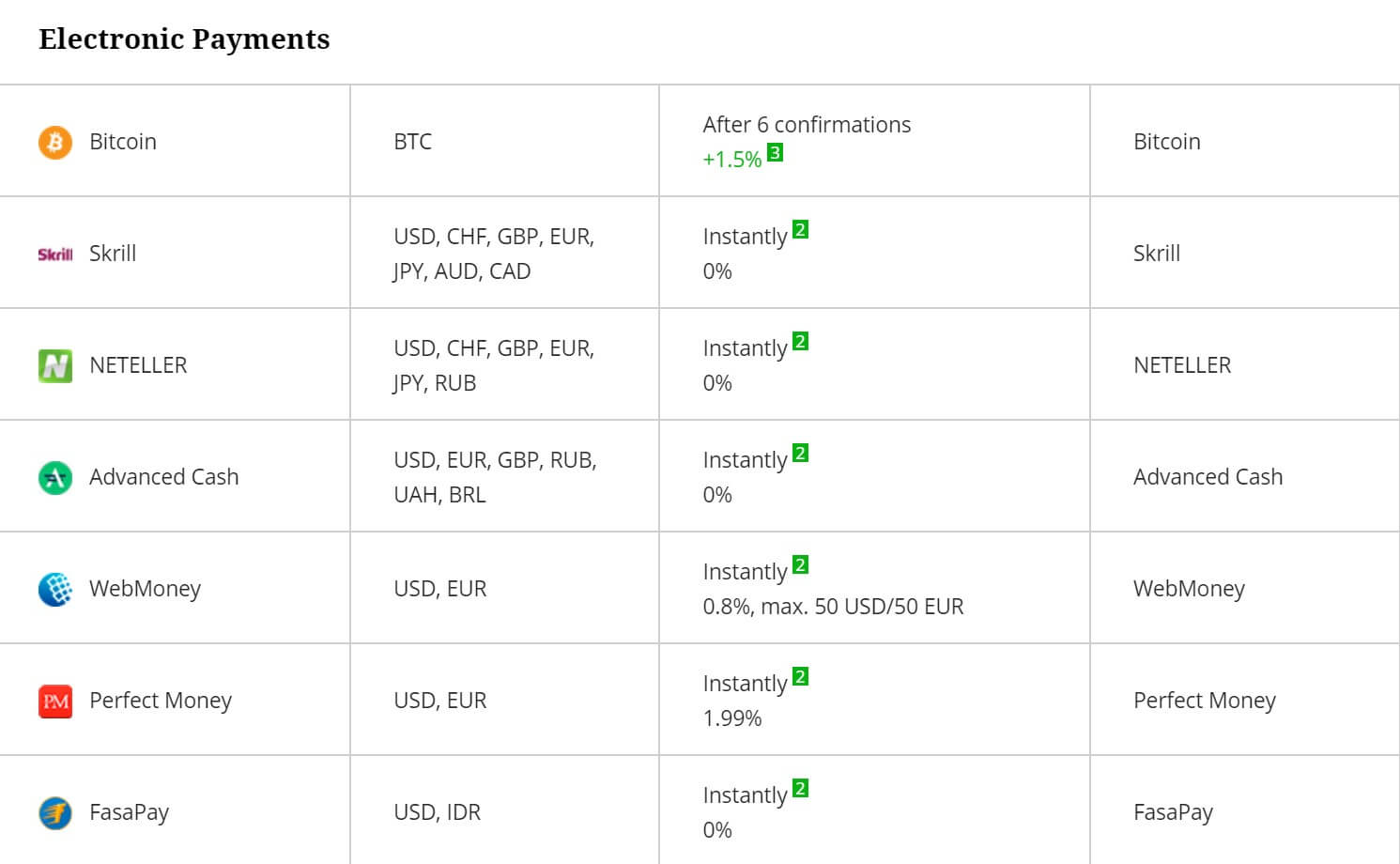 Withdrawal Processing & Wait Time
It takes approximately 1 business day for the broker to finishing transferring withdrawals back to electronic payment methods (i.e. Skrill, Neteller, Bitcoin, etc.). There is a 2-7 business day waiting period for card withdrawals. It takes 2 business days for withdrawals to be processed back to Indonesia local transfer and Nigeria local transfer, 2-3 business days for Bank SEPA transfers, and 3-5 business days for regular bank wire transfers. Support is in the office from 10:00 – 17:00 (UTC), Monday – Friday.
Bonuses & Promotions
The broker is currently offering several promotions, including a 100% Welcome Bonus, Trading Credits, Turnover Bonuses, and a trading contest named "Fast Warren". The contest is only active for two weeks, so any new traders will likely be too late to take part in the current offer. However, the broker does seem to update their offers periodically. We've provided details for each promotion below.
Welcome Bonus: This bonus is automatically credited at 100% on the first deposit that is made. The maximum amount that can be received is $500 USD. The bonus can only be withdrawn once the required trading turnover has been reached. This promotion is only available on the DirectFX and Classic+ accounts. Both Cent accounts are excluded.
Trading Credits: These credits can be used as equity when trading. Credits are earned at a rate of up to 50% on replenishment deposits. Traders can choose the exact credit amount, from 10% to the maximum 50% offer. The sum of all trading credits on any single account cannot exceed $20,000 USD.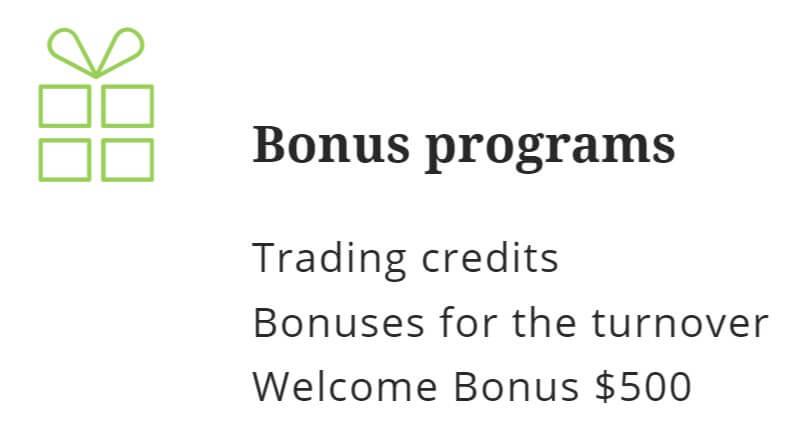 Turnover Bonuses: This promotion rewards traders with weekly rewards for trading turnover. The greater the trading turnover for the target week, the higher the net bonus will be. This promotion cannot be combined on accounts with the Welcome Bonus.
Trading Contest "Fast Warren": A two-week contest that is held on Cent accounts. Rewards are given for the biggest profit and the highest turnover. The prize fund contains $2,100 and prize money can be withdrawn at any time.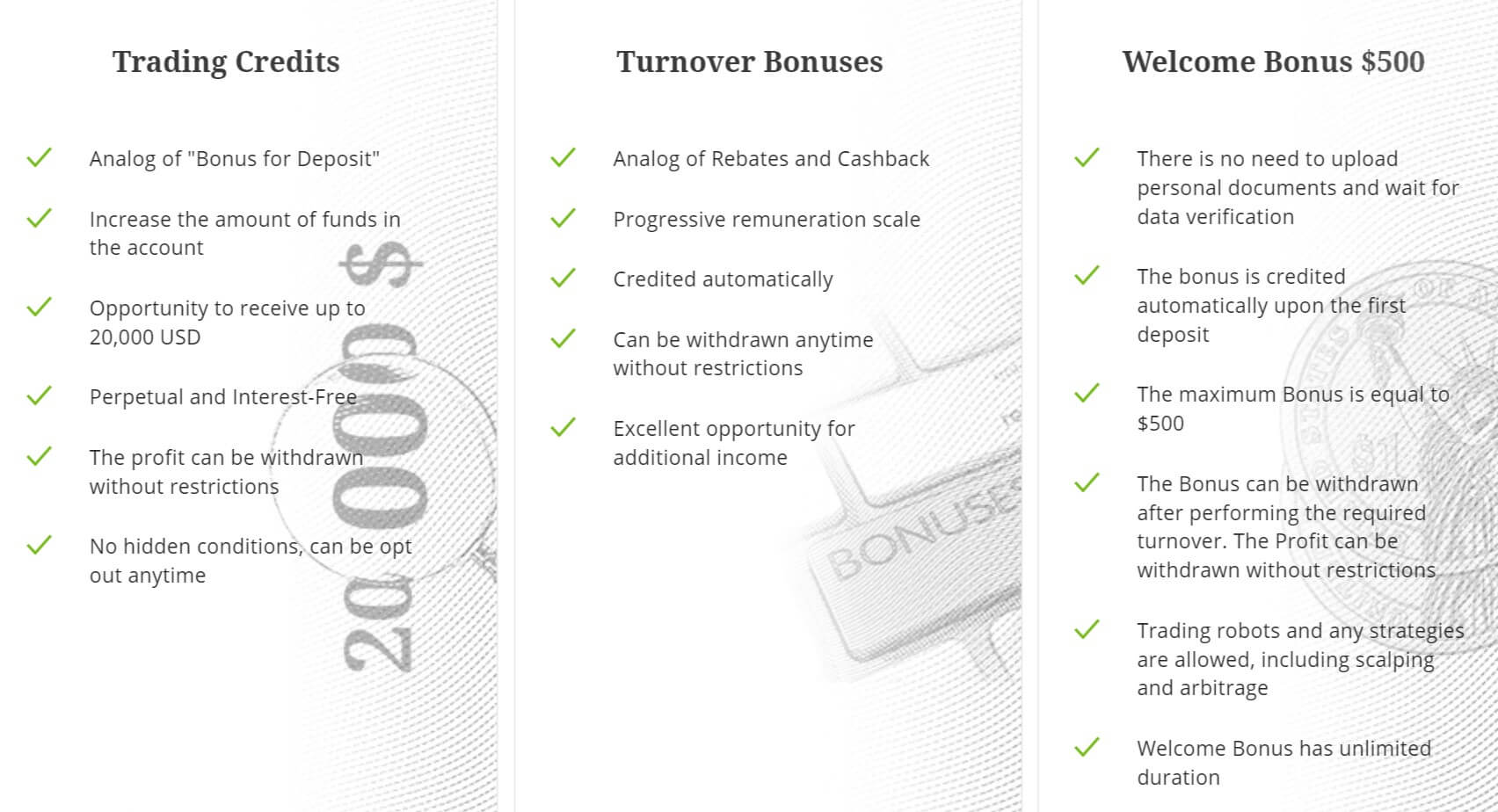 Educational & Trading Tools
Forex Chief provides multiple tools and articles under the "Analytics" and "Library" sections of their website. Educational resources tackle the history of forex trading, the first steps traders should take, a handful of articles related to trading, information based on multiple strategies (Pivot Point, Trend Finder, Fibonacci Forex Strategy, etc.), analytical reviews, economic articles, and a list of the best trading indicators.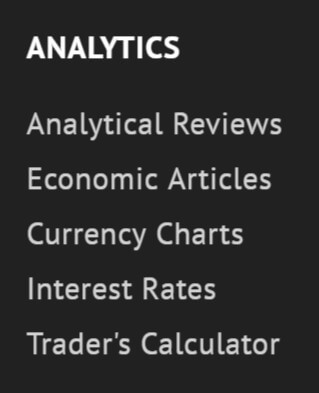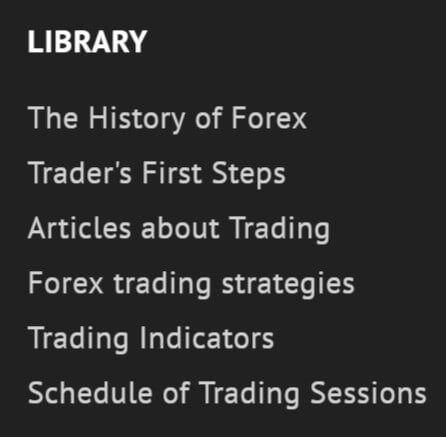 A few helpful tools are also provided, including a schedule of main stock exchanges, interest rates, currency charts, and a trader's calculator. We do wish that the broker would place more importance on providing entry-level information and that video tutorials, e-books, and other learning resources would be added to the website. Still, this broker does manage to provide several more options than many of its competitors. If you're a beginner, you may have to search the web for more information.
Demo Account
It's possible to open a demo account by simply clicking "Open Demo Account" from the top right corner of the website. From there, one would need to fill in a few quick personal details – name, country, city, phone number, and email address in order to finish registration. Forex Chief doesn't mention whether their demo accounts expire, but we do know that these risk-free simulation accounts are one of the best educational tools out there. If you've never traded from a live account before, then we would highly recommend using a free demo account as a stepping-stone to getting started.
Customer Service
Forex Chief advertises 24/7 customer support as an advantage. Many other brokers offer 24/5 support at best, however, we found that this broker doesn't actually honor the support hours that are listed, and agents aren't in the office on weekends. Although the support hours are average, the broker also provides several different contact methods, including LiveChat, Skype, WhatsApp, Telegram, Viber, Facebook, phone, and email. This provides traders with several instant options and makes contacting support less of a hassle. We've listed contact methods for each office below. Traders will find links to social media support under "Contact Info" at the top of the website.

Vanuatu Office
General Questions: info@forexchief.com
Marketing Department: marketing@forexchief.com
Partnership: partnership@forexchief.com
Switzerland Office
Phone: +41 44 505 1495
Email: europe@forexchief.com
Singapore Office
Phone: +65 3159 3652
Email: asia@forexchief.com
Nigeria, Ibadan & Abuja Offices
Phone Line 1 (Ibadan): +234 802 625 4508
Phone Line 2 (Ibadan): +234 907 620 9152
Email: nigeria@forexchief.com
Countries Accepted
Like many other regulated brokers, Forex Chief appears to ban clients located in the United States. The US is missing from the available options on the broker's registration list, due to strict regulatory restrictions associated with the country. Fortunately, the US Virgin Islands is an option on the list and traders would be able to select this option to bypass the restriction.
Conclusion
Forex Chief is a global foreign exchange broker that is regulated by the VFSC. The company offers a significant leverage cap of up to 1:1000 on 40 FX pairs, plus CFD's on metals, cash indices, and cryptocurrency pairs. Four account types are available, offering starting spreads from 0 – 0.3 pips, although average options are generally more in the area of 1.6 – 1.9 pips for a $100 deposit. Different pricing models are offered, where traders can use an account with higher spreads in exchange for zero commissions, or take advantage of the better spreads while paying commission costs.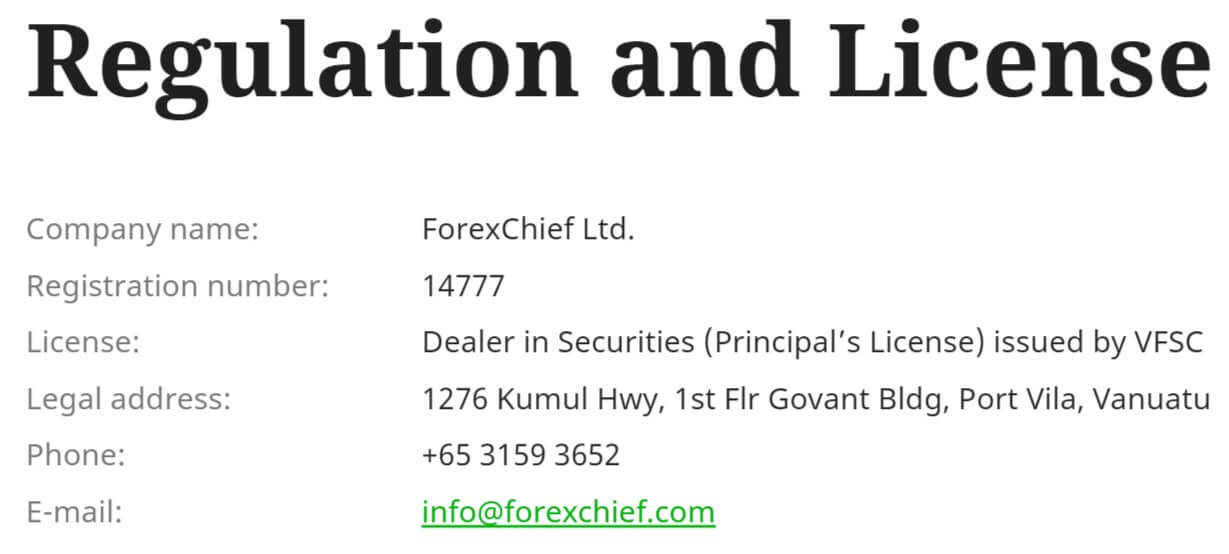 Traders can also choose between the MT4 and MT5 platforms, with support for micro tradable lots. Forex Chief provides funding options through several payment providers, including bank wire, cards, and several electronic payment methods like Bitcoin, Skrill, etc. Fee-free withdrawals are offered on some local transfers and Bitcoin, but the remaining payment methods do charge commissions on withdrawals. Support representatives are available on weekdays via several instant contact methods and social media platforms, as well as through phone and email.
Forex Chief also offers several promotional offers, including a 100% Welcome Bonus, Trading Credits, Turnover Bonuses, and occasional trading contests. The website provides some educational information and tools, although this section could do with more entry-level resources. Taking everything into consideration, it could certainly be said that this broker is offering some advantages, although it would be one's own decision as to whether those advantages make Forex Chief investment-worthy.