TFX Markets is a broker situated in the United Arab Emirates. First impressions given by the website are concerning, as the site can be hard to read and the website runs with a little bit of lag. First impressions can be deceiving though, so we will look a little deeper into the services being offered and see how TFX Markets perform.
Account Types
There are three accounts on offer from TFX Markets, information regarding all features can be a bit scarce, but we will take a look into each account to see what the trading conditions are like for each one.
Standard Account:
This is the entry-level account for TFX Markets, there is not a whole lot of information regarding the trading conditions. There is maximum leverage of 1:500, it states quick withdrawals and payments but no information on what that means and it uses the Veta Trader as a trading platform, the account also comes with fixed spreads, but no information on what that spread is.
Gold Account:
The gold account has the same level of information available, and very little has changed, there is mention of some additional support however the only noticeable difference is that it states super low fixed spreads instead of fixed spreads. All other information remains the same.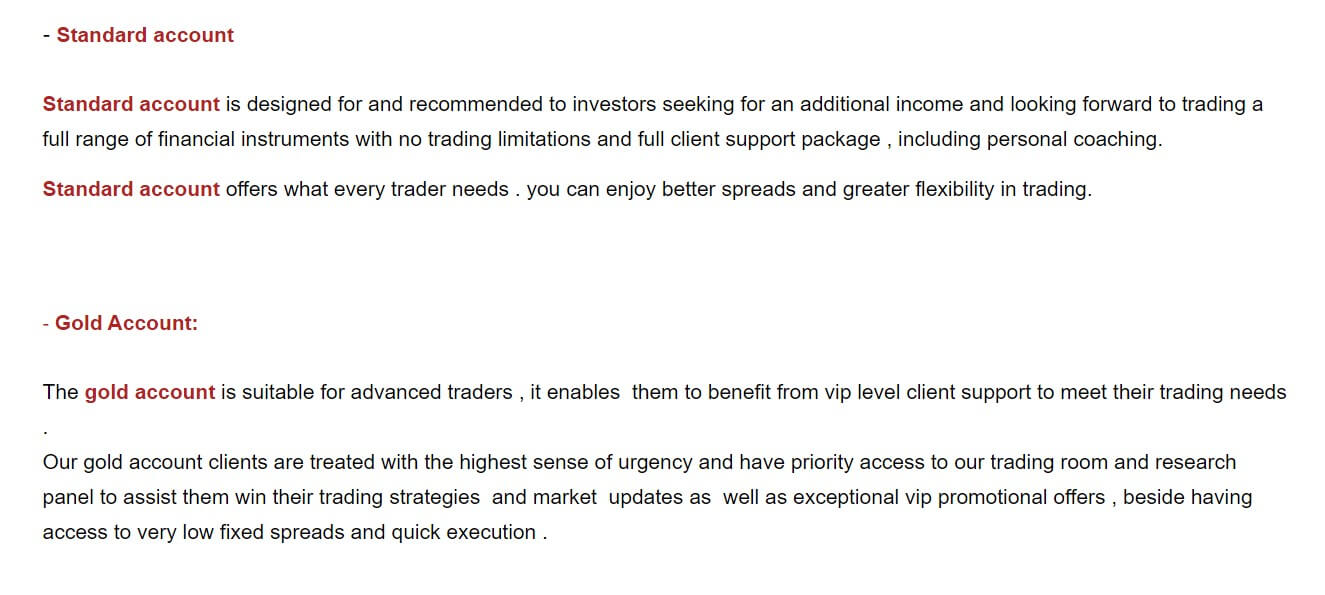 VIP Account:
The VIP account is identical to the VIP account in terms of the information provided. There is a small additional section which states that traders will receive market updates, trading ideas, and special VIP promotion offers. There is no additional information given at all.
Islamic Account:
We have included the Islamic account on this list as it is given its own page and account specifications. Islamic accounts are accounts where the overnight swap fees are not charged or received.

Platforms
TFX Markets use a platform called Veta Trader, this is one of the first times we have seen this platform mentioned so we had to have a little look into what it offers. It is available as a desktop download, an app for iOS and Android devices and as a WebTrader within your internet browser. It seems to follow some of the same ideas as MetaTrader does, however it does not have the same database of indicators and expert advisors and does not seem to be as well supported. It has a large number of tradable instruments and has features such as one-click trading and multiple account management.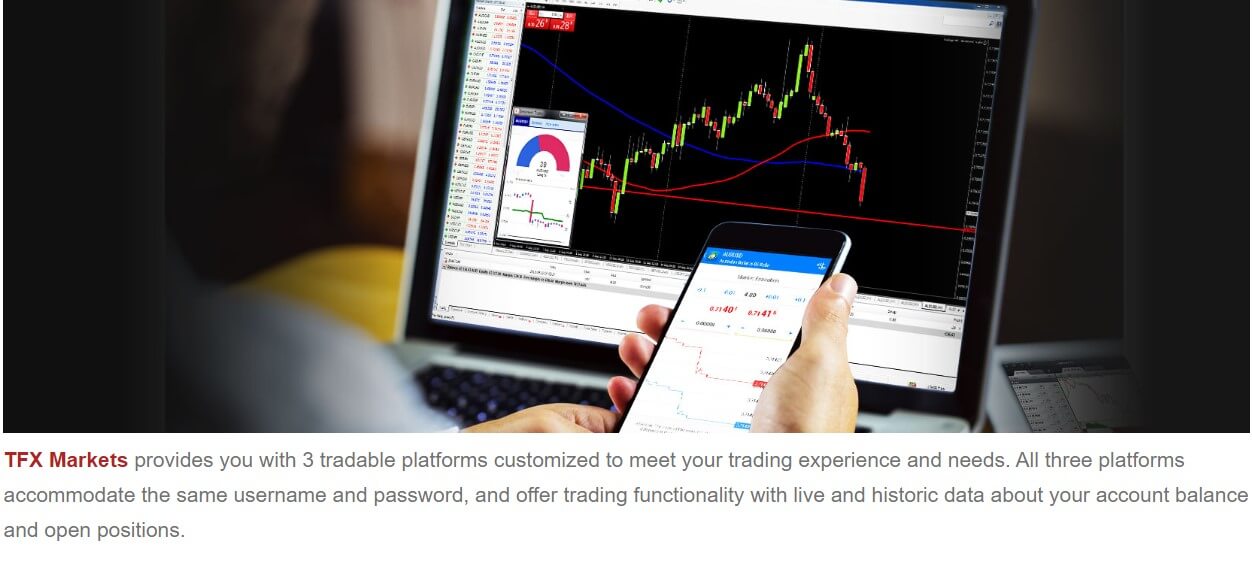 Leverage
The maximum leverage on all accounts is set at 1:500 which seems to be quickly becoming the industry standard and what a lot of more modern brokers are looking towards.
Trade Sizes
There wasn't much information regarding this available on the website, we would be assuming that the minimum trade size would be 0.01 also known as a micro lot, however without concrete information we can not say this with certainty. There is also no information present regarding the maximum trade size.
Trading Costs
There is no mention of any commissions being charged, so it appears that all accounts use a spread based structure. There is also no information regarding spreads except for stating that they are fixed spreads or ultra-low fixed spreads.
Assets
When looking at the platform part of the website regarding the use of the Veta Trader, the only mention of assets is that it states that you can trade over 200 instruments, there is no indication of what these are or if all account have access to them.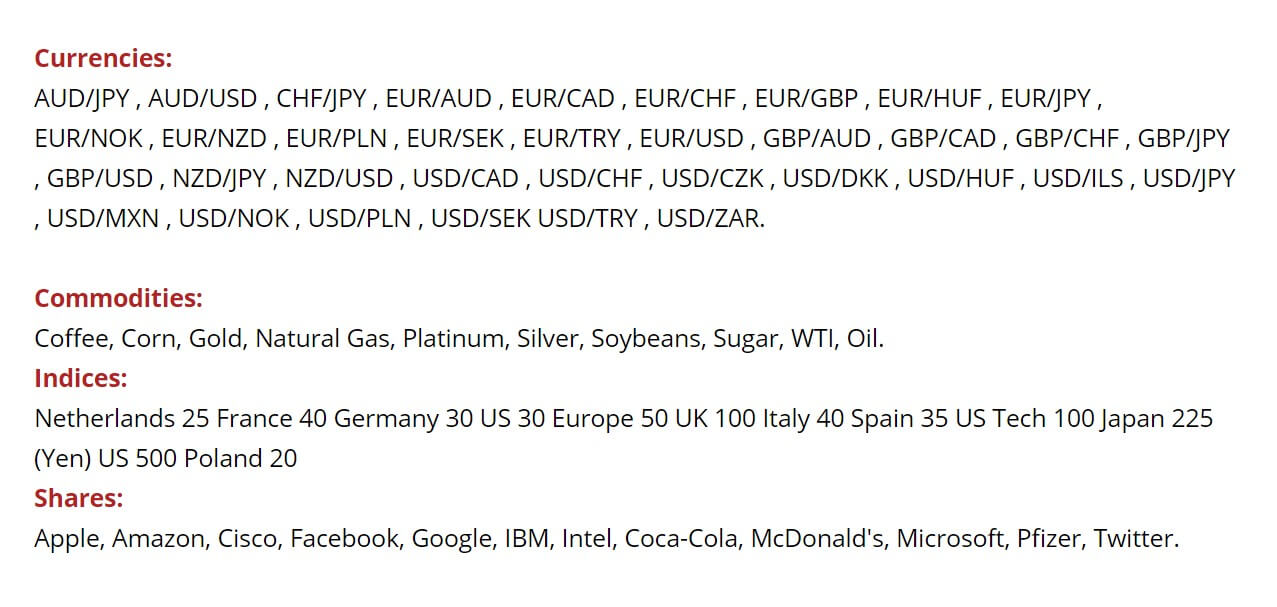 Spreads
No information regarding this except for the statement of them being fixed spreads or ultra-low fixed spreads. There is no mention of an average or minimum spread and so we are getting a bit concerned about the overall lack of information on the trading environments.
Minimum Deposit
No mention of minimum deposits on the website, the accounts page does not mention them and neither does any of the other pages.
Deposit Methods & Costs
TFX Markets state that they allow the use of bank transfer, Visa / MasterCard, UnionPay, Neteller, Skrill, and PayPal. There is no information regarding the fees on any deposits.

Withdrawal Methods & Costs
So, another section with little to no information, we would assume that the same methods for depositing would be available for withdrawing but we can not say this with any certainty.
Withdrawal Processing & Wait Time
Without knowing which withdrawal methods are available we, unfortunately, can not comment on the processing time for withdrawals. The only mention is on the accounts page where each account states "Quick withdrawals and payment".
Bonuses & Promotions
There are mentions of bonus funds on the accounts page and in the terms and conditions, however there is no information in regards to what the bonuses are, only that you need to trade 10,000 times the volume of the net deposits in order to withdraw any of the bonus funds, it is safe to say that 99.9% of people will never achieve this.
Educational & Trading Tools
TFX Markets provide a couple of education or trading tools, there are signals being provided for a number of different currencies including AUDJPY, AUDUSD, and CHFJPY. These help to teach you the trends and get a better understanding of what is going on in the Forex markets. There is also a very brief overview of what different strategies are and what they mean, it is very basic and won't teach you to trade, but it is there and could be helpful.
Customer Service
TFC Markets provide a few different ways to get in touch with them, there is the online form, which once filled in, the customer service team will reply via email or mobile. There is also a phone number available as well as a physical address and an email address.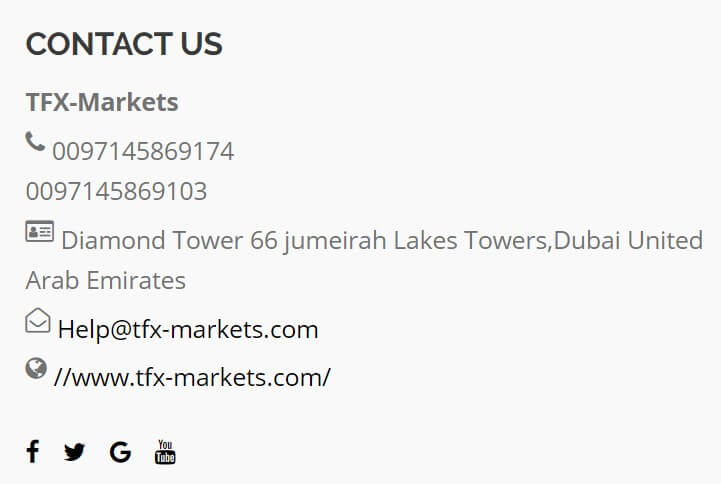 We tried to use the phone service, however, the phone did not pick up and cut out, the next time we tried it just cut out and did not ring at all, we are unsure if this was a temporary or permanent fault.
Demo Account
Demo accounts are available on the website, you can get one by simply filling in the application form on the site. Once it is open, you can trade indefinitely, however, if left dormant for too long it will close and another will need to be opened.
Countries Accepted
There is no information present on the TFX Markets website indicating which countries can and cannot trade with them, so we cannot provide much information for this part of the review.

Conclusion
The lack of information available is quite alarming and not something you want to see when looking for which broker to use. Customer services were not able to help us either so there is a huge lack of understanding surrounding what is actually being offered. The terms of service are very bare and provide very little information which can be a major concern for any website, let alone one that you are putting your money into. For these reasons, it is hard for us to recommend using this service.
We hope you like the review, if you did, be sure to check out some other reviews to help find the broker that is right for you.