SwissCapitalFX is a Forex broker based out of St Vincent and the Grenadines, claiming to be a market-leading provider when it comes to Forex and offering unparalleled trading conditions. These are bold claims and we are now going to take a closer look to see what they really offer and if they can live up to these claims.
Account Types
There are four different account types on offer from SwissCapitalFX, these are Silver, Gold, Platinum and Pro, each with their own perks and requirements. Let's take a deeper look at what they each offer.
Silver Account:
This is the entry-level account at SwissCapital, it has a deposit range of between $0 and $4,999 however the minimum deposit with SwissCapitalFX is $100, the leverage offered on this account is 1:500 which is a very popular level, spreads are from 1.6 pips and there is no additional commission. You can open up to 100 positions and the minimum trade size is 0.01 lots with the maximum being 100 lots.
Gold Account:
The gold account has a slightly higher entry fee of a minimum deposit of $5,000 and a maximum deposit of $19,999. It maintains the 1:500 leverage, however, the spread is now reduced by 30%, there is still no commission being charged for this account. Lot sizes remain the same with 0.01 lots being a minimum and 100 lots being the maximum.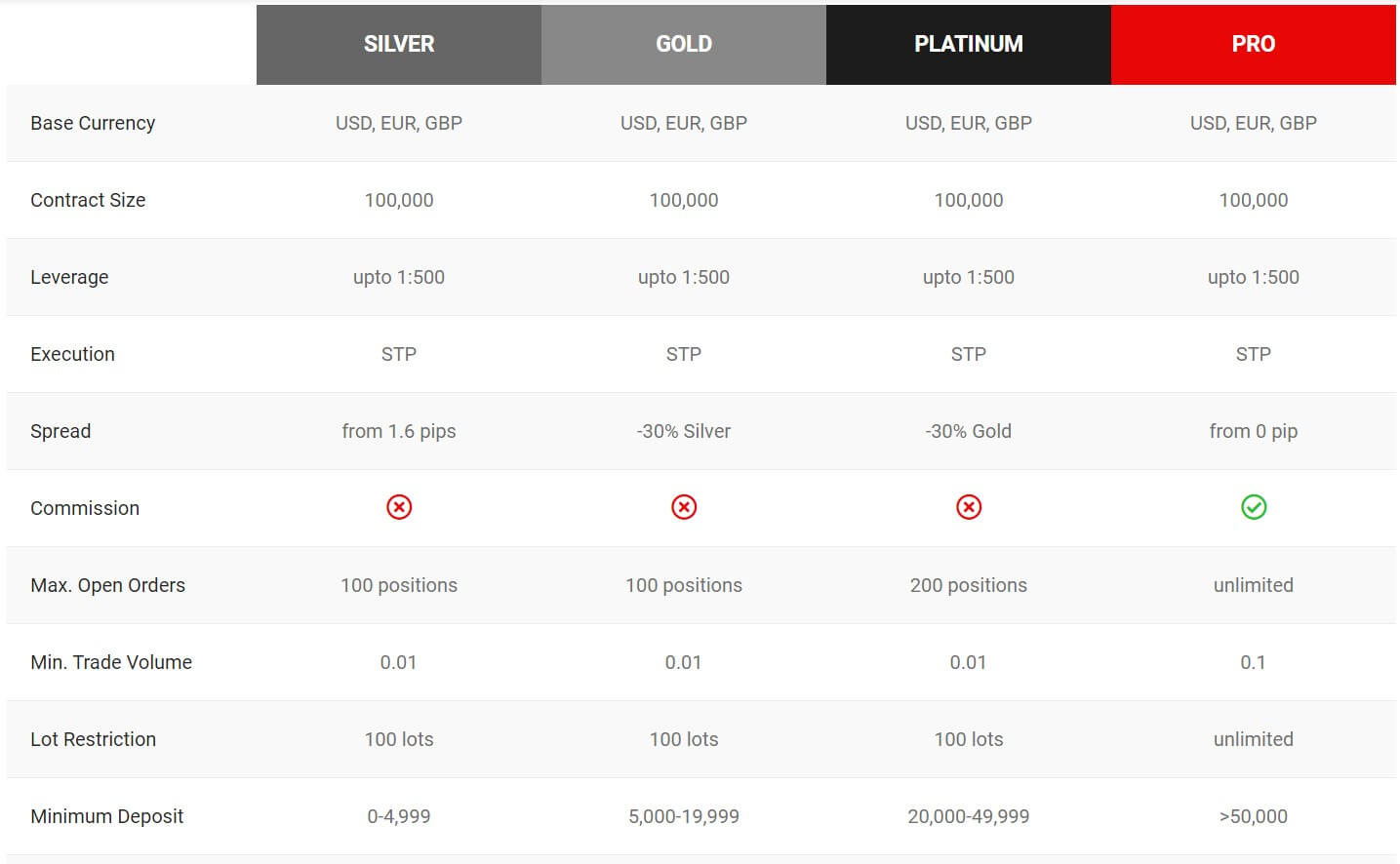 Platinum Account:
The platinum account deposit requirement further increases with a minimum deposit of $20,000 and a maximum of $49,999. Leverage remains at 1:500 and the spreads are further reduced by another 30% and there is still no commission being charged. The maximum number of open trades increases from 100 to 200, however, the trade sizes remain the same as 0.01 lots minimum and 100 lots maximum.
Pro Account:
This is the top tier account and so you need a minimum deposit of at least $50,000 which will price out a lot of retail clients. Leverage again remains at 1:500, however, this account is charged differently, the spread is reduced to a minimum of 0 pips, but the commission will now be charged with each trade (however we are unsure how much). Minimum trade size has been increased to 0.1 lots but the maximum trade size has been increased to unlimited, along with the maximum allowed opened positions.
Also note that all accounts come with the ability to hedge, use of expert advisors, copy trading, crypto trading, dedicated support, and all account types can also come in an Islamic version. All accounts have a base currency of USD, EUR or GBP and use the MetaTrader 4 trading platform.
There are a lot of features on offer and all four accounts seem quite enticing, so we approve of the account types which are on par with the majority of the competition.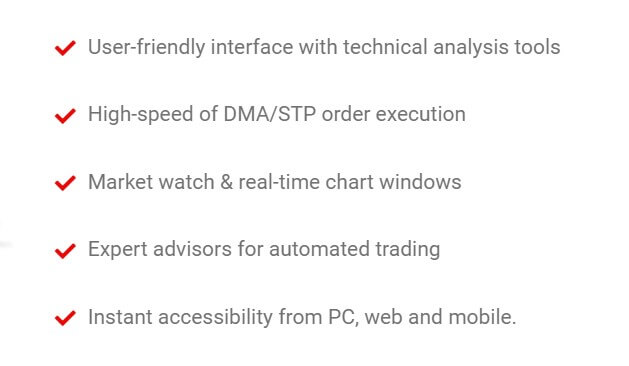 Platforms
There is one platform on offer from SwissCapitalFX, and that is MetaTrader 4 (MT4). MetaTrader 4 is currently available as a desktop download or as an app for your Android and iOS devices, this gives a good amount of flexibility to trade both at home and on the move. MT4 is one of the most popular trading platforms due to its flexibility and compatibility with thousands of expert advisors and indicators. You can't really go wrong with MT4, and a broker focusing solely on it as a trading platform is not such a bad idea. It would, however, have been nice to have a little choice, but we can not complain about MT4.
Leverage
All account with SwissCapitalFX come with a maximum leverage of 1:500, you aren't stuck using this leverage though, if you want to reduce it you can and there are ranges anywhere between 1:1 and 1:500, this can be changed at any time as long as there are not any open trades.
Trade Sizes
Trade sizes with the silver, gold, and platinum account start with a minimum trade size of 0.01 lots (micro lot) and a maximum of 100 lots, this is more than enough for 99.9% of all retail traders. The VIP account jumps up a bit with a minimum trade size of 0.1 lots and there is no maximum trade size, however, we can not see many people going past the 100 lot size limit of the other accounts anyway.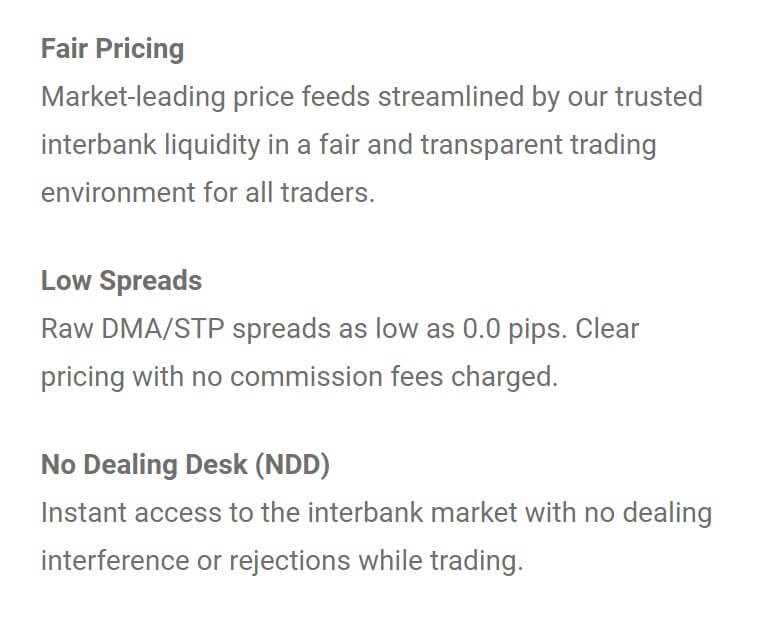 Trading Costs
SwissCapitalFX uses two different costing methods, the silver, gold and platinum accounts use a spread based system with the silver account having a 1.6 pip spread on average and the gold account reducing this number by 30% and the platinum reducing it by a further 30%.
The VIP account has a 0 pip spread but charges a commission, we had a good rummage around the site for the commission numbers, however, we were unable to locate it so we are unsure on what amount of commission is actually charged.
There are also waps charged for holding trades overnight, these can be viewed both on the site and also from within the MT4 platform. Islamic accounts are also available if you are unable to accept or pay swaps.
Assets
There are a number of different tradable assets with SwissCapitalFX, they are broken down into the following categories:
Forex: Over 60 instruments from major, minor and exotic pairs.
Energy Commodities: Metals, energies and agricultural commodities are available.
Stock Indices: Global indices with no commission or fees.
Equity Shares: Popular shares such as Apple, Tesla, and Amazon.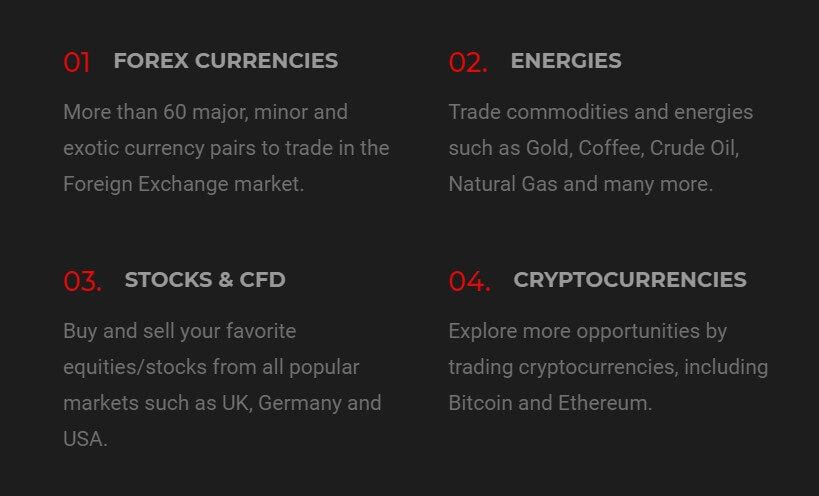 Spreads
Spreads start at an average of 1.6 for the silver account and are then reduced by 30% for the gold account, then further reduced by 30% for the platinum account. The VIP account states 0 pip spread, however, there will be some spread due to fluctuation, there is a commission charged on trades on this account though.
Minimum Deposit
Even though the silver account states a minimum of $0, there is an overall minimum deposit of $100. If you want the benefits of a higher tier account then you will need to increase this amount to a minimum of $5,000. $100 is a pretty standard minimum within the forex industry.
Deposit Methods & Costs
There are a number of different methods available with SwissCapitalFX, these are Visa / Mastercard deposits, Skrill, Neteller, and bank transfer. Each has a minimum deposit of $100 and there are no added fees to the transactions. All deposit methods are instant except for bank transfer which can take 3 – 5 business days.
Withdrawal Methods & Costs
The same methods are available for withdrawal as they were for deposits. If you withdraw via bank card there are no charges, however requesting a bank transfer withdrawal will have a charge of $30 added to the transaction. It has been a while since we have seen a broker adding fees to withdrawals and it so it is a shame to see it here.
Withdrawal Processing & Wait Time
We had to dig deep into the terms and conditions to find any relevant information, the terms state that SwissCapitalFX will process all withdrawal requests within one working day, how long it takes after this will depend on the method and the bank you are receiving the money at. For e-wallets this is usually the same day, for other banks via bank transfer this will usually be between 3 – 5 business days.
Bonuses & Promotions
There are no bonuses or promotion advertised on the site, however when using their search bar, we can see some now expired promotions and bonuses, so it is clear that SwillCapitalFX has been doing bonuses in the past, there just aren't any available right now. Be sure to check them out regularly to see if any new promotions have popped up.
Educational & Trading Tools
There is only an economic calendar available with SwissCapitalFX and nothing else, the calendar is nice to have but it is not as informative as many other ones available elsewhere on the internet. It would have been nice for there to be more education for their clients.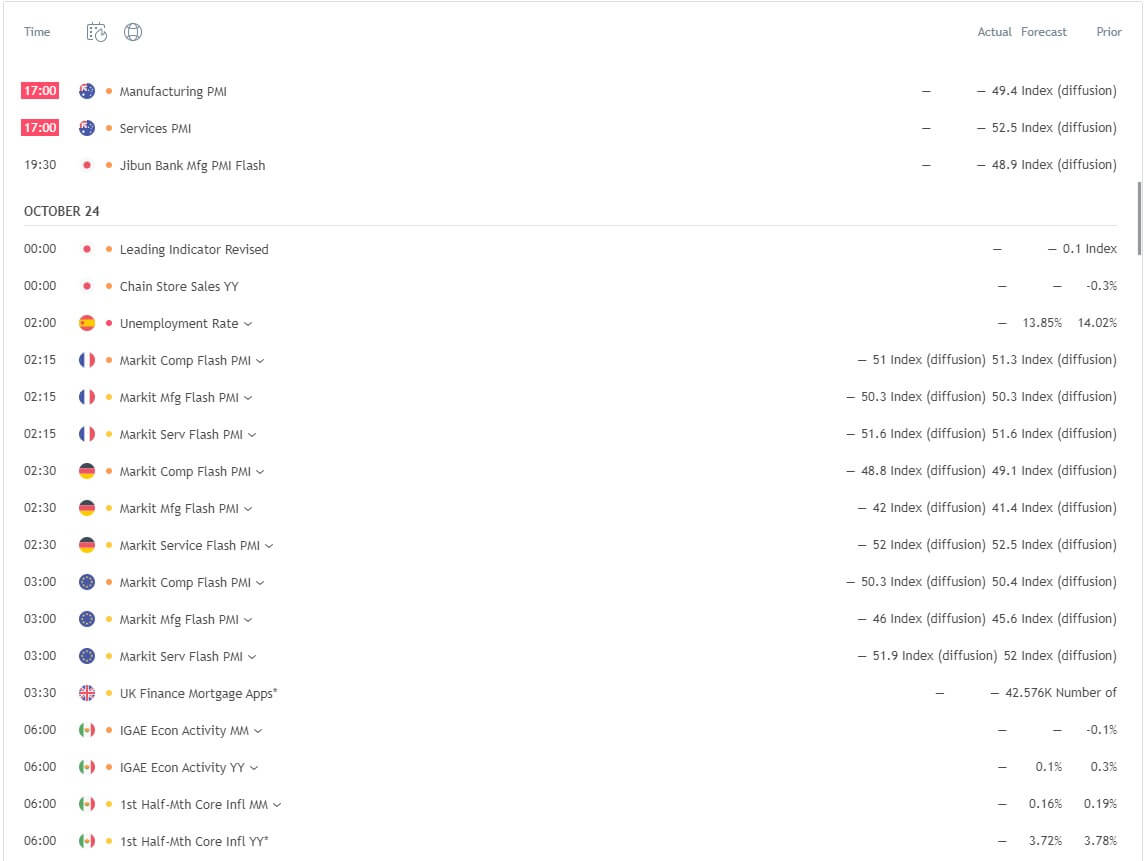 Customer Service
If you need to get in contact with SwissCapitalFX there are a number of different ways to do it. You can use their live chat which opens up pretty quick and response is acceptable, we got through to someone after around 4 minutes, there was a small delay between each response but nothing we aren't used to. They also have a number of different phone numbers depending on the department you need as well as an email address and a postal address, so plenty of ways to get in touch.

Demo Account
We could not locate any information in regards to demo accounts, so we are unsure if these are being offered, if they are, they are not easy to find.
Countries Accepted
We could locate information regarding this on the site or within the Terms and Conditions.
Conclusion
SwissCapitalFX has a number of benefits, their accounts offer competitive features and prices and while they only offer one trading platform, it is MetaTrader 4 which is a very solid choice. The fact that there are fees charged on some of the withdrawals is a bit of a disappointment as the majority of modern brokers are no longer charging for withdrawals, that along with no demo accounts makes it harder for us to fully test the service. While SwissCapitalFX is certainly not the worst broker around, we feel that due to the fees, it may be better to look elsewhere.
If you enjoyed this review and wanted to see more, make sure to check out our other reviews to help find the broker that is right for you.