Visitors to the eMarketTrade's web site will not understand what kind of broker this is. There is nothing that points out to a company except a single instance: "Kalessica Limited" in the footer. There is no location or anything mentioned about this company. After some research, we found out this is a company in Cyprus without any license to offer CFD or any kind of digital assets trading. The origin of the capital points to Bulgaria, one of gathering places for scam and prohibited broker companies from Israel. Still, we will cover each section for additional research and present what traders can expect.
Account Types
There are six account types, a table of packages scaled to the deposit level. Moreover, eMarketsTrade has two products CryptoFX and SimplexCrypto. They are the same thing except the Simplexcrypto is more tailored to beginners and is just a platform layout, not a product per se. The most affordable account type is the Bronze Chain starting from a $2.500 deposit. This account has the least of 18 features listed possible and is limited to Trading on the platform, Daily market review, webinars, and Financial market introduction.

The next tier account is Silver Chain, adding on top a Personal manager, Risk management Team and no maintenance fee. This Account type requires at least a $5000 deposit. As we go up to Gold, Platinum, and Diamond Chain type, the rest of the features are available as well as the higher deposit requirement. The Diamond Chain Account requires a $100.000 deposit with all the options like Welcome Bonus, Diamond Chain bonus, Executive crypto indicator, etc. Overall, the deposit requirements are among the highest we have seen in the industry, especially when looking at the VIP Account that requires a $250.000 deposit.
Most of the features overlap with the same function and few fees relief (like the maintenance and the withdrawal fee) that are not mentioned in the eMarketsTrade Terms and Conditions. Account types do not differ by offering a different trading environment or spreads, just by added features similar in nature.
Platforms
There is only one platform available through the web and its origin is not clear. Once a client registers, he will be able to see it after skipping the deposit process. There are two layouts CryptoFX and SimplexCrypto, also presented as products on the eMarketsTrade web site. SimplexCrypto layout hides the chart completely and lists cryptocurrencies and tokens only. To trade, clients just need to click the "invest" button. This is an attempt by eMarketsTrade to hide complex looking parts and make everything simple for beginners. CryptoFX layout includes the chart and all the available assets to trade.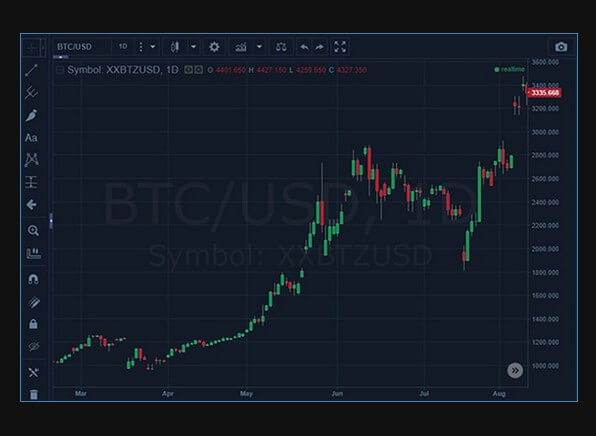 The chart is based on TradingView although the same chart for BTC/USD showed a completely different price level from the TradingView.com web site chart. This was a very weird issue and seemed like a fake presentation. This was confirmed when refreshing the chart after some time. The price spike candle was always shiting to the right like it never happened before. After 15 minutes another spike is presented on eMarketsTrade chart except for this time it was a bullish candle, without a trace of the previous one.
To the right traders will see the market news feed from Investing.com that are updated but they cannot be filtered for any category, just randomly listed as they come out. Still, the news is very good and can be of use. The platform supports pending orders, take profit and stop loss that can be set by price or in pips distance. Besides, the orders can be set to expire. On the left side of the platform is the instruments list that can be set to view as a list or box, with some basic information about the daily change and current ask/bid. The spread is not presented anywhere on the platform, even manually it is hard to calculate unless using a screenshot as the price updates every second.

On top, the chart features different styles of price representation so traders can set to view as Heikin Ashi, Area, Hollow candles, Bars, etc. Indicators can be added and there is over 70 most popular. We have noticed an issue when adding any indicators that had a volume factor in their formula as none of them appeared on the chart. Even the simple Volume is not visible like it is blocked. Anyway, the rest worked as intended and could be set like with the TradingView. An additional feature is the comparison of different assets for any trader that wants to identify correlation patterns. Traders can also draw lines, shapes, channels, add text, etc.
Apart from the eMarketsTrade web platform, the mobile version is presented on the web site. When downloaded for Google Play, traders will also receive the $20 bonus, $50 free trade if you like the app and review it, and for deposits of $1000 – two Diamond Chan Account type signals. Unfortunately, we found out that the app does not exist on Google Play, all these pages and promotions are in vain.
Leverage
The leverage levels are not known. According to the eMarketsTrade support by default is 1:100. We have measured this form the platform to confirm this leverage level. For Crypto, the leverage was 1:20 and for Metals 1:10.
Trade Sizes
By looking at the web platform we did not find anything less than 1 for Bitcoin, which is very high. For Currencies, trade sizes are in units, from 1000 or 0.01 lots. The same trading size options are given for all Forex pairs. For Gold trade size was from 0.1 units and for Indices 1 unit.
Trading Costs
eMarketsTrade does not have commissions. No information on other fees is available except some are mentioned in the Account types comparison that we were unable to confirm. The trading cost falls to swaps only and they are under normal levels. None of the swap levels are positive for any trading instrument however for BTC swaps are low compared to other brokers at -1.5 points. EUR/USD, on the other hand, had -27 points on both, long and short sides. Higher than for example USD/CNY that had -25 on both sides. Generally, the swaps did not have any difference whether a trader goes long or short, all instruments had the same or similar negative swaps.
Assets
If traders select the CryptoFX layout in the platform, all the assets will be listed. eMarketsTrade has an average number of assets and focuses on cryptocurrencies.
Forex offer covers all the majors, minors and some exotic pairs like the USD/CNY, USD/RUB, and Scandinavian currencies (DKK, SEK, NOK) making a total of 32 pairs.
Stocks are limited to 24 companies and banks, like Apple, Ferrari, Nvidia, Facebook, all well known to a wider audience.

In the metals and the commodities range, eMarketsTrade does not have much to offer considering they are specialized in crypto. A total of 3 metals and just two commodities – Natural Gas and Oil. Gold, Silver, Platinum are available from the metals category.
Finally, where eMarketsTrade shines – Cryptocurrencies. On the list are Bitcoin, Bitcoin Cash, Litecoin, DASH, Ethereum, Ripple, Monero, NewEconomyMovement, Stellar Lumens, Zcash, IOTA, NEO, Cardano, and Golem token. All these cryptocurrencies are also available to trade in Bitcoin crosses like LTC/BTC, IOTA/BTC and the like. This range of crypto is certainly above average comparing to other brokers.
Spreads
The main issue is that the trading conditions and spreads are nowhere on the eMarketsTrade website. Whatsmore, their platform does not show the spread at all. There is no document to ask or download, so we had to calculate manually. Starting from the BTC/USD, the spread is around 200 pips which are way above any average industry benchmark. A similar spread percentage follows other cryptocurrencies. Forex spreads are also a bit weird, EUR/USD is at 7 pips, but GBP/USD is just 0.4 pips. Where USD/JPY is 4 pips where a more exotic USD/CNY is 3 pips. We are not sure if this is in purpose to keep the spreads high for more popular pairs or just the issue with eMarkeststrade liquidity providers.
Minimum Deposit
The minimum deposit is confirmed bu the support to be at $250. The information on the Account types seems to be just marketing, including the fees that do not apply in practice. Therefore, the first tier package called Bronze Chain requiring a $2500 minimum deposit is not the actual minimum you need to start trading with eMarketsTrade.
Deposit Methods & Costs
After registration and getting access to the trading room clients will be presented with deposit options. We can confirm that only Credit/Debit Cards are available through the Vogue Pay service processor or using the Vogue Pay wallet itself. This payment service processor is from Nigeria with solid ratings. There are no fees charged by the eMarketsTrade for deposits. The maximum deposit transaction amount is $10.000.

Withdrawal Methods & Costs
The initial deposit will be funded to the Credit/Debit Card used. Any profits will be funded using a bank transfer. The minimum withdrawal to a credit card is $25 and for bank transfer is $100. In other words, if your balance is lower than $25 you will not be able to withdraw. Also, if you have a profit below $100 mark, eMarketsTrade will not allow bank transfer withdrawal. There are no fees for withdrawals charged by the broker, despite the features stated in the Account Types section.
Withdrawal Processing & Wait Time
Once all the client documents are verified, eMarketsTrade will process the withdrawals as soon as possible, although the exact time frame is not stated within the Withdrawal of funds Policy document. Usually, it should not take more than 7 days for bank transfer but the support staff cannot confirm this.
Bonuses & Promotions
The bonus is featured everywhere on the eMarketTrade web site. Ther is also a Bonus document stating all the conditions. The bonus amount seems flexible and you can probably make a deal with the broker. As with many bonus types, a certain amount of trading volume is required for the bonus to be released. In the case of eMarketsTrade, it is 40 times the bonus and deposit amount. Bonuses are not reversible, so you cannot ask to cancel it. The conditions are too complex in case a trader does not reach the required turnover, what we have concluded that a trader should be able to withdraw their initial deposit in case of realized profits, but in case of a loss, it could mean many consequences that are not described. We are not able to confirm negative balance protection from this broker.
Educational & Trading Tools
The Academy section provides material that looks like is taken from other sources (MTE-Media) as the Metatrader platform which is not supported by eMarketsTrade is also described. The ebooks collection will be fully available once a trade has registered, no deposit is necessary. The quality is average but a lot of trading content is covered.
The analysis section is divided into Technical and market summaries. Videos could not start no matter how hard we tried. The technical is fresh but mostly basic without any deep and accurate analysis. Market summaries are almost useless as they come down to arrow showing up or down as a suggestion for each of the listed assets.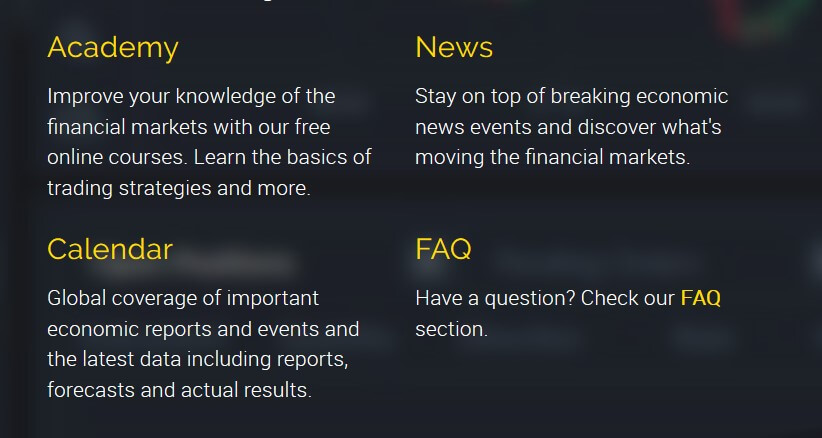 The Economic Calendar is available and it is basic without any filters or features. The description for each event is good though. The Market News section is fresh and updated daily. Most of the news id focused on cryptocurrencies and is very short and does not give any insight although good to make traders interested and find out more on the internet.
Customer Service
The representatives are not working full time, 9-5 pm and Fridays until 1 pm. The broker is available by phone, chat, and email. The quality of service you will get is not good, the support staff will answer your questions sporadically, and ignore if you are not a potential client. Comparing to the industry standard the support service is below average.
Demo Account
At first look, there is no demo available. eMarketsTrade does not want traders to practice on their platform as they may notice the inconsistencies with the price movement. Anyone interested to see the platform without investing can do it by skipping the deposit step and log in with the email and password. The support will not tell you this is possible but guide you to make a minimum deposit. We are unsure if they are willing to fund that demo account.
Countries Accepted
The United States of America and Israel residents are not accepted. Also, some other countries that eMarketsTrade deems unacceptable.
Conclusion
This unregulated broker has some user reviews on broker benchmarking sites and all are very negative. Many have reported manipulation of various kinds, money extortion, conditional withdrawals, hyping and trading on their own will, using TeamViewer and other similar remote control applications to access client's sensitive data such as bank statements, and many more red flags. As for trading, the biggest strength of eMarketsTrade is in the cryptocurrencies, although the spreads alone will divert anyone who understands the basics of trading.