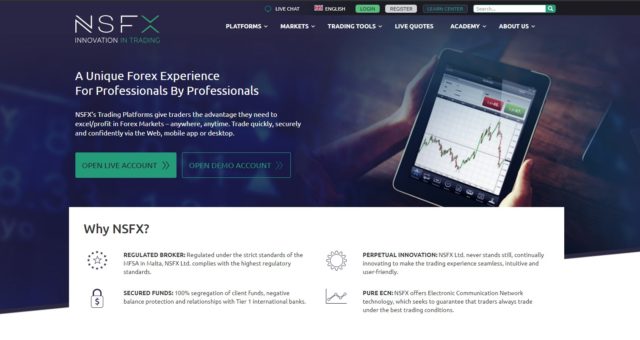 NSFX is regulated by MFSA (Maltese Financial Services Authority) so bear in mind that residents of the US will not be granted trading access. NSF is well established and has a neat range to offer aside from a choice of 2 forex trading platforms. In addition, they offer trading tools to assist you, as well as educational courses for the very new traders.
Account Types
NSFX offers 3 account types to choose from, including MT4 FIxed, MT4 ECN, and JForex. All accounts have the same leverage allowance (1:50), minimum trade size (0.01 lot) however the MT4 fixed account only offers fixed spreads while the other two accounts offer floating spreads. Note that the MT4 fixed account does not charge trade commissions while the other two charge $8 per lot per trade (round turn).


Platforms
The MT4 Fixed and MT$ ECN accounts both allow traders to use MT4 platform via the web based, iOS and Android versions. The JForex account uses an alternative platform, which some may not have heard of. The web and mobile versions (iOS & Android) are all available.
Leverage
Due to regulation policies, the maximum leverage allowed with NSFX is 1:50. Some traders may find this rather restrictive when it comes to maximizing profits on winning positions.
Trade Sizes
All accounts with NSFX have a minimum trade size requirement of 0.01 lot which is very reasonable and allows flexibility for the client.

Trading Costs
As mentioned earlier, the MT$ FIxed account does not come with trade commissions charges, however, the MT4 ECN and JForex account both charge $8 R/T which can accumulate and make trading with this broker rather costly, in comparison to other brokers. Swap fees are not mentioned and their live chat was unresponsive when we asked. Do bear this in mind though and check beforehand if you consider signing up.
Assets
NSFX does offer a good variety of tradable assets, however, what they do not offer is crypto pairs. With this broker, you may, however, trade the following: Forex, CFD Energies, CFD Indices, and Metals. A full list of all available instruments is available on the website.
Spreads
NSFX advertises that their spreads start from 0.4 pips. Bear in mind the MT4 Fixed account has just fixed spreads, while the MT4 ECN and JForex account both have floating spreads, starting from 0.4 pips which is competitive.
Minimum Deposit
NSFX is not very cheap to get started; the MT4 Fixed account requires a minimum deposit of $300 to get started. The MT4 ECN account has a minimum deposit requirement of $3,000 while the JForex requires a minimum sum of $5,000. This is an element of this broker that suggests it is not perhaps ideal for a first broker account for newer traders.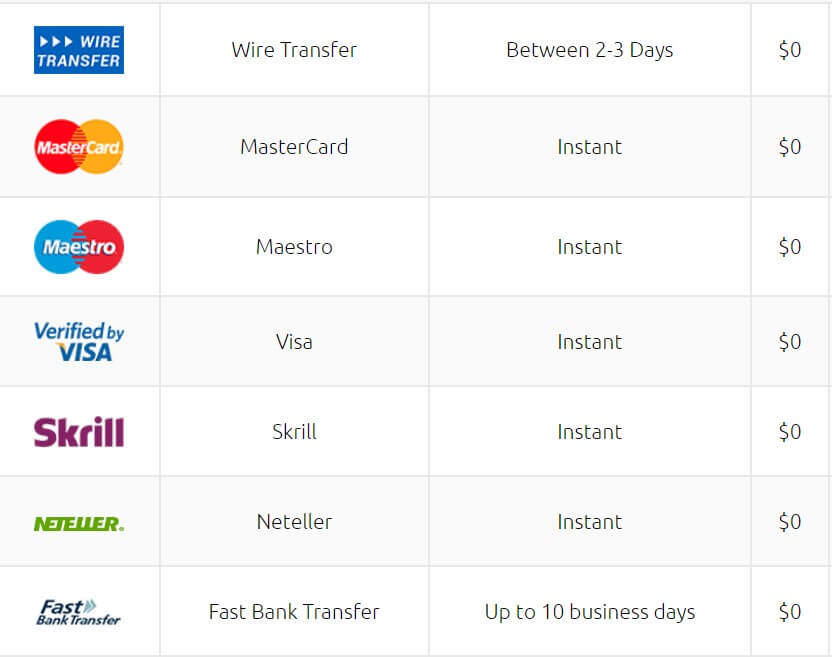 Deposit Methods & Costs
NSFX offers an incredibly wide range of methods to fund your account: Wire transfer, Verified by Visa with card, debit/credit card, Neteller, Skrill, and Fast Bank Transfer (which, ironically, has the least fast processing time of up to 10 business days as stated on the website). None of the deposit methods carry any fees by the broker.
Withdrawal Methods & Costs
Withdrawal methods are the same as the deposit methods available (Wire transfer, Verified by Visa with card, debit/credit card, Neteller, Skrill, and Fast Bank Transfer). The only two withdrawal methods that incur a fee (2.9% of the withdrawal amount) are Skrill and Neteller.
Withdrawal Processing & Wait Time
Withdrawal processing time scales are as follows:
Wire transfer up to 2 business days
Mastercard up to 1 business day
Maestro up to 1 business day
Visa up to 2 business days
Skrill up to 1 business day
Neteller up to 1 business day
Fast Bank Transfer up to 10 business days
Bear in mind the time your funds actually take to reach you/your account can depend on your provider, so always good practice to check with your provider of choice before you request a withdrawal.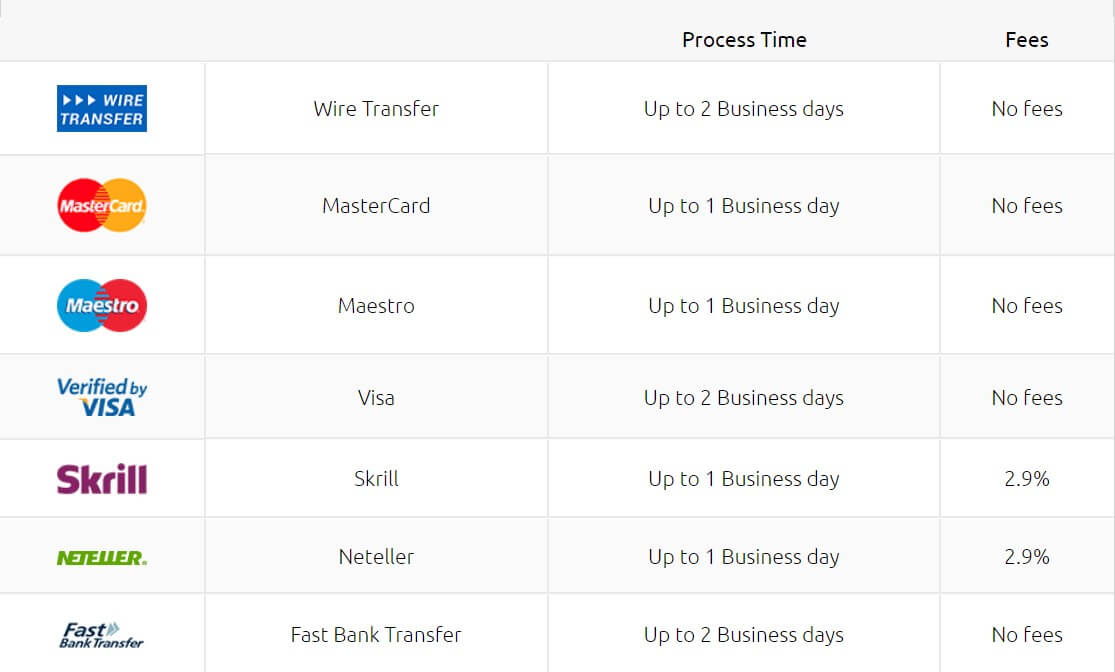 Bonuses & Promotions
NSFX is not able, due to their regulation, to offer such deposit bonus schemes or promotions.
Educational & Trading Tools
NSFX does offer some useful tools to assist you in your everyday trading including Economic Calendar, fundamental analysis, Financial news. In addition, if you are looking for some trading courses prior to trading by yourself, NSFX offers e-books, forex guides, and some helpful videos. All educational material is free.
Customer Service
NSFX offers customer support via Live Chat, Email, and Telephone. Hours of operation are not stated anywhere on the website which may explain why they were unresponsive via live chat on a Wednesday mid-afternoon (GMT +2).
Demo Account
You may open a demo account to test NSFX trading conditions to see if they suit you and your trading style, and to see if you would like to then move on to a live account if you are satisfied with their service.
Countries Accepted
Due to this broker's FCA and MFSA regulation, residents of the USA would not be able to become a client of NSFX. Of course, as standard goes, if you were to register for a live account, you would need to provide proof of address, and at this point, you will be told if your residency is accepted or not.
Conclusion
This broker does offer a solid trading service, however, for many, this is deemed quite an expensive broker to trade with, compared to other brokers in terms of minimum deposit requirements as well as commission fees. Indeed, their leverage caps are also not particularly favorable to many, but that is the sacrifice one has to take when dealing with a regulated broker.