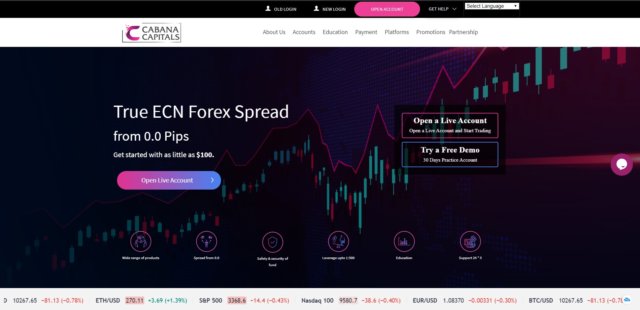 Cabana Capitals describes itself as a true ECN broker that offers access to a wide range of trading instruments, platforms, and trading signals. The company is registered in St. Vincent & the Grenadines, with additional offices located in London and Dubai. One thing the website doesn't mention is an establishment year, which left us curious as to just how long they've been around. Missions and values seem to be related to the dedication, respect, mindfulness, and admiration for their employees. Taking a look at some of the broker's concrete offers, we see several live account types, zero commission costs, and various spreads. Keep reading to find out everything you'll need to know about opening an account through this broker.
Account Types
Cabana Capitals features six separate account types: Micro, Active Trader, Standard, Premium, Elite, and VIP. Affordability may be the first thing one would want to consider since deposit requirements for those accounts range from $100 up to $50,000. Leverage options range from 1:200 up to 1:400, with the lower option being applied to account types that require deposits of $5K or more. Commissions aren't charged on any accounts, meaning that spreads would be another one of the most important factors to consider. Spread costs start as low as 0.2 pips on the VIP account, while spreads on the Micro account start at 2.6 pips. This is obviously a large difference that would affect one's experience significantly. We've provided a quick overview of each account type below, so that traders may determine which accounts to consider.
Micro Account
Minimum Deposit: $100 USD
Leverage: Up to 1:400
Spread: From 2.6 pips
Commission: None
Active Trader Account
Minimum Deposit: $500 USD
Leverage: Up to 1:300
Spread: From 2.1 pips
Commission: None
Standard Account
Minimum Deposit: $1,000
Leverage: Up to 1:300
Spread: From 1.6 pips
Commission: None
Premium Account
Minimum Deposit: $5,000
Leverage: Up to 1:200
Spread: From 1.2 pips
Commission: None
Elite Account
Minimum Deposit: $20,000
Leverage: Up to 1:200
Spread: From 0.5 pips
Commission: None
VIP Account
Minimum Deposit: $50,000
Leverage: Up to 1:200
Spread: From 0.2 pips
Commission: None

Platform
Like many other forex brokers, Cabana Capitals supports the popular MetaTrader 4 trading platform. MT4 includes 16 languages and comes with a user-friendly interface that helps to make it easier for traders all over the globe to use it. Traders receive real-time quotes and have access to multiple charting and analysis tools. It's also possible to use Expert Advisors on the platform. MT4 is accessible through WebTrader, desktop, Android, and iOS devices (iPhone, iPad, and iPod), making it easier to access their trades on the go from practically any device.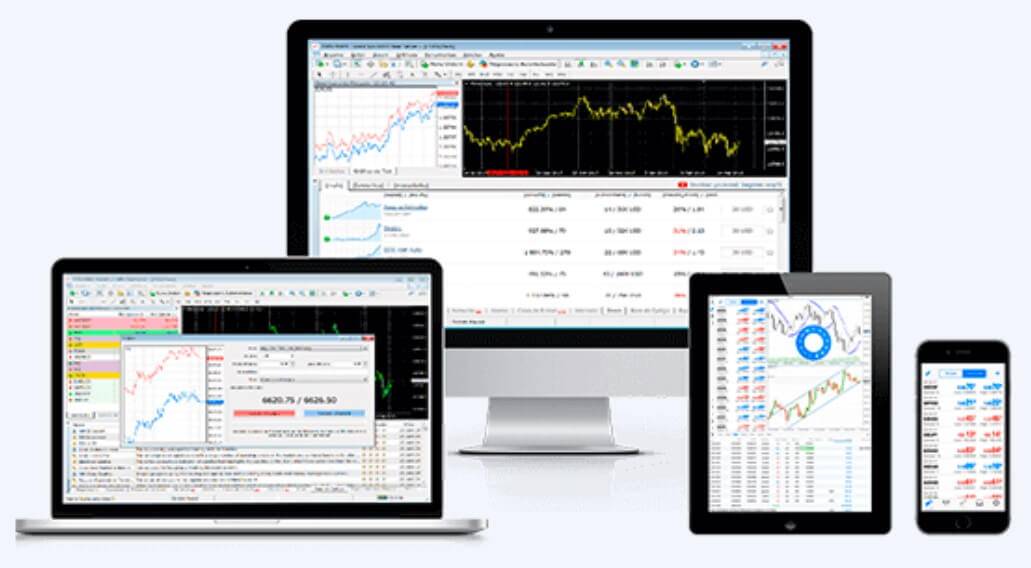 Leverage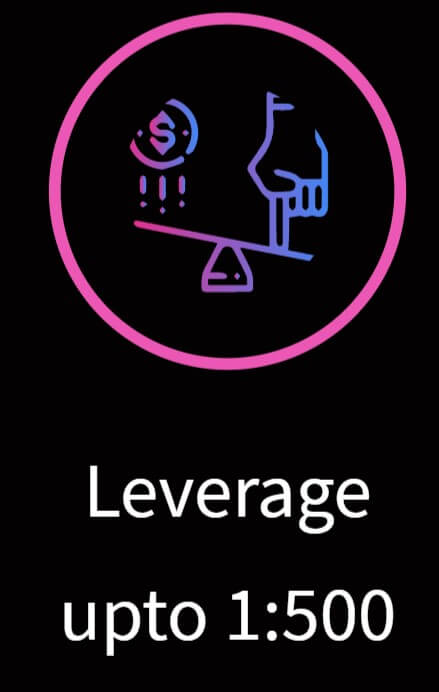 The Micro account allows a more flexible leverage choice of up to 1:400, while the Active Trader and Standard accounts both lower the cap slightly to 1:300. These options hold up to many other broker's offers and allow for a good amount of flexibility. On the accounts that hold larger balances, the leverage options are decreased to a lower 1:200 cap on the Premium, Elite, and VIP accounts. All of these accounts require larger deposits, ranging from $5,000 to $50,000. It isn't uncommon to see lower options on accounts holding larger balances, so we aren't surprised to see those restrictions.
Trade Sizes
This broker's website is unhelpfully vague when it comes to providing details for this category. We do know that all accounts support the trading of micro-lots, which is positive. What we don't know is what the maximum supported trade size and the total number of open positions allowed would be. This could vary by account type and maybe something that traders would want to add to their list of considerations when looking at accounts. The website also fails to list the margin call and stop out levels. All brokers impose these conditions. One would need to deposit funds or close positions once margin call is reached and the system would close trades automatically if the stop out level is reached. Traders need to monitor those levels closely to avoid reaching them, but this could prove difficult since the broker doesn't provide them.
Trading Costs
Many traders will be happy to know that Cabana Capitals does not charge commissions on any of their account types, meaning that costs are built-into the spreads. This makes it easier to keep up with the costs of making a trade, although it can cause spreads to be higher. Some of the accounts do come with spreads that are high, even considering the lack of commission costs, while other accounts provide a low spread. More on that later.
Traders will also want to keep swap charges in mind, as these charges would be debited or credited on applicable positions that are left open past market closing time. There is no mention of Islamic accounts on the website, so it isn't clear whether these charges can be avoided. The current long and short swap rates would need to be checked from within the MT4 platform since the website fails to mention them. We also don't see any mention of extra charges on the website. In fact, the broker doesn't even seem to charge deposit or withdrawal fees.
Assets
The broker offers access to an impressive number and variety of instruments, with 50+ currency pairs plus CFDs on indices, commodities, and precious metals. Cabana Capital advertises 250 products in total, so we would assume that most of those options would come from the forex pairs and indices that are available. The website fails to provide a more detailed product page, so we can't know for sure if the advertised number of instruments are actually available or what is specifically offered in each category.
Overall, we do feel satisfied with the broker's investment portfolio, but it would be nice to see cryptocurrency pairs included. Cryptocurrencies like Bitcoin have become highly popular options lately and some traders may have to open a secondary account with another broker to access them or choose another broker altogether.
Spreads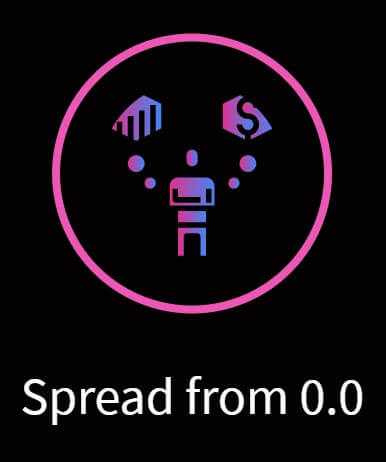 Cabana Capitals advertises the minimum spreads for each account type, but we don't get to see a more detailed product page that would allow us to compare how high options could actually go. If at all possible, we would definitely recommend making the $1K deposit to open a Standard account, due to the fact that spreads on the more affordable account types are well above average. To be exact spreads start from 2.6 pips on the Micro account and 2.1 pips on the Active Trader account. The higher than average spreads will certainly put traders that can't afford a better account type at a disadvantage.
On the bright side, spreads improve when looking at the other accounts. The Standard account offers a more average starting spread of 1.6 pips, while the Elite account lowers the starting spread to 0.5 pips, and the VIP account offers the tightest spreads from 0.2 pips. It's a little disappointing that we can't take a closer look at those options since we're curious to know what the average spreads would actually be on each account. It's also disappointing that the spreads start so high on the Micro and Active Trader accounts.
Minimum Deposit
The broker's Micro account is priced at $100, which is somewhat high for this type of account. The Active Trader account raises the deposit requirement to $500 and better accounts cost $1,000 or more. Higher requirements are set at $1,000 on the Standard account, $5,000 on the Premium account, $20,000 on the Elite account, and $50,000 on the VIP account. The broker's vast range of account prices allows those that can make a large initial investment an opportunity to access better conditions. On the other hand, those that can't afford to invest much will be forced to trade with higher spreads.

Deposit Methods & Costs
Accounts can be funded through wire transfer, local deposit, Visa, Maestro, and a variety of e-wallets, including Neteller, Skrill, WebMoney, PerfectMoney, and Bitcoin. Processing times are instant, except in the case of bank transfer/local transfers, which take up to 1 business day to be credited. Each method claims to be fee-free, but the broker places a * beside the no commission comment in each section for every method, which makes it seem as though there may be some type of condition that could affect the fee-free offer. We often see terms where traders would have to pay the fee in cases where there was no trading activity on the account between the time that funds were deposited and a withdrawal was requested.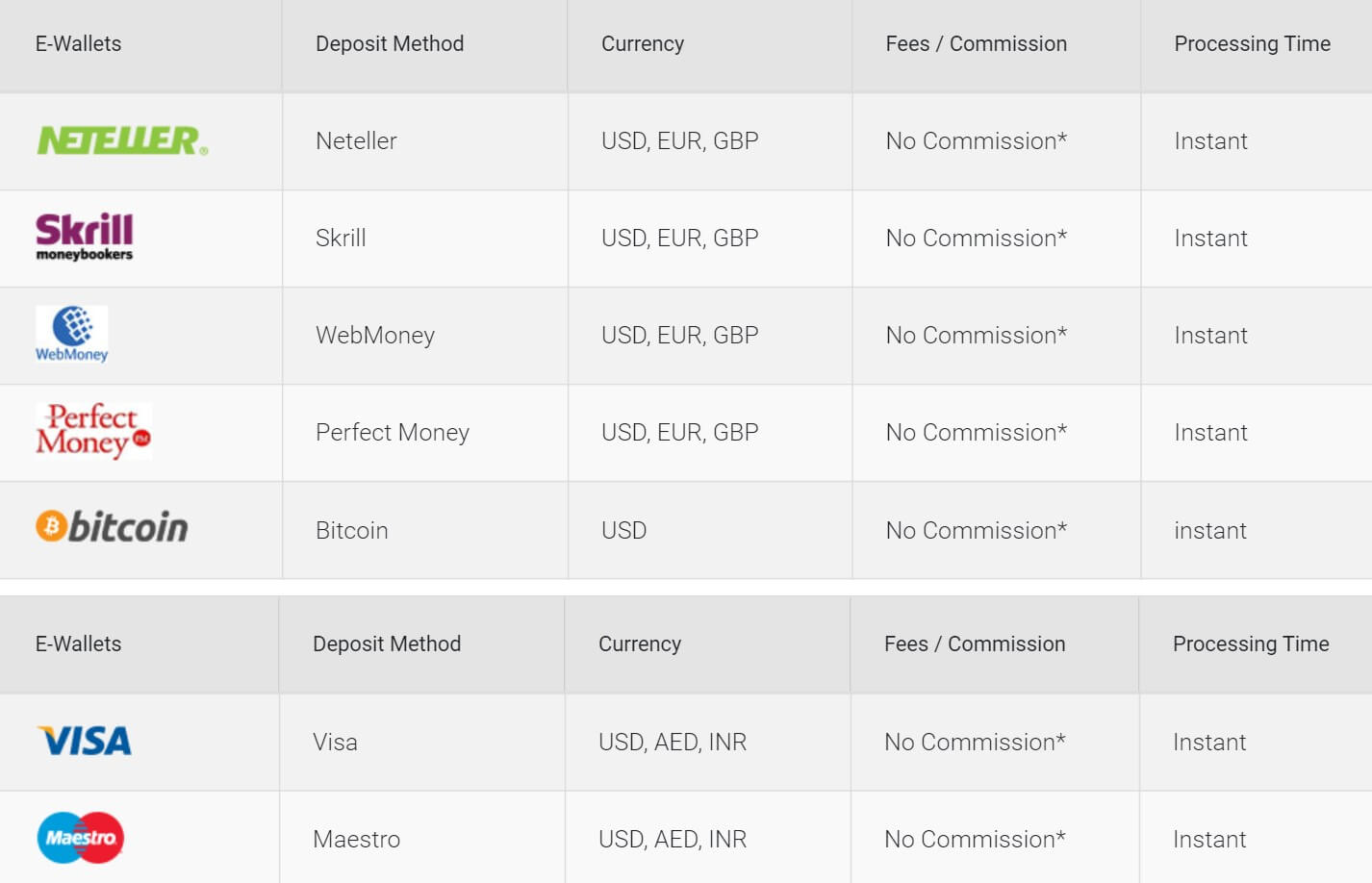 Withdrawal Methods & Costs
All of the available funding methods can be used for withdrawal. Deposits and withdrawals are combined on the same webpage, so it seems that withdrawals are fee-free, like with deposits, but we do still wonder if any conditions affect the free offer due to the way it is presented on the website. We weren't able to find any information related to funding accounts under the broker's terms & conditions that could help to outline any potential conditions.
Withdrawal Processing & Wait Time
Withdrawals back to Visa/Maestro, Neteller, Skrill, WebMoney, PerfectMoney, and Bitcoin and processed instantly. Funds would likely show up in the trader's wallet instantly as well, or within a few hours in most cases. Processing times for bank wire transfers and local deposits are handled within 1 working day. The website doesn't explain how long it can take for those funds to be credited back to the client's account once sent. There is usually a waiting period of a least a few business days before banks manage to credit the funds. Fortunately, the broker's quick processing times would help to expedite the process.
Bonuses & Promotions
Cabana Capitals was previously offering a Welcome Bonus and a New Year's Cashback offer, but those promotions have since expired. Currently, there is a running promotion that rewards winners with a trip to Thailand, but it seems that it's too late to win the trip before the offer expires. The lack of active promotions shouldn't deter traders since it seems that this broker updates these offers frequently. The fact that a previous promotion was based around a holiday suggests that there will be similar opportunities in the future. If you do decide to open an account, be sure to check for any updates under the "Promotions" section of the website.
Educational & Trading Tools
Educational resources are limited to articles, which can be found under the "Education" section of the website. The broker groups those articles into separate categories based on beginner and intermediate experience levels. Beginner articles consist of forex trading basics, setting up MT4, and an explanation based on leverage. This information is limited and likely would not be detailed enough to provide all of the education that one would need.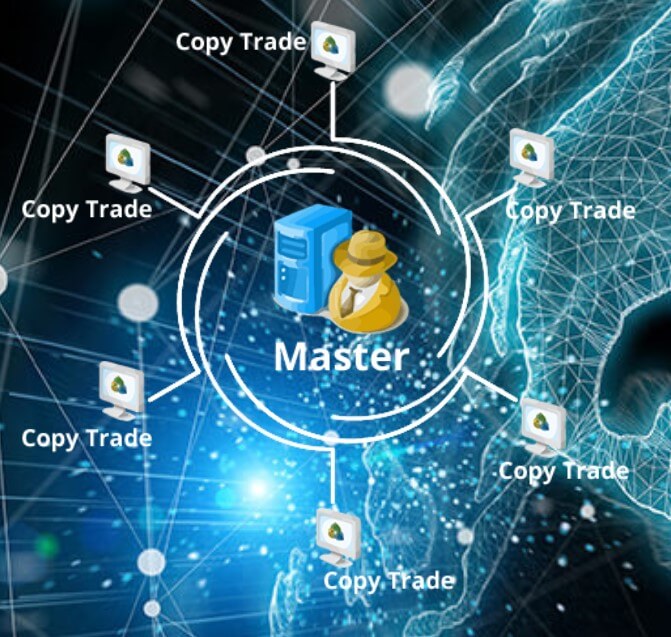 Intermediate articles focus more on risk management, technical analysis, trading strategies, moving averages, etc. It seems that the broker has made more of an effort to provide more advanced material. This would be helpful for traders that more experienced but beginners will likely need to look elsewhere for information. The website does provide the ability to use a Copy Trader system, which allows one to copy the trades of successful and profitable Forex traders.
Demo Account
It's possible to open a demo account by clicking on "Open Free Demo" directly from the website's homepage, or from the live account registration page. When we tested the process, we did run into an issue where the website kept directing us to the regular login page (with no option to open a demo) if we clicked on the homepage link. Traders can bypass this issue by going to register a live account from the top of the site and then switching the option to demo.
One disadvantage of opening a demo through this broker would be the fact that accounts expire after 30 days. It's always possible to open another account, but some traders may not want to lose any previous progress. Traders can choose from any of the live account types and select a virtual currency amount from $100 to $5K, which makes the account more personalized.
Customer Service
Contacting an agent through should be relatively easy since the broker offers support through LiveChat, email, and phone. Exact support hours aren't specified, but the website does mention that traders will have access to customer support and services at all times. This doesn't seem to be true for their instant support option, however, as there were no agents online when we attempted to start a chat on the weekend. This did make us a little skeptical that support would respond to emails on the weekend as well. The website does attempt to make the process convenient when support is offline, at least, since one can fill in a contact form from within the chat window. We've provided all of the listed contact information below.

Email: support@cabanacapitals.com
Phone: +44 1213681986
Address (main office): Suite 305, Griffith Corporate Tower, Beachmont, P.O. Box 1510, Kingstown, St. Vincent & the Grenadines
Countries Accepted
Listed restricted regions include the United States, Canada, Belgium, and FATF blacklisted countries. The FATF list includes several countries that are regarded as being uncooperative in the fight against money laundering. Some of those countries include the Bahamas, Israel, Philippines, Russia, Nigeria, Ukraine, Indonesia, Egypt, plus several more. Often times brokers will mention restricted countries, but still allow traders from those locations to open an account with no problem.
Cabana Capitals doesn't actually require clients to input a country when signing up. This means it's technically possible to open an account from anywhere, but support may deny compliance documents for those clients. The best thing to do would be to open an account and submit documents, without making a deposit until approval if you're from one of the aforementioned locations.
Conclusion
Cabana Capitals is an online broker with leverage caps from 1:200 to 1:400 on FX pairs and CFDs on metals, commodities, and indices. This broker provides a diverse range of account types, with deposit requirements that range from $100 to $50K. The two more affordable accounts come with high starting spreads – from 2.1 and 2.6 pips. However, those that can afford an Elite or VIP account would have access to tight spreads from 0.5 and 0.2 pips. All traders will benefit from the broker's lack of account commission fees.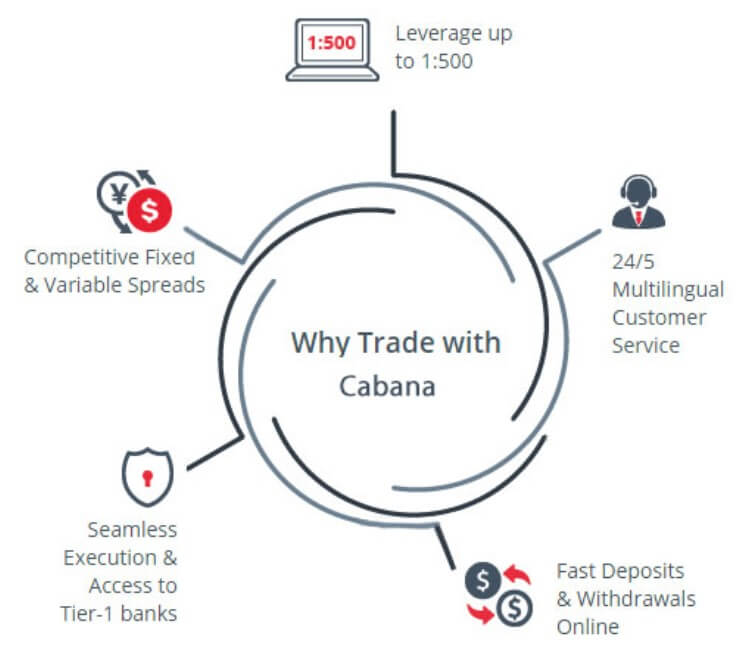 Accounts can be funded through a variety of methods, deposits/withdrawals seem to be fee-free, and withdrawals are processed instantly (within 1 working day for wire transfers). The website did make it seem as though there may be a condition affecting the fee-free offer, although this isn't specified. Support is supposedly available at all times, but we found support to be offline at the time we reached out. We had also just missed out on three active promotions at the time this article was written, but the broker does seem to provide opportunities to earn bonuses, trips, and cashback periodically.
The website provides some educational articles, but most of the effort seems to be focused on intermediate-level traders, rather than beginners. Demo accounts are available, with a 30-day expiration period. One's experience with this broker would really depend on how possible it is to make a larger initial deposit. Traders that can afford to deposit at least $1K or more would benefit, while those that can't be able to find better conditions elsewhere.