Capital Markets Group (CMG) is a global forex and CFD broker registered by the Financial Services Authority (FSA) and located in Saint Vincent & the Grenadines. The company claims that they work relentlessly to provide their clients with competitive pricing, fast order execution, and reliable trading infrastructure. CMG also mentions that they are constantly updating their services to stay ahead of the competition and even goes as far as to claim that they are the best around. Of course, brokers typically advertise their positive qualities and try to put a positive spin on any drawbacks. We wanted to know if this broker has the right to boast, so we delved beneath the surface to find out whether they are the worthy competitor they claim to be.
Account Types
Those signing up for an account through CMG will be automatically signed up for their MT4 account, which seems to be the only option available; therefore, there is no need to compare conditions on multiple account types with this broker. From a quick glance, we discovered that the cost to open an account is $250, leverage options are above average, and spreads tend to be very competitive, although they are variable. There is a lot more to take into consideration, so stay with us to find out more detailed information on each of these categories. You can view a quick overview below.
CMG Account
-Minimum Deposit: $250
-Leverage: Up to 1:400/Up to 1:500
-Spreads: Variable from 0.2 pips
-Commissions: Not specified
-Minimum/Maximum Trade Sizes: 0.01 lot/Depends on Instrument
This broker requires compliance documents before an account can be approved for trading. For proof of ID, passports, Driver's License, or a non-Driver's ID are all accepted. Several documents are accepted as proof of residence, and all of the acceptable documentation can be viewed on the website under 'Support' > 'Legal Documents'.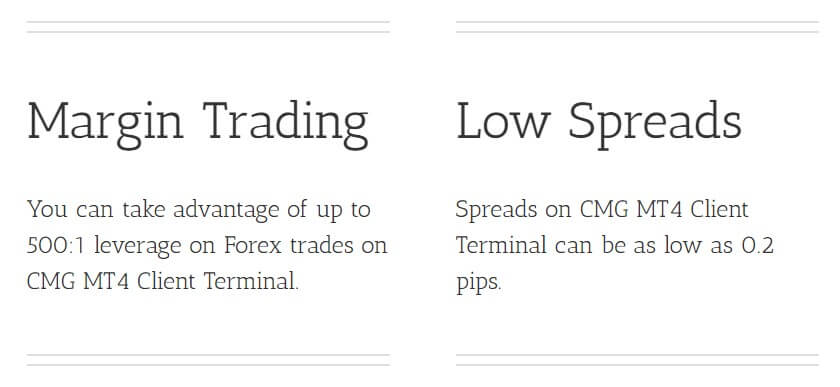 Platform
CMG supports the most commonly offered trading platform available in today's forex world, MetaTrader 4. Most traders have probably heard of MT4 already, but if you haven't, you should know that the platform offers a rich user-friendly interface, advanced technical analysis tools, Trading Signals, Expert Advisors, and is compatible with a variety of devices. MT4 is preferred among the vast majority of traders and is available for download on desktop, mobile, tablet, and through the web browser.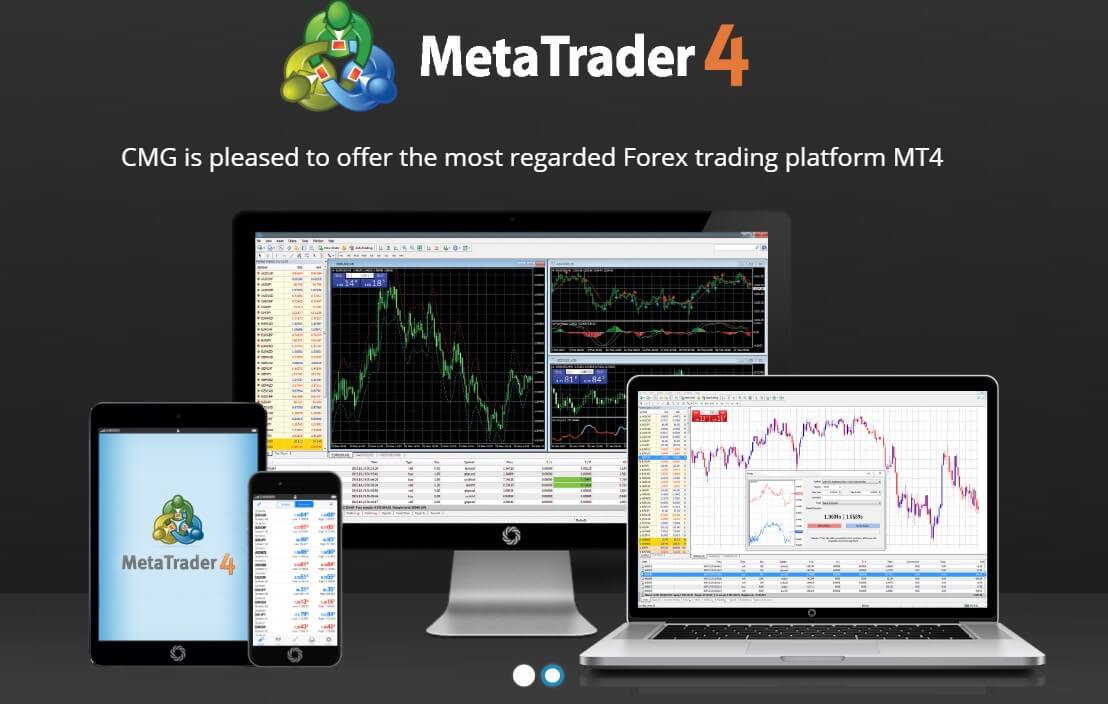 Leverage
This broker offers leverages that are very flexible and above average, although they certainly aren't the highest options we've ever seen. However, we did find the website to be contradicting when listing the leverage cap. On their homepage, the broker advertises leverage options of up to 1:400. Under the forex category, the website lists a higher option, of up to 1:500 on forex pairs. We would expect the homepage to advertise the very best leverage available, so it is a little confusing as to why the higher option is displayed elsewhere. Since both options are very similar, we were not entirely alarmed by the discrepancy. Whether the highest leverage cap is 1:400, or 1:500 on forex options and 1:400 on all other tradable instruments, it should be enough for traders of all different skill levels.
Trade Sizes
All instruments offer a minimum trade size of 0.01 lots, otherwise known as one micro lot. Maximum trade sizes vary, based on the type of instrument that is being traded. This is not specified on currency pairs. For oil, the maximum trade size is 10 lots. On Gold and Silver, the maximum trade size is 50.00 lots. The maximum trade size on indexes ranges between 2 lots and 20 lots and can be viewed by navigating to 'Products' on the website's directory and then selecting 'CFDs'. There are no limits to the size or number of positions that a trader may hold and available margin in the account is the only constraint on the size of a position. Initial margin and total margin requirements will fluctuate with the value of the Underlying Instrument on which the contract is based.

Trading Costs
Depending on the type of account you hold, commission fees may be applied. We know that there is only one primary account type, so we can assume that CMG is hinting that there may be lowered, or zero commission charges for their wholesale clients. In order to be considered a wholesale client, one would need a balance of $500,000, so the majority of traders will have to pay the applicable commission charges. Note that there are zero commission charges when trading commodities. Rollover interest is also applicable when positions are held overnight. Rollover time is around the New York closing time (17:00 EST). Rollover costs can either add a significant extra cost, or profit, to your trade, so keep these charges into consideration.
Assets
CMG offers trading on Forex, CFDs, precious metals, and oils. The website's homepage mentions that 80 plus instruments are available, but we did some further research to find out more. The website does not list all of the available forex options, but we do know that some of the most commonly traded currency pairs are available, including the EUR/USD, for example. Precious metal options include Gold and Silver. Oil options include WTI Crude Oil and Brent Crude oil. Overall, there are eleven popular indexes available. Considering that we can only add fifteen options so far, it is safe to assume that the bulk of tradable products with this broker would fall within the category currency pairs, with about 65 options being available.

Spreads
Spreads with this broker are variable, meaning that they fluctuate along with the trends in the market. Spreads start as low as 0.2 pips, much lower than the industry average of 1.5 pips. However, these spreads may rise and fall, due to fluctuation. To view live spreads on all of the tradable assets, we recommend opening a demo account.

Minimum Deposit
CMG requires a $250 minimum deposit upon opening an account. This amount may seem steep to less-experienced traders, although it could technically be considered average. Still, many other brokers do offer much lower minimums and some have completely done away with them altogether. The minimum with this broker is realistic, even if it is a bit intimidating to some, although lower options are out there. Fortunately, it would not take an impossibly long time for one to save up the funds if they are not immediately available.
Deposit Methods & Costs
Deposits are accepted from the following payment methods: Bank Wire Transfer, Credit Card, Neteller, Skrill (Moneybookers), Konnectivity, China UnionPay, and B2B Transfer. Note that there is a $1,000 limit on Credit Card deposits and a $3,000 limit on deposits made through China UnionPay and Skrill. CMG does not charge transfer fees; however, fees may be charged by your provider. Deposits are credited instantly for the majority of methods. However, it can take 1-2 days for Bank Wire Transfer and B2B Transfer to be posted. It can take up to one day for Konnectivity to post. The broker cannot accept third-party deposits, but joint bank accounts are accepted, so long as the name of the account holder is listed on the document.

Withdrawal Methods & Costs
All of the available deposit methods can be used for withdrawal. Credit Card withdrawal can only be made for the amount used to make the deposit and extra profits must be withdrawn through a different method. Any transfer fees charged by CMG's banking institution will be passed on to the client, however, the website does not explain how high those fees would be.
Withdrawal Processing & Wait Time
Withdrawal forms received before 21:00 GMT (5:00 pm) will be processed the same business day. Any forms received after this time will be processed the same business day. Withdrawals made by Bank Wire Transfer usually take 3-5 working days to reach the client's account. Sam-day processing is quicker than what we're used to seeing, but note that the website does mention that any unforeseen circumstances may cause withdrawal times to be longer.
Bonuses & Promotions
At the time this article was written, there were no special opportunities or promotions available with this company. Finding these types of options is common, but finding bonus opportunities with realistic terms and conditions is rarer than one may realize. With that said, it would certainly add something extra to what this broker is offering, but we would never choose a broker based on this category alone. Since the company states that they are constantly adapting to keep up with the competition, one should definitely check back to see if anything is added in the future.
Educational & Trading Tools
On their homepage, CMG advertises an economic calendar and tools & analysis, but none of these options are accessible from the website. Most likely, the broker is referring to the built-in tools within MT4, rather than what is offered directly via their website. This broker does offer demo accounts, which is one of the best learning tools out there, but one wouldn't be able to operate one of their demo accounts properly without any prior insight into trading. With that said, the educational resources offered by this broker fall short. This shouldn't be something that stops a beginner, but it is disappointing that the broker doesn't offer more directly. We would also like to see a link to the advertised economic calendar, some calculators, and perhaps updated market news on the website.
Demo Account
Free demo accounts can be opened through the broker before one has made the decision to sign-up with this broker, or one can be opened alongside a real account. Opening a demo is an excellent way to test the market and the broker offers a $50,000 balance in virtual currency upon opening one of their accounts. This should be more than enough, however, the broker does offer to add funds to a demo account if one's balance is depleted, so you could continue trading on the same account, even after blowing through those funds. Demo accounts only expire if one does not trade regularly for 30 days. In order to open a demo account, you can make a request directly on the broker's homepage, or through the CMG MT4 Client Terminal, by navigating to the menu bar file > Open an Account, select CMG Demo Server, and select New Demo Account.
Customer Service
24/7 customer support is available via phone, email, or through the contact form on their website. Having the ability to contact support on the weekends definitely adds an advantage to choosing this broker, especially considering many traders sign-up on the weekend and therefore have questions. The majority of big brokers fail to cover weekend support, and some even close in the evenings, so CMG is ahead of the competition on that front. However, support falls a little short when it comes to contact methods since the instant contact option LiveChat is not available. This means that the phone would be the quickest way to get in touch with an agent. We've listed all contact information for the company below.
-Phone: +61 2 4036 3165
-Email: support@cmgau.com
-Address: Suite 305, Griffith Corporate Centre 1510, Beachmont, Kingstown, St. Vincent & the Grenadines

Countries Accepted
For citizens in certain countries or municipalities, currency trading is not permitted. The list of restricted countries includes: Central African Republic, Congo, Cote D'lvoire, Democratic People's Republic of Korea (North), Ecuador, Eritrea, Ethiopia, Guinea-Bissau, Haiti, Iran, Islamic Republic of Iraq, Japan, Kyrgyzstan, Liberia, Libya, Myanmar, Republic of Korea (South), Sierra Leone, Somalia, Sudan, Syrian Arab Republic, United States of America, United States Virgin Islands, Western Sahara, Yemen, and Zimbabwe. Note that the website will allow one to sign up for an account under the United States, however, it is possible that compliance documents may be denied if you sign-up under that location. However, it is possible that these accounts could be approved based on the fact that this broker is located in Saint Vincent & the Grenadines, which typically has more relaxed regulation laws.
Conclusion
Capital Markets Group offers high-leverage trading on a number of tradable instruments, mostly made up of currency pairs. Accounts can be opened with a minimum deposit of $250, a variety of funding methods are available, and withdrawals are often processed within the same business day, although there are applicable charges when withdrawing. CMG also offers low spreads that start from 0.2 pips, but the website does not go into detail about their exact commission charges, which could be a red flag. Customer support is available 24/7, so there should never be an issue getting in touch with this broker. Taking all of those things into account, we can say that the broker rightfully boasts about their competitive advantages when it comes to spreads, leverage options, and customer support availability.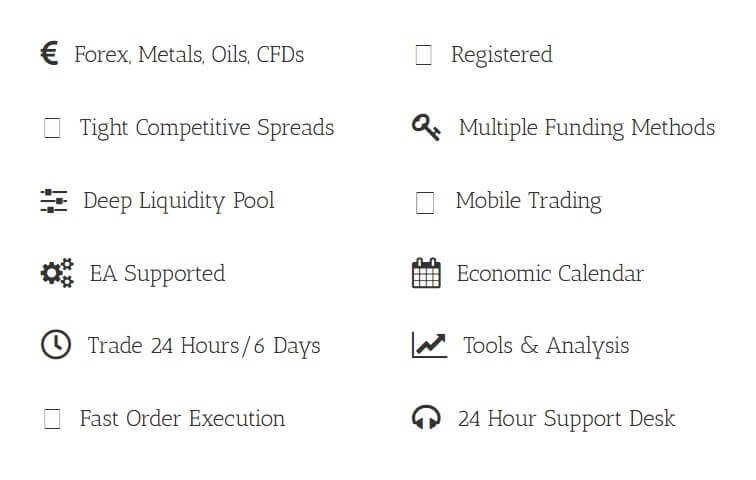 With that said, this broker is missing some of the extra things, like bonuses, LiveChat, and educational resources. One would likely be satisfied with the majority of options available, but we can't help to wonder if commission charges are higher than average in order to make up for the better than average spreads. Overall, the website could be more transparent in that category but seems to deliver a clear and transparent explanation of all of the other conditions. At the end of the day, only you, the trader, can take all of this into consideration and decide whether this broker is a candidate worthy of your business.