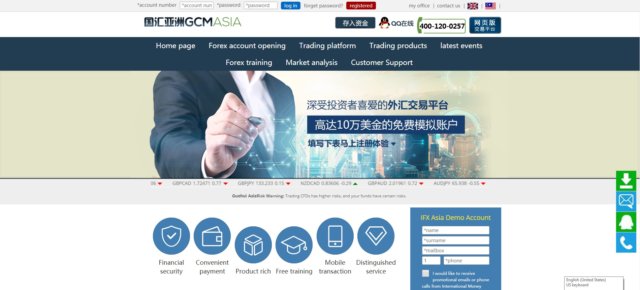 GSM Asia does not give a lot of information about itself, we can see that they are part of the Fortrade Ltd group and follow the guidelines of the ESMA. They state that some of their main features are that they are safe and reliable, offer accessible trading, offer professional trading environments and give you a wide choice of trading instruments. Throughout this review, we will look into the services on offer to see what they really offer and how they compare to the competition.
Account Types
It seems like there may only be one account as there aren't any options when signing up or information about account comparisons on the site. As we go through each section we will outline any potential differences, if there are none then each section will be related to the single account on offer.
Platforms
There are three different platforms available to use, we have outlined some of the key features of each platform below.
MetaTrader 4 (MT4): Some of the main features of MT4 include one-click trading, personalized settings in 38 languages, the ability to trade using your desktop, laptop, mobile device or web browser, compatibility with trading robots and expert advisors, as well as thousands of compatible indicators for analysis. There are over 300 instruments available and you can manage your positions using take profits, stop losses, trailing stops and more.

GCMAsia Pro Trader: GCMAsia Pro combines powerful investment tools, real-time stock prices and updates into an easy-to-use interface. Some of this platform's features include a user-friendly interface, demo accounts, over 300 tradable products, the use of advanced order types, accessible through a desktop download, mobile application or internet browser, you can get notifications of price changes and many more features are available.

Sirix: Sirix is ​​written in HTML5 and is compatible with most major browsers. The Sirix platform has an advanced built-in indicator and chart options, including Bollinger Bands, MACD, Ichimoku Clouds, and Parabolic SAR. In Sirix's "Social Stream", you can see real-time transactions and pending orders from other traders. You can find traders who meet your requirements, follow and copy their trades. Sirix is ​​available in 18 languages. Users can change their preferred language on the platform in real-time.

Leverage
The maximum leverage available is 1:30 which is relatively low, the different instruments have different available leverage. Looking through the specification it seems like GCM Asia are following the same guidelines that were set out by the ESMA and are as follows:
-30:1 for major currency pairs
-20:1 for non-major currency pairs, gold, and major indices
-10:1 for commodities other than gold and non-major equity indices
-5:1 for individual equities and other reference values
-2:1 for cryptocurrencies
Trade Sizes
When trading forex pairs a lot is equal to 100,000 units, the minimum trade size starts at 0.01 lots and then goes up in increments of 0.01 lots so the next trade would be 0.02 lots and then 0.03 lots.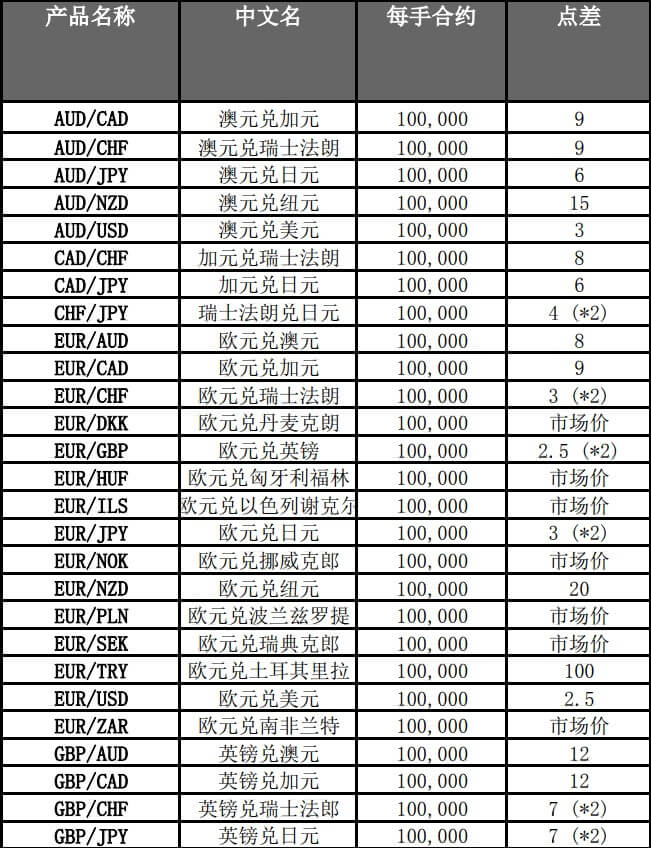 Trading Costs
We did not notice any information about commissions however some of the website was not successfully translated so we may have missed it, but as there appears to spread, commissions may not be added. There are swap charges which are charged for holding trades overnight and over the weekends, these can be viewed within the trading platform you are using.
Assets
The assets have been broken down into a number of different categories, we have outlined them below along with the instruments within them.
Forex: AUDCAD, AUDCHF, AUDJPY, AUDNZD, AUDUSD, CADCHF, CADJPY, CHFJPY, EURAUD, EURCAD, EURCHF, EURDKK, EURGBP, EURHUF, EURILS, EURJPY, EURNOK, EURNZD, EURPLN, EURSEK, EURTRY, EURUSD, EURZAR, GBPAUD, GBPCAD, GBPCHF, GBPJPY, GBPNZD, GBPSGD, GBPUSD, GBPTRY, NZDCAD, NZDCHF, NZDJPY, NZDUSD, USDCAD, USDCHF, USDCNH, USDDKK, USDHUF, USDILS, USDJPY, USDMXN, USDNOK, USDPLN, USDRUB, USDSEK, USDSGD, USDTRY, USDZAR.
Commodities: Corn, Cotton #2, Soybean, Sugar, Wheat, Brent Oil, Crude Oil, Gasoline, Heating Oil, Natural Gas, Copper, Gold, Palladium, Platinum, Silver, GAUTRY, GAUUSD, GOLD/TRY, XAUEUR, XAUGBP.
Indices: Australia 200, China 50, Dollar Index, Europe 50, France 40, Germany 30, Hong Kong 50, Italy 40, Japan 225, Netherlands 25, Spain 35, Switzerland 20, UK 100, USA 100, USA 2000, USA 30, USA 500.
Stocks: There are stocks from all over the world including Bank of America, Apple, AT&T, Google, Admiral Group, Aviva, HSBC, and many more.
Bonds: 5 YR US T-Notes, 10 YR US T-Notes, and 30 YR US T-Notes.
EFTs: UltraPro QQQ, UltraPro Short QQQ, and Oil Fund.
Crypto: Bitcoin, DASH, Ethereum, and LiteCoin.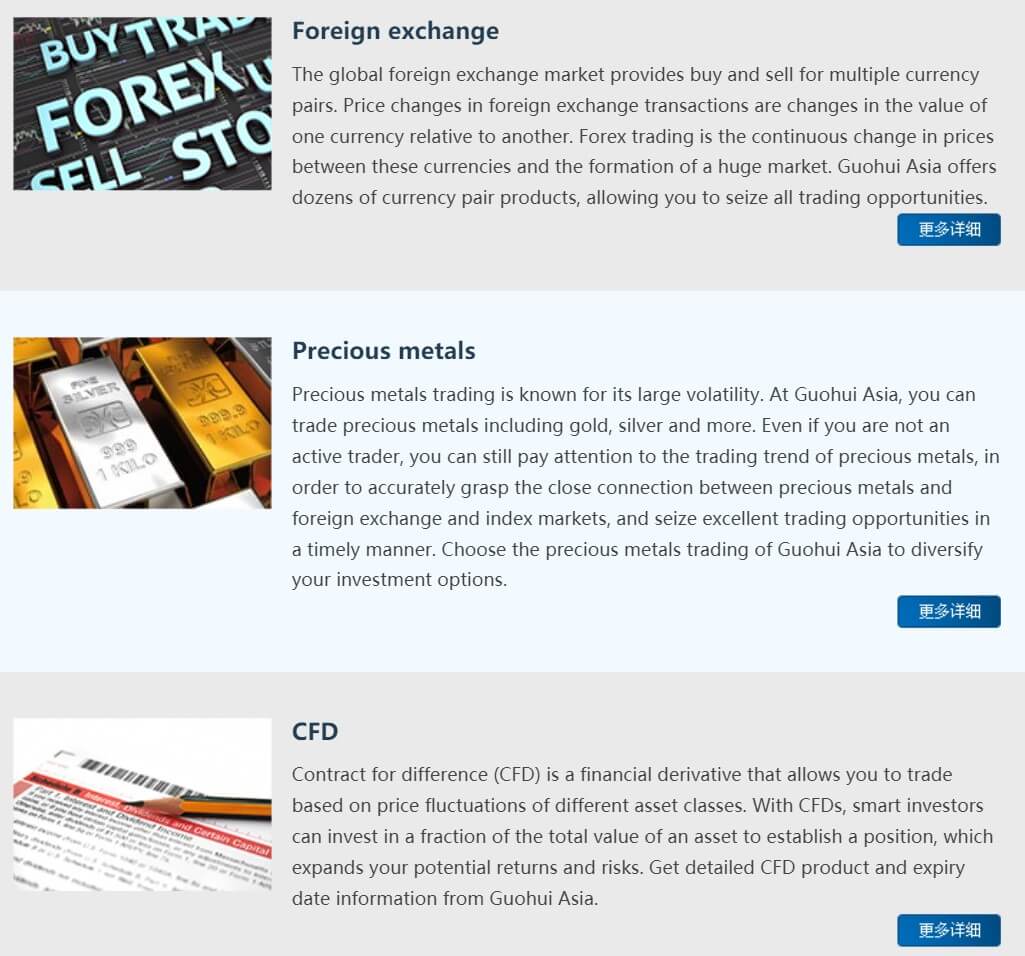 Spreads
We cannot comment properly on the spreads, as the product specification is not in English it is hard for us to fully understand them, the bit that we believe indicates the spreads is showing them starting from around 0.3 pips with others higher at 1.5 pips or more. Again, as we cannot fully understand what is written we do not want to give out information that may not be correct.
Minimum Deposit
We don't actually know what the minimum deposit requirement is, so we cannot really answer this section of the review.
Deposit Methods & Costs
Sadly, we do not have any information on deposit methods so we are not able to list them here, we also do not know if there are any additional fees added to deposits.
Withdrawal Methods & Costs
As we do not know what the deposit methods are we also do not know what the withdrawal methods are. Just like with the deposits, we also have no understanding as to whether there are any additional withdrawal fees added by FCM Asia.
Withdrawal Processing & Wait Time
It should take between 1 to 7 days for your withdrawal request to complete, but we do not know the exact processing time for GCM Asia itself or what methods are available so it cannot be any more accurate with the prediction.
Bonuses & Promotions
There doesn't appear to be any active promotions or bonuses. This does not mean that there won't be and so you could always contact the customer service team to see if there are any coming up that you could take part in.
Educational & Trading Tools
There is something called Trading Central, however, without an account, we were not able to access it. It is designed to help traders choose the best trades and times and offers advice from professional traders. There is also a financial calendar available that shows upcoming news events and the markets that they could affect. Finally, there is also some daily, weekly and monthly analysis available which can give you some trading ideas.
Customer Service
The contact us page is pretty basic, it is a single online submission form to fill in and an email written above it. At the top of the page, there is the addition of a phone number too.
Email: cs@gcmasia.com
Phone: 400-120-0257

Demo Account
A demo account is available and allows you to test out the markets, GCM Asia actively encourages you to open up a demo account in order to get an idea of the trading conditions available, there is no expiration time on the demo accounts and they are a great way to test new strategies without risking any real capital.
Countries Accepted
The following statement is present on the site: "The information on this website is not intended for residents of the United States, Hong Kong, or the European Union. It is not intended to publish or use information that may violate local laws or regulations to any person or country. IFX Asia does not accept deposits from these countries."
Conclusion
It was a little harder than usual to get the inflation we needed as the website was not in English. The trading conditions are still a little unknown to us, the leverage is kept low due to the recommendations of the ESMA and the spreads and commissions are not entirely known, so the cost of trading is hard to gauge. There are plenty of assets to trade, unfortunately, we do not know what the deposit or withdrawal methods are or if there are any added fees, so without that information, it is hard for us to recommend them as a broker to use.