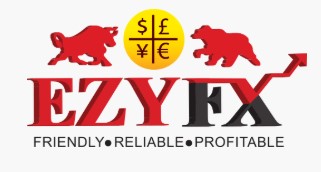 There are many aspects that make EZYFX a competitive and desirable broker to traders who follow different strategies and styles. Their 6 account types allow you to pick the one the retains your desired buying power, spreads, and commissions. The lax minimum deposit requirements make these options even more accessible to traders. We will cover these features in more detail in this review, alongside other crucial information about EZYFX's pros and cons.
This broker prides itself on a widely-available customer support team (that speaks over 10 languages) and the educational advisory sessions that account holders may utilize. There are also other reasons as to why traders pick EZYFX, including how the firm caters to different types of investors (retail, institutional, and commercial), their one-on-one training courses, as well as the state-of-the-art technological toolsets that define account holders' trading experience.
What are the differences between EZYFX's 6 portfolio types? How many deposit/withdrawal methods are available? Do they offer any bonuses? Which platform does EZYFX work with? And how much leverage can traders get? Read this review to find the answers to these questions and more.
Account Types
There are 6 account options on EZYFX. Generally speaking, the minimum deposits are very low when compared to the rest of the market. The ECN Segregated Account is the only one with a relatively sizable deposit requirement. Users have the option to open the EZY Islamic Account or add its swap-free features to 1 of the 3 ECN types.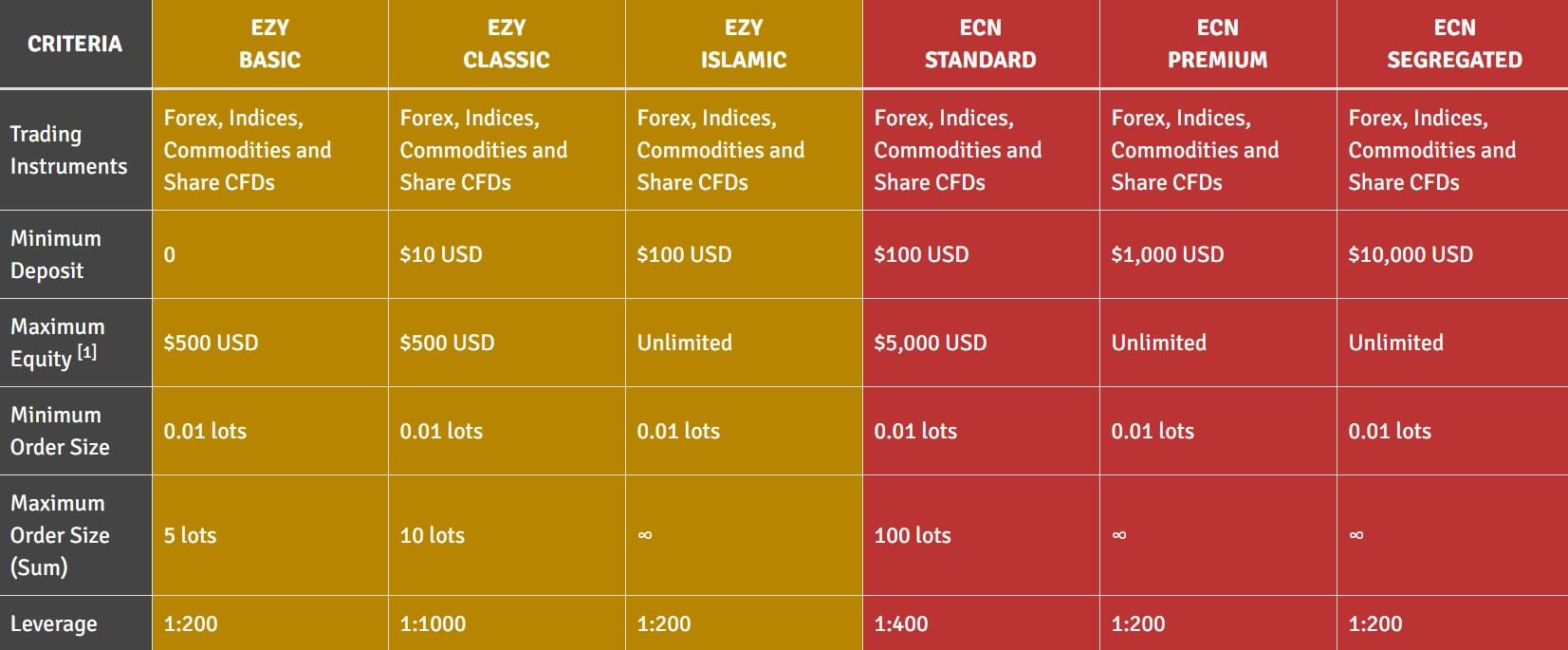 EZY Basic:
Minimum Deposit: $0
Spreads: From 3 pips
Commission: $0
EZY Classic:
Minimum Deposit: $10
Spreads: From 3 pips
Commission: $0
EZY Islamic:
Minimum Deposit: $100
Spreads: From 3 pips
Commission: $0
ECN Standard:
Minimum Deposit: $100
Spreads: From 1 pip
Commission: Yes
ECN Premium:
Minimum Deposit: $1,000
Spreads: From 1 pip
Commission: Yes
ECN Segregated:
Minimum Deposit: $10,000
Spreads: From 1 pip
Commission: Yes
While EZY Basic, Classic, and Islamic pay no commissions, each of the 3 ECN Account types does. The broker, however, doesn't specify how much they charge on their website. EZY Basic and EZY Classic don't have access to advisors, nor can they engage in hedging strategies. These features are available to all other account types on EZYFX. Moreover, ECN Premium and Segregated traders have a 1-minute scalping rule while all others have 2 minutes. All account deposits can be made in USD, but only ECN Premium and Segregated can set the Euro as the default currency.
Platforms
The MetaTrader 4 (MT4) platform gives traders access to a large variety of forex pairs and CFDs. You can download it to your desktop, Android, and iOS. On all devices, you can manage trades, open/close positions, and work with plenty of execution tools. EZYFX account holders can also use WebTrader on their desktop, without having to download any software programs or apps. You can download MT4 easily by visiting the platform's website.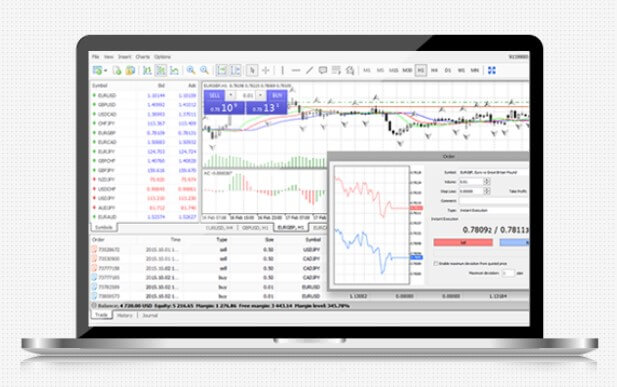 Traders may utilize different technical indicators and code a custom algorithm to automatically buy or sell assets with favorable conditions. In fact, you are also able to draw graphs and trend-lines through the MT4 mobile app.
Leverage
All accounts have a 200:1 leverage, with the exception of EZY Classic (1000:1) and ECN Standard (400:1). The 200:1 buying power falls closer to the industry average. However, the ECN Standard and, especially, EZY Classic have very competitive leverage rates that are amongst the highest in the brokerage market.

Your account balance also determines how much leverage EZYFX will give you. If you deposit between $10 and $500, you get the maximum 1:1000. A trader with over $500 in capital gets a 400:1, while accounts that have over $5,000 are restricted to leverage of 200:1. To change your leverage, you have to contact EZYFX's customer service team.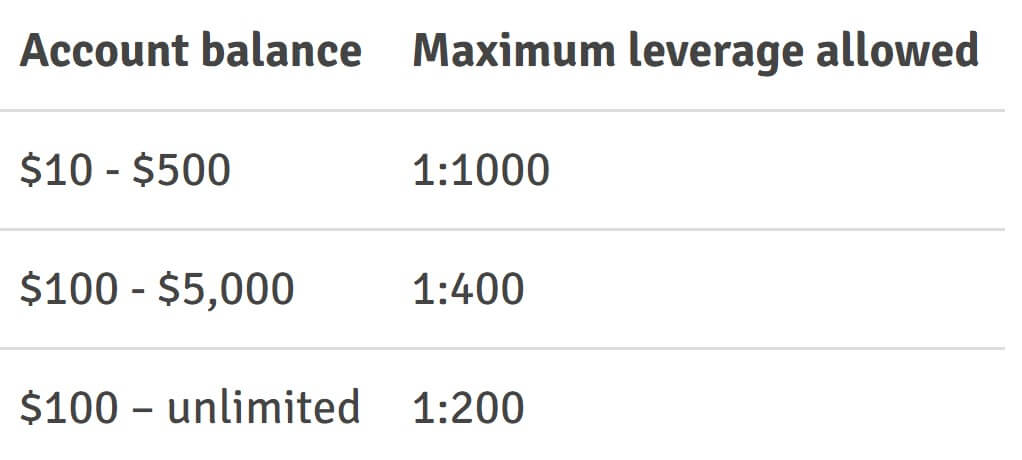 Trade Sizes
EZYFX sets its minimum lot size at 0.01 per order. EZY Basic, EZY Classic, and ECN Standard have a maximum of 5, 10, and 100 lots per trade, respectively. Meanwhile, EZY Islamic, ECN Premium, and ECN Segregated don't have any restrictions, as long as they maintain the leverage and margin requirements.
Margin Call: 100% (EZY Classic and EZY Islamic) or 150% (all other accounts).
Stop-Out: 50% (EZY Classic and EZY Islamic) or 100% (all other accounts).
When your account balance reaches the margin call, you will have to either deposit additional funds or close some of your trades. Otherwise, EZYFX will do it for you so that your available funds meet the margin requirements. At stop-out, all of your positions will be automatically liquidated in order to minimize losses and prevent the account from having a negative balance.
Trading Costs
As mentioned earlier, only the 3 ECN Account types have to pay commissions. EZYFX's website doesn't mention what they are, apart from the fact that commissions are structured in a straightforward and easy to understand way. The other accounts don't pay any commissions, but traders can't ignore the spread fees. Islamic accounts, whether it's the EZY Islamic or an ECN with these features, don't incur any swap fees on overnight positions. However, this only applies to currency pairs, other instruments (such as commodities and assets) will charge traders a minimal swap.
Having said that, Islamic accounts still have to pay a fixed fee (as opposed to an interest/swap) on overnight forex positions. Just as importantly, if you hold on to a currency pair for over 30 days, EZYFX might remove the Islamic features from your account and charge you swap fees. The amount depends on the currency and the local interest rates.
Assets
Regardless of the account type, all EZYFX traders have access to the same forex pairs, commodities, market indices, and stock CFDs. The broker doesn't have a list of specific financial instruments that you can trade. If you want to open an account, you should first contact the customer service department to make sure that EZYFX has the currency pairs and/or other assets that you want to trade.
Spreads
The spread is fixed at 3 pips for the EZY Basic, EZY Classic, and EZY Islamic accounts, The fixed amount means that traders don't have to worry about fluctuating bid/ask prices or incurring more spread fees during volatile market conditions. Just as importantly, 3 pips are on the higher end of what brokerage firms, in general, offer.

The 3 ECN Account types have a low spread at 1 pip. However, this can be different from one currency to another and from one market condition to the next one. Keep in mind that the ECN Accounts have a floating spread, which is subject to change based on news developments and economic circumstances.
While EZYFX has some great features, such as minimal to no commissions, their spreads are modest and many other brokers have much tighter ones.
Minimum Deposit
You can open a live EZY Basic account without depositing any money and trading by merely having what is enough to buy the minimum order size (0.01 lots). EZY Classic has a $10 deposit requirement, while you need at least $100 to start trading through both the EZY Islamic and ECN Standard. ECN Premium and Segregated have a $1,000 and $10,000 minimum deposit rule, respectively. These numbers are very low. In most cases, brokers have deposit amounts that are in the $1,000s. They also rarely allow you to open an account for as low as $10 or $100.
Deposit Methods & Costs
EZYFX doesn't charge transfer fees on any of its different deposit methods. Here are the processing times for each: Credit or Debit Card transfers take 1 to 2 business days. Deposits through China Union Pay and Mega Transfer are instant. Wires through your local bank will take between 1 to 2 business days. In general, though, bank deposits could require you to wait for up to 4 days.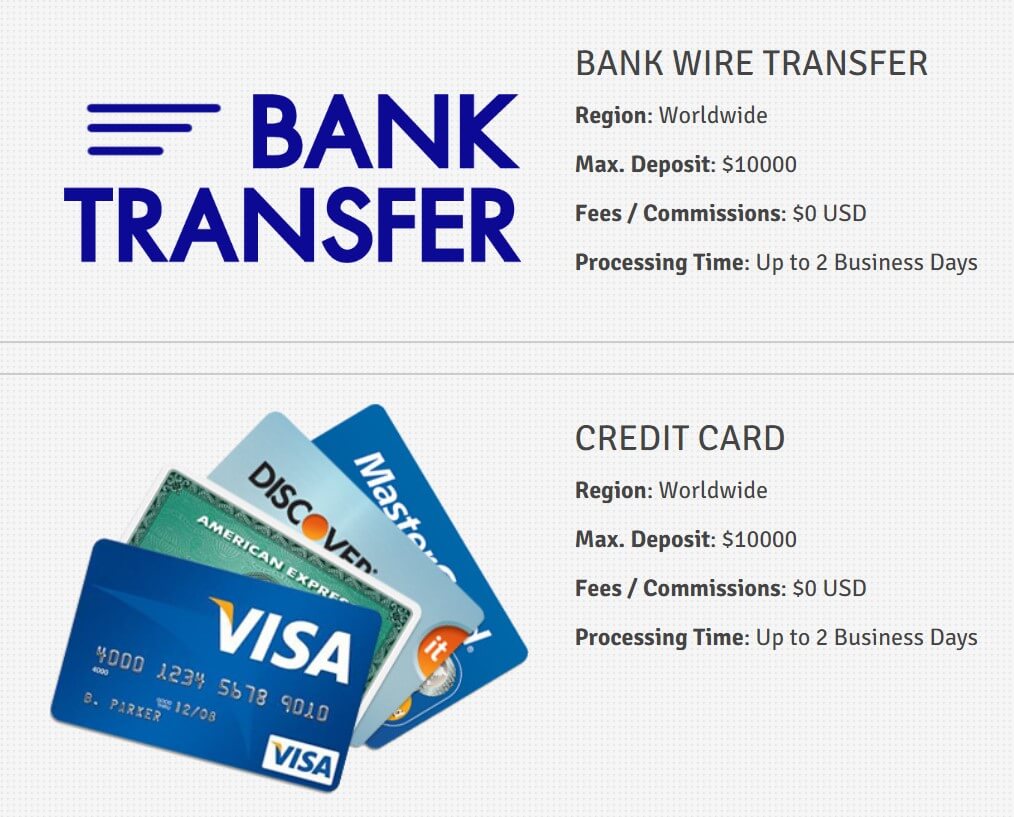 Withdrawal Methods & Costs
You can withdraw funds through your account's dashboard. EZYFX doesn't charge any fees on outbound transfers and they take up to 48 hours to process transactions. All withdrawals must be sent to the same source that deposited the funds. For example, if you initially transferred money from your credit/debit card to your EZYFX account, you can only withdraw the funds through the same Visa or MasterCard that you originally used.
Bonuses & Promotions
We found that the promotional and cashback offers you get are largely tied to your account type. ECN Premium and ECN Segregated traders are entreated into monthly draws, where the winning ticket receives up to $5,000. Meanwhile, EZYFX's Welcome, Boosting, and Hot Bonus programs give account holders 40%, 60%, and 120%, respectively, on their deposits. For example, if you open an account and fund it with $1,000, this broker's Welcome Bonus will earn you $400 (or 40%) the deposited amount. Keep in mind that this only applies the first time you transfer money into your account.

However, you can claim the deposit any time after that by simply contacting the broker (i.e. your eligibility for the bonus doesn't expire). If you are day-trading and you open/close multiple positions on the same day, EZYFX will give you an even larger bonus of 60% of your initial deposit. The Hot Bonus, designed for account holders who rely on utilizing a lot of trading capital or leverage, is an outstanding 120% the deposited amount. Just as with the Welcome type, each of the Boosting and Hot Bonus do not expire. Traders can claim them through their dashboard or by contacting EZYFX's customer support team.
This broker also gives away different rewards, including smartphones, MacBooks, and a set of mystery gifts that are worth $50 each. When a trader opens an account, they are automatically assigned a number that is added to the draw. Only those who deposit $500 or more are eligible, however. This promotion runs at weekly intervals or stages. A different reward is on the line each week. Moreover, the broker offers them based on holidays from around the world. The current ones are the Hari Raya Gifts promotion, which is themed around the Islamic Eid al Fitr, and the Chinese New Year celebration. The latter started on February 1st and will end on March 16th. Hari Raya Gifts will run from May 15 to June 18.
Lastly, the Dynamic Bonus earns you 10% of your initial deposit if its between $100 and $500. You also get 15% and 20% when you fund your account with over $500 and $1,500, respectively. Traders who deposit over $3,000 will receive a 25% Dynamic Bonus. While you can use the money as trading capital, only $250 of that amount can be withdrawn. EZYFX will allow you to withdraw $1 for each lot that you trade, up until the amount reaches the $250 maximum or your total bonus amount (if its less than that).
Educational & Trading Tools
This broker's website gives you access to FX Junction, EZY Socio, and a blog. However, the links to the latter two are broken. FX Junction, meanwhile, is a social trading platform that allows traders to connect with other market participants. Through FX Junction, users can exchange ideas, discuss potential trades, and follow/duplicate successful portfolios' positions. EZYFX's account holders can connect their MT4 profiles with FX Junction. Other than that, EZYFX doesn't offer any trading or educational tools. Nonetheless, MT4 certainly fills that gap by providing you with tutorials, one-on-one expert consultations, economic calendars, customizable news feeds, and more.
Customer Service
EZYFX can be contacted through an online 'contact us' form and via phone. Their website lists their hours as 11 am to 7 pm GMT +8, which is Pacific Standard Time (the Western region of the United States). However, they are located in the United Kingdom. You can find links to their social media accounts, as well, but they haven't been active for months.
Phone: +60 32711 6422
Email: NA

Demo Account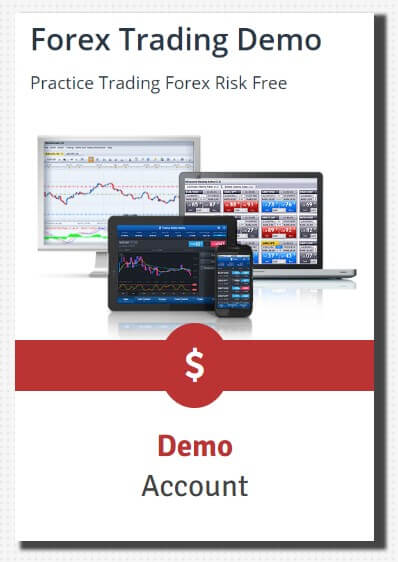 Traders can open a demo that retains the characteristics and conditions of each of the 6 different account types. Equally as important, the demo is managed through MT4, which gives you the time needed to learn about the platform's tools and order execution processes (particularly if you never used it before). Moreover, even though you trade fake/paper money on the demo account, the return on investment (ROI) statement takes commission into consideration.
To clarify, these fees are taken out of your paper balance (and not actually charged), but the broker integrates them with the demo so that traders can be aware of how their profits and ROI are calculated. Furthermore, it helps beginners understand how commissions can add up and diminish their returns. This part is very easy to miss and should be a key part of your future earnings projections, if not your at-large trading strategy.
Countries Accepted
Traders in the United States cannot open a website with EZYFX. The same applies to any country that is not listed as an option on the new account form. To clarify, when someone wants to open an account online, they choose between many options through a scroll-down list. If their location isn't available, local regulations restrict the broker from offering its services. Nevertheless, EZYFX's support team is available in 13 different languages and the firm's account holders come from over 200 countries.
Conclusion
Each of EZYFX's account types has its own trading conditions. When this is coupled with the flexible deposit requirements, it ensures that traders can easily open an account based on their preferences in regards to commissions, leverage rates, and training/advisory offerings. In addition, you may either open an Islamic Account or integrate its swap-free features with your desired portfolio type.
Perhaps most importantly, these options are available in over 200 countries. Similarly, the state-of-the-art MetaTrader 4 (MT4) platform allows you to manage your positions from any device or location. However, EZYFX's services are not offered in the United States, alongside other locations that restrict exchanging certain financial assets (such as CFDs).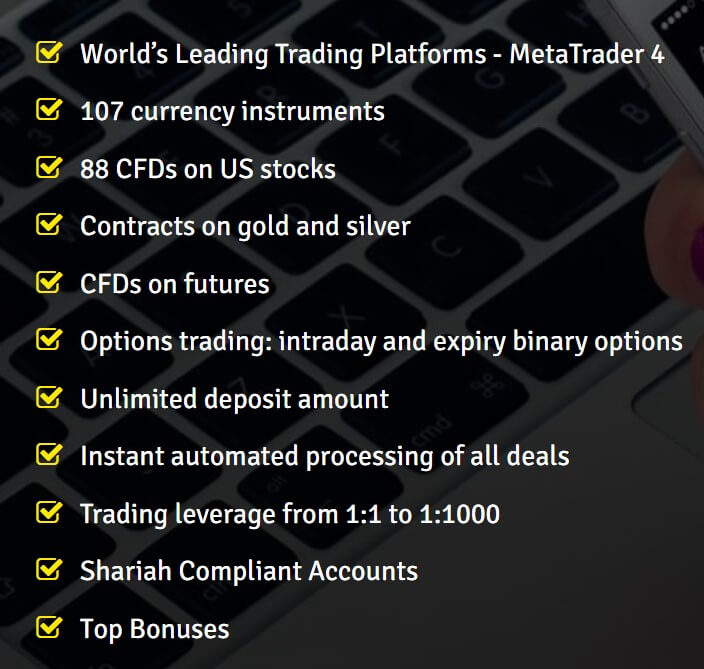 This broker's leverage is a two-edged sword. Some account types will have up to 1000:1 in buying power, which is almost unmatched by competitors in the brokerage industry. The downside, though, is that the leverage decreases when traders deposit additional capital. Nonetheless, it only gets as low as 200:1, which is still relatively competitive. Furthermore, experienced market participants may contact the broker and request more buying power, regardless of their account type and how much money they deposited. Trading costs are also mixed. EZY Basic, Classic, and Islamic have an undesirably high spread that starts at 3 pips, but these accounts don't pay a commission. Moreover, the fixed spread prices are solid, even when the markets are volatile and unstable.
ECN Standard, Premium, and Segregated, on the other hand, pay a commission in exchange for a lower, 1-pip bid/ask gap. This spread is variable, which means that it could become less than 1 pip when the exchanges are stable, but adversarial market conditions could create a notable variation between the bid and ask quotes.
Other than that, both beginners and professionals will certainly benefit from the FX Junction platform. It allows them to exchange ideas with others, copy successful traders' positions, and more. Equally as important, EZYFX offers strong bonus programs, weekly prize giveaways, and other lucrative promotions.
Does this broker sound like a good choice? Many people will agree, especially because of the flexible setup that suits different types of traders.