Justforex is an International Forex and CFD broker that is regulated by the Financial Services Commission (FSA) and located in St. Vincent & the Grenadines. The company is known as one of the world's most popular brokers and has attracted millions of clients, from more than 197 countries. To throw out some interesting statistics, 85% of this broker's clients stay with them forever, while 52% consider the profits made with this broker to be their main source of income. So far, this option does seem impressive, but every good trader knows that it is vital to look into things more deeply. Every broker makes themselves sound like the best option, so stay with us to find out if Justforex has the right to brag about their conditions.
Account Types
Justforex provides five different account types: Cent, Mini, Standard, ECN Zero, and Pro. You'll definitely want to take a look at the tradable instruments for each account type if you're looking to trade more than standard Forex options since these options can vary widely. The Mini and Cent Accounts seem to share more similarities, including a lack of minimum deposit requirement, zero commissions, and the same starting spreads. The Pro account is marked as the most popular option and provides access to the largest variety of tradable instruments. The ECN Zero account offers the lowest spreads but is the only account type to charge commissions. Note that swap-free accounts are available for all five versions. There is a lot to consider since the accounts have so many differences, so we recommend traders keep reading to ensure that the best account type is chosen. We've provided a quick overview of each account type below, just to give a basic idea of the conditions on each account.
Cent Account
Minimum Deposit: None
Leverage: Up to 1:1000
Spread: From 0.3 pips
Commissions: Zero
Assets: 34 Forex

Mini Account
Minimum Deposit: None
Leverage: Up to 1:3000
Spread: From 0.3 pips
Commissions: Zero
Assets: 34 Forex + 2 Metals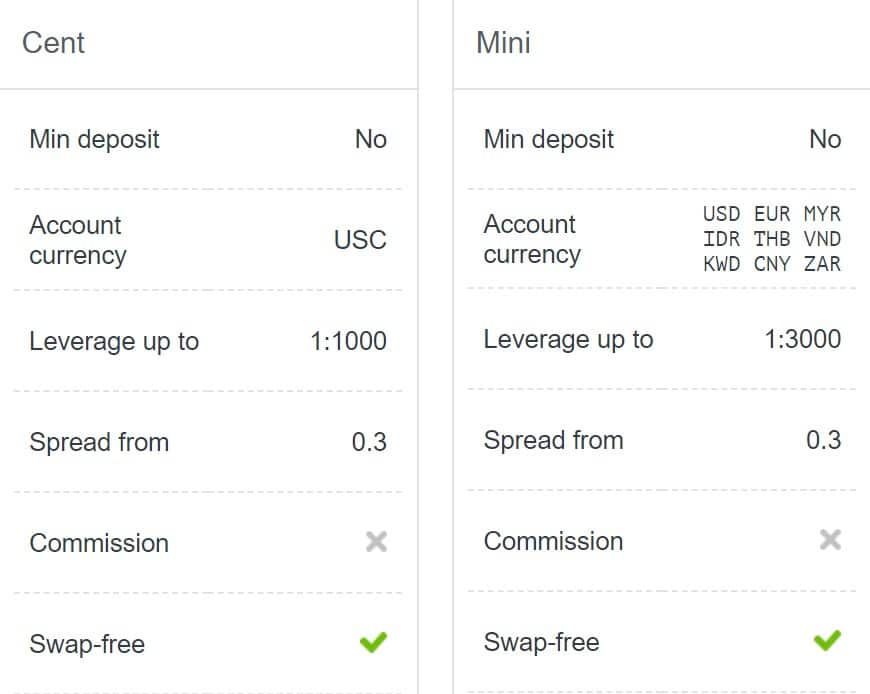 Standard Account
Minimum Deposit: $100
Leverage: Up to 1:3000
Spread: From 0.1 pips
Commissions: Zero
Assets: 57 Forex + 2 Metals
ECN Zero Account
Minimum Deposit: $500
Leverage: Up to 1:500
Spread: From 0 pips
Commissions: yes
Assets: 84 Forex + 2 Metals + 7 Cryptocurrency pairs
Pro Account
Minimum Deposit: $500
Leverage: Up to 1:3000
Spread: From 0.1 pips
Commissions: Zero
Assets: 57 Forex + 4 Metals + 11 Indices + 2 Energies + 7 Cryptocurrencies + 65 Shares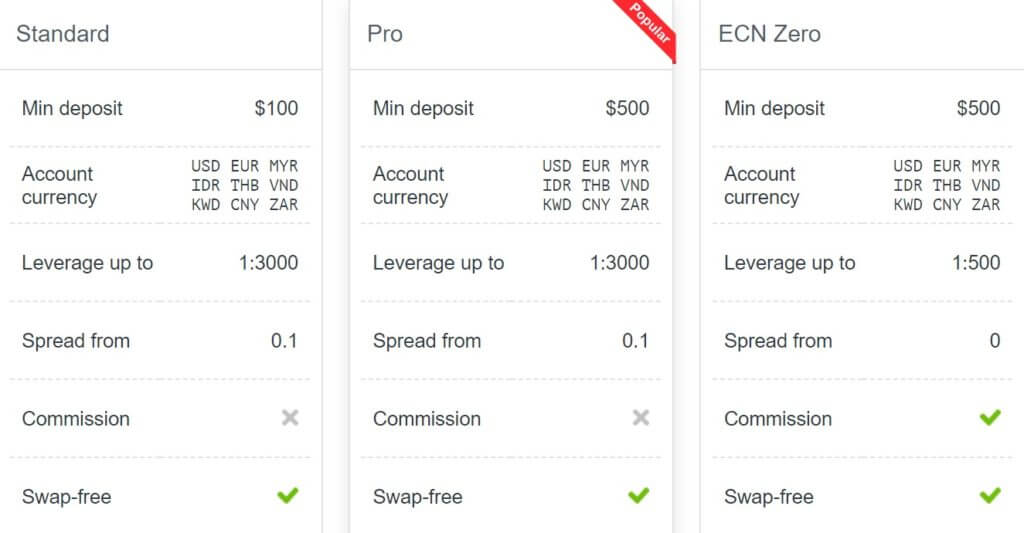 In accordance with the broker's regulation, clients will be required to submit identity verification documents before an account can be used. This broker requires an identity document, such as a passport or driver's license, and an address document, such as a utility bill or bank statement for verification. If you have any questions, feel free to contact the Compliance department at compliance@justforex.com.
Platform
Traders will have the ability to choose between the MetaTrader 4 and MetaTrader 5 platforms with this broker. MT4 is the most popular trading platform in the world today, even though it was released back in 2005. It supports indicators, expert advisors, and other tools for real-time market analysis. MT5 is more intuitive and offers significant improvements in areas of copy trading, mobile trading, and other features that make account management more efficient. Both platforms are available on PC, mobile, tablets, and through the WebTrader, or the browser-based version.

Leverage
This broker offers leverage caps that are significantly higher than many of the options we've seen before. The ECN Zero account features the lowest leverage cap of up to 1:500. Keep in mind that this is much higher than average and that only professional traders would be able to handle leverage of this type. Options are even higher on the Cent account, at up to 1:1000.
On the Mini, Standard, and Pro accounts, leverages can be as high as 1:3000. This means that traders can trade with 3,000 times the amount of funds available in their trading account, thus opening the door for extreme opportunities to profit. However, we must mention that higher leverages go hand-in-hand with higher risks. You can always work your way up, but you'll want to stick to a much lower option if you're just getting started, or if you don't have a lot of capital.
Trade Sizes
All of the accounts share the same minimum and maximum trade sizes, with the exception of the Cent account. On the Mini, Standard, ECN Zero, and Pro accounts, the minimum trade size is one micro lot and the maximum is 100 lots. On the Cent account, the minimum is 0.01 cent lots and the maximum is 1000 cent lots. Clients can hold an unlimited number of orders on the Standard, ECN Zero, and Pro accounts, while the maximum number of orders is limited to 100 on Cent accounts and 200 on Mini accounts. Margin call and stop out levels are listed below.
Margin Call/Stop Out Levels
Cent, Mini, Standard, and Pro Accounts: 40%/20%
ECN Zero Account: 100%/50%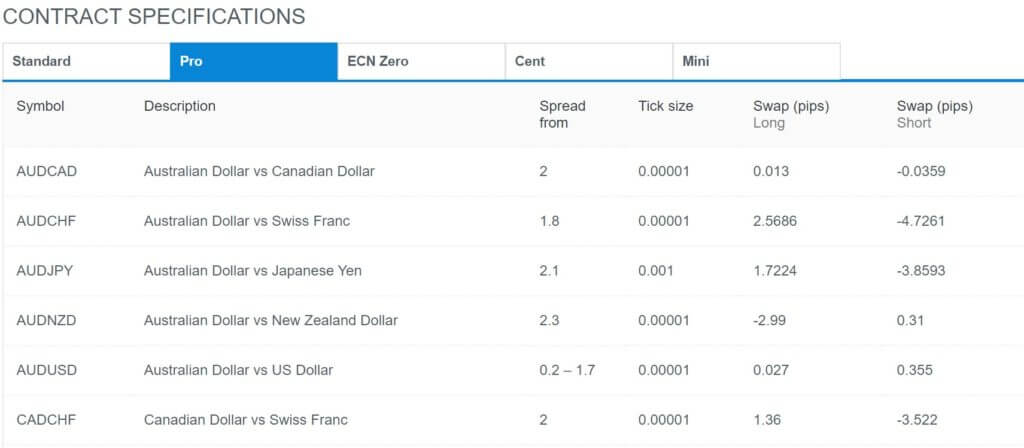 Trading Costs
This broker profits through commission fees, spreads, and swap fees.
Commissions: These charges are only applicable to the ECN Zero account type. Cent, Mini, Standard, and Pro account holders will not be charged any commission fees. The commission on the ECN Zero account is 4 units of base currency per lot for one side of the order (open/close), for major pairs, and 6 units of base currency per lot for one side of the order (open/close) for the rest of the currency pairs.
Spreads: Spreads start from 0 pips on the ECN Zero account, from 0.1 pip on the Standard and Pro accounts, and from 0.3 pips on the Cent and Mini accounts.
Swap Fees: These fees are charged on positions that are held overnight. The swap fee is calculated by taking the annual percentage, dividing it by 100 to get 1%, then diving it by 360 – the average number of banking days in a year. Then you multiply it by the closing price, the volume and the contract size.
Assets
The variety of tradable instruments one will have access to depends on the chosen account type. If you're looking for the largest variety, the Pro account will be the best choice. The Cent account limits options to 34 Forex pairs, while the Mini account offers 34 Forex pairs as well, with the addition of 2 Metals. The Standard account offers 57 Forex pairs and also offers 2 Metals.
Options are much more diverse when looking at the ECN Zero and Pro account types. On the ECN Zero account, traders will have access to 84 Forex options, 2 Metals, and 7 Cryptocurrencies. This is the account type that offers the largest number of currency pairs. The Pro account offers 54 Forex, 4 Metals, 11 Indices, 2 Energies, 7 Cryptocurrencies, and 65 Shares. Those that are focused on trading currency pairs should be satisfied with any account type, while those that are looking for more options will want to consider these options more carefully.
Spreads
The lowest spreads offered by this broker start from 0 pips on the ECN Zero account and are from 0.1 pips on the Standard and Pro account types. The Cent and Mini account also offer advantageous spreads that start from 0.3 pips. All of these spreads are floating, so don't be surprised to see spreads that are higher than the advertised amounts. Some instruments also have higher starting spreads. Spreads are typically around 1.5 pips on Forex options, so trading costs with this broker could definitely be considered low. If you'd like to view and compare the spreads on all instruments for a certain account type, you can do so under 'Contract Specifications'.

Minimum Deposit
There is no deposit requirement for Cent or Mini accounts, so this will be a real advantage to many different types of traders. The minimum requirement for a Standard account is $100, which is still lower than the industry average. ECN Zero and Pro accounts both require a minimum deposit of $500. The latter amount may seem large to some traders, but all options are within a reasonable amount. We're used to seeing deposit requirements in the thousands, so we're happy to see lower options available with this broker.
Deposit Methods & Costs
Deposits can be made with cards, e-wallets, and several other payment methods. All of the available options include: Visa, MasterCard, Fasapay, Skrill, Neteller, AliPay, Bitcoin, Bitcoin Cash, SticPay, Bitwallet, PerfectMoney, QIWI Wallet, Indonesian Local Banks, Malaysian Local Banks, Thai Local Banks, Vietnamese Local Banks, China UnionPay, South African EFT Transfers, African Local Bank Transfers, African Local Cards, and African Mobile Money. Note that the majority of these methods require a deposit of at least $5 USD. Processing time takes 1-2 hours, depending on the Finance team's hours. The maximum processing time is up to one bank day. The company does not charge any fees but notes that payment providers may apply a 0.3 – 0.7 CNY deposit fee.

Withdrawal Methods & Costs
All of the deposit methods are also available for withdrawals. Clients must withdraw the sum of their deposited amount back to the same method that was used to deposit. Any profit can then be withdrawn through a separate method. Neteller, Bitcoin, and Bitcoin Cash are the only fee-free withdrawal methods but one should keep in mind that these payment providers may apply a charge on their end. All of the fees for the other methods can be viewed below.
Bitwallet: 100 JPY/1 USD/1 EUR
South African Bank Transfer: 0% + 10 ZAR
African Local Bank Transfers: 0% + 100 NGN/350 KES/30 GHS
African Local Cards: 0% + 1,300 NGN/360 ZAR/50 KES/20 GHS
Fasapay, QIWI, & PerfectMoney: 0.5%
China UnionPay: 0.5% + 30 CNY
Skrill: 1%
African Mobile Money: 1.5% + 0 XAF/250 KES/500 RWF/2,000 TZS/1,500 UGX
Indonesian, Malaysian, Thai, and Vietnamese Local Banks: 1.75%
Visa/MasterCard: 2.4% + 2.5 USD
SticPay: 2.5% + 0.3 USD
Withdrawal Processing & Wait Time
It takes the Finance department 1-2 hours to process withdrawal requests that are made during working hours. It can take up to one bank day for withdrawals to be processed if requests are made after hours or on the weekend.
Bonuses & Promotions
Currently, the broker is offering a 115% Deposit Bonus. Sadly, traders will have just missed out on a running Halloween Bonus opportunity. However, we would assume that this broker offers these special types of promotions often, especially since they have a long list of expired promotions. Since the holidays are coming up, traders will definitely want to check for any updates. We've included some important information on the bonus that is still running below.
115% Deposit Bonus
The 115% Deposit Bonus is available to Cent, Mini, and Standard account holders and terms and conditions do apply. First, Traders will want to mark 'Get a Deposit Bonus' in the deposit form on the Back Office, read and accept 'Deposit Bonus Rules' and click the 'Deposit' button. Cent, Mini, and Standard account holders can receive up to 50% on deposits up to $100. Mini and Standard accounts can get 100% on every deposit from $100 and up. Mini and Standard account holders can get the maximum 115% bonus on deposits of $500 or more. The maximum bonus amount that can be given out is $40,000. Also, note that this is only applied on one deposit and will not be applicable on other deposits.

Educational & Trading Tools
On the Education section of the website, traders will find Forex articles, a Forex Glossary, and Educational Videos. The Forex Glossary would be helpful in learning some necessary terminology. Once one was acquainted with these terms, the available articles could also be helpful with learning about trading strategy. The videos section seems to be focused more on the MetaTrader 4/5 platforms and how to complete different tasks within them. A variety of tools are also offered on the website. These include VPS, Social Trading, Stock Market Analysis, Market Overview, Daily Forecast, Technical Analysis, Cryptocurrency Analysis, Market News, and an Economic Calendar.
Demo Account
This broker offers free and unlimited demo accounts to any traders that would like the opportunity for the extra practice. Since these accounts do not expire, there is no need to worry about time restrictions, and one could even trade from a demo alongside their real account. The broker offers demo versions of every one of their real accounts as well. If you can't make a decision about which account type to open, we recommend opening demo versions of the accounts you're considering. This is a great way to test out the market with the different trading costs and leverages that each account type offers.
Customer Service
This broker offers English, Indonesia, and Malaysian support. English support is available 24/7, so you should never have a problem getting in touch with an agent. Hours are more limited for support in other languages, with Indonesian support being available 07:00 – 23:00 (GMT+7) and Malaysian support is available from 8:00 – 24:00 (GMT+8) Monday – Friday. The Finance, Compliance, and Partners departments are in the office from 9:00 – 18:00 (GMT+2) Monday – Friday.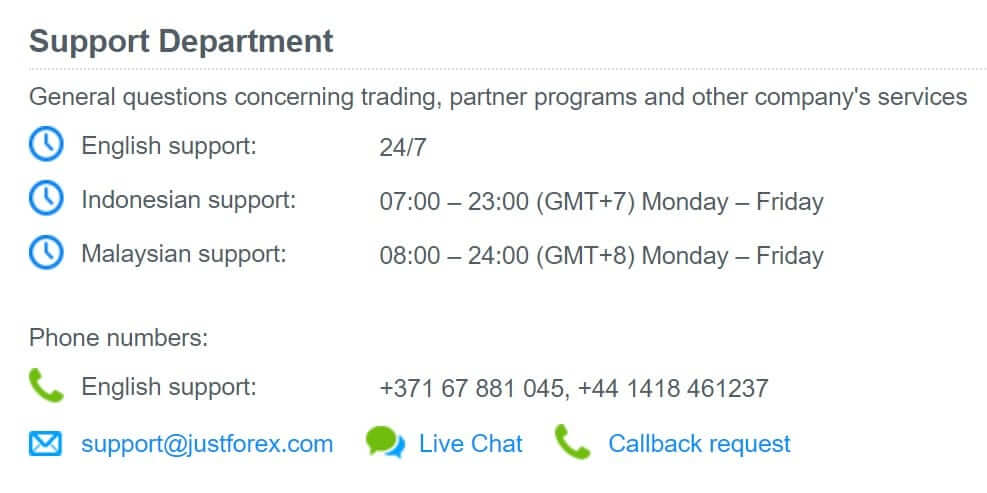 Support can be contacted through LiveChat, phone, callback request, email, or through a variety of messengers, including Telegram, Skype, Whatsapp, Facebook Messenger, Viber, and Line. We personally tested out the LiveChat option at a late hour and were happy to find that support replied almost instantly. Our agent was polite and answered our question accurately within one minute, so the experience was satisfying. The company provides two phone numbers for English support and there are a few separate email addresses for different departments. All listed contact information had been included below.
Phone:
+371 67 881 045
+44 1418 461237
Email:
Support: support@justforex.com (24/7 in Eglish)
Finance: finance@justforex.com (Mon – Fri 9:00 – 18:00 GMT+2)
Compliance Department: compliance@justforex.com (Mon – Fri 9:00 – 18:00 GMT+2)
Partners: patners@justforex.com and affiliates@justforex.com (Mon – Fri 9:00 – 18:00 GMT+2)
Address: Suite 305, Griffith Corporate Centre, P.O. Box 1510, Beachmont, Kingstown, St. Vincent & the Grenadines
Countries Accepted
We've been seeing a lot of brokers excluding the United States as of late, and this broker claims that US residents are not applicable to open accounts as well. We've found that brokers can sometimes be more lenient and occasionally make it possible to register an account, even if they make these claims. Sadly, this broker seems to reinforce their restriction on the US because the option is not available on the sign-up list. The US Virgin Islands and Minor Outlying Islands are excluded as well, so it would be impossible to get around this restriction. The company does not mention that any other countries are banned but you'll need to contact support if you do not see your country when registering for an account.
Conclusion
Justforex is an established brokerage that offers trading on the MT4 and MT5 platforms from five different account types. This broker is an affordable option, offering two account types with no deposit requirement. Leverage options are much higher than average on all accounts and even go up to 1:3000 on some options. The company does offer a variety of different trading instruments, but one's options can be much more limited if trading from certain account types. When it comes to funding, there is a large variety of deposit and withdrawal methods, although fees are applicable to almost every withdrawal method.

The website provides some educational resources, a variety of trading tools, and unlimited demo accounts. Support is available 24/7 in English and the broker can be contacted quickly through several different contact methods. There are also bonus opportunities available and the broker seems to update these frequently. Conditions and advantages really depend on the account type that has been selected. Hopefully, this review will give individuals all of the information they will need to ensure that the best account type is chosen, should one decide to choose this broker.