Vantage FX is an award-winning Australian based forex broker, founded in 2009 by a team of financial, forex and technology experts, Vantage FX was created as a way to help clients pursue their financial goals. Vantage FX offers the highest standards in terms of the regulation (ASIC) and security and aims to provide full transparency to their operations, at least that is what is stated on the site. In this review, we will be diving into the website and service is offered to see if they really are offering the service they suggest.
It should be noted that there are multiple versions of the Vantage FX website for different regions, we are going to be looking at the .com website which is more global than the more Australia based version. What this does mean, is that a few different aspects may be different depending on the version of the site you are looking at.
Account Types
There are three accounts on offer from Vantage FX, we will outline the differences in the below as well as all the features that they share.
All Accounts: All accounts with Vantage FX come with the following features: 1:500 maximum leverage, access to MetaTrader 4 and MetaTrader 5 along with their mobile and web versions. 0.01 lots as a minimum trade size and access to 40 currencies, 13 indices and 20 commodities.
Standard STP: This is the entry-level account from Vantage FX, it requires a minimum deposit of $200 and has an execution type of STP. Spreads on this account start from 1.4 pips however they are variable so may be seen higher. You can receive $2 AUD as a rebate for each lot traded and there is no commission. This account can use AUD, USD, GBP, EUR, SGD, JPY, NZD or CAD as a base currency.
Raw ECN: Increasing the minimum deposit to $500 the Rax ECN account now has an execution type of ECN. Spreads now start from 0.0 pips but again they are variable so may be seen higher depending on the market conditions. There is a commission added to this account of $3 per lot traded which is reasonable but this account is not eligible for the $2 AUD rebate and is available with a base currency of AUD, USD, GBP, EUR, SGD, JPY, NZD, and CAD.
Pro ECN: The Pro ENC account is the top tier account and this is reflected in the $20,000 minimum balance requirement. It retains the ECN execution method and pips remain at 0.0 pips as a base level, the commission has reduced down to $2 per lot traded and there are slightly fewer options when it comes to base currency as now only AUD, USD, GBP, EUR, and CAD are available to use.
Islamic Accounts: Islamic accounts are also available on request, these accounts do not charge a swap fee for holding trades overnight, instead, they have a different method of paying these fees that coincide with Shariah law.
Platforms
Vantage FX uses a few different trading platforms for their accounts, let's take a little look and see what they are.
MetaTrader 4 (MT4): MetaTrader 4 (MT4) is one of the world's most popular trading platforms and for good reason. Released in 2005 by MetaQuotes Software, it has been around a while, it is stable customizable and full of features to help with your trading and analysis. MT4 is compatible with hundreds and thousands of different indicators, expert advisors, signal providers and more. Millions of people use MT4 for its interactive charts, multiple timeframes, one-click trading, trade copying and more. In terms of accessibility, MT4 is second to none, available as a desktop download, an app for Android and iOS devices and as a WebTrader where you can trade from within your internet browser. MetaTrader 4 is a great trading solution to have.

MetaTrader 5 (MT5): MetaTrader 5 (MT5) is the younger brother of MetaTrader 4 (MT4)m developed by MetaQuotes Software and released in 2010, MT5 is used by millions and for good reason. Offering plenty of trading and analysis features to ain in your trading. Additional services expand the functionality of the platform making its capabilities almost limitless. MetaTrader 5 offers the built-in Market of trading robots, the Freelance database of strategy developers, Copy Trading and the Virtual Hosting service (Forex VPS). Use all these services from one place, and access new trading opportunities. MetaTrader 5 is also highly accessible with it being available as a desktop download, application for iOS and Android devices and even as a WebTrader where you can trade from within your internet browser.

Social Trading: Vantage FX allows you to use a couple of different social trading platforms in order to trade, they are compatible with both ZuluTrade and MyFXBook automated trading. Both ZuluTrade and MyFXBook offer the opportunity for people to copy the trades of other users, you can browse the database of users and accounts to find the ones that match your own style and then copy their trades. While it is a hands-free way of trading, it also has its downsides as if the person you are following loses, so do you, and you do not have much control over it at all.
Leverage
Leverage for all accounts can be set as high ar 1:500, this is quickly becoming the amount that a lot of new and experienced traders are looking for as it gives a good balance and risk-reward ratio. You are able to change your leverage at any time from the client portal by simply submitting a request, but be aware that you can not change your leverage if there are any active trades on the account.
Trade Sizes
Trades start at 0.01 lots which are also known as micro-lots, we had a look around for what the maximum trade size is but could not locate this information, for the majority of brokers this sits around 50 lots to 100 lots, we would not recommend putting in trades more than 50 lots anyway as it can be harder for the liquidity providers to fill these orders instantly.
Trading Costs
Depending on the account that you are using there will be a slightly different fee. The standard STP account, for example, does not have a commission but does have a higher spread in order to make up for this (we will look at spreads later). The Raw ECN account has a commission of $3 per lot traded and the Pro ECN account has a commission of $2 per lot traded. $3 and $2 are relatively low when looking at competitors so it is refreshing to see a broker not charge extortionate commissions.
Swap fees are also charged which are an interest fee that can be either negative or positive for holding trades overnight, these rates can be viewed from directly within the trading platform you are using. If you have an Islamic account then these fees are replaced by an administration fee which will be of similar value.
Assets
When it comes to trading, Vantage FX offers a number of different assets and instruments to trade, there are over 40 forex pairs including, major, minor and exotic pairs. There are 10 indices on offer including the DAX30 and SP500. In terms of commodities, there is a mix of metals such as gold, energies such as crude oil and soft commodities such as coffee.
We were quite surprised to not see anything about cryptocurrencies which are fast becoming a major tradable asset for a lot of brokers and traders.
Spreads
Spreads with Vantage FX are variable, this means that they move with the markets, if the markets are moving quickly then the spreads will be slightly higher, there are also certain currencies and commodities that naturally have higher spreads, so while the starting spread may be correct from EUR/USD, it may not be the same starting spread of a pair such as AUD/JPY.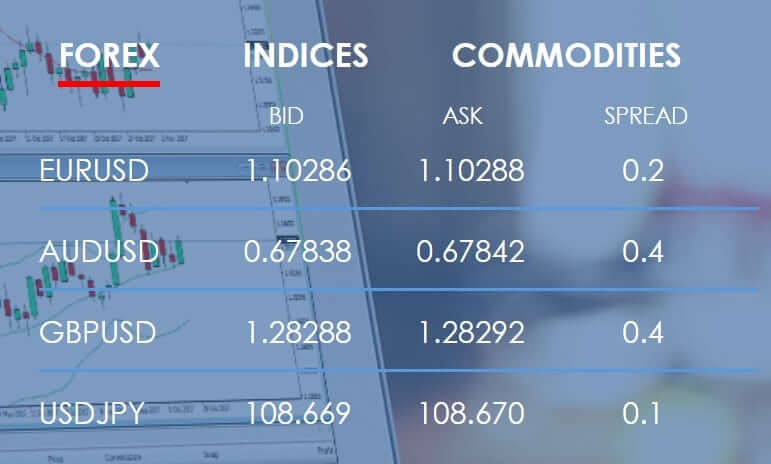 With the Standard STP account, the spreads start at 1.5 pips as a minimum, for both the ECN accounts they start at 0.0 pips for EUR/USD but may be higher for others.
Minimum Deposit
The minimum deposit for opening ana account is $200, the website states that this is the minimum deposit full stop, so we are unsure if you are able to top up your account with smaller amounts after the initial account opening.
Deposit Methods & Costs
Plenty of options when it comes to depositing with Vantage FX, each has a slightly different requirement and potential fee so we can list them down below for you:
Method – Fee – Available Currencies
International Bank Wire – $0 – AUD, USD, GBP, EUR, SGD, JPY, NZD, CAD
Credit / Debit Card – $0 – AUD, USD, GBP, EUR, SGD, JPY, NZD, CAD
UnionPay – 1.3% – 2.5% – USD
Neteller – See below – AUD, USD, GBP, EUR, SGD
Skrill – See below – USD, EUR, GBP, CAD
Broket to Broker – Bank Transfer Fees – AUD, USD, GBP, EUR, SGD, JPY, NZD, CAD
Thailand Bank Wire – $0 – USD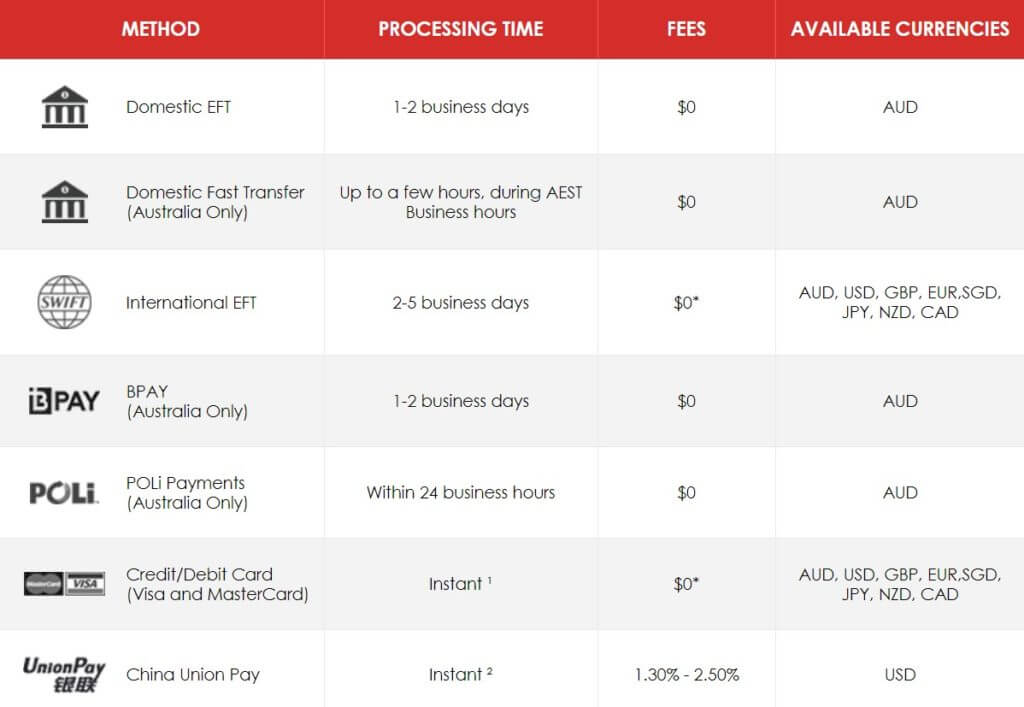 For Neteller and Skrill, there may be a charge from the e-wallet provider, however, Vantage FX will reimburse any fees into your trading account. Also, it should be noted that you should check with your bank if performing a bank wire transfer to ensure that your bank does not charge a fee, third party deposits are not accepted and all funds must come from an account under your own name.
Withdrawal Methods & Costs
You can use the same methods for withdrawing with a few differences, and we do not have all the information in regards to fees, we did find some so will note it below.
You can not withdraw using credit or debit cards, any deposits with this method must be withdrawn using a bank wire transfer. Bank wire withdrawals have a minimum fee fo 20 units of your base currency. It is important to also check with your own bank to see if they have any added fees for international transfers too.
We would be assuming that for all other methods, the same fees will apply for withdrawing as they will for depositing.
We are disappointed to see that card withdrawals are not possible, apparently due to the regulations overseeing the broker.
Withdrawal Processing & Wait Time
The website states that withdrawal requests are processed from Monday to Friday between 9 am and 7 pm (GMT+10). Requests outside of these times will be processed the next business day. Withdrawals to e-wallets will normally take up to 2 hours after processing and bank wire transfers will take between 3 to 5 business days to clear in your own bank.
Bonuses & Promotions
There are a number of promotions and bonuses available from Vantage FX and we will outline them below for you.
Active Traders: There is a promotion taking place called "Active Traders". This promotion allows you to receive rebates when trading up to a certain amount. The higher the balance you have the more you trade, the faster and more you earn. To put it simply, it is just a way for Vantage FX to lower their trading costs for their clients.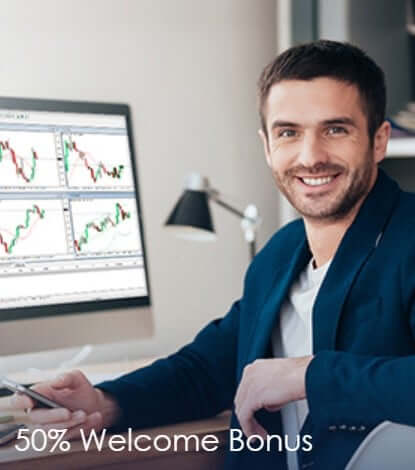 Rebates: Ther is also a simpler rebate program where you can receive $2 per lot on a Standard STP account which technically is just lowering the overall trading cost.
50% Welcome Bonus: Open a live account and receive a 50% bonus up to a maximum of $250. In order to convert these bonus funds into real equity, you need to trade, for every lot traded $2 worth of bonus credits will be converted into real equity that you can withdraw. Please note that different base currencies will receive different rebate amounts per lot traded.
Free VPS: If you trade over 10 lots per month you are eligible for a free VPS from Vantage FX. These can be used to host your trading 24/7 without the need to have your own equipment running.
Refer A Friend: You will receive a $200 bonus every time you refer someone to Vantage FX and they trade with an account balance of $1,000+. You can only refer up to 5 people using this promotion.
Educational & Trading Tools
Plenty of tools and education available from Vantage FX, we will outline them below for your convenience.
Economic Calendar: A simple calendar which details any upcoming news events, this is useful when planning trades to make sure there are not any major news events that may affect the pairs that you are trading.
MT4 Indicators: Vantage FX has some of their own indicators that you can use with the MT4 platform, indicators can give you a good insight into how the markets are currently moving and can give a good boost to your own analysis. The main indicators on offer are "Adaptive Convergence Divergence Signals", "Analyst Opinion Indicator", and "Adaptive Candlesticks".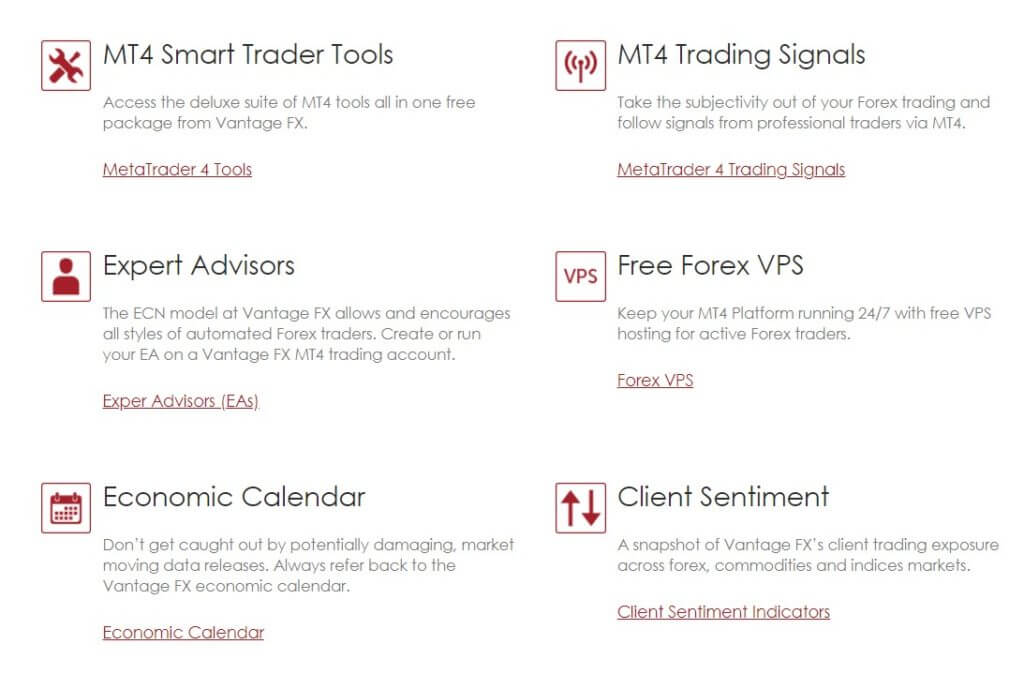 Forex Sentiment Indicators: On the VCantage FX website, there is a page that shows you what the current opinions about the markets are, whether the majority thing something is a buy or a sell, while not the most effective, it is still a nice tool to have.
Learn Forex: There are some simple and basic courses to help you learn the basics about forex and trading if you have traded before or have learned somewhere else then this may not be relevant to you, but if you are completely new it can give you a small insight into what is involved with trading.
MT4 / MT5 Manuals / Videos: There are help guides and videos to teach you how to use the available trading platforms, so if you are new to them or unsure of something, be sure to check them out.
News: While not really a tool, there is a news section of the site that can give you a good understanding of what is happening in the financial world, it may or may not help with your analysis.
Customer Service
There is a whole host of ways to get in contact with Vantage FX if you have a query or need any support. There is a direct support email to use, a phone number for the same department and a live chat.
If you are a client of Vantage FX then there are additional phone numbers to use depending on where you are located and there is a separate email in regards to setting up accounts. A physical address is also present should you wish to send a physical letter.
We tested out the live chat and were greeted with a friendly representative who answered our questions well. There were a few awkward pauses with no response, but otherwise, it was a smooth experience.
Support is available 24 hours a day 5 days a week.
Demo Account
As expected from a major broker, demo accounts are available, you can simply sign up and start trading. It took us less than 30 seconds to set up the demo account which can be set up as an MT4, or MT5 account as a Raw ECN or Standard STP account type. You can choose any currency from AUD, USD, GBP, EUR, SGD, JPY, NZD, CAD.
Demo accounts only last for 30 days and are then automatically closed, however, you can then open up a new demo account, unfortunately, any data from the first demo account will be lost.
Countries Accepted
Vantage FX currently does not accept any clients from the following countries: Afghanistan, Australia, Belarus, Burma, Burundi, British Columbia (Canada), Central African Republic, Democratic Republic of the Congo, Egypt, Eritrea, Iran, Iraq, ISIL (Da'esh) & Al-Qaida, Lebanon, Japan, Libya, Mali, North Korea, Republic of Guinea, Republic of Guinea-Bissau, Russia, Crimea, Somalia, South Sudan, Sudan, Syria, Tunisia, Ukraine, United States of America, Venezuela, Yemen, and Zimbabwe.
Please note, if using the Australian version of the website, that version is only intended for residents from Australia.

Conclusion
Plenty of information about Vantage FX, they are offering competitive trading conditions along with a whole host of promotions to help you on your way. Customer support was efficient if a little slow, it was a small shame to see deposit and withdrawal fees being present as most brokers are trying to get rid of these and the lack of card withdrawals was a letdown. Spreads and trading costs are good with commissions being relatively low compared to the competition. If you liked what you read then Vantage FX seems like a good choice for a broker, just be sure to double-check all information as there are multiple versions of the site.
We hope you like this Vantage FX review. If you did, be sure to check out the other reviews to help find the broker that is right for you.