LBLV is a forex broker registered in Seychelles and registered under the Financial Services Authority (FSA). Boasting over 98,000 active traders 2,400 employees and 36 offices across 5 continents, LBLV is a major operation. They aim to offer high-quality service and support, we take a delve into the website and services being offered to see what LBLV are really offering and if it is worth using them as your online broker.
Account Types
There are 6 accounts to choose from when signing up with LBLV, each having their own requirements and features, we will take a look at them in more detail to see what each of the accounts offers.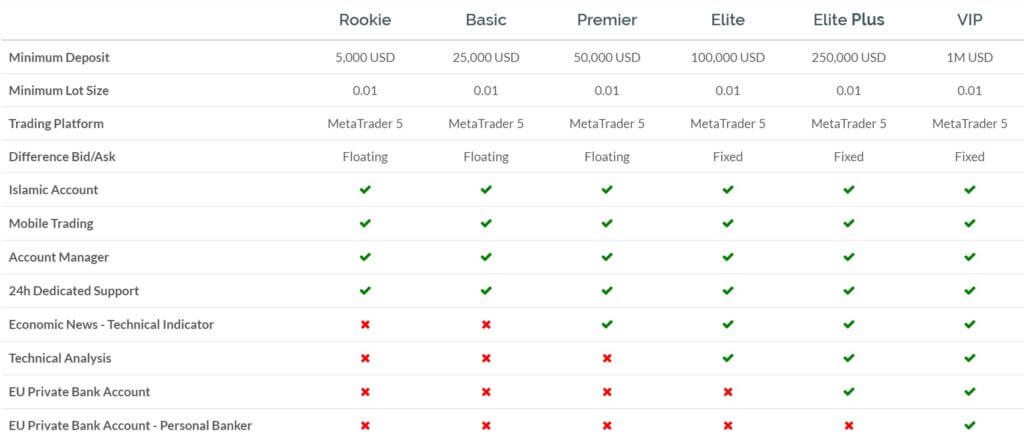 All Accounts: All accounts with LBLV come with the following benefits, access to MetaTrader 5 as a trading platform, a minimum trade size of 0.01 lots (also known as a micro lot), the option of having an Islamic account which does not get charged swap fees, access to mobile trading, an account manager and dedicated 24 hour support.
Rookie: The entry-level account has a minimum deposit of $5,000 which is quite high for an entry-level account. The Rookie account comes with floating spreads (more details in the spread section of this review) and no additional features.
Basic: The basic account increases the minimum deposit to $25,000, it also has floating spreads and the account features page makes it seem identical to the Rookie account.
Premier: The premier account is similar to the above two accounts except that the minimum requirement has increased to $50,000, moving out of the usual retail traders' range. The other difference is the addition of an economic news technical indicator, we will look into that in more detail in the trading tools section of this review.
Elite: The elite account requires a massive $100,000 deposit to open up, this account is slightly different as it now has a fixed spread instead of a variable one which means it does not change depending on market conditions. This account comes with the economical news indicator as well as an additional technical analysis.
Elite Plus: The Elite Plus account increases the minimum deposit amount even further to $250,000 this account comes with all the perks of the Elite account with the addition of an EU private bank account.
VIP: The top tier account, very few retail traders will be able to open this account as it requires a minimum deposit of $1,000,000. It has the same features as the Elite Plus account except you now get a personal banker for your EU private bank account.
LBLV is going for the more experienced and big-spending traders rather than people new to trading due to the minimum account deposit being $5,000 so those testing the markets will be priced out straight away.
Platforms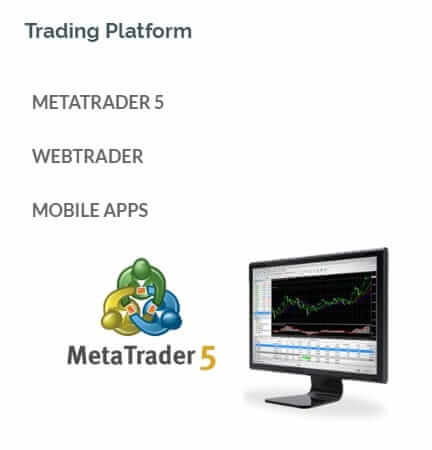 LBLV are offering a single trading platform, the good news is that it is MetaTrader 5 (MT5).
MetaTrader 5 (MT5): MetaTrader 5 (MT5) is the younger brother of MetaTrader 4 (MT4)m developed by MetaQuotes Software and released in 2010, MT5 is used by millions and for good reason. Offering plenty of trading and analysis features to ain in your trading. Additional services expand the functionality of the platform making its capabilities almost limitless. MetaTrader 5 offers the built-in Market of trading robots, the Freelance database of strategy developers, Copy Trading and the Virtual Hosting service (Forex VPS). Use all these services from one place, and access new trading opportunities. MetaTrader 5 is also highly accessible with it being available as a desktop download, application for iOS and Android devices and even as a WebTrader where you can trade from within your internet browser.
Leverage
Maximum leverage from LBLV is currently 1:400, however, it is unclear if this is for all accounts, we do not believe that if you have a $1m account that you will be able to trade with leverage of 1:500. Unfortunately, we can not clarify this at this moment in time.
Trade Sizes
Trading starts at 0.01 lots which are also known as a micro lot, maximum trade sizes are currently unknown as they are not advertised on the site, but the usual amounts are between 50 lots and 100 lots. No matter the maximum trade size, we would advise not to trade any lot sizes higher than 50 as it can make it harder for the liquidity providers to execute trades instantly and can cause slippage.
Trading Costs
LBLV do charge a commission, there is lots of mention of it in the terms and conditions, however, there is no mention of how much, on what accounts and on what instruments. So at this point in time, all we can say is that there are additional commission costs, but we don't know how much.
Spreads are also resent, but we will look at them in more detail in the spreads section of this review. There are swap charges for holding trades overnight, either negative or positive, these can be viewed directly within MetaTrader 5. If you have an Islamic account, then instead of swap charges, the commission will be slightly increased.
Assets
There are currently 4 different categories of instruments available with LBLV, these are forex currencies where there are over 50 different pairs available, metals where there 5 different metals including gold, silver, and platinum. Commodities are also available and there are currently 5 of them available and finally, indices and shares where there are over 300 shares and over 40 indices available to trade.
Spreads
LBLV offer both fixed and variable spreads, fixed spreads do what the name suggests, they do not change, if a spread is at 1.5 pips it will remain at 1.5 pips. Variable spreads on the other hand change depending on the market conditions, if there is a lot of volatility (movement) then the spreads are generally higher.
Spreads can start as low as 1 pip, however the lower tier your account the higher they go, so if you are on an entry-level account, you could see the starting spreads sitting at over 3 pips.
It is also important to note that some currency pairs naturally have higher spreads than others, so while 1 pip may be the minimum, this is most likely for EUR/USD and pairs such as AUD/JPY will have higher spreads.
Minimum Deposit
In order to open up an account, you will need to make a minimum deposit of $5,000 which is quite high for an entry-level account. Once you have an account open, you can deposit smaller amounts in order to top up the account, we are not sure how low this reduced minimum goes but we know that it does reduce after the initial deposit and an account is open.
Deposit Methods & Costs
There are a few different methods of depositing with LBLV and we outline them below.
Credit or debit card, both Visa and MasterCard are available, you can deposit with USD, RUT, GBP or AUD and the limit to your deposits depends on your card issuer, deposits are instantly using this method.
Bank wire transfers are also available, there is no limit when using this method and is most likely the method used if opening the VIP account. You can deposit using USD, GBP, EUR or AUD and it will take between 2 to 5 business days for deposits to clear.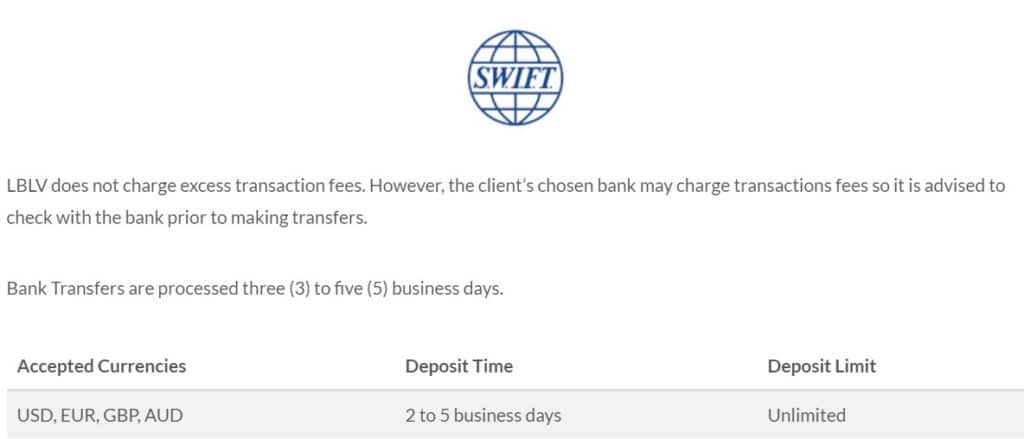 There are also a number of different e-wallets that can be used, these are Skrill, Qiwi Wallet, UnionPay, Neteller, WebMoney, and Yandex Money. You can deposit with USD, EUR or GBP and there is no maximum deposit, funds will take between 2 to 5 business days to become available, however, there is a note stating they take 1 business day, so a little confusion there.
LBLV do not add any fees to their deposits, however, when using the bank transfer method, be sure to check with your bank to see if they add any fees of their own.
Withdrawal Methods & Costs
The same methods are available for withdrawal as the ones for depositing so we will outline their features again for you. Visa and Mastercard withdrawals are available, the maximum withdrawal depends on your card issuer. Bank transfers are available, there is a minimum withdrawal amount of $50 or above. The same e-wallets are available to withdraw with the addition of Moneta. You must have verified documents for the bank or e-wallet that you are going to try and withdraw to and no third part withdrawals are allowed, all accounts must be in your own name.
Withdrawal Processing & Wait Time
Withdrawals using credit or debit card will be processed within one working day, funds will then clear into your account between two and nine working days. Bank wire transfers are processed within one working day and depending on your bank, will be available to you between two and nine business days after the request has been processed. E-wallets are processed within one business day and you will receive your funds between 1 business day and 3 business days.
Bonuses & Promotions
There are a couple bonuses and promotions going on so let's take a little look at what they are.
Deposit Bonus: There is currently a 30% deposit bonus promotion going on, simply open up a new account (must be first account) and deposit, you will then receive an additional 30% as bonus funds. These are bonus funds and are not withdrawable, the site states that they can be converted into real funds but do not state the method of doing this on the website. These are normally tied to the amount of trading volume you do.
There are a couple of other things under promotions but we see them as educational and tools, so will be outlined in the next part of this review.
Educational & Trading Tools
There is a variety of things in regards to education and tools, some you may find helpful, others not so much, we will outline what they are for you so you can decide if they are any benefit to you.
Free Signals: LBLV is offering some free signals to help you decide to buy or sell a currency pair. We can not comment on the accuracy of these signals which currently send you entry and exit points, they are completely free to all members of LBLV.
E-books: There are some e-books available to download from within the members' area, this help to teach you the basics of forex and trading, there are a couple based around analysis but on a basic level to get you started, rather than to master the markets.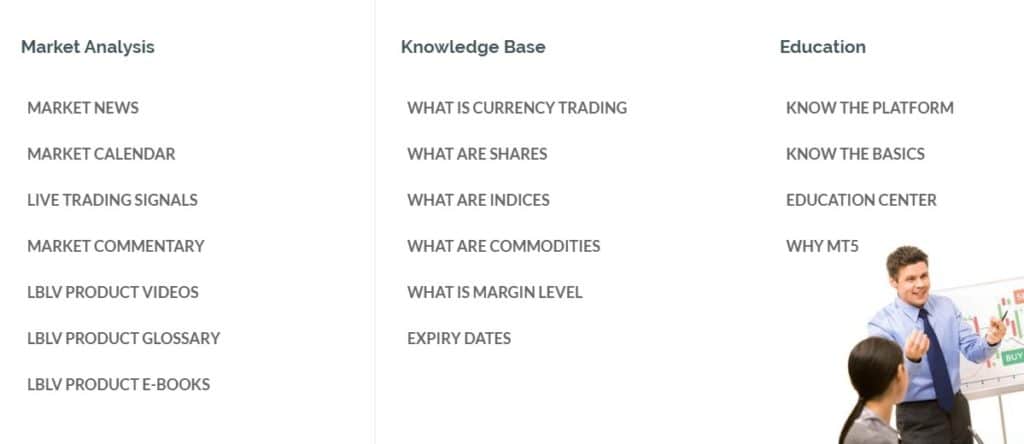 Analysis: There are a number of little tools that come under this heading, there is an economic calendar that tells you about any upcoming news events and the effect they may have on the markets. There is also a market commentary section where each market is looked at and an expert gives their opinion on it. Finally, there is also some market news where the economic calendar is expanded on and also past news is shown to help understand what is going on in the world and how it will affect the markets.
Tutorials: There are a number of tutorials available,e mainly on how to use LBLV and their services as well as the available trading platforms, basic tings but great for people completely new to trading.
Customer Service
There are a couple of different ways to get in contact with the 24/5 customer service department over at LBLV. You can email them directly, or use a phone number to talk to them. We tested out the email and received a reply within about 25 hours, which is not bad at all, they were helpful and answered our basic questions well (we already knew the answers to the questions just to be sure). There is also an online chat to quickly get an answer but we did not manage to test this feature.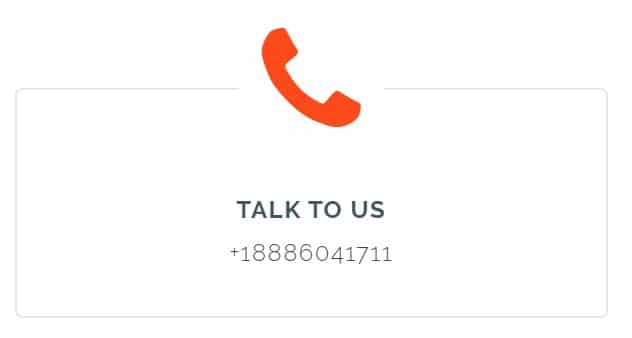 Demo Account
It wasn't initially obvious if you could open a demo account, the only way to do so is to sign up to a live account and then select a demo account from within the client area. The demo accounts let you test the markets and also test out any new strategies you have without any risk to your capital. Demo accounts will not last forever so if left dormant for too long they will be closed and emoved, you can then, however, simply open up a new account.
Countries Accepted
The following statement is present on the website: "LBLV does not offer its services to residents and/or citizens of certain jurisdictions such as the USA, Iran, Syria and North Korea. It is your own responsibility as our client to act according to your jurisdiction and to make sure that the said activity is allowed in your country. The company will not be responsible in case your jurisdiction does not comply with the offered activity."
Conclusion
LBLV is aiming for the stars, their entry-level of $5,000 is high and may price out a lot of newer traders, the fact that their VIP account requires a minimum deposit of $1,000,000 you can see the sorts of clients they are going for. Customer services were good and replied promptly, with plenty of bonuses and promotions, training tools and a good selection of deposit and withdrawal methods. LBLV may be a decent broker to use, however, if you have the funds available to open a basic account with LBLV, the same funds are normally enough to get improved trading conditions to account with many other great brokers.
We hope you like this LBLV review. If you did, be sure to check out some of the other reviews to help find the broker that is right for you.