BCS Forex is a forex broker located in Cyprus but registered in Saint Vincent and the Grenadines. Founded at the end of 2014, BCS Forex claims to provide a wide range of professional services and offer top quality customer service. In this review, we will take a look in detail, the services that are being offered so you can see if BCS Fores is right for you.

Account Types
There are four different accounts on offer from BCS Forex, each with slightly different conditions and features, we will take a little look at what each one offers.
Global: When using this account you can choose to have either USD or EUR as the accounts base currency. The minimum deposit is $1 and spreads start from 1 pip. There is no commission charged on this account and leverage can be anywhere from 1:1 to 1:200. There are 116 instruments to trade with a maximum trade size of 100 lots and a minimum of 0.01 (micro lot). A margin call will be at 100% and the stop out level is set at 35%. This account uses MetaTrader 5 (MT5) as its trading platform.
NDD: The NDD account also has the same base currencies, initial deposits, leverage and trade sizes. Instead of the spreads starting at 1 pip it is now reduced to 0.2 pips but a commission of 0.003% has been added to each trade. There are only 38 instruments to trade as they are restricted to just forex currencies, the margin call remains at 100%, however, the stop out level has increased to 50%. This account can use both MetaTrader 5 and MetaTrader 4 as a trading platform.

PRO: Base currencies remain the same, as does the $1 minimum deposit and the 1:1 to 1:200 leverage. Spreads have gone back to 1 pip but are now fixed instead of variable. There is no added commission with this account, there are 117 instruments to trade which are forex pairs and CFDs and the margin call level remains at 100% while the stop out level reduces down to 20%. This account can use MetaTrader 4 as its trading platform and uses instant execution for trades.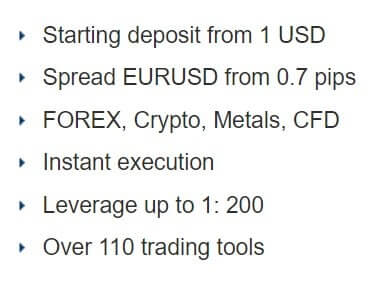 Direct: The direct account keeps the $1 minimum deposit as well as the same leverage levels and trade sizes. It has a spread from 0.7 pips and has 117 tradable instruments including forex, crypto, and CFDs. Margin call level remains at 100% and the stop out level is at 20%. This account can use MetaTrader 5 only as its trading platform. This account also uses instant execution to make the trades.
Platforms
There are two platforms on offer from BCS Forex, they are MetaTrader 5 (MT5) and MetaTrader 4 (MT4)
MetaTrader 4: As for today, MetaTrader 4 still is one of the most popular trading platforms in the world. This platform offers rich functionality, operation simplicity, stable operation and interface easy to understand even for novice traders. The client-side of the MetaTrader 4 platform is now available for all operating systems since its browser version allows you to trade without downloading and installing the desktop application. MetaTrader 4 platform allows you to trade not only on the Forex market but also on other financial markets. These features of the platform make staying connected to the market 24 hours a day an easy task.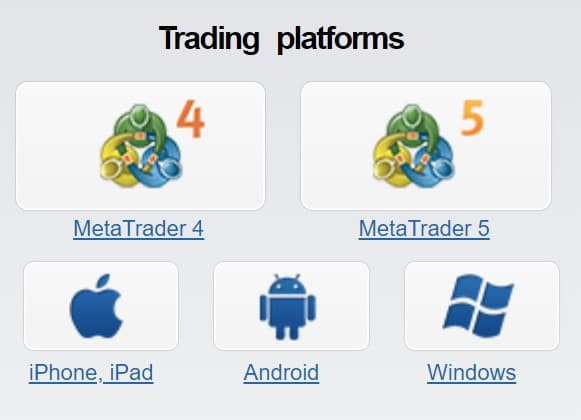 MetaTrader 5: MetaTrader 5 is the most popular trading platform, this is the fifth generation of platform for online trading in the financial markets. MT5 includes all the advantages of the previous version, complemented by a variety of unique technical solutions for operations on the Forex market, stock markets, as well as futures and CFD trading. In the meantime, it allows you to use a single trading account for different markets. MetaTrader 5 is also available for almost all types of mobile devices (thanks to the web version of terminal and versions for iOs and Android).
Leverage
Leverage on all accounts with BCS Forex has a range of between 1:1 and 1:200, increments can be chosen in between too. You can select your leverage when opening an account, should you wish to change the leverage on your account, you can request this in the client area, but you must have no open trades at the time.
Trade Sizes
Trade sizes for all accounts start at 0.01 lots which are also known as a micro lot, lot sizes increase in 0.01 intervals until they reach a maximum of 100 lots.
Trading Costs
Different accounts have different costs and cost structures. The Global, Pro and Direct accounts use a spread based system where an additional spread is added to help make the broker money. We go into more detail on the spreads later in this review. The NDD account has a commission of 0.003% taken from each trade. It is not very often that you see a broker put a percentage onto the trades rather than a fixed commission per lot traded. There are also swap fees either paid or received based on holding trades overnight, these numbers can be seen from directly within the trading platform, both MT4, and MT5.
Assets
There is a decent selection of assets when it comes to BCS Forex, each account type has access to a different number of assets, so be sure to check out the website for a list of what is available with each account.
In terms of assets, there are forex currency pairs, commodities, CFDs, stocks and, crypto. The majority of the 117 assets on offer come under stocks and forex currencies, with just the single cryptocurrency available, that being BTC/USD. It would have been nice to see more crypto available as that is quickly becoming one of the major trading assets for a lot of new and experienced traders.
Spreads
The spreads that you get are dependant on the account that you are using. The global account has variable spreads starting at 1 pip, this means that the minimum you will see it 1 pip but they will often float higher and can be seen around 2 pips or more. The NDD account also has a variable spread, which is around 0.2 pips, again as this is variable, it can move higher due to market conditions. The Pro account has a fixed spread of 1 pip, this means that the spread does not change and will always be at 1 pip, each pair will have a different fixed spread, the 1 pip mentioned is the lowest available, others will be higher. Finally, the Direct account has a variable spread of 0.7 pips, as mentioned before, this is variable and so will move with the markets and will often be seen higher.
Please note that different currency pairs naturally have different spreads, the numbers mentioned above are the minimum numbers for the EUR/USD pair, which naturally has the lowest spreads, most other pairs will be higher.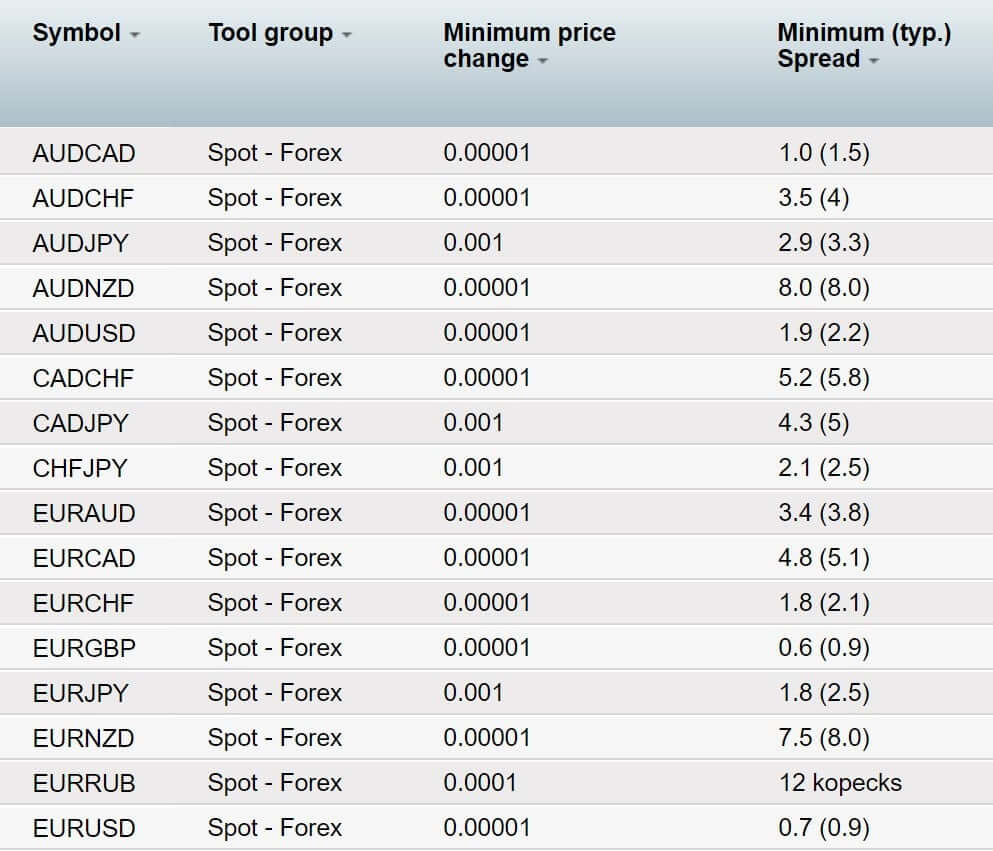 Minimum Deposit
The minimum deposit is $1, this is both for opening a new account and for any subsequent deposits to top up an account. This is a very accessible figure, but not easy to trade with, we would not recommend opening an account with less than $500 as this allows for better risk management and profit potential.
Deposit Methods & Costs
There are a number of different deposit methods available and unfortunately some of them have a fee attached to them, please refer yourself to the list below for details of the methods and the fee that they require, we have put the method, currencies, and fee for your convenience.
Bank Transfer – USD, EUR – 0%
Ruble Bank Transfer – RUB – 0%
Visa – USD, EUR, RUB – 2.5%
Mastercard – USD, EUR, RUB – 2.5%
BCS Online – USD, EUR, RUB – 0%
Alpha Click – RUB – 2.5%
QIWI Wallet – RUB – 2.5%
Yandex Money – RUB – 3.5%
Internal Transfer – USD, EUR, RUB – 0%
Please note when using bank transfer, your own bank may charge a fee so be sure to check with them prior to making a transfer.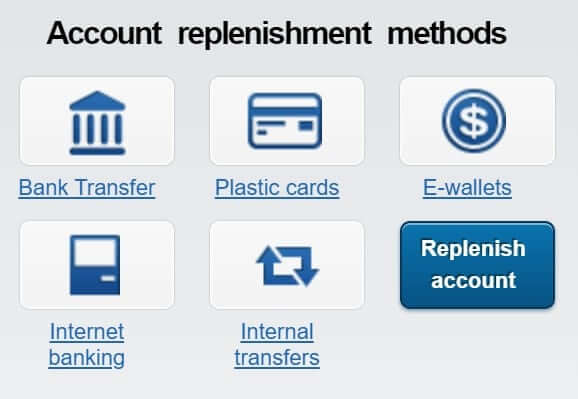 Withdrawal Methods & Costs
There are slightly fewer methods available to withdraw, we have put together a similar list to deposits for withdrawals, the info provided is the method, the currency, and the fee.
Foreign Bank Transfer – USD, EUR – 0%
Ruble Bank Transfer – RUB – 0%
Visa – USD, EUR, RUB – 2.5%
Mastercard – USD, EUR, RUB – 2.5%
QIWI Wallet – RUB – 2.5%
Yandex Wallet – RUB – 3.5%
Internal Transfer – USD, EUR, RUN – 0 %
Please note when using bank transfer, your own bank may charge a fee so be sure to check with them prior to making a transfer.
It is always a shame to see a fee added to both deposits and withdrawals, this is a practice that a lot of modern brokers are getting rid of. So it would have been nice for BCS Forex to follow suit.
Withdrawal Processing & Wait Time
Withdrawal times will be based on the method that you are using to deposit, below we have listed the expected withdrawal and processing times for each withdrawal method:
Foreign Bank Transfer – 2 – 3 business days
Ruble Bank Transfer – 2 – 3 business days
Visa – 1 – 3 business days
Mastercard – 1 – 3 business days
QIWI Wallet – Instantly
Yandex Wallet – Instantly
Internal Transfer – Instantly

Bonuses & Promotions
Along with the usual affiliate program where you can earn for referring new clients to the broker there are a couple of other promotions available.
On the home page, there is a banner stating that you can receive back 50% of the spreads while trading. This promotion ends on 31/12/19 however we can not see what the terms for the promotion are as clicking the banner takes you to the account login page.
There is also a loyalty program available whereby you trade and receive something called a tripcoin, you can redeem these coins for discounts on flights and holidays, we believe this would be tailored more towards those in Russia rather than other places in the world.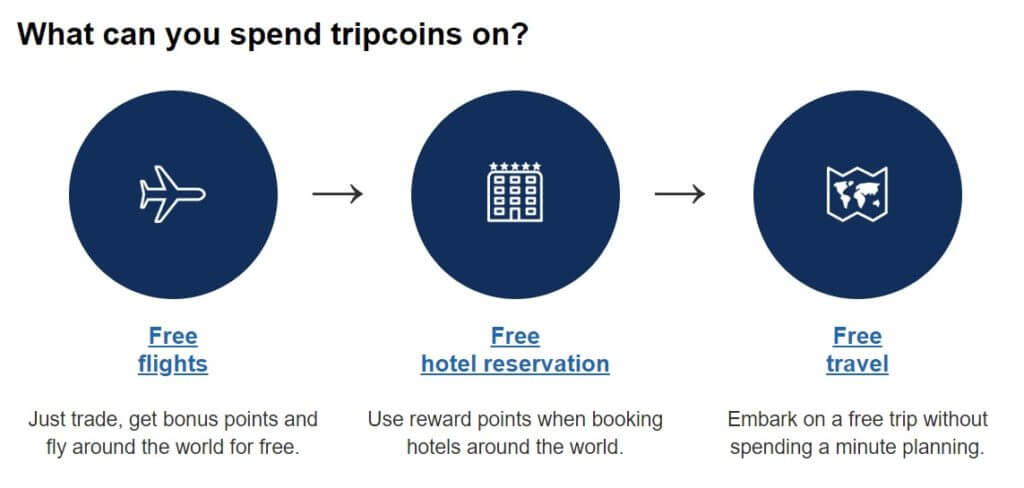 Educational & Trading Tools
There are a few bits of information and analysis on offer from BCS Forex including some forex reviews which are more market analysis, they give a bit of detail about different markets to help aid you in your own analysis, there is also the usual economic calendar to let you know when any major news events are coming up.
In terms of education, there are a couple of courses into the basics of trading, both written and in video form, however, they are aimed at beginners, once you have a grip of the markets you won't necessarily find them too helpful. There is also a trader's handbook, but this is more of a glossary and definition database.
Customer Service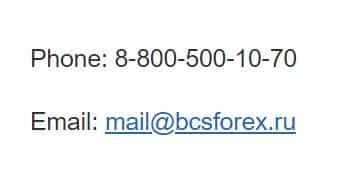 Customer support is open from 9:00 to 21:00 Monday to Friday Moscow time rather than the usual 24 hours. You can use the online web form to send your query and receive a message back via email, or you can use the email address provided directly. There is also a phone number provided should you wish to talk with someone directly. We sent a message using the webform, it has currently been 48 hours and we are yet to receive a reply which does not fill us with confidence.
Demo Account
BCS Forex offers demo accounts, simply sign up for an account and when selecting which account to open select demo. The demo accounts last indefinitely and allow you to test the markets and different strategies. If a demo account is left dormant for too long it will be deleted however a new one can then be opened.
Countries Accepted
BCS Forex does not cater to residents of the Russian Federation, all other countries should be accepted.
Conclusion
We are a little confused, most of the site seems to aim itself at the Russian population, but then clearly state that they are not providing their services for people living in Russia. While everything else could be perfect, that fact alone would put off many potential clients. Trading conditions are competitive, as is the minimum deposit, it is just a shame to see fees being added to both deposits and withdrawals. The lack of response from the customer services along with the confusion as to who their services are aimed at making BCS Forex hard for us to recommend at this time.
We hope you like this BCS Forex review. If you did, be sure to check out some of the other reviews to help find the broker that is right for you.