Trade Centrum is part of the Goldenburg Group Limited group and provides investment services in several countries around the world and provides access to the financial markets. Clients have the ability to trade a large number of financial instruments. Trade Centrum consists of professionals who are willing to provide first-class service to clients. They claim to be one committed team always ready to help and have fast customer support (we'll be testing that).
Trade Centrum is a Cypriot Investment Firm (CIF) supervised and regulated by the Cyprus Securities and Exchange Commission (CySEC). They are licensed to provide investment and ancillary services in relation to financial instruments.
Account Types
There are two account types available to open with Trade Centrum.
Personal Account – To open a personal account you will need to provide documentation to confirm your identity. Your passport or driving licence will be sufficient. You will also need to provide proof of address. This can be a utility bill or bank statement.
Business Account – If the client is interested in establishing an account for a business or other type of business entity, there are a few more hoops to jump through with regard to documentation. Documents such as Certificate of Incorporation, Memorandum (and Articles) of Association, Company Charter will all need to be supplied.
Platforms
Trade Centrum offers MT5 as their trading platform and this can be downloaded to any desktop PC, Android device or iOS device. You can also access your trading account from any Internet browser.
Leverage
Trade Centrum offers a default highest leverage of 1:30 when you open an account with them. You may request higher leverage up to a maximum of 1:100 and this request will be granted based on your knowledge and experience.
Trade Sizes
You can trade with standard lots only.
Trading Costs
Swap Fees – Swaps will be charged at the end of each business day. Triple swaps will be charged on Wednesday.
Management Fee – Holding physical stocks leads to the management fee which will be charged at the end of each business day. Please note, that on Wednesdays the fee will be tripled.
Maintenance Fee – This is a charge of up to EUR 40, which will be charged if the trading account is inactive or dormant for 6 months. The maintenance fee will be charged on a monthly basis.
Assets
A quick glance on their website shows the following tradable assets:
Forex – 62 Forex pairs.
Commodities – Trade in commodities like petroleum, gold, precious metals or different cereals.
Shares – Buy shares in a company. You become a shareholder of the company. Thus, the share represents a share in the ownership of the company and, at the same time, the right to participate in the profit.

Indices – Indices are a statistical indicator that measures the development and performance of the entire market. They represent a set of stocks within a whole and can be considered as their average price.
Shares CFD – Trade shares with the largest investment companies like Google, Amazon or Apple. Trading in shares in the form of CFDs is one of the most common trading methods. CFD offers traders an opportunity to open both long and short positions because the traders themselves do not physically own the shares and the subject of the deal is just a contract that copies the price of the underlying asset.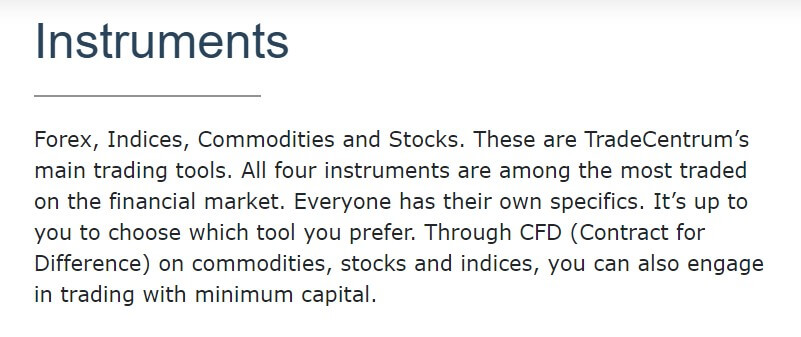 Spreads
Spreads are variable which means they fluctuate and market conditions may cause widening or narrowing of spreads beyond the boundaries of typical spreads. Spreads for EUR/USD can be as low as 3 pips.
Margin Rules
At a 100% margin level, clients are alerted by the platform that they are close to automatic liquidation of their position. Clients will receive an automatic notification only if they are logged on to the platform. Therefore, clients are warned to log on regularly to the platform and monitor the value of their assets and relevant notifications. Clients are also warned that if their margin falls below 50%, the platform automatically closes their positions.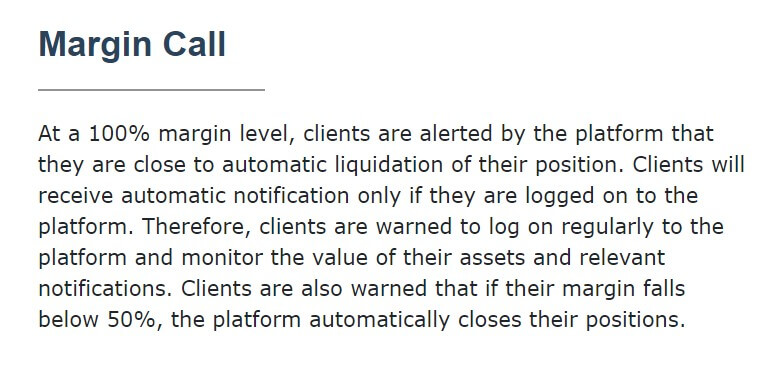 Liquidity Providers: There is no information on their website regarding their liquidity providers.
Deposit Methods & Costs
The following deposit methods are available to you with Trade Centrum:
Bank Transfer
Visa Credit Card
Dotpay
Trade Centrum does not charge fees for any of the deposit options above. However, they don't cover 3rd party charges and state that "all fees for payments and transfers of a third party will be borne by the Client and the Company will deduct the respective amount from the Client Account."

Withdrawal Methods & Costs
Only one withdrawal method and that is by Bank Transfer. The minimum withdrawal amount is $250. Trade Centrum does not charge fees for withdrawals but will not cover 3rd party fees as mentioned above.
Withdrawal Processing & Wait Time
There is no indication as to how long withdrawals take on their website.
Bonuses & Promotions
Trade Centrum does not currently offer a signup bonus or any other promotions.
Educational & Trading Tools
Trade Centrum provides clients with a few educational tools. These include webinars and videos to explain the basics of using the business platform and to introduce basic business strategies. There is an economic news page on their website detailing upcoming news events along with a daily Forex analysis page. They also provide newsletters to keep clients informed.
Customer Service
Trade Centrum have the following customer support options:
Telephone – Contact number is +357 2505 6478
Fax – Fax number is +357 2202 2664
Email – [email protected]
Website Contact Form – You can send your query using this method if you don't have access to your email client.
Snail Mail – Physical address is: 1 Siafi Street, Porto Bello BLD, 3042, Limassol, Cyprus. (I tested the email support option to ask a few questions for the purpose of this review and after a week of waiting, I am still to get a response.)

Demo Account
The demo account is limited to 30 days, after that, you have the option to switch to a LIVE account.
Countries Accepted
No mention of any restricted countries on their website.
Conclusion
There are plenty of assets to trade at Trade Centrum which is always good to see. They have a few deposit and withdrawal options which are another plus. On the negative side, they fall down where many other brokers fall down and that is with their customer support offering. Waiting a week for an email to be answered is not good customer service. Also, traders should be allowed to use demo accounts indefinitely and not be time-restricted.