Belight Capital Group Limited is a Cyprus Investment Firm (CIF) regulated and supervised by the Cyprus Securities and Exchange Commission. They operate under CIF Licence number 364/18 and Company registration number HE 345448, offering Forex services to all, but are seemingly targeting new traders. The BelightFX review that follows will shed light on the platform and services that this broker is currently providing.
Account Types
Accounts can be opened with a default currency of EUR (Euro), GBP (Pound Sterling) or USD (US Dollar). There are two types of accounts available to customers:
-Company Account
-Individual Account
When you register as a client with Belight they will perform an appropriateness test on you. They will test your knowledge, financial background, and experience in regard to financial services. Based on the scoring you receive, you will be informed whether you are eligible to receive their services and become one of their clients. You will also be informed of the maximum level of leverage you are entitled to.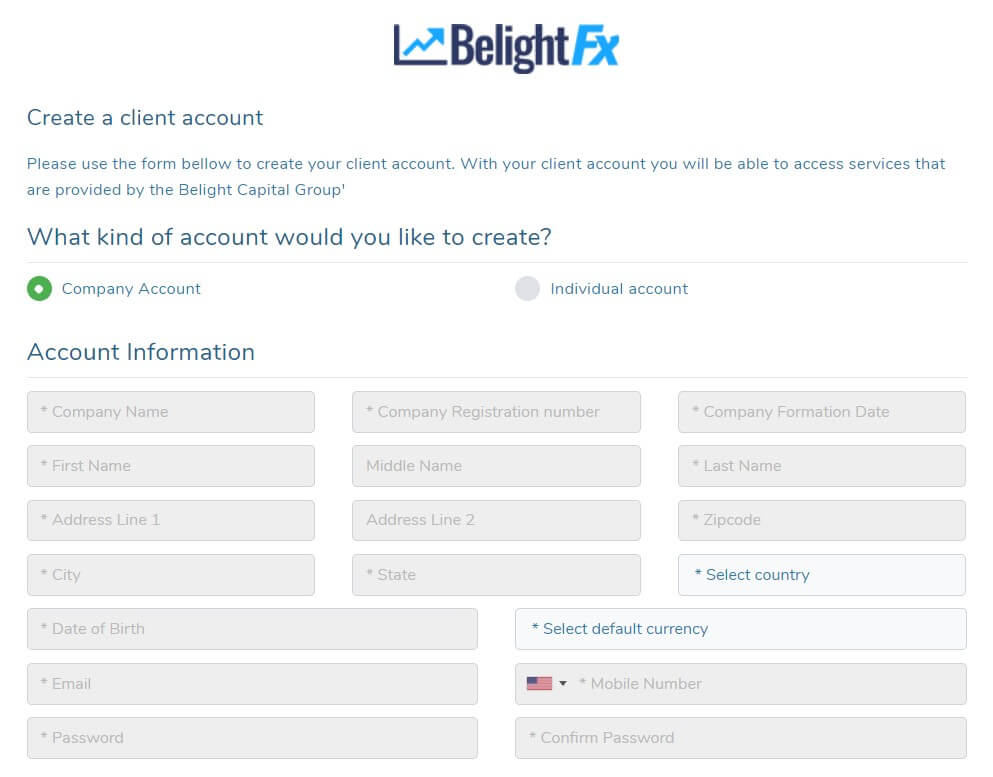 One thing to be aware of is if your account is not used for 4 months then Belight reserve the right to start charging you fees to keep the account open. So if you do decide to stop using your account with them I'd advise you to close your account.
Platforms
No mention anywhere on their site on which platforms or web traders they use. I've contacted their customer support and have not had a response regarding this. A quick Google search tells me that they only provide a web trader and do not allow their clients to use MT4 or MT5.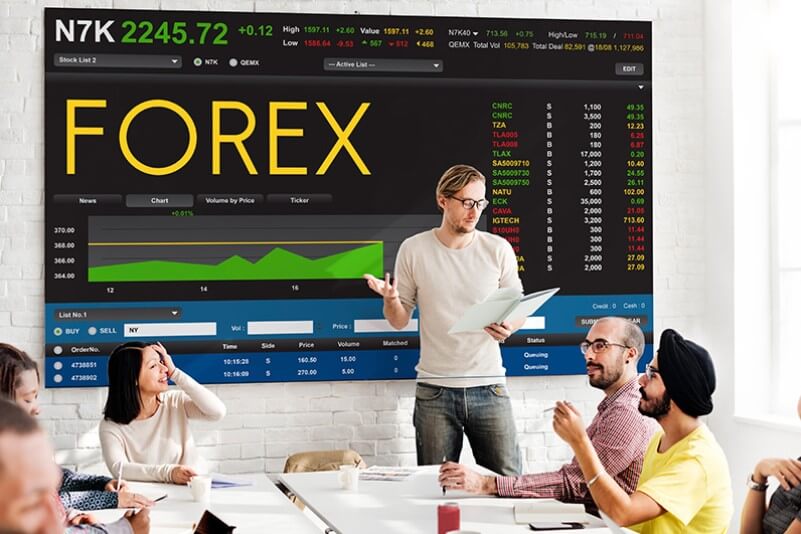 Trading Conditions
You can place trades from your computer/device or alternatively, you can place trades over the phone. Belight is quite strict when it comes to the types of trading they allow. The following are not allowed and are classed as "Abusive Trading"
Placing "buy stop" or "sell stop" orders prior to the release of news relevant to the Underlying Market or Asset.
Arbitrage, manipulations or exploitation of any temporal and/or minor inaccuracy in any rate or price offered on the Trading Platform.
A combination of faster/slower feeds.
Abuse of the cancellation of trades features available on the Platform.
Use (without the prior and written consent of the Company) of any robots, spiders or other automated data entry system with the Platform.
Any software, which applies artificial intelligence analysis to the company's systems and/or platform(s) and/or Client Account.
Leverage
Your maximum leverage will be determined when you sign up based on how you perform in the appropriateness test.
Trade Sizes
Traders can use standard lots, micro-lots and mini-lots. The actual minimum size of an order may be different for each type of account.
Trading Costs
Belight charge commission and/or adds mark-ups on quoted prices of CFDs (unless explicitly stated). They also obtain the price for swaps (in relation to any given type of CFD) from third party external reference sources such as its liquidity providers and (unless explicitly stated) does not add a mark-up on the swap prices it quotes. They claim that you will never find trading fees lower than theirs.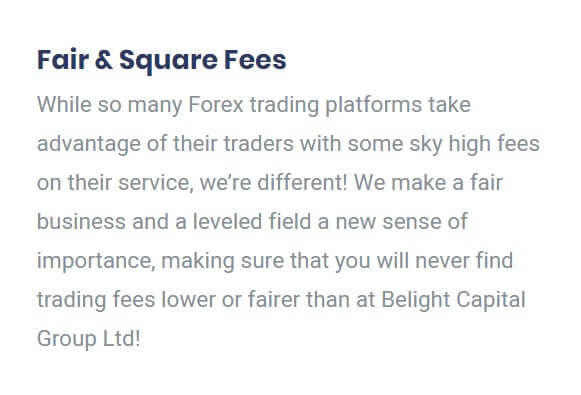 Assets
BelightFX will allow you to trade the following markets:
Forex
Indices
Commodities

Spreads
There is no mention of the spreads on their website.
Margin Rules
When the margin level reaches 10% (ratio of equity to Margin in the Client Account), the client positions will start closing automatically at market prices (Stop Out level of 10%).
Liquidity Providers
BelightFX uses different liquidity providers and performs due diligence on them. The company places great significance on the choice of its liquidity providers as it strives to offer, on a consistent basis, best execution to its clients. Some of the parameters that the company evaluates include the following:
Pricing frequency – how many ticks per second does the liquidity provider provide.
Speed of communication/execution – How fast are the prices received/orders executed.
Occurrence and frequency of price freezes.
Depth of liquidity – What is the liquidity provided by the liquidity provider.
If dealing back-to-back is the overall cost (i.e. total consideration paid by Clients) competitive compared to the industry.
If dealing with back-to-back symmetry of slippage should be evaluated in detail for every order type.
Minimum Deposit
There is no information regarding the minimum deposit on their website.
Deposit Methods & Costs
Belight offers multi-currency deposits via two payment methods:
Bank Transfer. Belight does not charge a fee to top up your account via bank transfer but does not guarantee that your bank will not charge fees.
Secure Online Payment with Visa / Mastercard


Withdrawal Methods & Costs
There is no mention of withdrawal methods, cost and waiting times on their website.
Bonuses & Promotions
There is no mention of any bonuses or promotions on their website.
Educational & Trading Tools
After an apparent 5 minute long signup and deposit process, Belight will instantly provide you with educational material. What form this material is in is not made clear. You will also be given access to their Forex-centric blog where you can join others to share insights and ideas.
Customer Service
Belight has a contact form where you can get in touch with them. I tried this method for the purpose of the review as there is a fair bit of information missing on their website. After 4 days there has been no response.
You can also phone them on +357 222 71 830
If snail mail is you preferred contact method then you can contact them at:
1st floor
Flat 101
33 Larnakos Avenue
1046
Nicosia
Cyprus
All such communications are recorded by Belight Capital Group Ltd. Any such records shall be provided to you upon request.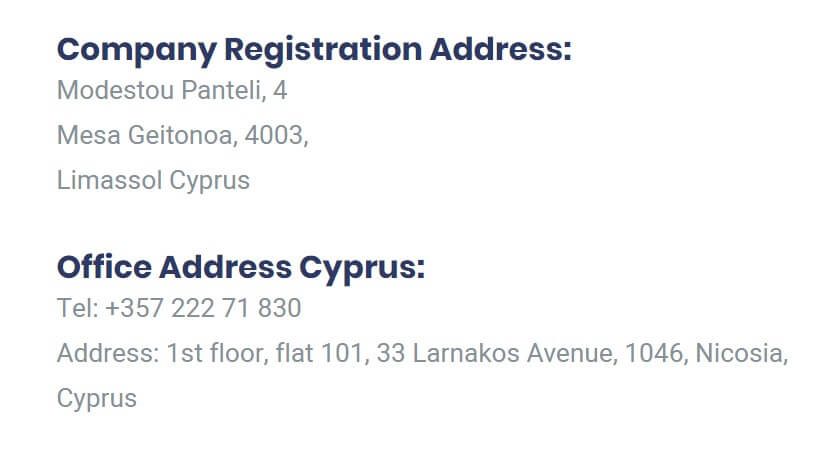 There is a complaints procedure whereby you may submit a complaint in writing. The complaint will be acknowledged within five (5) business days from the receipt of your complaint.
Demo Account
There doesn't appear to be the option of opening a demo account.
Countries Accepted
There are no restricted countries mentioned on the Belight website and they just state that you should not use their services if it is contrary to your local laws or regulations.
Conclusion
There is a fair amount of information missing from the Belight website such as trading platforms, spreads, minimum deposits, and withdrawal methods. This doesn't make them a bad broker it just means they have some work to do in the web design department.
Of slightly more concern is the apparent lack of demo accounts. This is crucial, especially when they appear to only allow trading via their own web browser. Traders need time to get used to unfamiliar software and mistakes could be costly.
By far the biggest negative is the lack of response to all of my support requests. This is one area that any broker worth its' salt should get right. It's an easy fix and when they can't get this right it's a big reds flag for me.