This is one of the most known brokers in the industry. IC Markets set a benchmark for low spreads and execution time, it is no wonder that many EAs and fast trading clients use IC Markets servers for testing. Founded in 2007 in Australia, IC markets was on with a strategy to bring raw spreads to the fast-growing CFD retail trading. To accomplish this, the broker has to have the fastest IT technology and a great network of liquidity providers. Besides, to bring better support to the trading environment altogether and do what competition could not. Traders appreciated this and IC Markets was welcomed into top tier brokers list according to the reviews and awards.
The total active client base is close to 100k with a $646 billion trading volume. When comparing spreads in different categories, this broker always comes to the top 5, probably one of the best selling points that are further supported by regulation, CySEC +MiFID – MiFIR, ASIC and FSA from Seychelles. Note that IC Markets uses two domains, ICMarkets.com.au and ICMarkets.eu, more info about the differences in the Conclusion. The website uses green and black colors that represent relaxation, environment, and money with power and authority. It is full of useful information mixed with smart marketing that tries to match the visitors thinking flow as they consume the content.
Transparency is great, FAQ is full and leaves the need to contact support only to specific issues. Every aspect of IC Markets is developed making it hard to find flaws or a reason to go with another broker. This review will provide information that could give that reason or confirm that IC Markets is for you.
Account Types
IC Markets delivers two account types, Standard and more famous Raw Spread Account. They differ by the spreads and commissions only. Leverage, minimum deposit, and the rest of the trading conditions are the same. The stop-out level for both account types is at 50% and all kinds of scalping, hedging, automated trading is allowed. IC Markets also offers a cTrader platform that has different types of feedback from the servers as it is written in C# programming language whereas MetaTrader 4 and 5 are specific to MQL language developed by MetaQuotes. Only Raw Spread Account is available for the cTrader and has slightly different commissions. Also, cTrader Raw Spread Account has another server location in London. More details about this platform in the next section.
Essentially, IC Markets know that fast trading and EAs are very popular, 60% of their trades are made by automated trading robots, therefore showing off Raw Spread Account all over the website. This Account is obviously designed for this kind of traders, stating spreads from 0.0 pips and ultra-fast executions. Standard Account is for longer-term traders, like swing traders, investors, etc. Looking at the big picture, IC Markets covers all the trader types with two account types, because traders can be divided into those that trade frequently within a day and those that do not sit all day in front of the screen, keeping it simple for all. Islamic Accounts are available for all platforms although IC Markets have a fee instead of swaps.
Platforms
IC Markets go a step further and offer 3 platforms – MetaTrader4, 5 and cTrader, all available for PCs, Mac, and mobile devices on Android and iOS. For those that do not want to install anything, or want a quick remote glimpse into the market can do that within a browser. Web Traders are available for MetaTrader 4, 5 and also for the cTrader platform.
cTrader is a versatile platform that is similar to MetaTrader but expands on the limitations MT4 has. IC Markets was one of the first to adopt cTrader as it is a better choice for fast trading and algorithms. The platform is updated frequently to bring more features requested by the community.
cTrader has a better-looking design, and also a dark theme, which is very trendy, not only for trading applications. Each chart has its own toolbar, they are flexible and resizeable and have the possibility to link across multiple monitors. Periods range opens a new depth to trading, cTrader not only has more standard periods than MetaTrader but also Range, Renko, and Tick based periods. In addition, indicators can be applied to any of these periods as well as other add-ons. This platform has internal features to open pending orders even when the markets are closed. Market ordering is also more advanced, for example, traders can choose double Stop Orders that will be triggered after two consecutive Ask/Bid prices above the entry price. This is useful to filter off-market prices caused by the broker.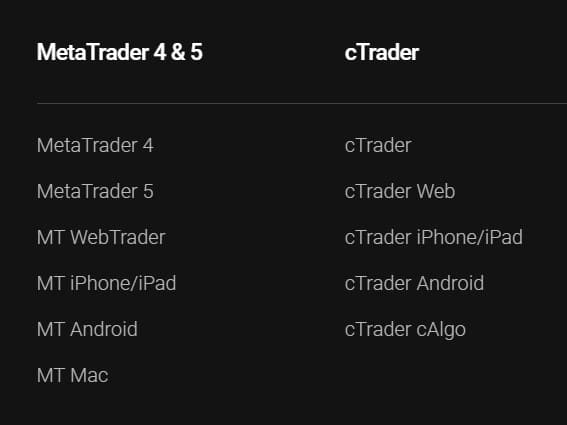 In terms of order protection, cTrader has numerous calculations that help traders set the thresholds before the trade, advanced Stop Loss that can move to break even and trail, advanced Take Profit orders that can scale out and so on. Orders can be executed simultaneously, and cal also be linked with the One Cancels the Other (OCO) logic. Obviously, cTrader also surpasses MetaTrader in terms of security, for example, trades database cannot be manipulated by brokers as the platform is hosted by Spotware, the company behind cTrader.
Position timeline is also something very useful for analyzing your trades, here you will see all the modifications made to the positions that also feature a snapshot of the execution moment. cTrader features free FIX (Financial Information Exchange) API and Open API interfaces, unlike MetaTrader. IC Markets has a different server for this platform, namely the LD5 IBX Equinix Data Center in London, although without the ability to have Commercial Network Services VPS CrossConnect (CNS, company that offers VPS for brokers).

It is important to mention that cTrader handles hedging differently than MetaTrader platforms. Margin will be required even for perfectly hedged positions as cTrader will pick one bigger position (Buy or Sell) and use it as a whole for margin calculation. On average, execution times are 35ms making this platform the best possible solution for fast traders and algorithms alike. Smart Stop Out is another feature not available with other platforms. This method will close your largest positions partially in case your margin level goes below 50%. Traders will not be completely cut out of any chances of a reversal in their favor with this logic.
Be aware that some users reported that cTrader is a somewhat slower and more demanding platform for computers, especially for those with lower RAM.
MetaTrader 4 will list IC markets servers once started and to our surprise, there are 19 live and 3 demo. After some lag, the server connected with the client and a welcoming message in a local language was received to the mailbox. The platform was at its default setting updated to the latest version. Note that the platform will reflect the location of the IC markets division, and therefore regulation, in the About window.
The asset specification is filled with enough information. Note that demo may have different execution times than live servers. MetaTrader 5 Raw Spreads has better execution times than MT4 Standard Account and the server has a better ping to 120ms. The execution times were also better to 110ms on average compared to 250ms from MT4 on the Standard Account and sometimes we have sudden fast disconnection and reconnection signals with the servers. Interestingly, Stocks are not listed in MT4.
Leverage
The leverage level is sensitive to the regulators. IC Markets has 3 regulations and divisions. Each has its policies and leverage levels are affected. IC markets present the highest leverage of 1:500 although for EU clients this leverage is not available and is limited to 1:30 per ESMA newest policies. EU regulator for IC Markets is CySEC. Higher leverage is still possible if you qualify as a Professional Trader. More info can be found within their EU domain, www.icmarkets.eu. Leverage for Bitcoin and other crypto is 1:5 and for spot Gold and Silver is 1:500 with a different hedging margin. Commodities all have 1:100 leverage and indices 1:200. IC Markets delivers enough leverage for all trader risk types but not going too wide with leverages like 1:1000 some brokers offer.

Trade Sizes
The initial minimum trading volume is 0.01 lots or micro-lots. In units, it is 1000. Volume steps are also 0.01 lots. The maximum is 200 lots for Forex pairs, 50 for exotics, while Bitcoin has the maximum at 10 lots. For spot Gold, the maximum volume is 100 lots and the same 0.01 lots minimum volume and step volume. All trading sizes are the same for all account types and platforms. Stops levels are 0 so you can set any Stop orders distance.
Trading Costs
The commission applies to the popular Raw Spread Account and amounts $7 per lot traded. IC Markets usually promote this commission as per side, not on a round turn, thus presenting the value of $3.5. The per side amount is also displayed within the platform and could be misleading for those not familiar with the term. cTrader Raw Spread Account commission is not the same as with MetaTrader platforms and is $6 per lot traded. For clients registered within the EU, the commission is in EUR. For those that may not know, cashback companies have a contract with bigger brokers that allows new clients to have a reduction in spreads and commissions, and IC Markets could well be on their lists.

The standard Account does not have any commission but a higher spread. Swaps are one of the better in the industry. EUR/USD has a positive swap for short positions at 5.97 points and -11.15 for long. GBP/CHF also has a positive swap for long at 2.23 / -8.89 for short. In the exotic currency pairs the swap is under normal levels, so SGD/JPY has a 6.25 long and -8.21 short swap, while USD/RUB is at -836 long and a positive short position swap against the USD at 778 points. By looking at the list of currency pairs we had a hard time finding one without a positive swap.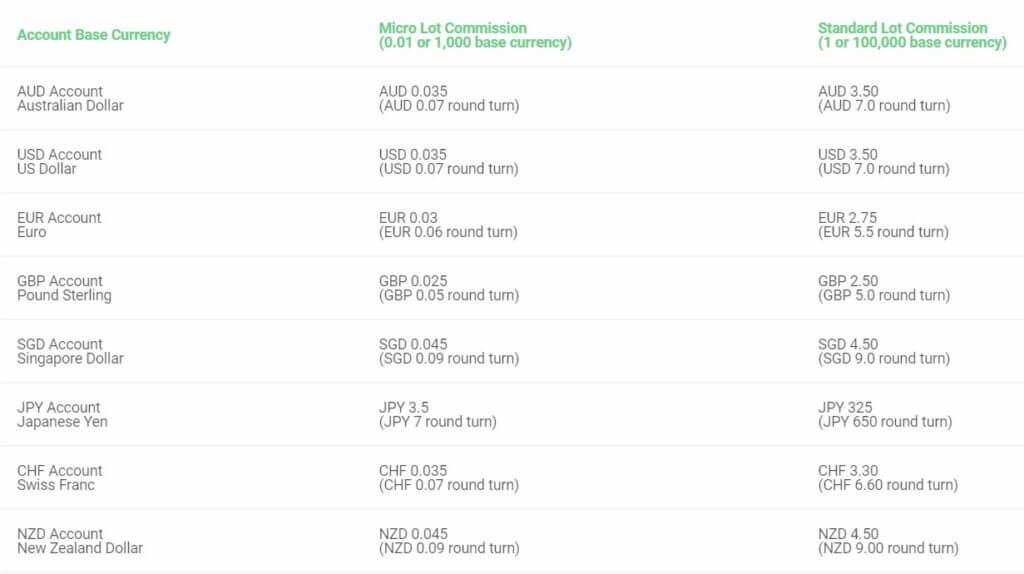 On the other side, cryptocurrencies are swap heavy. Bitcoin / USD has a swap in percentage and it is a whooping -20% using current price, so it is not meant to leave positions open. There are no commissions for cryptocurrencies. As for other trading costs, there are none. For Islamic Accounts an overnight flat fee per lot will replace the swap and is $5 for major pairs and up to $50 for the most volatile exotic Forex pairs. cTrader may have different swaps as IC Markets has published a separate list on their blog section. We did not notice any differences.
Assets
IC Markets has 7 categories of instruments and each has great depth. IC Markets also included ETFs into the Stocks category, so by our count, that is 8 categories total. It is common to see a compromise when brokers offer tight spreads they might have a reduced asset arrange or some other kind of fees. This broker does not compromise, Starting with Forex, a total of 60 currency pairs are on the list. Of course, all majors are present and exotic pairs are the area where the offer stands out. Traders will find United States Dollar vs Thai Baht, TRY, RUB, PLN, MXN, HUF, CZK, CNH, and Scandinavian currencies. Not often you will see JPY quoted pairs on NOK, SEK, and SGD. There are also more uncommon GBP pairs etc.
Commodities range is above average in the industry but does not expect rarities, except for Orange Juice. A total of 8 soft commodities, 3 energies, and 4 precious metals are available for trading. Both Oil types and Natural Gas can be found and metals are full, Palladium, Platinum, Gold, and Silver. Copper is not listed.
Indicies coverage is good enough without many rare ones. A total of 13 indices are present excluding futures. Majors from EU, UK, and US like UK 100, France 40, Germany 30, and others and from uncommon indices we found Spain 35, China 50, Hong Kong 50, US Small Cap 2000, and Italy 40 Index. On the IC Markets website, It is nice to see examples that explain trading specifics for each asset, in this case, dividends levels for indices.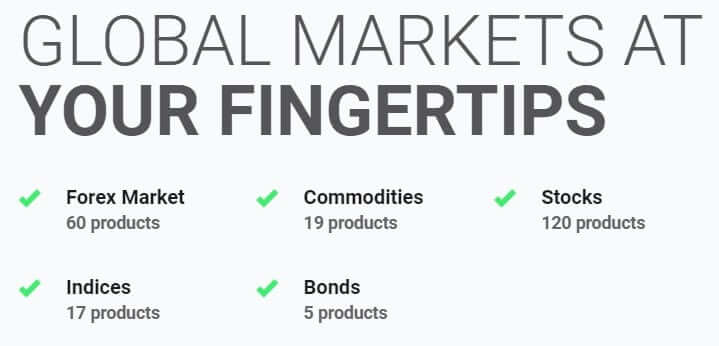 Stocks are exclusive for MetaTrader 5 only. The focus is on Australian and US companies as expected. The most popular are listed without exemption and with the other companies making a total of over 100 on the list. The ETFs that are within the same group is a very nice trading option, popular VanEck Vectors Gold Miners (GDX) is not excluded as well as Invesco, iShares 20, Emerging Markets Shares MSCI and so on. A total of 28 ETFs on NASDAQ and NYSE.
Bonds trading is not common but IC Markets has even that category too. We have counted a total of 9, Euro Shatz, Euro Bobl, UK Long Gilt, Japan JGB 10y, Euro BTP Italian, and other bonds from the US. These are CFDs and no interest is calculated.
Futures trading can be of interest to some traders. IC Markets has 4 of these, ICE Dollar Index Futures (DXY), CBOE VIX Index Futures (VIX), Brent Crude Oil Futures (BRENT), and WTI Crude Oil Futures (WTI).
Finally, the Cryptocurrencies range is not extended but enough, It may not satisfy alternative crypto traders to the full. A total of 10 currencies without any other quote currency except the USD. These are Bitcoin, Litecoin, Dash, Ripple, Ethereum, Bitcoin Cash, IOS, Emercoin, PeerCoin, and NameCoin. Even though Cryptos are traded 24/7, this is not the case with IC Markets, crypto trading is 24/5 and has triple swaps on Fridays.
Spreads
Only floating type spreads are offered on both Account types. The spread from 0 pips is not just a promotional phrase with IC Markets. EUR/USD spread on the Raw Spread Account really is close to 0, in our case, it was 1 point although IC Markets states that 60% of the time it is 0. USD/JPY also had 1 point, and EUR/GBP had 0 points though. Other pairs do not go over 3 pips, the exotic even have surprise spreads like NOK/JPY – 1.4 pips, USD/TRY – 15 pips, USD/CZK – 4 pips, EUR/SGD – 4 pips and so on.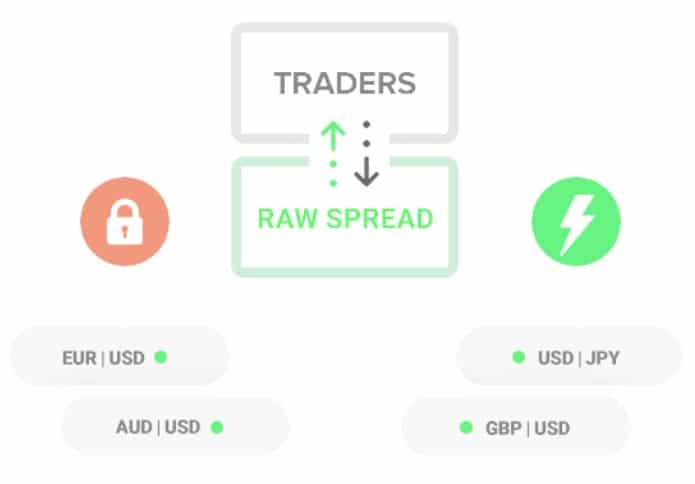 If we go to the metals market we could see similar low spreads. XAU/USD had 18 points, Palladium 1061 points, Silver 4 points and Platinum 211 points quoted in USD. Crypto spreads are average though. Bitcoin has 68 pips spread and Ethereum 43 pips. For the Standard Account, IC adds 1 pip markup in place of the commission. This is exactly what we have found within the MT4 platform when we compared these Accounts.
Minimum Deposit
There is no complication with the minimum amount with different accounts. The minimum deposit is $200 for any live account. This shows that IC Markets does not care much about the cash flow coming from the volume of the deposits but more on trading volume – and therefore spreads and commissions generation. It shows through the published total trading volume results. This is a good sign of a strong, sustained broker business model.
Deposit Methods & Costs
IC Markets do not include costs for anything related to deposits. All deposits methods are free from the broker side and there are many options in general. These are Bank Wire, VISA, MasterCard, Bitcoin, BPAY, ePayments, FasaPay, Klarna, Local Bank Transfers, Neteller, PayPal, Poli, Rapid Pay, Skrill, Transfer from Existing Broker, UnionPay, Vietnamese Internet Banking, and Thai Internet Banking. Deposit methods will depend on the country selected upon registration.

Withdrawal Methods & Costs
The only cost related to withdrawals is 20$ or currency equivalent for the International Wire Transfer. If bank transfers are associated with any other method it will still count as a transfer fee. The methods for withdrawals are not as numerous as with deposits, these are Bank Wire, VISA, MasterCard, Local Bank Transfers, Neteller, PayPal, and Skrill. The method will depend on the deposit. For example, the Bitcoin deposit method will make withdrawals possible only by bank wire ($20 fee). E-wallets like Skrill, Neteller, and Paypal are used for withdrawals too without a fee if this was the deposit method.
Withdrawal Processing & Wait Time
IC Markes does a great job describing every possible information a client may ask and this shows a great effort towards transparency. The same case is for withdrawals waiting time. IC Markets will process the request from the Clients Area until 12:00 AEST/AEDT. After that time requests will be processed on the next business day. International Bank Transfers take 3-5 days, Australia transfers take 2-3 days, Credit/Debit Cards also take 3-5 days but in some cases up to 10 days and e-wallets are instant.
Bonuses & Promotions
There are no bonuses associated with this broker and there probably will not be in the future. Looks like the main marketing strategy is to attract traders by low spreads, fast executions, and leverage, not with bonuses. Of course, IC Markets offer other forms of benefits like Affiliate Programs, Partnerships, etc.
Educational & Trading Tools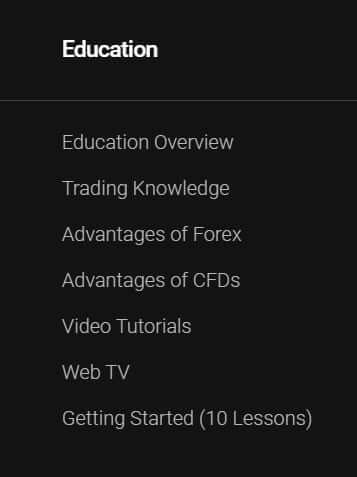 IC Markets blog is the core of the educational material. It is very well developed with a clean design without overwhelming content. The education for beginners but also experienced is comprised of"101" trading categories. The first one, Forex Trading 101 contains 20 pages full of articles on interesting topics. Each page listed about 5 original articles. This is a plethora of high-quality material. The articles have topis like "Approaching Money Management – A Vital Component", "Scalping the Forex Market: A Beginner's Guide" and so on. At least two new articles are published every month. The Archives shows a timeline all the way to December 2011. The other "101" categories include Technical Analysis, Fundamental Analysis, Risk Management, Trading Psychology, and Trading Plan. Videos section could be the leas attractive and developed. Most of the videos are outdated and those that work are basics about the MT4 platform.
The blog is further expanded to show recent news about the company, Fundamental and Technical analysis, Press Releases and Trading Data. The analysis articles are fresh, long, elaborate multiple instruments with charts interpretation, and show deep understating of the markets. The Fundamental Analysis articles are more modest but still professionally made although with some redundant information. Trading data shows recent company reports calendar, scheduled servers maintenance, swaps, and dividend info.
Calculators are included on the IC Markets website that can help calculating swaps, pips, commissions, margin, currency conversion, and profits. Stop Loss/Risk calculator is not available.
The Economic Calendar is on-site but it is from MetaQuotes with all of the flaws, or better to say lack of filters and other features. In addition to the Economic Calendar, IC Markets have put a feedback window from Myfxbook for Forex timezones and Newsfeed.
Customer Service
IC Markets Customer Service is one of the best in the industry. For contact, there is a phone line, email and chat service. The chat waiting queue is not too long but clients need to wait a few minutes. Agents will respond although you will feel they are also chatting with another customer so any following questions will have a delayed response. All answers show professionalism and are in full, giving you enough information. We have noticed that they may ask you to leave a positive review on some benchmarking sites, even if you have not used their services yet, especially if they think you are happy with their service.
IC Markets has made a great FAQ that will reduce your need to contact them to a minimum. The EU domain of IC Markets is a bit different and does not feature a search bar for the FAQ, generally is not as well developed.

Demo Account
The Demo Account development is great, you will have all the platforms available to try for all the Account Types and open multiple if needed. The demo will show all the costs and specifics for each of the Account types and is close to the perfect reproduction of a live trading environment. The only drawback could be the longer server response time and executions. The Demo will last indefinitely and will be closed if there is no activity for 30 days. The Clients Area is designed for ease of use and all your account credentials will be listed.
Countries Accepted
As 3 regulators are in play with this broker more countries are available for services. Counting all jurisdictions, IC Markets does not accept clients from Afghanistan, Bolivia, Guinea Bissau, Botswana, Guinea Conakry Sierra Leone, Burma (Myanmar) Iran, Syria, North Korea, Iraq, Togo, Cambodia, Lesotho, Yemen, Cote d'Ivoire (Ivory Coast), Liberia, Zimbabwe, Cuba, Libya, Tanzania, Democratic Republic of Congo, Mali, Senegal, Angola, Niger, Former Liberian Regime of Charles Taylor, Gambia, Namibia, Antigua and Barbuda, and Kyrgyzstan.
Conclusion
IC Markets enjoys great reviews and scores form users and benchmarking sites. Although we found a few issues that traders should know. In June 2019 there have been some regulation developments with ASIC that influenced trader's accounts and were offered a transition to FSA division (Seychelles). Still, traders will stay with IC Markets's Australian AA banks like National Australia Bank (NAB) and Westpac Banking Corporation (Westpac), having accounts segregated.
ASIC has reacted to the influx of clients seeking a better trading environment that is somewhat restricted by the latest ESMA leverage policy. ASIC does not want to participate in any offshore law infringements by offering services to the affected regions. Another interesting fact is that the Frech AMF has put IC Markets on their unauthorized brokers list, although the AMF restricts any non-EU broker. Hence the reason for having two domains and three regulators.
In 2015 one forex review site has put a warning that IC Markets has received some fake reviews but this is not proven and is probably very hard to do. We can say that IC Markets has certainly set the ladder in terms of trading environment and the asset range. What might be improved are the cryptocurrencies offer and support.