Genetrade is an offshore broker located and regulated in Belize. As one of the attractive solutions for broker companies that seek an easy entry and regulation, Belize regulatory authority – International Financial Services Commission (IFSC) has a sound name but not much to offer in terms of client protection. Genetrade is one such brand under Genius Trading LTD company, using its own payment processing company in Cyprus. Owning such a company makes easier approvals for VISA and MasterCard transactions.
Genetrade has a good and polished website where information is structured and covers important topics for investors. Although, a lot of redundant, empty marketing words are used, common for brokers that just fill the page without any argumentable, defined content. Genetrade highlights the high leverage level and bonus promotion, one of the two most effective lead collectors for offshore brokers. Still, this can be understandable considering Genetrade needs some popularity. This review will evaluate whats great about this broker as many that try to break through the competition offer good value for money.
Account Types
From the moment you open the Account Types page, Genetrade wants to point to benefits traders will have. Transparency, fast executions without re-quotes, no Dealing Desk, MetaTrader 4 platform, Global customer support, and Account Manager. This is what most traders want to hear, we will test these claims in the next sections. Account types are limited to two, and they differ by lot trading sizes, and that's all.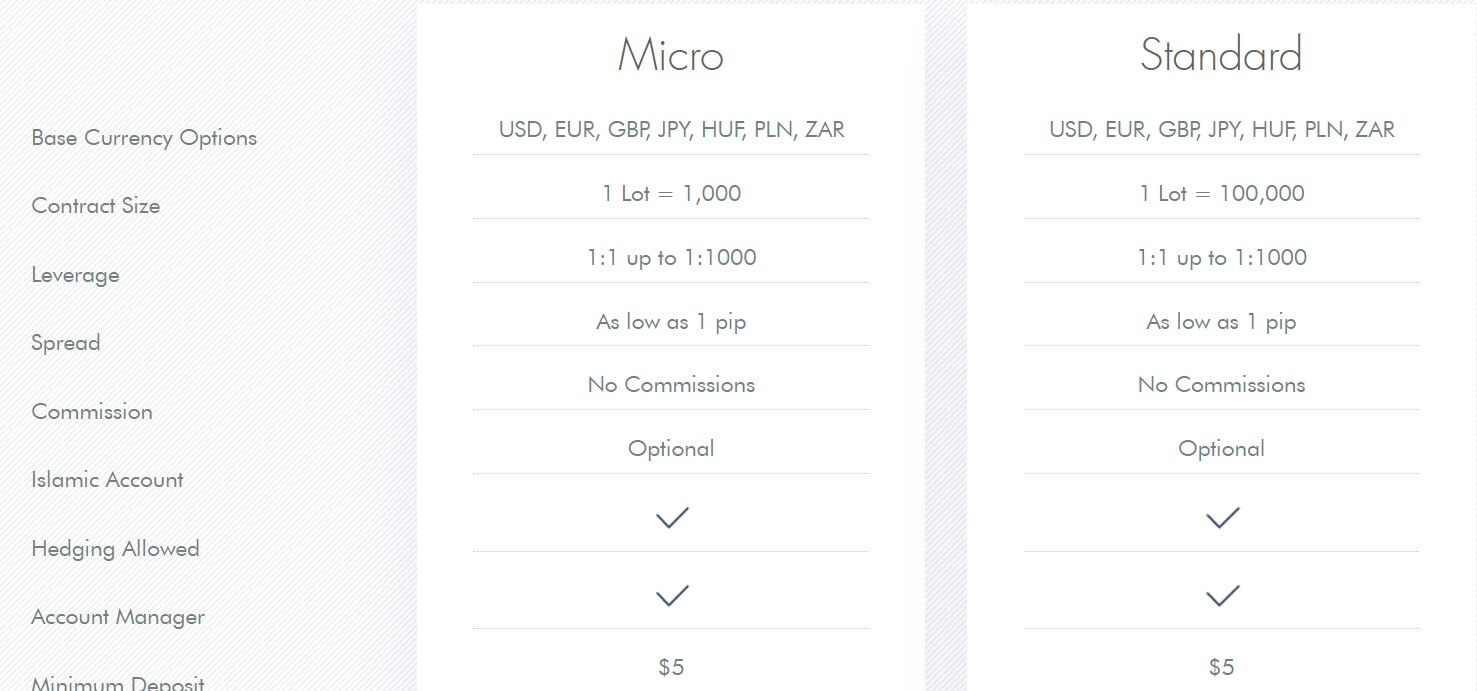 Micro Account allows trading in 0.01 lots or micro-lots, while Standard Account contract size is 100.000 units or one lot. Available base currencies for both Account types are USD, EUR, GBP, JPY, HUF, PLN, and ZAR. Furthermore, accounts are commission-free, have low spreads, and swap-free for Islamic clients. Genetrade does not restrict trading styles such as scalping, hedging, or news trading. Overall, great offer without many Account types with different packages and scaling deposit levels which is common with other brokers.
Platforms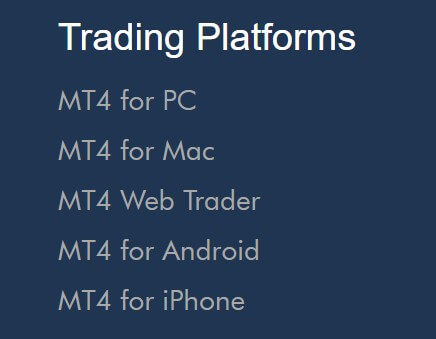 Genetrade is focused only on the MetaTrader 4 platform. MT4 is available as a direct web browser version without any installation which looks like the ordinary desktop MT4 variant. Mobile versions are supported for Andriod and iOS and desktop for PC and Mac. Once launched, the MT4 Platform will log in with blazing speed. The communication lag to the server was a very fast 40ms on average.
Everything is set to default except the one-click trading buttons are turned on. The execution times are averaging a bit above 100ms which is very good compared to other brokers. Traders will have the latest version of the platform that feels really responsive to Genetrade's servers. The margin levels will not reflect the leverage you have selected during the registration so traders will have to remember what is set during the sign-up process or calculate manually. MT4 is the standard among brokers and actually trading quality depends on how good is the broker network connection.
Genetrade has one more web platform, Sirix This platform has a social module integrated and is shown on the right side as a social feed of other traders. This way clients that do not have any skills can copy the trades of others, follow them and analyze them to develop their ideas. This platform is available for real accounts.
Leverage
One of the selling points of Genetrade Is the leverage up to 1:1000. This is available for both account types and all assets. This also means Gold leverage is up to 1:1000, which is rare to see in the industry. This kind of leverage cannot be allowed within regulated brokers in the EU or USA and can be attractive to some high-risk traders. It is not obligatory to use this leverage, clients can change it to lower values.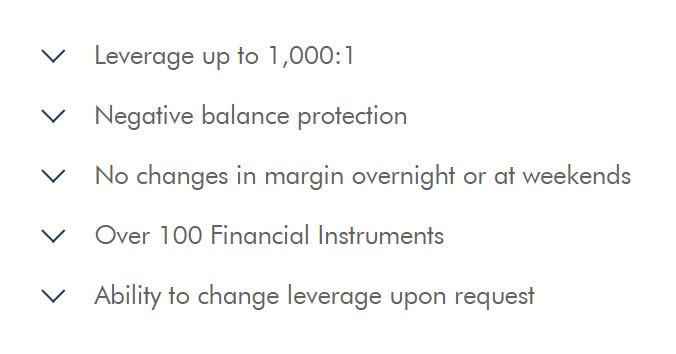 Trade Sizes
Trade sizes are divided by the two account types, Standard and Micro. The minimal trading volume is 0.01 lots for the Micro as the name suggests. Volume steps are also in 0.01 lots giving traders to employ low risk, precision scale in and out strategies. The maximum volume for one trade is 50 lots. The Standard Account has the minimum volume set to 1 lot and apparently is catered for bigger deposits. Combining this with high leverage also opens the trading field for a lower deposit, high-risk traders.
Trading Costs
Genetrade does not charge commissions for any of the account types. Trading costs in terms of swaps for non-Islamic accounts are under normal levels. Not all swaps are negative, For EUR/USD the swap is +2.19 and –9.21 points for a long position. Gold has -10.14 long and -0.42 short position swap, although the majority of forex pairs have a negative swap. Genetrade is very transparent for fees and trading costs and presents all instrument swap table. We have checked the accuracy and found out the table is not updated to the levels in the MT4 platform. After 100 days of trading inactivity, the client's account will be regarded as dormant and a $10 fee will be charged every month.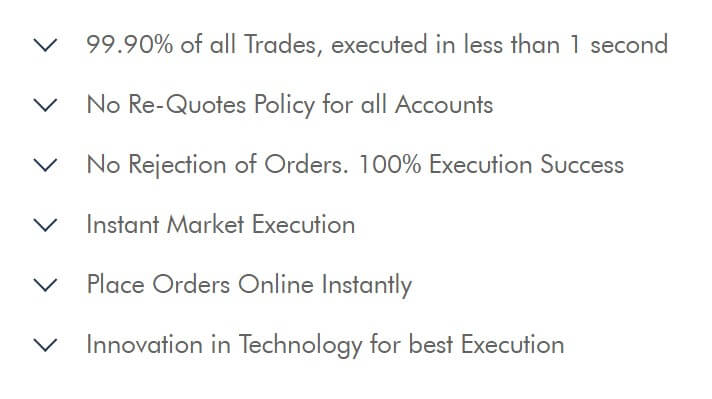 Assets
Probably one of the weakest points of Genetrade is the assets offer range. This is Forex focused broker, there are no commodities, shares, indices or crypto. Precious metals are limited to two, spot Gold and Silver. A total of 57 currency pairs reveals that at least the Forex category is fully developed. Apart from the major pairs, there is a fair number of exotic pairs. Traders can find USD/RUB, USD/PLN, USD/HUF, USD/HKD, USD/HKD, USD/ZAR, USD/CNY, USD/TRY and Scandinavian currencies under US Dollar-denominated exotics.
Furthermore, the options are extended with the EUR denominated combinations and also some with GBP. Certainly, Forex traders do not need to look elsewhere.
If you stumble under the Indicies category on the Genetrade website, you may see that it is available, in practice it is not yet introduced. The Genetrade staff informed us that they plan to expand soon.
Spreads
When brokers promote variable spreads from 1 pip the statement will hold even if it is 50 pips. Genetrade 1 pip spread was never reached even for the most liquid pair. Although, the EUR/USD pair spread is around 1.7 pips which is acceptable. The spread level for other currencies varies considerably, so, for example, the GBP/JPY has a 4.5 pip spread, AUD/NZD 4.9, EUR/NZD 8.5 pips and the GPB/NZD has a wide 10.8 pips spread in normal conditions. Taking a look back at the "from 1 pip" offer will make traders aware that it is just pure marketing. For the spot Gold and Silver, the spread is around 4 pips, making it one of the top 50 spreads offered for these assets.
Minimum Deposit
Since Genetrade is still new and offers basically one account type, it tries to attract new traders to the pool. If low spreads and assets range does not work, the minimum deposit will. For $5 you can apply for a live account for both types, although we are not sure if a $5 deposit is normal for the 1 lot minimal trade Standard Account sets.
Deposit Methods & Costs
The payment options for withdrawal and deposit vary from area to area. Clients can see the options once they login to the Members area. Globally, Genetrades will accept deposits from Bank Wires, Credit /Debit Cards, Skrill, PayTrust, Bitwallet, and Netteler. There are no fees for any deposit method except for Skrill charged 2% of the deposit amount.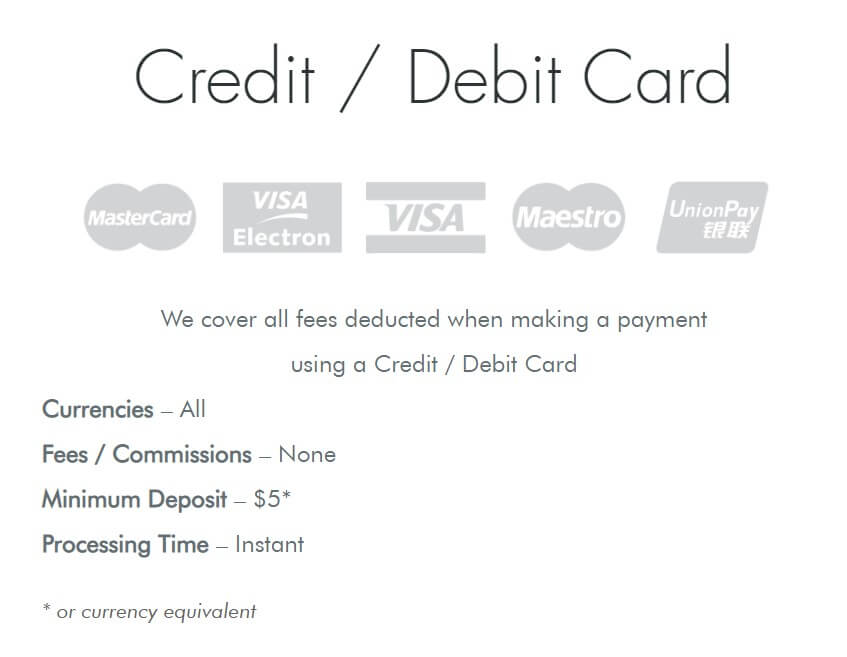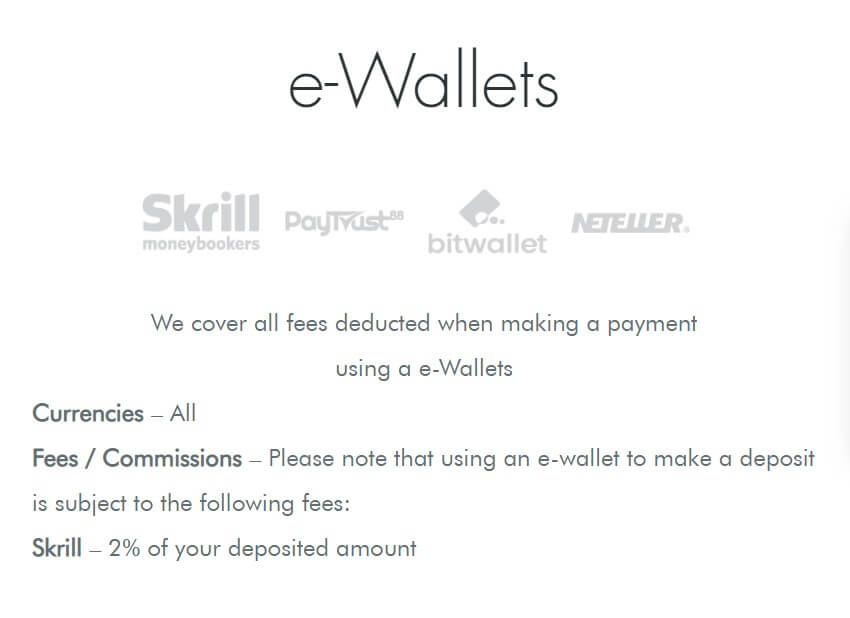 Withdrawal Methods & Costs
The minimum withdrawal is $10, no fees are charged by the Genetrade. When clients request multiple withdrawals is a short time, Genetrade will process it as one to minimize the transaction costs. In the Terms and Conditions document, there is a statement that enables Genetrade to impose fees and limits to their system at any time. The support staff told us that this case has never happened, probably it Is set there for future changes or just as a legal safety.

Withdrawal Processing & Wait Time
Processing time is usually instant, for Bank Wires It depends on the client's bank and will take between 3-5 days. Genetrade will process the request in a few hours. Interestingly, If the client has used the Credit/Debit Card for deposit, any profits made will be sent by Bank Wire, but also a client can choose his e-wallet. Most brokers will only use the Bank Wire method for profits. Withdrawals are possible even when the markets are closed.
Bonuses & Promotions
Genetrade has a very interesting bonus that is not based on the trading volume. A simple idea, 50% Deposit Bonus up to $5,000 will be credited without any deposit minimums. After a withdrawal request, the bonus will be canceled and any profits gained are available for withdrawal too. This kind of bonus is additional equity that enables bigger positions and potentially a bigger share of profits. What is great about this bonus is that there are no special conditions or funds lockup. For the broker, it affects the number of withdrawal requests as traders want to utilize the bonus funds as long as possible.
Educational & Trading Tools
Apart from the mentioned Sirix social trading platform, Genetrade has no educational material available. Also no news or analysis section. Genetrade probably does not see immediate value from this and want to keep focused on assets expansion.
VPS service is available for free. This feature is online 24/7 but has certain requirements. Traders need to maintain at least $5000 equity and trade at least 5 lots per month. This is valid for all client's accounts cumulatively. Even if you do not qualify for free VPS, it is still available for $28 per month.
Customer Service
Genetrade support is available, although not 24/5 as described. The chat was not always available, and when it was there was no waiting queue. Support representatives act politely and give relevant answers to our questions, still, there is a room for improvement to give better answers. Genetrade is also reachable via email but we did not find a phone line that is stated on the web site. Overall, the support this broker provides is better than average.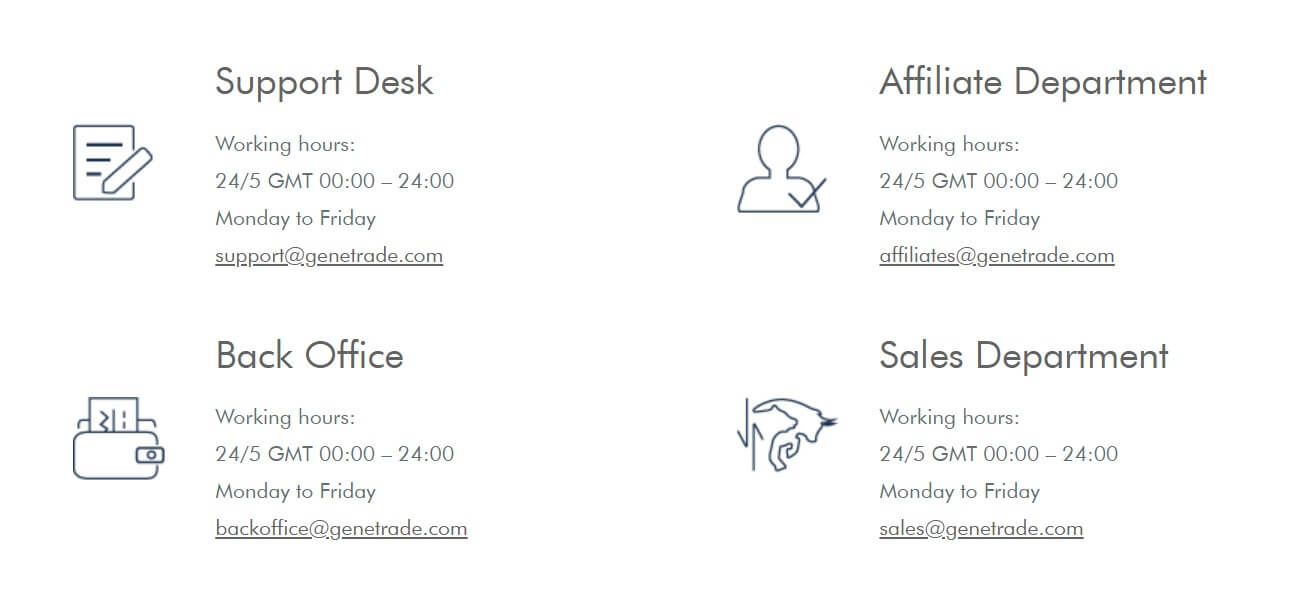 Demo Account
The demo registration process is easy after filling the email and other details. To our surprise, Genetrade had internal server errors that blocked us to make one. Only the real account worked. We have approached the support with the issue just to receive a reply to try again later. We are unsure if this is just a mechanic to open a real account instead since it just requires $5.
The demo is not time-limited if traders are active. After 90 days of inactivity it will be closed automatically, but another one is always possible. You can maintain up to 5 demo accounts at one time.
Countries Accepted
Genetrade does not have a long list of banned countries. Full information on this is not disclosed on the website or the legal documents. The list we got is from their support: United States, North Korea, Syria, Sudan, Cuba, Iran, Belize, Burundi, Iraq, and Mali.
Interestingly, Japan is not on the list, and as we are told, clients form Japan are Genetrade's target group. This is further confirmed by the Japanese version of their web site.
Conclusion
Genetrade is an ECN STP model broker that utilizes the regulatory liberty to provide high leverage, better deposit/withdrawals, account types conditions, bonus model and wider global client coverage. As a new broker, it does not have a large client pool and the situation may change as it gets bigger. Traders will not enjoy tight security but will have more freedom, both for trading and off trading. The main drawback, for now, could be the lack of other trading instruments categories.

Looking at the benchmark sites, this broker does not have notable reviews except the one about the possible fake arbitrage trading foul that Genetrade does not allow. Genetrade is a good example of how bonuses could be made to benefit both the trader and the broker without complex, unethical rules. Furthermore, trying out this broker service is affordable considering the low deposit requirements. In the long term, traders will need to understand the risk of a growing and changing broker such as Genetrade to the extent that conditions offered now might quickly change tomorrow.