Opened for business in 2014, Tallinex operates from Saint Vincent and the Grenadines, relying strongly on fund segregation and attractive trading conditions to appeal to Forex traders in search of a broker. The firm acts as a true ECN/STP broker, eliminating any dealer intervention. In the Tallinex review that follows, we'll tell you exactly how attractive those conditions actually are, and also provide information regarding their banking procedures, trading platform, account types, and more.
Account Types
Tallinex offers the following three types of trading accounts:
ECN-MICRO
ECN-PRO
PRO-MANAGED
The Tallinex ECN-MICRO account was designed with new FX traders in mind, thus providing the following:
Variable spreads starting at 1.8 pips
Average spread is 2.5 pips
Commission-free trading
Leverage from 1:1 to 1:1000
Smallest trade size is 0.01 lots (1,000)
Smallest increment is 0.01 lots (1,000)
Minimum opening deposit is $100 / EUR 100
No dealing desk intervention
Margin call / Stop-out levels: 150% / 100%
No re-quotes
The Tallinex ECN-PRO account offers raw-spreads and ideal trading conditions for professional and institutional traders, including:
Variable spreads starting at 0.0 pips
Average spread is 0.6 pips
ECN commission of $6 per 100,000 round turn
Leverage from 1:1 up to 1:500
Smallest trade size is 0.10 lots (10,000)
Smallest increment is 0.01 lots (1,000)
Minimum opening deposit is $2,000 / EUR 2,000
No dealing desk intervention
Margin call / Stop out levels: 150% / 100%
No re-quotes
Hedging allowed
Pricing to 5 decimals
True ECN liquidity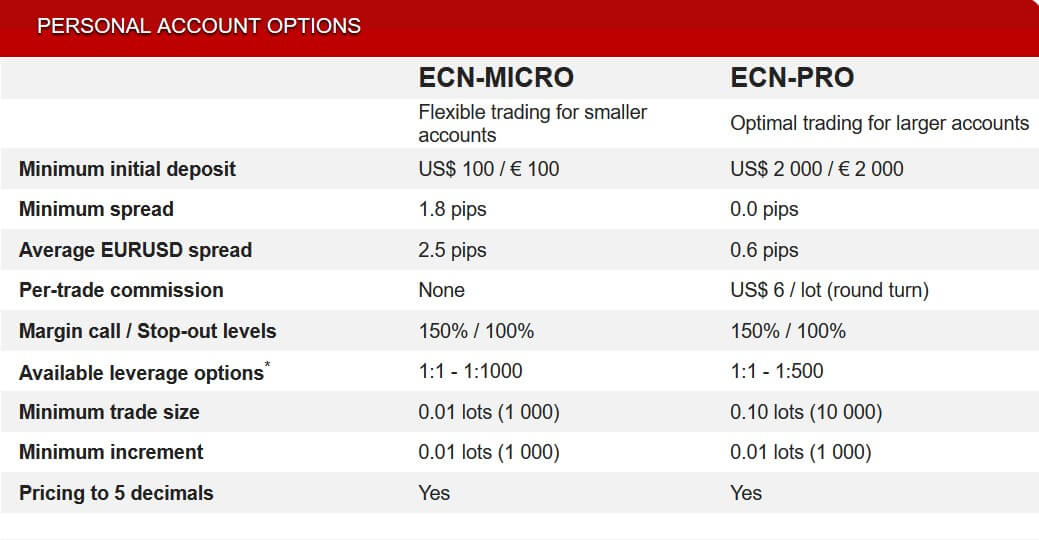 PRO-MANAGED accounts are for traders who want to earn money from Forex, but wish to do so without spending lots of time learning how to be an advanced trader. Tallinex's PAMM system allows Money Managers to trade your account for you, all without having direct access to it. As the owner of this type of account, you will be allowed to monitor trades live as they happen, and review past activity. Features of the PRO-MANAGED account include:
Variable spreads starting at 0.0 pips
Average spread of 0.5 pips
Leverage from 1:1 up to 1:500
Smallest trade size is 0.01 lots
No dealing desk
Margin call / Stop-out levels: 150% / 100%
No re-quotes
Pricing to 5 decimals
100% bonus for all deposits
True ECN liquidity
Platform
Tallinex provides the MT4 trading platform, making it available to international clients in 32 languages. Its built-in technical analysis tools help with the prediction of price fluctuations and the tracking of real-time market movements. Dedicated servers and high-tech software work together to ensure fast response times, efficient trade processing, and the highest possible level of liquidity. The firm uses an STP model with real-time market and price feeds provided by FSA regulated banks. Hedging is allowed, as are scalping strategies and all types EAs, with no restrictions.

Leverage
Currently, 1:1000 is the maximum leverage limit for ECN-MICRO account types. There is a maximum leverage ratio of 1:500 for ECN-PRO accounts. We did note the following in small print on the Tallinex website, "Leverage above 1:400 for Micro accounts / 1:200 for Pro accounts is subject to assessment" and wondered how this assessment is completed and by whom. With this statement in place, we can only assume that there could be at least some possible leverage restrictions when attempting to use higher levels of leverage.

Trade Sizes
The smallest trade size is 0.01 lots for the ECN-MICRO account and 0.10 lots for the ECN-PRO account. The PRO MANAGED account also has a minimum trade size requirement of 0.01 lots. No information is provided with regards to the largest allowed trade size, but the MetaTrader 4 base platform has a maximum allowance of 1,000 lots. Do check with the Tallinex support team if you're planning on entering into large positions and need to know the exact maximum allowed size.
Trading Costs
If you opt for the ECN-PRO account, you'll be asked to pay a commission charge of $3 per $100,000 per trade side, or in other words, $6.00 per lot ($100,000) round-turn. There is no commission charged on the ECN-MICRO account, but you can expect higher spreads with this account type. There is no mention of any commission charges in relation to the PRO-MANAGED account type, so we are going to assume there aren't any until we're told otherwise.
Assets
The Tallinex website states that 49 currency pairs are offered, but there is no asset listing provided. It could very well be that there are no other asset types and no cryptocurrencies to trade on, and it would be nice if the firm would provide a bit more information on the assets that it provides. It should be possible to contact their support team to request a comprehensive asset listing though, and we do recommend doing this to ensure that you're preferred assets are going to be accessible.
Spreads
The minimum spread on the ECN MICRO account is 1.8 pips, while the minimum on the ECN PRO is 0.0 pips. The average spread on the EUR/USD pair with the MICRO account is 2.5 pips and 0.6 pips on the PRO account (this varies between 0.0 and 1.0, depending on the time of day and market conditions). The best way to assess a full breakdown of Tallinex spreads is to register for a free demo account, which provides the same trading conditions as the real platform.

Minimum Deposit
When clicking on the "Depositing" link to find information related to account funding, we were re-directed to an accounts information page. On that page we were able to find the minimum deposit requirements, which were:
ECN-MICRO – US$ 100 / € 100
ECN-PRO – US$ 2 000 / € 2 000
We then ventured over to the PRO-MANAGED account page in seek of the minimum for that account and were unable to locate any minimum deposit requirement.
Deposit Methods & Costs
It was equally as difficult to find any information related to deposit methods and costs. However, we did locate one deposit-related question within the FAQ's which told us that currently, wire transfer is the only accepted deposit method. If this is the case, then it is definitely a drawback to using this broker. There was no mention of any fees or costs related to using this payment method to fund an account.
UPDATE: At a later time, we did find an area of the site that stated the following, "Various deposit & withdrawal options are available, such as bank wire transfer, credit/debit card, etc." Even so, the FAQ clearly stated that bank wire was the only option, so there is conflicting information being offered to prospective clients.
Withdrawal Methods & Costs
The "Withdrawing" page of the website also redirects to an accounts page where there is no information to be found regarding withdrawals. We can assume that if bank wire transfer is the only accepted deposit method, it stands to reason that it will be the only available withdrawal method. With most brokers, there is a fee for wire withdrawals, but no such information was provided by Tallinex. Because of this, we recommend contacting their support team prior to funding an account with them.
Withdrawal Processing & Wait Time
Once again, no information was to be found. We did take the time to read other Tallinex reviews online to see if we could find any credible information related to payment processing with this broker and were unable to find any recent information to pass along. What we do know is that once a withdrawal request is reviewed, approved, and paid out, the wait time for payment to arrive ranges anywhere from 2 to 14 business days. The average wait time is somewhere between the two, usually around 5 to 7 business days.
Bonuses & Promotions
All clients are automatically eligible for a 100% withdrawable deposit bonus. Each deposit of new funds is recorded in the Tallinex system and can be earned back as cash after meeting the required trade volume. The volume requirement is currently set at 0.50 lots per currency unit traded, and there is no time limit for meeting the full requirement. The Tallinex website goes on to state that, "Account withdrawals (up to the full account balance) are permitted without affecting qualification progress – to resume bonus qualification, simply deposit additional funds and begin trading again. Full details are available on our Terms of Use page."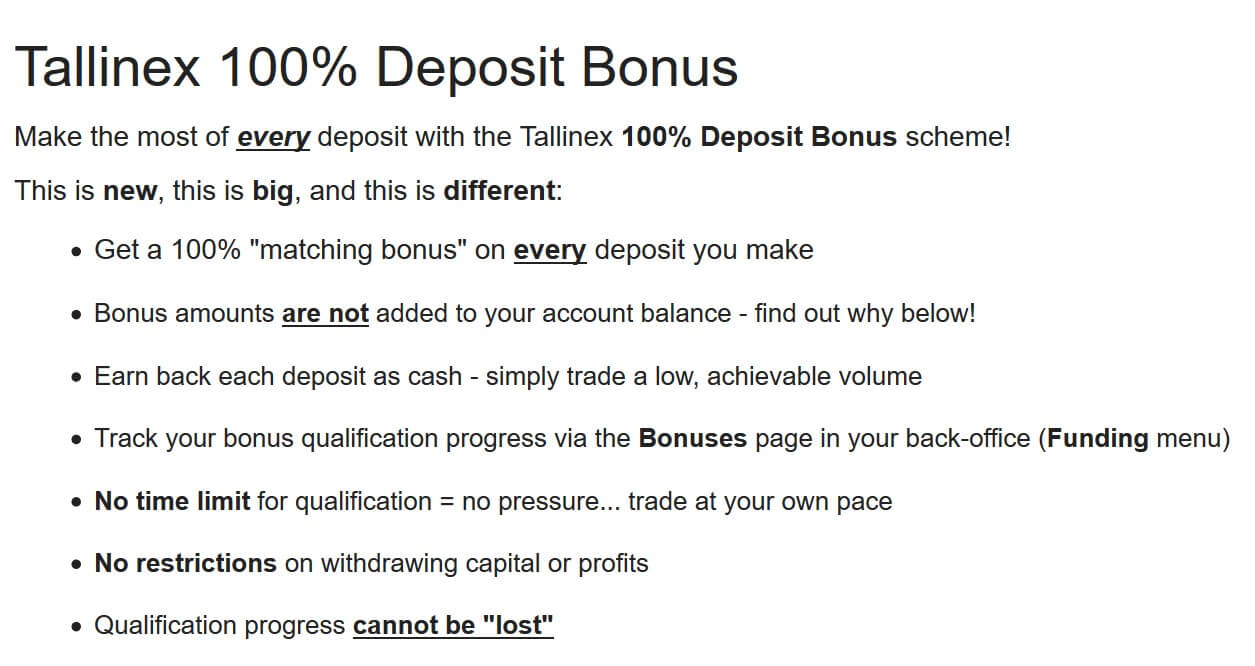 Educational & Trading Tools
The Tallinex education center does provide a number of guides, an e-book, Forex trading instructions, FX strategies, and more. A news section is also provided on the company website, but this does not appear to be updated frequently. Most tools are built into the platform itself, but the firm does offer free Forex signals that are apparently available to all clients, regardless of their chosen account type.

Demo Account
Free demo accounts are provided by Tallinex and these will not expire, provided that they are being used. Any unused demo account will be automatically deleted after a period of 30-days of inactivity. According to information found on the broker's website, demo accounts behave exactly like live accounts, sharing the same specifications and price feed. This is excellent, as it allows one to experience exactly what it would be like to trade with this FX broker, all without taking on any financial risk.
Customer Service
Multi-lingual support in English, Spanish and Russian is provided. Support is offered via live chat, phone, and email (via an on-site ticket system). No specific customer service hours were provided, so we're unsure as to when the support staff will be available. By phone, the broker can be reached by calling +1-855-241-2214. When not using the ticket system, general inquiry emails can be sent to info@tallinex.com.

Countries Accepted
The broker's website has the following to say regarding service location restrictions, "Tallinex does not solicit residents of the United States of America, Canada, Puerto Rico, Guam, American Samoa, Northern Mariana Islands, US Virgin Islands, United States Minor Outlying Islands or St Vincent and The Grenadines in relation to the provision of retail Forex services, and no option exists for residents of those countries to apply for retail Forex services due to regulatory requirements."
Conclusion
We're conflicted about this one. On one hand, the broker has been in operation for a number of years now. Longevity tends to be a sign of reliability. On the other hand, key information which would assist one in making a decision about which Forex broker to select is missing from the broker's website. So much was missing, in fact, that this Tallinex review seems incomplete in many ways. Our advice? Reach out to the Tallinex support team, ask questions, and have a lengthy discussion before making your final decision on whether or not to partner with this FX broker.