TeleTrade is an FX and CFD broker that has won 37 international awards since their establishment in 2011, including; Best Forex Broker Europe 2017, Best Customer Service Europe 2017, and Best Broker of the Year 2014. The company is regulated by the Cyprus Securities and Exchange Commission and is primarily located in Cyprus. This broker offers three different account types, some competitive pricing, and exclusive status levels for certain clients. As always, it's vital to research a broker before handing over any hard-earned money. We've done the work for our readers, so stay with us to find out whether TeleTrade is worth investing in.
Account Types
This broker offers three account types; Standard MT4, NDD (No Dealing Desk) MT4, and MT5 Real ECN. Standard accounts provide users with the widest range of forex instruments available through the broker and rely on market execution. NDD accounts offer immediate access to the interbank market, without the intervention of a dealing desk. Investors have access to immediately executed trades, meaning there are no re-quotes on orders and no further pausing during order confirmation.
The Real ECN account allows traders to trade rapidly and take advantage of live-streaming and the best executable prices within the marketplace. These account holders can also trade outside of traditional trading hours and avoid wider spreads. Some similarities shared by the accounts include leverage caps, minimum deposit requirements, and margin call and stop out levels. Meanwhile, there are differences related to tradable instruments, spreads, commissions, and available platforms. We've included a brief summary of each account type below.
Standard MT4 Account
Minimum Deposit: $100
Leverage: Up to 1:500
Spread: From 1.1 pips
Commissions: Zero
NDD MT4 Account
Minimum Deposit: $100
Leverage: Up to 1:500
Spread: From 0.8 pips
Commissions: 0.01% on Stocks/0.007% on Others
MT5 Real ECN Account
Minimum Deposit: $100
Leverage: Up to 1:500
Spread: From 0.2 pips
Commissions: 0.008%
Clients must provide personal compliance documents in order to complete the verification process. Necessary documents are made up of an ID document, which consists of a passport or national ID card (if the potential client does not have a passport), and a proof of residence document, which can be in the form of a utility bill, local authority tax bill, a confirmation letter issued by a municipality, or a bank statement dated within the last 6 months. The company also may take further steps to confirm identity, including having a telephone conversation, video call, or correspondence through email. Since this broker is more strict about verification, we would recommend waiting to make a deposit until the account has been completely verified.
Platform
The Standard and NDD account types both support MetaTrader 4, while the ECN account supports MetaTrader 5. If you've used either platform before, you'll already know just how powerful MT4/MT5 can be. Both offer advanced tools, although MT5 includes 2 more pending order types, more technical indicators, graphical objects, and timeframes than its predecessor.
You'll also find an Economic Calendar within the MT5 program. On the other side of things, many still prefer MT4, with its user-friendly interface, this is the platform that is most commonly offered by Forex brokers. MT4 can be downloaded from the broker's website on PC, Mac, iOS, and Android, or accessed through the WebTrader. MT5 is only available for download on PC and Mac from the website, although it should also be accessible through the App Store or Google Play for supported devices.
Leverage
All accounts share the same leverage cap, which goes as high as 1:500. In case you're unfamiliar with leverage, trading with a leverage of 1:1 would be the same as trading with the amount of funds in your account, while trading with a leverage of 1:500 would provide the ability to trade with 500 times the amount of funds in the account. Customers who do not have the status of a professional market participant can only trade with a leverage of 1:30 on FX pairs composed of USD, EUR, JPY, GBP, CAD, and CHF. Leverage options are also more limited for those clients on other assets.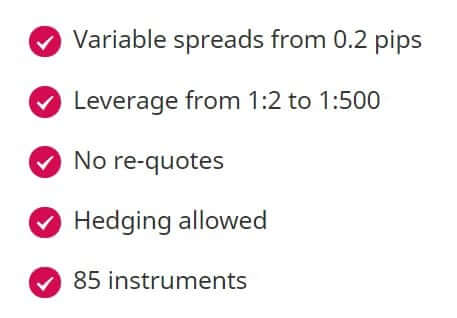 The cap is set at 1:20 on all other FX pairs, Gold and for a handful of Indices. There is a leverage limit of 1:10 for all other commodities, 1:5 is the limit on individual Stocks and ETFs, and there is a cap of 1:2 for Cryptocurrencies. At first glance, the leverages do seem to be high with this broker; however, having a less than professional status would limit one's options significantly.
Trade Sizes
The minimum trade size is 0.01 lots, or one micro lot, on all account types. The maximum trade size differs based on the instrument and can be viewed under the "Specification" section within the trading platform. All accounts allow for a maximum of 200 open and pending positions. Once the margin level reaches 70%, traders will not be able to open any new positions. If the trader reaches the stop out level of 50%, open positions will be automatically closed by the system one by one.
Trading Costs
This broker profits through commissions, spreads, and swaps. On NDD accounts, there is a 0.1% commission for CFDs on Stocks and 0.007% for other symbol types. For Real ECN accounts, the commission is 0.008% on all instruments. Spreads start from 0.2 pips on ECN accounts, from 0.8 pips on NDD accounts, and from 1.1 pips on Standard accounts. Under the 'Analytics' section of the website, the broker provides a swap calculator that can be used to calculate the short and long swap on any available instrument. Of course, these any fees would only apply on positons held open overnight, with triple rates charges on Wednesdays. If your account status is Professional, Gold, or Platinum, the company will reimburse any accumulated negative rollover within the prior month. Check the 'Bonuses & Promotions' section of this review to find out if your account qualifies.
Assets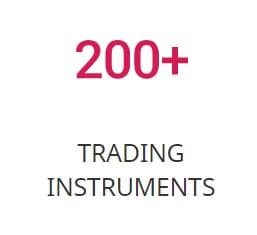 All accounts offer FX and CFD instruments; however, the Standard and NDD accounts offer more than 200 instruments, while the ECN account limits the number of available instruments to 100. CFDS are made up of Metals, Indices, Energies, Stocks, ETFs, and Cryptocurrencies. Beginning with FX options, we counted 66 available currency pairs on the Standard account, 60 options on the NDD account, and 57 options on the ECN account. This isn't much of a difference, although some traders will find these numbers important.
We also counted 12 CFDs on Metals, 3 Energies, and 9 Indices, all of which are available on all three account types. This would be the expense of the ECN account offers. From there, the Standard and NDD accounts offer a large number of CFDs on Stocks, with investment opportunities available in companies like Apple, Disney, and Facebook, just to name a few. Both account types also offer 11 ETFs and Cryptocurrencies. The latter is one of the larger lists we've seen for the category, made up of 17 options, including the ever-popular Bitcoin, Litecoin, Ripple, and more.
Spreads
Spreads with this broker are variable and will, therefore, fluctuate with the market's volatility. Naturally, the broker advertises the best possible spreads, which start as low as 0.2 pips on the ECN account type. If you're trading on the NDD account, spreads start from 0.8 pips. On the Standard account type, the lowest spreads start from 1.1 pips. If you'd like to compare options, the broker lists the minimum and current spread for each instrument on their website and these can be viewed by choosing 'Trading' > 'Instruments' and then selecting an asset category.
Minimum Deposit
The minimum deposit requirement is set at $100 USD on all three account types, so there is no need to compare based on cost. Many will be happy with the lower than average requirements, although it would be nice to see at least one account type with a lower limit. Still, $100 is a pretty solid amount that is low enough to be affordable for the majority of traders, while being large enough to allow for some flexibility when making trades.
Deposit Methods & Costs
Accounts can be funded via Wire Transfer, Visa/MasterCard, Neteller, Skrill, or FasaPay. Wire Transfer is available within 2-3 business days and is subject to any fees charged on the bank's behalf – we've seen these fees range from $25 to $50, but you'll want to check with your bank to be sure. There is a 3.5% fee charged on Visa/MasterCard deposits and these deposits should be credited within 15 minutes. A 3.9% + 0.29 USD fee is charged on Neteller deposits, which are credited instantly. Skrill and FasaPay are also credited instantly, with a fee of 2.9% charged on Skrill deposits and a 0.5% (max $5 USD) fee charged on FasaPay deposits. If your account is Gold or Platinum status, the company will cover any fees charged on the bank or payment processor's behalf in the form of a trading credit.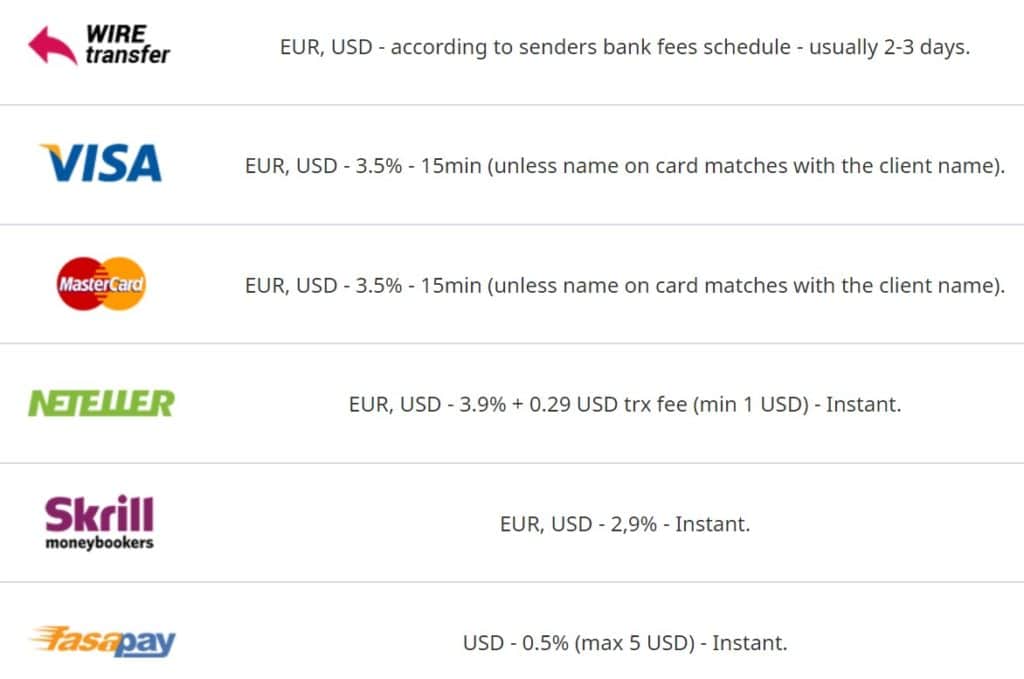 Withdrawal Methods & Costs
TeleTrade has a few rules regarding withdrawals in order to prevent money laundering. Funds can only be returned to the same cards or electronic payment methods previously used to deposit. Once the deposited amount has been refunded, any profits must be withdrawn via Wire Transfer. Varying fees are charged on every withdrawal method. For SEPA EUR payments, a fee of 1 EUQ + a beneficiary bank commission fee may apply. For international payments through Wire Transfer, a fee of 0.1% (min $55, max $200) from the amount will be charged. If applicable, any intermediary bank fees will be deducted from the charged amount.
Fees on Visa/MasterCard withdrawals are 2.35% + $1 EUR/$1.50 USD. There is a 2% fee on Neteller, a 1% fee on Skrill, and a 0.5% fee on FasaPay withdrawals. If you request to withdraw funds with no trading activity, the company reserves the right to charge the equivalent of any incurred banking fees or 3% of the total withdrawal. The same policy as with deposits applied on withdrawals, where the company will cover any fees charged for clients of Gold or Platinum status. Your account would need to hold at least $100,000 to qualify for the waived fees.
Withdrawal Processing & Wait Time
All back-office transfers are processed during standard business hours from 8:00 to 20:00 GMT +2(GMT +3 during DST), Monday through Friday. Visa/MasterCard withdrawals should be credited within 2-7 working days, depending on the card provider. Clients should expect Bank Transfers to be credited within 2 to 10 business days, depending on the currency and location of the exact bank. Neteller, Skrill, and FasaPay withdrawals are usually credited within 1-2 business days.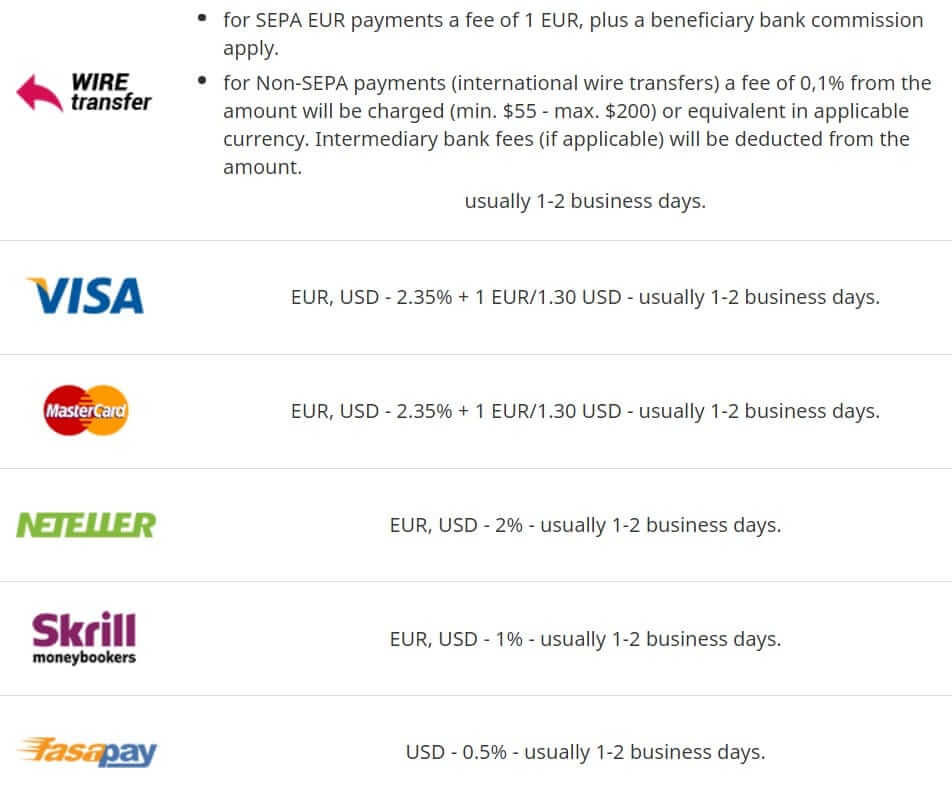 Bonuses & Promotions
This broker assigns one of three VIP status levels to certain accounts, based on the amount of currency in the account. Each status level provides different benefits in the form of personal account managers, reduction of spreads, reimbursement for negative rollover, a telephone line for VIP clients, deposits without commissions, and free admission to all workshops and training courses. Below, we've outlined the requirements for each status level and the rewards associated with it.
Professional Status ($50,000 deposited): Personal account manager available Monday – Friday from 9:00 – 21:00, a return rate of 10% at the close of each billing month, towards refunds on closed transactions, and reimbursement for accumulated negative rollover on closed transactions within the previous month.
Gold Status ($100,000 deposited): 24/7 (excluding bank and public holidays) Personal account manager, a return rate of 13% at the close of each billing month, towards refunds on closed transactions, reimbursement for accumulated negative rollover on closed transactions within the previous month, access to a special phone line for VIP clients, the company will cover bank or payment system commissions occurred by granting a trading credit, and free admission to in-depth training and special seminars.
Platinum Status ($500,000 deposited): 24/7 (excluding bank and public holidays) Personal account manager, a return rate of 15% at the close of each billing month, towards refunds on closed transactions, reimbursement for accumulated negative rollover on closed transactions within the previous month, access to a special phone line for VIP clients, and the company will cover bank or payment system commissions occurred by granting a trading credit.
Educational & Trading Tools
Educational offers are limited to webinars and videos aimed towards beginners. Clicking on Webinars leads to a webpage that introduces a member of the company's team; however, we could not find anywhere to sign-up, nor did we see any lists of upcoming webinars. The videos section is composed of YouTube videos that cover topics like installing EAs, changing your password, opening, and closing trades, etc. The company seems to be offering a few more options when it comes to tools, including Market News, Calculators, Interactive Charts, an Economic Calendar, Interest Rates, Quotes, and a Holiday Calendar.
Demo Account
Free demo accounts are available and mimic each of the three account types offered by the broker – Standard, NDD, and ECN. Signing up for a demo is quick and easy, the process only requires a name, email address, phone number, and of course, the choice of which account type the demo should mimic. Opening one of these practice accounts could be an excellent way to test out a couple of the available account types before making a final decision.
Customer Service
The broker's multilingual support team is available 24 hours a day, Monday through Friday from 9:00 – 18:00. Contact options include LiveChat, email, callback request, or phone. For the main European location, the broker provides two phone numbers and three email addresses. There are also separate contact numbers for the Czech Republic, Hungary, Italy, Latvia, Lithuania, Poland, Portugal, and Romania. As usual, we took a moment to check out the service on the website's LiveChat feature, since this is the most commonly chosen contact option.

Also, note that you'll need to select 'Chat' from the top of the website in order to begin the chat since the window is not located at the bottom of the screen. After filling in our name and choosing a language, we were quickly connected with an agent who greeted us immediately, although it did take the consultant a few minutes to respond with an answer to our initial question. Moving on, the broker is also active on Facebook, Twitter, Instagram, LinkedIn, and YouTube. Below, we have included all European contact options. If you're located in one of the countries we listed above, all contact information can be found under 'Company' > 'Our Contacts'.
Customer Support
Phone: (+357) 22314160
Email: Support@teletrade.eu
Dealing Desk
Phone: (+357) 22024154
Email: tradingdesk@teletrade.eu
Complaints
complaints@teletrade.com
Address: 88 Archiepiskopou Markariou III, 1077, Nicosia-Cyprus
Countries Accepted
According to their website, the broker provides service on a cross-border basis and in selected 3rd countries, with the USA being excluded. The list of accepted countries includes Indonesia, Kenya, Mexico, the People's Republic of China, the Russian Federation, Ukraine, and Vietnam. We were concerned to see so many restrictions, so we attempted to register an account ourselves. Fortunately, these restrictions do not seem to be upheld, and one can even select the United States as their country when signing up. It's possible that the broker simply needs to update the information on their website, or perhaps that misleading information is listed based on their being regulated by CySEC. Hopefully, one would not run into problems with verification, since these countries can be chosen.
Conclusion
TeleTrade is a regulated broker that offers trading on FX, Metals, Energies, Indices, Stocks, ETFs, and Cryptocurrencies. It costs $100 to open any of the three account types, which include Standard, NDD (No Dealing-Desk), and ECN accounts. Leverage options are initially advertised to go as high as 1:500; however, further investigation revealed that options are much more limited for traders that are not considered professional. Trading costs are dependent on the account type. Accounts either charge commissions, or are commission-free, and spreads are variable and range from starting from 0.2 pips to 1.1 pips.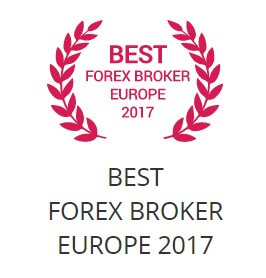 Accounts can be funded by Wire Transfer, cards, or through a few electronic payment methods. One of this broker's disadvantages would be fees charged on deposits and withdrawals, which can really add up, especially for those making large deposits, or withdrawing through international Bank Wire. The only way to avoid these fees would be to hold an account of Gold or Platinum status.
We were also disappointed to see such a slim offering of educational resources on the website, although the broker does offer a few helpful tools directly. Rather than offering bonuses, the company sets status levels on accounts for those that can afford to make deposits of $50,000 or more and offers rewards to said clients, including the offer to cover any funding fees that are incurred.
We had a good experience when we contacted the broker's support team, which is available 24 hours a day, Monday – Friday. Overall, this broker does have some good qualities, although there are some disadvantages that may be a deal-breaker to some clients. It's up to the individual trader to decide whether this broker is offering conditions that are advantageous enough to warrant opening an account.