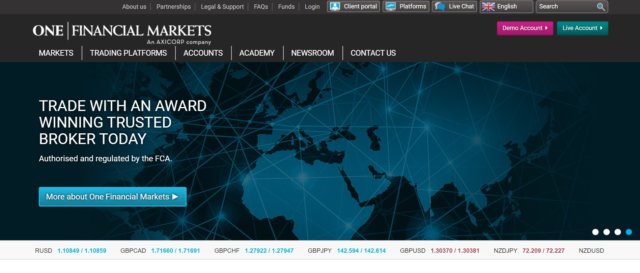 One Financial Markets are a forex broker service, fully regulated by the Financial Conduct Authority in the UK (FCA) as well as the Financial Sector Conduct Authority in South Africa so for those of you concerned with the regulation and security of funds, this should add peace of mind. An important side note is that this broker offers the MT5 trading platform in addition to MT4, so clients have the choice to switch between platforms or try MT5 if you haven't already used it.
Account Types
One Financial Markets offer one type of live account according to the live chat, but the FAQ page insinuates that there is more than one type offered since leverage allowance varies for each account type.

Unfortunately, the live chat has been unresponsive on 3 different occasions in the past 36 hours (business hours) and the offline message facility does not allow messages to send when the live chat is offline, which is totally illogical and unhelpful. This is especially disappointing since the website and its FAQ page is rather ambiguous with its provision of information that one would naturally expect to find prior to signing up. As a result, we cannot depict the full benefits of the live account, or account offered by this broker, at this time.
Platforms
One Financial Markets offer both MetaTrader 4 and 5, so clients can choose whichever platform they prefer to use. Web, Desktop and mobile versions (apple/android) are available for both platforms, so clients can trade both at home or on the go.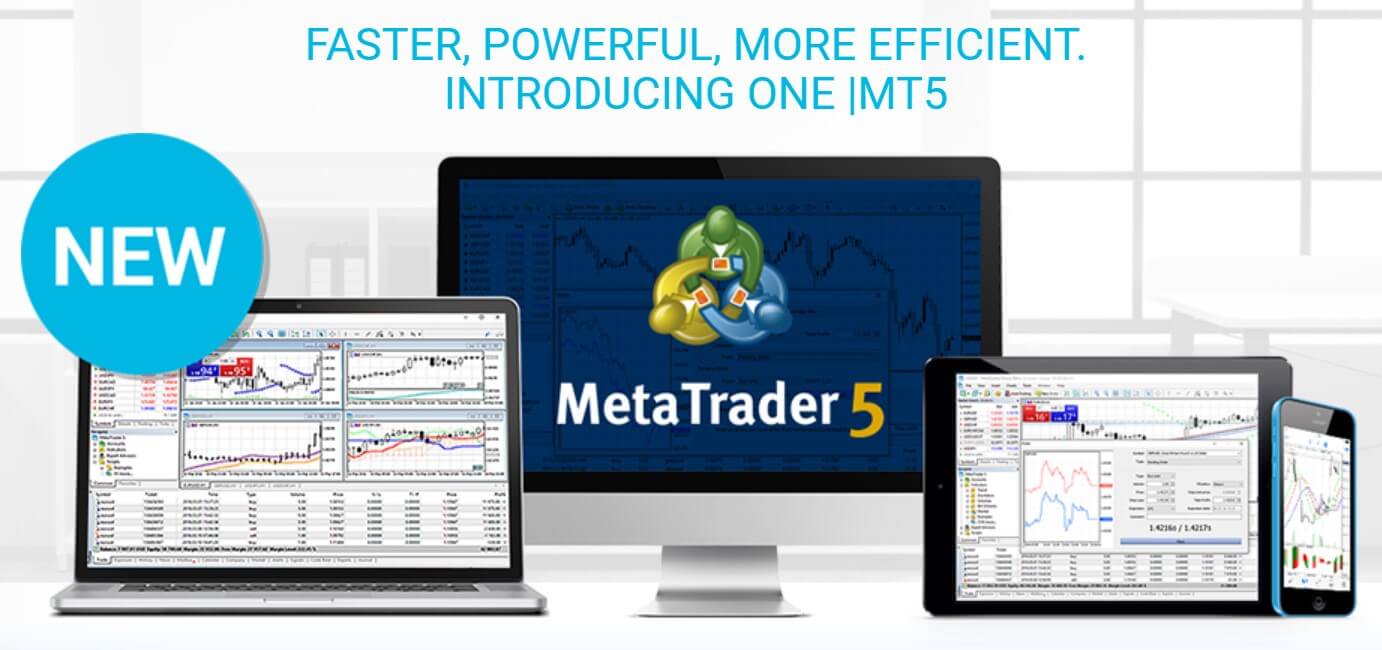 Leverage
As a result of regulatory restrictions and policies in place, One Financial Markets offer leverage of up to 1:30 which is not very high in comparison to other brokers of similar standing. This does usually mean however that starting with higher capital is more effective for the profit prospects.
Trade Sizes
The FAQ page does not give detail on what the minimum or maximum trade size requirements are, and the live chat facility was totally unresponsive on several occasions. We also left a ticket that was not responded to via emails so, unfortunately, this cannot be commented on at this time. Assumably, however, the minimum trade size would be standard as with many brokers, which is 0.01 lot, but this is not yet confirmed.
Trading Costs
Again, the FAQ page and the customer support were not helpful in finding out the trade commission and swap fee charges, as this information is (rather oddly) not mentioned at all anywhere on the website. We, therefore, cannot confirm client trade costs that would be applicable with One Financial Markets, at this time.
Assets
With One Financial Trading, clients are at the luxury of choosing from a very wide selection of assets:
Forex
Bullion
Indices
Commodities
Energies
Cryptocurrencies
Shares
All Instruments are displayed on the website to save you opening a demo to check out the range of tradable assets available. Overall, One Financial Markets is competitive with the provision of instruments to trade, when it comes to the number of pairs offered.
Spreads
On the part of the website where the full list of instruments is displayed, you can also see the minimum, average and typical spreads selective for each individual pair. The 'minimum' spread shows the tightest spread available for the pair while the 'average' and 'typical' spread shows the average spread in a 24 hour period, which are updated for the past 24 hours in the last trading day per month. Overall, the spreads are competitive and should be satisfactory for many traders, even if you are diversifying your portfolio and trading a range of instruments.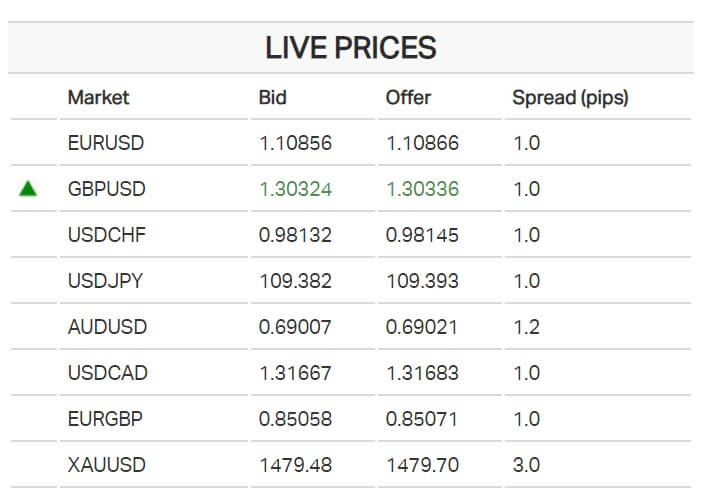 Minimum Deposit
The minimum amount of funds for One Financial Markets is unclear as the website oddly enough does not state this basic piece of information. We did not have any luck finding this answer from the customer support team, either, who was totally unresponsive and have not given any reply at all to our emails.
Deposit Methods & Costs
Card, Bank wire and UAE Exchange are the methods of funding your account, offered by One Financial Markets. The website does also includes a handy note to make the client aware to make deposits during 17:30 and 02:00 GMT. If however, you do make your payment outside of this timeframe, it will still go through and be processed, but you may experience a delay. One Financial Markets does not include any fees associated with the deposit methods they offer.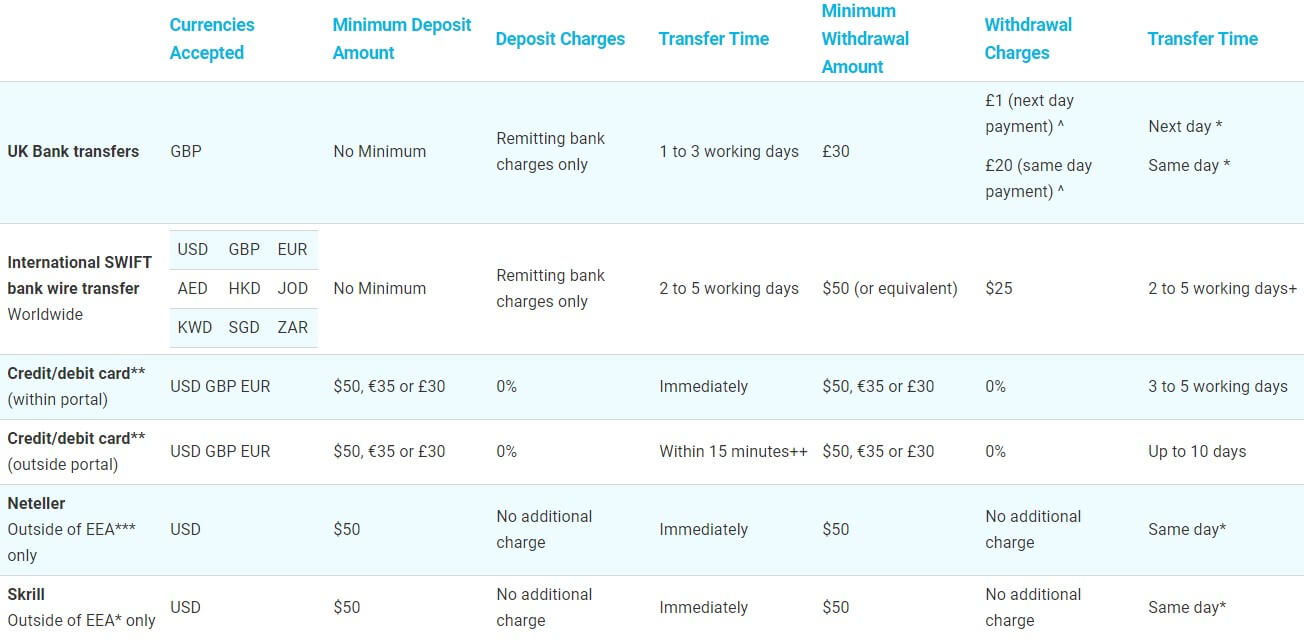 Withdrawal Methods & Costs
One Financial Markets offer the following withdrawal methods: Card, Bank wire and UAE Exchange. One could argue that these 3 methods are a bit limiting in terms of choice but seeing as most cards (Visa/Mastercard) are accepted, and many people do hold a bank card under either Visa/Mastercard, this should be suitable for most traders.
One Financial Markets does not include any fees associated with the withdrawal methods mentioned above, but it is always wise to check with your banking provider to see if you are liable for any fees from the bank's side, prior to making the deposit/withdrawal request.
Withdrawal Processing & Wait Time
It is important to note that OneFinancial MArkets have a policy in place, commonly known as a 'closed-loop' policy, which means that you must withdraw the same amount as the initial deposit, using the same method as originally used for the deposit. Any amount above the initial deposit amount can then be withdrawn separately, or via an alternative method to the one used to make the original deposit.
According to One Financial Markets website, withdrawal requests (all types) are processed within the same day, or else the following business day if the request if receipt of the withdrawal is on a non-business day. They cannot however always guarantee immediate payment, as disclaimer states on the website.
Bonuses & Promotions
One Financial Markets do not advertise any deposit bonus or promotional schemes of the likes. On social media, they also are not heavily affiliated with promoting such schemes so we can assume that they do not offer such schemes to their clients.
Educational & Trading Tools
One Financial Markets do offer a 'Trading Academy' which entails a series of regarding material on the basics of Forex, an introduction of how the MArkets work as well as some information on Trading Psychology. Another really great thing about this is they offer Free Trading Seminars, and for various locations, so clients globally can take part.
One Financial Markets also offer their own indicators (only free on demo, live come at a price not stated on the website) but do not offer their own EAs. However, you may integrate EAs that are compatible with the MetaTrader platform if you wish.
Customer Service
The customer service is supposedly reachable via live chat, email and telephone however the hours of operation are not listed on the website. In the entire duration of this review, we have not had one response via any of the customer support avenues offered. This factor is highly concerning when reviewing a broker; what if a client had a pressing trade issue and wanted to speak to a representative asap? This does not seem possible with this broker,espcei\lly given the fact they cannot even provide the basic information on their website and customer support channels, let alone any resolution on complex trade queries a client may have.
Demo Account
A demo account is available on the website should you wish to backtest this broker's trading conditions, which is always advisable, or in the case of just wanting to brush up on your trading practice and test out your strategies alongside this broker's offerings.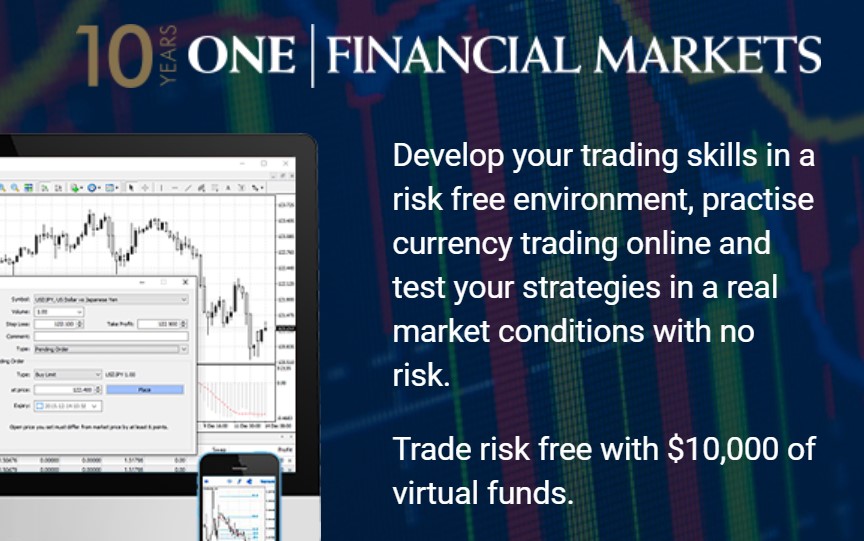 Countries Accepted
Although the website does not specifically state which countries are accepted to become clients and make use of One Financial Markets trading services, residents of the USA would not be allowed as a result of the FCA regulation. It is up to the individual to take responsibility to ensure your residency allows the use of these trading services so be sure to check this before you go ahead and register and start the onboarding process.
Conclusion
One Financial Markets are disappointing when it comes to communication with their clients both on the website and their FAQ page; on multiple occasions, both avenues did not serve their purpose. In fact, the FAQ page does not directly answer titles displayed, but on almost every section there is a 'click here' link for 'more info' which inf act just takes you to the sign-up page to become a live client. This is very misleading and entirely uninformative.
The customer support never appears to be online and emails never received a response. Putting this issue aside, however, the trading conditions in regards to spreads and leverage are average for an FCA regulated broker, but how can someone want to sign up to a broker when their customer support does not even respond. It is concerning to think that in a hypothetical case of a trade issue, there is no broker support team to help resolve any issues clients may have.
This is an example of a regulated broker that brings down the expectation many of us have when it comes to reliability and trustworthiness we anticipate from a regulated broker, especially one that has been operating for a handful of years.