Welcome to our ADSS broker review, ADS Securities or ADSS for short was founded in 2011 and so are still a relatively young organization in terms of forex brokers. ADSS is regulated by the Central Bank of the UAE, the Financial Conduct Authority (FCA) in the UK and the Securities & Futures Commission (SFC) in Hong Kong. ADS Securities state that they were formed to deliver the highest quality products and services, we take a look at what they offer and how they perform to see if they live up to these expectations.
Account Types
Please note that different brands of ADSS (regions) have different account types, they have a lot of similarities however be sure to check when signing up, in this review we are looking at the UK based accounts.
Opening an account with ADSS is simple and straightforward and they offer a number of different account types to cater to the different requirements of their traders.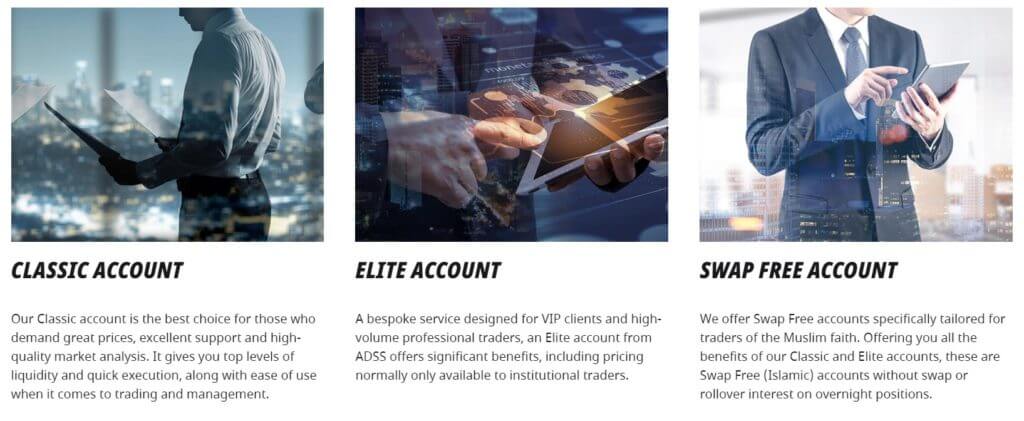 Classic Accounts: Classic accounts are the accounts that are meant for anyone, they offer a minimum deposit of $100 (with no maximum deposit), leverage up to 1:500 and a choice of platforms including Meta Trader 4 and OREX, ADSS's very own trading app.
Elite Accounts: These accounts are intended for the big players in retail trading, the minimum deposit to have one of these accounts currently sits at $200,000, which takes the majority of us out of the equation. One reason for this is the fact that having one of these accounts gives you access to perks such as 1-on-1 access to senior traders and briefings with the Chief Market Strategist, training and personalized benefits.
Swap Free Accounts: The swap-free accounts also known as Islamic accounts are intended for people do not wish to receive or pay swap fees due to religious reasoning. The requirements of these accounts are similar to the Classic and Elite, there are however additional requirements when holding trades, so be sure to check them out before opening a swap-free account.
Platforms
ADSS offers two platforms when using them as a broker, the popular MetaTrader 4 (MT4) trading terminal is available for all account types. Offering a reliable and flexible platform compatible with the majority of Expert Advisors and Indicators that are on the market today. MT4 also has mobile capabilities for the traders who are always on the move, which is available on iOS and Android and is fully compatible with ADSS.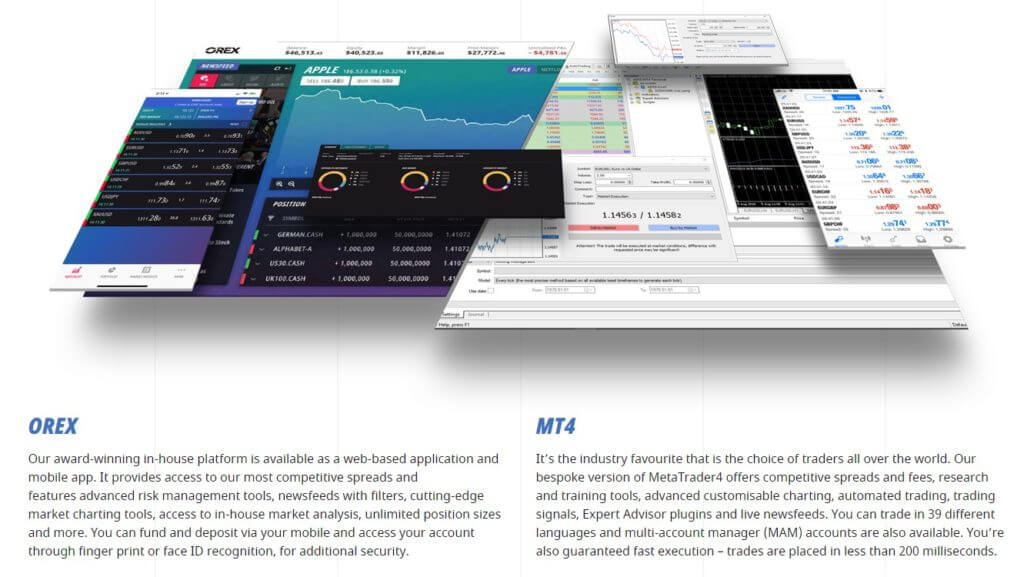 ADS Securities also offer their own trading platform called OREX, this was created as an alternative to MetaTrader 4 and offers many of the same functionalities. OREX can be used on your mobile devices, namely iOS and Android devices and can also be used on your computer or laptops web browser. OREX does not offer quite as many assets to trade as MetaTrader 4 does, but ADSS boasts that it is far more streamlined and responsive to its competition and when taking a look at the platform, it does stand out from the crowd with its smooth lines and very clean interface.
On testing the OBEX platform, we could tell that it was designed for this one purpose, it is smooth and responsive and very nice to look at. It does not offer as many trading opportunities as MT4 as it does not contain as many assets, but all the major ones are present and ready to be traded. The way OBEX was built makes it easy to import and set up expert advisors to do the trading for you, however after a little testing, we decided to move back to MetaTrader 4, the familiarity of MetaTrader 4 and the ability to use the same settings with other brokers means it is still number one to us.
Leverage
The leverage being offered is pretty standard amongst brokers, you can have leverage from as low as 1:1 and up to a maximum of 1:500. As a new trader, it can be tempting to jump straight in at 1:500 however we recommend that you stick to around 1:200 until you are fully comfortable with trading and the platform before moving up to leverage such as 1:500.
Please note that leverage options are different depending on the region that you sign up with due to the different regulatory bodies, the above numbers are based on the UK accounts and website. We have seen other websites within the ADSS group stating that 400:1 is the maximum, so be sure to check when signing up.
Trade Sizes
The trade sizes that can be opened are pretty standard when it comes to Forex brokers, you can open micro-lots (0.01) trades and trades as large as 1,000 lots. ADSS is pretty standard when it comes to this department and doesn't do anything to stand out from the crowd, having said that, the range of trade sizes is good enough to suit any type of trader.
Trading Costs
The chargers and commissions charged by ADSS vary depending on the account type that you have signed up for, and the region that the accounts are based.
The classic account has a slightly higher spread in order for the broker to profit, the spreads for EUR/USD are aimed to be at 1.6 pips, however, it has been seen to be hovering around the 2.0 pips mark when viewing their live spreads. If you were to join with the Elite account, then spreads are reduced and are seen to be around 1 pip on the EUR/USD currency pair.
The ADSS website does not mention anything in regards to commissions on each trade and we were unable to find any concrete information on the internet regarding if they do charge a commission or if they are using strictly a spread based profit strategy.
Assets
ADSS currently offers the following assets to trade, currencies, shares, indices, commodities, and cryptocurrencies. It was hard to find exact numbers on how many assets are available to trade, but below are the numbers that we could find:
Indices: 16
Cryptocurrencies: 5
Commodities: 4 Categories (Energy, Metals, Agriculture, etc.)
We could not find a definitive list of currencies. However, the majority of sources simply state 55+, and the stocks list is far too long to look through or to post.
Spreads
The spreads depend on what sort of account you have, as mentioned previously in this review, there are different accounts depending on what region you sign up with, we are looking at the UK site of ADSS.
With the Classic Account, the spreads are aimed to be at 1.6 for the EUR/USD pair with others being slightly higher, however, during our tests, we normally saw speeds of around 2.0 on EUR/USD and slightly higher on others.
The Elite Account is meant to have lower spreads, however, we are unable to test this, as unfortunately, we do not have $200,000 to open an account to test what the spreads actually are.
As previously mentioned, there are different accounts from different regions, so spreads may be different if you sign up from a different region.
Minimum Deposit
As mentioned in the accounts section of this review the minimum deposit for any of the accounts that ADSS offer is $100, which will get you into a Classic Account or a Swap Free Classic Account. If you wanted to take advantage of the Elite account or the Swap Free Elite Account then you will need a minimum deposit of $200,000 or more.
The $100 minimum deposit for a Classic Account is a reasonable amount, due to the fact that if a very low deposit is made, it is harder for a trader to take proper risk management and potential profits will also be restricted, having it too much higher would potentially price out a lot of casual or new traders out of the broker.
Deposit Methods & Costs
ADSS offers your standard deposit methods, they currently offer Visa and MasterCard deposit, both debit and credit accepted. Maestro debit cards can also be used and so can Skrill, an online money wallet.
There are no fees for depositing and the ADSS website states that the times for processing deposits are from 08:30 to 17:30.

It is a shame that they are limited to these deposit methods, newer forms of money transfer such as cryptocurrencies would have been good to see. Also, there was no mention of bank transfers which is quite strange for a broker not to support this method.
Third-party or prepaid cards are not allowed.
Withdrawal Methods & Costs
The withdrawal methods are the same as the deposit methods, Visa and MasterCard debit and credit cards, Maestro debit card and Skrill. The timing is slightly different as the processing time is between 08:30 and 13:00 so we assume that if you make a request after 13:00 then it will be processed the following day.
It would have been nice if there was a later finish to the withdrawal processing times as 13:00 is quite early but we assume this is due to the banks that ADSS use.
There are no withdrawal fees which is a nice touch, but it would be nice to see more methods of withdrawal such as bank transfer or cryptocurrencies.
Withdrawal Processing & Wait Time
We were not able to test this out ourselves, but scouring the internet led us to a number of different sources which indicated the same things, if you put in a withdraw request prior to the cut off time (13:00) it will be processed the same day, if not then it will be processed the next working day. Once the withdrawal has been processed, it can take another two or three days for the money to reach your account.
Two or three days in this day and age is quite a long time with other brokers now taking action to get you your money the next working day or for some even on the same day. This is an aspect that ADSS needs to work on.
Bonuses & Promotions
ADS Securities is currently offering just one promotion, their refer a friend promotion. For this promotion you need to invite people you know to join ADSS, once they do this, they need to deposit and trade in order for you to earn any commission. The screenshot below outlines these requirements and commissions paid out.
There are currently no other active promotions at the time of writing this review, however, be sure to regularly check back in case a new promotion has come up. It appears that in the past there were other promotions active, so there is hope that there will be others in the future too.
Educational & Trading Tools
ADSS does not offer reading materials to teach you to trade on their site, however, they do offer a number of different resources. They are offering seminars, where you can sign up and attend seminars which cover everything you need to be a successful trader, you can learn and also have the opportunity to speak to account managers. This is more intended for people who are not yet trading, however, anyone could potentially benefit from them.
The website mentions webinars, however, every time we have looked at the website has stated that there are currently no webinars available, so we are unsure if they are still doing these. They also have the standard Q&A but this does not offer much beneficial information to new traders.
One aspect that is quite nice is that ADSS offers market analysis, which can be viewed directly on their website, each day they put up an individual analysis of various pairs and assets. It does not have the greatest amount of information, but it is nice that they are offering something beneficial to their customers and potential customers.
ADSS also offers Autochartist, which allows people to keep up to date with market movements and also gain trading setups for their own trading.
In terms of the other trading tools, we mentioned OREX earlier in this review, it is ADSS's own trading tool, which you can use directly on your web browser or download to your iOS and Android devices.
Customer Service
There are plenty of ways to get in contact with ADSS and the various departments within their organization. There is an inquiry form on their website that sends them an email when we tried this to test, we got a response within 36 hours which is pretty standard for most Forex brokers.
ADS Securities also offers their postal address in case you wished to send a letter, or for some reason turn up in person, however, these are located in the United Arab Emirates, so it may be quicker to send an email.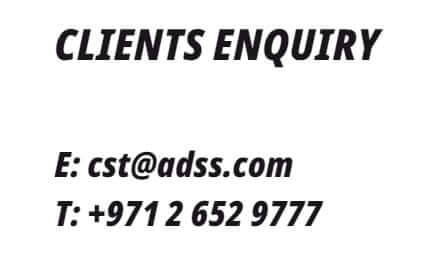 There are various telephone numbers and email addresses for their different departments including client inquiries, institutional sales team, legal and compliance, communications department and the marketing department. It is impressive that the numbers for different departments are given out as many brokers do not do this, and it makes it far easier to get through to the department that you need.
We tested the client inquiry number and it took about 2 minutes before we were put through to talk to someone, not a bad waiting time by any means, however, we only tested once and may have just gotten lucky.
ADSS offers 24/6 customer service and is closed on Sundays.
Demo Account
ADSS makes it easy to start practicing with their free demo accounts, simply click the link on their website and it will take you to signup for. These demo accounts do not expire unless you stop using them for an extended amount of time, however, if one expires you can open up a new one. Unfortunately, the data and progress from the closed account will be lost.
Countries Accepted
Looking through the website and also ADDD's terms & conditions, we could not see anything in regards to excluded countries, so to our understanding, anyone may use ADSS and there are no restricted countries. If this information is incorrect, then we will update as we learn otherwise.
Conclusion
ADSS is receiving a very mixed reaction from customers or people who claim to be customers (you never know who you can trust these days). Their standard account seems pretty average when comparing it to other available brokers and unfortunately their spreads are quite high. We were not able to test the Elite Account, as the entry-level priced us out and will price out the majority of other traders too. Withdrawal times are another little concern of ours as we do not want to be waiting a few days to get our money out.
Their bespoke trading platform seems promising and is a nice touch, but we are not sure how effective it will be compared to the already popular MetaTrader 4. All in all, ADSS seems like your average run of the mill broker, not the worst by any means, but nothing to write home about.
Be sure to check out some of our other broker reviews so you can be sure you choose the right forex broker for you.