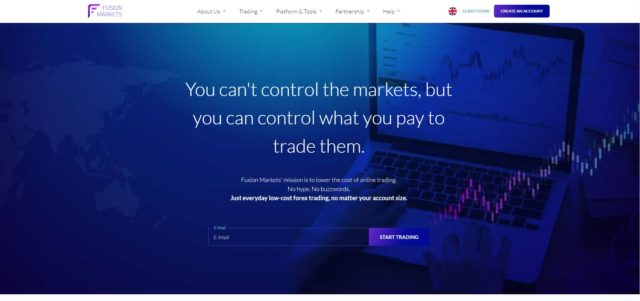 Fusion Markets is a forex broker situated in Australia, regulated by the Australian Securities and Investment Commission (ASIC) Fusion Markets aims to make things simple for their clients. No hype, no buzzwords, and lower costs. We take a little look at Fusion Markets to see if they achieve this and to see if they are a service worth using.

Account Types
There are two accounts available from Fusion Markets, The ECN Account and The Classic Account, we will take a look and see what the differences are.
The ECN Account: The ECN account is exactly what it says on the tin, an ECN account. It has very low spreads, starting at 0 pips, however much like other ECN accounts it charges a commission, the commission charges are $4.5 AUD per lot traded. The account uses MetaTrader 4 (MT4) and there is no minimum deposit amount to open up this account type. The minimum trade size for this account is 0.01 lots (micro lot) and the maximum is 100 lots.
The Classic Account: The standard account does not charge a commission, instead, it has a slightly raised spread which starts at a minimum of 0.8 pips. All other aspects of this account are the same as the ECN account such as trade sizes, minimum deposits, and available trading platforms.
Platforms
Fusion Markets only offer MetaTrader 4 (MT4) as a trading platform. MT4 is a widely used retail trading platform that a lot of brokers offer. It is popular for good reason as it offers high levels of customization, compatibility with hundreds and thousands of indicators and expert advisors as well as a number of other features to help aid in your analysis and trading. MT4 is available from Fusion Markets as a desktop download, application for iOS and Android devices and as a WebTrader to use within your internet browser.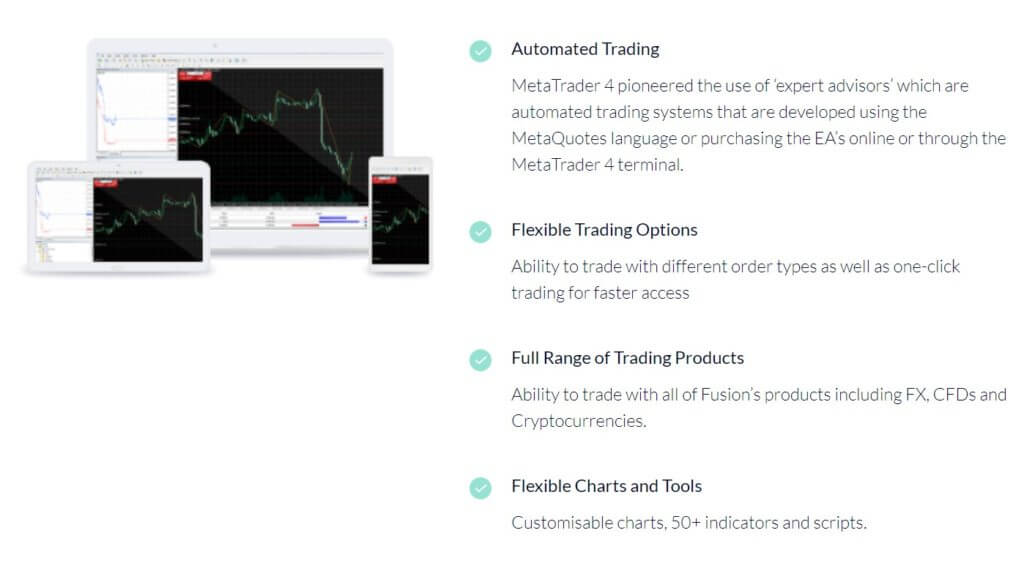 Leverage
Leverage is dependant on the instrument that you are trading, for Forex the minimum leverage is 1:20, while the maximum leverage is 1:500. For CFDs, the maximum leverage is 1:200 and for cryptocurrencies, the maximum leverage is 1:5. It is nice to see 1:500 available for Forex trading as this is quickly becoming the industry standard and the ratio that a lot of traders aim for.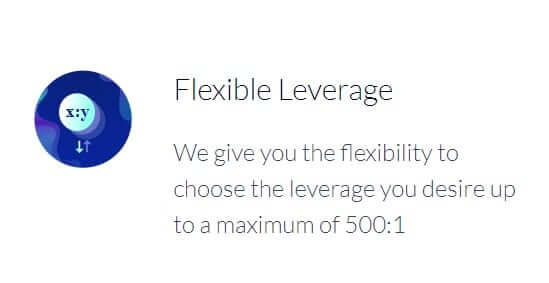 Trade Sizes
Minimum trade sizes start at 0.01 lots (also known as a micro lot) and the maximum trade size is 100 lots, however, Fusion MArkets recommend not opening trades over 50 lots to ensure maximum efficiency and to ensure that it is executed instantly. For indices, the minimum trade size is 1 lot.
You are able to have up to 200 trades open at any one time.
Trading Costs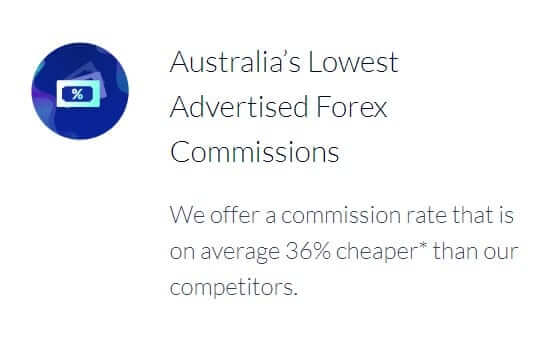 If you have an ECN account, then there is a commission charged on each trade, this is currently set at $4.5 AUD however may be different depending on the currency pair or asset that you are trading so be sure to check out the listing on the site to see what your currency pairs will charge.
The Standard account does not charge a commission but does have increased spreads, which are indicated as a minimum of 0.8 pips but can often be seen around 2 pips. There are also swap fees being charged or received when holding trades overnight, the exact costs can be viewed from within MT4 itself.
Assets
There is a wide selection of instruments that can be traded with Fusion MArkets, these include the usual Forex where there are over 90 different currency pairs available. Energy including Crude Oil, Brent Oil, and Natural Gas. Precious metals have metals such as Gold, Silver, Zinc, and others. Equity Indices and finally Cryptocurrencies such as Bitcoin, Dash, Ripply and other major cryptocurrencies.

It states that Commodities are coming soon, it is nice to see cryptocurrencies available as they are quickly becoming a popular trading asset, especially or newer traders and a lot of more experienced traders are starting to look towards them due to their volatility and profit potential.
Spreads
If you are using the ECN account then there is a much-reduced spread which can be as low as 0, however, it can fluctuate slightly higher and also is higher for certain currency pairs. Using the Standard account, it states that these will be around 0.8 pips at a minimum; however they can often be seen around 2 pips, there is a list on the site indicating what some of the average spreads are when using this account type.
Minimum Deposit
There is no minimum deposit with Fusion Markets, however, if opening up an account we recommend depositing at least $500 so you are able to take proper risk management precautions when trading.

Deposit Methods & Costs
You can currently use credit or debit cards to deposit, both VISA and Mastercard or you can use bank wire transfers to fund your account. There are no fees when depositing with Fusion Markets, however, when performing a bank transfer, there may be charges issued by your own banking service.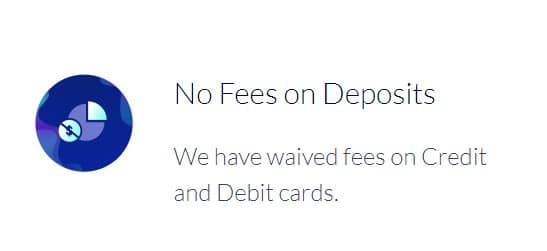 It is a shame that there are no e-wallets currently available to use as they are quite popular amongst traders and there is also no way to use cryptocurrencies to fund your account which is becoming an ever more popular way to transfer money online. Note that you can only deposit from accounts that are in your own name.
Withdrawal Methods & Costs
You can use the same methods to withdraw as you could to deposit, before changing the withdrawal method, you must have withdrawn the same amount that you deposited on each individual method. For example, if you deposited $1000 by visa debit card, you must withdraw at least $1000 to that same card before using another method for withdrawing. Again, you can not withdraw to third part accounts and the accounts must be in your name.
Withdrawal Processing & Wait Time
If a withdrawal request is received before 11 am AEDT, it will be processed the same day, any requests after 11 am AEDT will be processed the next business day. Funds are normally received within 1 to 5 business days for card withdrawals and 2 to 5 business days for bank wire withdrawals.

Bonuses & Promotions
Apart from the usual affiliate schemes, there does not seem to be any active promotions or bonuses, there may have been in the past or will be in the future so be sure to check back if you are interested in opening an account with Fusion Markets.
There is however an opportunity to get a discount on a VPS, you must trade at least 20 lots each month, however, the discount is only 20% as opposed to the usual free that a lot of other brokers are offering.
Educational & Trading Tools
We could not see or locate any information regarding any education being offered by Fusion Markets so we do not feel that any is currently available.
Customer Service
There are a few ways to get in contact with Fusion Markets, they have the usual online contact form, where you fill it out and get a reply via email. There is also a physical address available, a general email address and a phone number to use. Support is available 24 hours a day 5 days a week and is closed over the weekends to coincide with the markets being closed.
Demo Account
Demo accounts are available, simply click the Try A Free Demo button and sign up. The accounts last indefinitely as long as they are being used, if they are left dormant for too long they will be removed however you can easily open up a new one.
Countries Accepted
Due to the registered regulation, the following countries are excluded from the services of Fusion Markets: Burma, Côte d'Ivoire, Democratic People's Republic of North Korea, Democratic Republic of the Congo, Eritrea, Former Federal Republic of Yugoslavia, Ghana, Iran, Iraq, Lebanon, Liberia, Libya, Japan, New Zealand, United States of America, Somalia, Sudan, Syria, and Zimbabwe.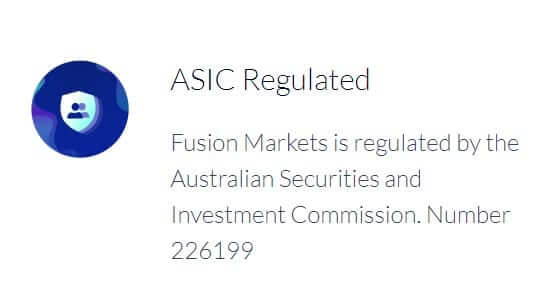 Conclusion
The trading conditions offered by Fusion Markets are positive, they offer a choice of accounts and payment structures, it would have been nice to see more deposit and withdrawal methods as being restricted to just cards and the bank is a little disappointing. Plenty of assets to trade means you will always find something to trade and it is also nice to see that there is no minimum deposit so you can top up even small amounts should you need to. Fusion Markets seem like a well-established broker.
If you like this Fusion Markets review, please be sure to check out some of the other reviews to help find the broker that is right for you.