Milton Markets is a forex broker situated in Vanuatu, specializing in forex currency trading Milton MArkets claim to offer competitive trading conditions along with the best customer services, industry-leading privacy and rapid liquidity of your funds. In this review, we will be looking into Milton MArkets in more detail to see what services they are really offering.
Account Types
There are two different accounts on offer from Milton Markets, they both have different entry requirements and offer slightly different trading conditions, let's take a little look at what is on offer.
Standard Account: The standard account has a minimum deposit of 30,000 JPY, 300 USD or 300 EUR. It offers a maximum leverage of 1:800 and a starting spread of 1.5 pips. Order sizes can range from 0.01 lots up to 50 lots as a maximum. You can have up to 100 open orders and the stop out is set at 100%. This account has access to MetaTrader 4 as a trading platform.
Premium Account: The premium account has a lot of similarities with the standard account, for instance, the deposits remain the same, as does the leverage and the trade sizes, in fact, the only change to the account is the spreads, which are reduced to a starting spread of 0.3 pips, there is not an added commission of 0.4 pips added to each trade though. The trading platform remains the same as MetaTrader 4.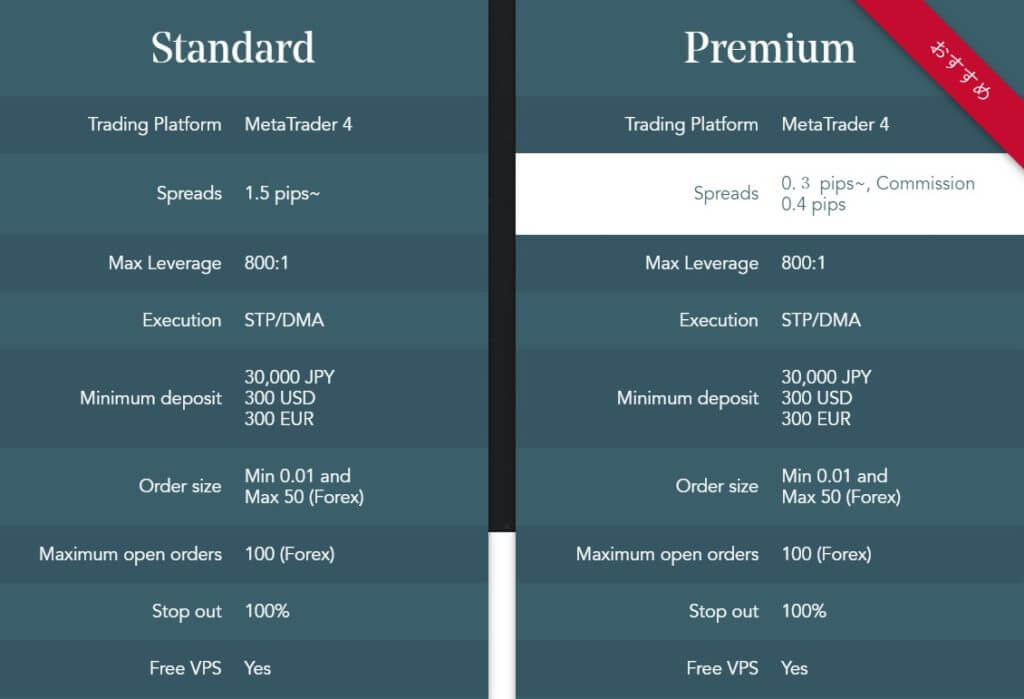 A free VPS is available with both accounts as long as the requirements are met (see the bonus and promotion section of this review).
Platforms
There is only one platform on offer from Milton Markets and that is MetaTrader 4 (MT4).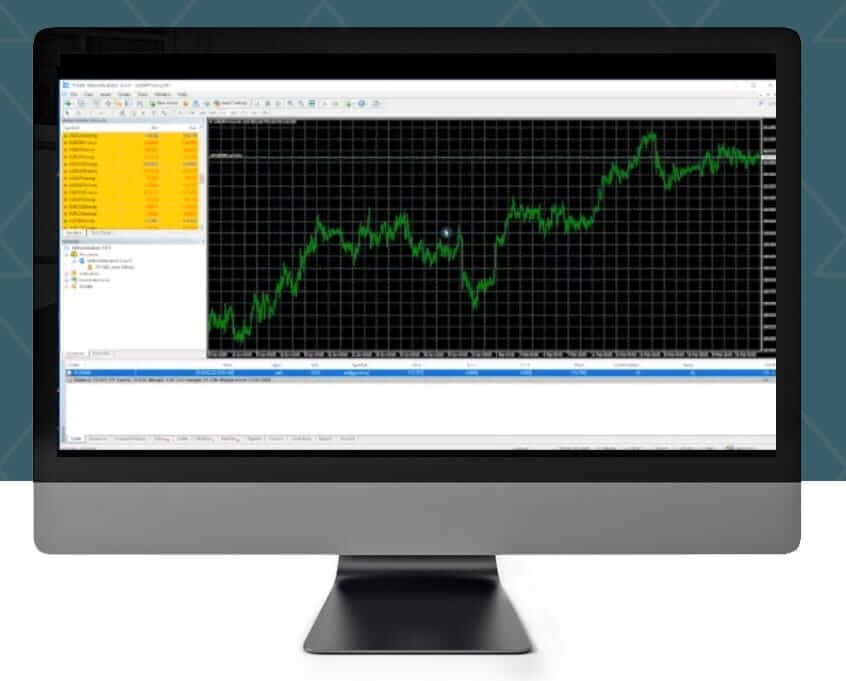 MetaTrader 4 (MT4): MetaTrader 4 (MT4) is one of the world's most popular trading platforms and for good reason. Released in 2005 by MetaQuotes Software, it has been around a while, it is stable customizable and full of features to help with your trading and analysis. MT4 is compatible with hundreds and thousands of different indicators, expert advisors, signal providers and more. Millions of people use MT4 for its interactive charts, multiple timeframes, one-click trading, trade copying and more. In terms of accessibility, MT4 is second to none, available as a desktop download, an app for Android and iOS devices and as a WebTrader where you can trade from within your internet browser. MetaTrader 4 is a great trading solution to have.
Leverage
There is maximum leverage of 1:800 which is very high, the industry seems to be moving towards 1:500 as an average, higher than this can pose risks, however, it is good to see such high leverages being offered to those who may want to trade with a little more risk. Leverage can be set lower, so it is up to the user what level they set when opening up an account.
Trade Sizes
Trade sizes for both accounts start at 0.01 lots which are also known as a micro lot, the maximum trade size is currently 50 lots, this may sound low but it is more than enough for 99.9% of retail traders and it is recommended not to put in trades bigger than 50 lots, if you do want to, then be sure to put in multiple 50 lot trades to help ensure that he orders are executed quickly.
Trading Costs
The main trading cost from Milton MArkets comes from the spreads, however, we go into that in more detail later in this review. There is an added commission when using a Premium account, the spreads are reduced but there is a commission of 0.4 pips added to each trade. This is a confusing way to writing it, it is far clearer if a set amount per lot is stated as the commission. There are also swap charges either taken or paid when holding a trade overnight, these fees can be viewed directly within the MT4 trading platform.
Assets
There are no obvious lists or breakdowns of the available instruments on Milton Markets, there is only mention of currencies so it seems like they are specializing in currencies and not expanding, we may be wrong on that because there just isn't any information available on the site.
Spreads
Spreads are variable, this means that they will fluctuate with the markets, the standard account has spreads starting at 1.5 pips, this is the minimum and due to the market's movements can often be seen higher. The PRemium accounts have a reduced spread down to 0.3 pips, however, these are also variable and so can be seen higher, there is an added 0.4 pips for each trade on the premium account. Please note that some pairs and instruments naturally have higher spreads, so it will be higher than the stated 1.5 pips.
Minimum Deposit
The minimum deposit in order to open an account is 30,000 JPY, 300 USD or 300 EUR. It is unclear if you can make smaller deposits once the account is already opened but it would be presumed that you can.
Deposit Methods & Costs
Milton Markets only accepts two methods of depositing, you can use bank wire transfer or you can use something called bitWallet. bitWallet is a payment solution that allows you to use your credit or debit card, both Visa and MasterCard to deposit with Milton Markets. There are no fees to deposit, however, if using bank wire transfer, be sure to check with your bank as they may charge fees themselves.
Withdrawal Methods & Costs
The same two methods are available wit withdraw as they are to deposit, bitWallet stays completely free to withdraw, however, it is unfortunate that Milton Markets have chosen to charge a fee of 2400 JPY, 24 USD or 24 EUR for any withdrawals by bank wire transfer. Also, bear in mind that you should check with your bank to ensure that they do not charge any fees for receiving a bank wire transfer. You must withdraw any balance to the same deposit method until the withdrawn amount equals the total deposit amount.
Withdrawal Processing & Wait Time
Milton Markets do not state that their processing times are, however they do state that bank wire transfers will take between 3 to 5 business days which is pretty standard.
Bonuses & Promotions
There is a promotions page on the Milton Markets website however it does not appear to be functioning properly so we are unable to comment if there are any additional promotions or bonuses aside from the free VPS. Having said that, there is a banner on the front page mentioning cashback bonuses, however, the link leads to the non-functioning promotions page.
There is a free VPS on offer to clients who meet the criteria, these are relatively low when comparing to other brokers, you simply need a balance of either 50,000 JPY or 500 USD and to have traded a total of 2 lots in a month.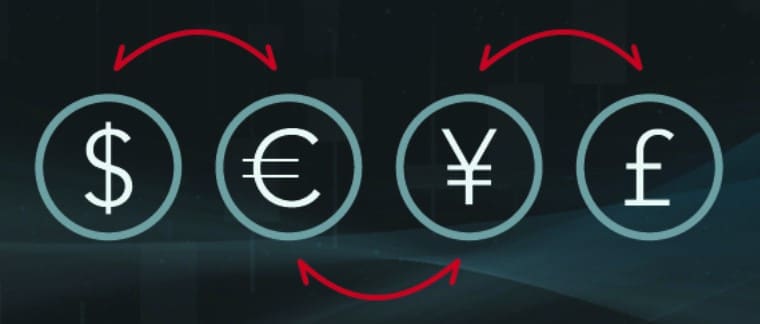 Educational & Trading Tools
There is an economic calendar which gives some basic information in regards to any upcoming news events. Unfortunately, it appears that this is the only form of tools or education that is available with Milton Markets.
Customer Service
The website states that the support team is available 24/6 over chat, email, and phone, however the contact us page only has an online web form to fill out and get a reply via email. We could not locate the phone number so we assume it is on the client account page. We also clicked the little icon at the bottom of the page that looks like a chat window would pop up, but it failed to load so we are unsure.

If advertising phone and chat support, it should be made clear on the contact page on how to go about getting this support.
Demo Account
There wasn't any mention of demo accounts and we could not find a way to open one so Milton Markets may not be doing demo accounts, we did not get into a user backend though, so there may be an option to open a demo account from there.
Countries Accepted
Looking through the site and the terms and conditions we did not see any mentions of which countries are restricted or accepted, so if you need clarification, we would suggest getting in contact with the support team.
Conclusion
Milton Markets started out strong with some competitive trading conditions, however as we explored the site a bit more we discovered that certain parts of it were not functioning properly, including the lack of information on the contact us page. Not many methods to deposit coupled with the high fees for withdrawing to your bank can be a bit offputting. We are not sure if the competitive conditions would make up for those drawbacks, but that decision is up to you.
We hope you like this Milton Markets review, if you did, be sure to check out some of the other reviews to help decide which broker is the right one for you.