FinOperate is an offshore broker registered in St Vincent and the Grenadines. They are staying ahead of the game by offering the latest MetaTrader platform (MT5) and aside from offering a trading service, they also offer training courses for those that may be interested. It is apparent that this broker is fairly new on the scene as there is very little information to be found about them online.
Account Types
With this broker, you will not be bombarded with snippets of advantages and disadvantages of a handful of account types; FinOperate offers one account type: Standard account with a $1,000 minimum deposit. This account offers variable spreads starting at 1.3 pips and executes orders Instantly.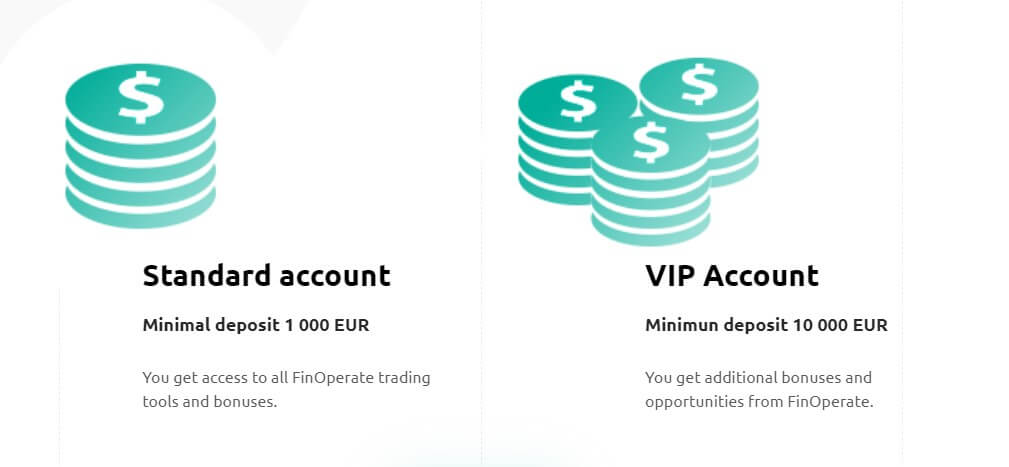 Platforms
FinOperate offers MetaTrader 5 trading platform. MetaTrader is generally the most popular and favorable trading platform to date. Clients may use Windows, Mac, Android and iOS versions of MT5.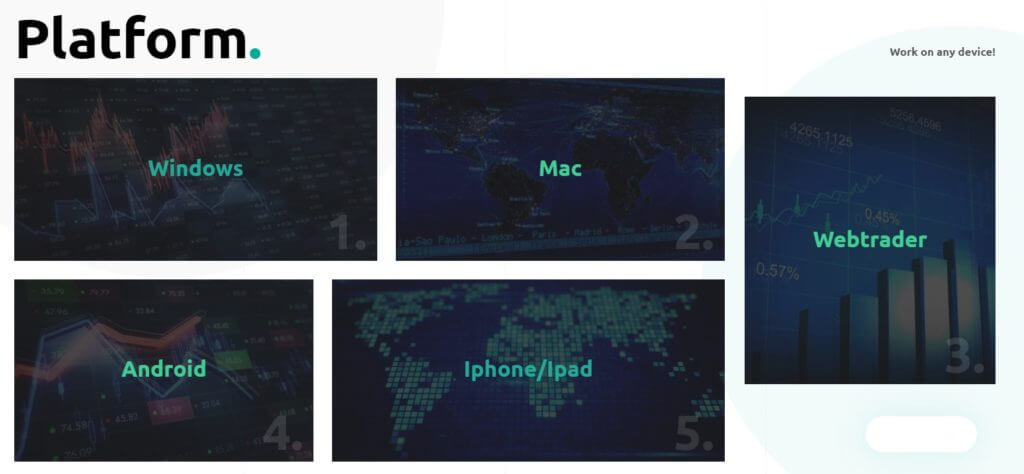 Leverage
FinOperate offers a maximum leverage allowance of 1:300, which is more than generous for Forex currency trading. 1:300 is very competitive and not always easy to come by in brokers.
Trade Sizes
The website states that the minimum trade size is 0.01 lots, which allows traders a lot of freedom, especially if you wish to use the scalp trading method. The maximum trade sizes allowed with FinOperate is 100 lots.
Trading Costs
Swap fees and Commission fees are not charged by FinOperate which lessens the cost for the client overall however do bear in mind that this means the broker makes their profit from the spreads, which we will go into shortly.
Assets
Clients of FinOperate have access to a strong variety of tradable assets: Forex, Stocks, Indices and a large range of Cryptos. The full list is not available on the website so one would need to open a demo account to see any specific pairs you might be after.
Spreads
FinOperate offers variable spreads, starting at 1.3 pips which is average to competitors, for a starting spread. As mentioned earlier, FinOperate does not charge commission or swap fees meaning that their profit is made via the spreads. The spreads are also floating so this is something that one would need to backtest on demo to see if these spreads are suitable for your style of trading.
It is also important to note that FinOperate has stop out levels at 30%. This means that the trade can stay open for longer, but on the flip side, this also can cause a more prominent loss on losing positions.
Minimum Deposit
The minimum deposit required to get started with FinOperate is $1,000. Compared to the majority of brokers that offer similar trading conditions, this minimum requirement is quite a bit higher.
Deposit Methods & Costs
The website does not set out the deposit methods available, so we cannot comment on that at this time. However, it is slightly concerning that this information is not available so potential clients should be wary when considering signing up for a live account with this broker.
Withdrawal Methods & Costs
A prominent issue with FinOperate's website is that information such as withdrawal methods cannot be found. There is no FAQ page either, to answer such questions.
Withdrawal Processing & Wait Time
Withdrawal methods and timescales are not displayed on the website and they do not have a live chat for a quick reference to obtain this answer.
Bonuses & Promotions
Deposit Bonuses or promotions are not mentioned on the website so we can assume this broker does not offer such schemes.
Educational & Trading Tools
FinOperate does not offer any trading training courses or educational tools. This is not an issue seeing as there is a multitude of options available online for free education material, should you require it.
Customer Service
Should you wish to contact FinOperate, they offer a telephone line and an email address. There is no live chat, and they also do not state their operating hours. This is another concerning factor, elevating doubt even more so if it is not clear that clients can get in touch easily or efficiently in the case of any issues or queries.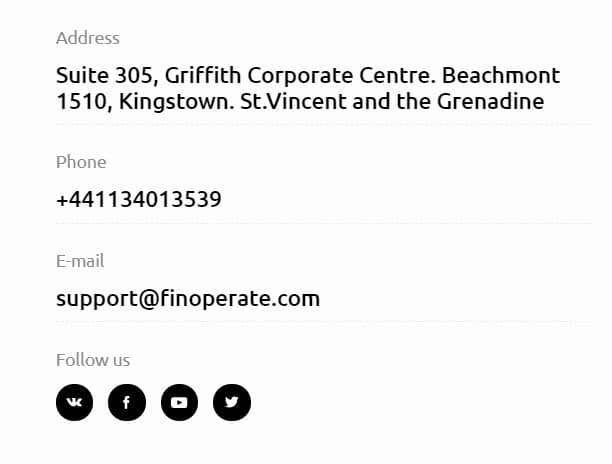 Demo Account
It is concerning that FinOperate does not offer a demo account, especially when they are not very specific on which instruments they offer and do not give a good indication of what the variable spreads look like. Without a demo account to try out their trading conditions, it is difficult for a potential client to gauge if this broker is suitable for one's style of trading.
Countries Accepted
This broker is not regulated so be mindful that if your residing country does not allow trading, you should not be accepted when registering with your Identification and Proof of address documents. Unfortunately, there is not an FAQ page or any mention of which countries are accepted to trade with this broker, so it is a matter of registering and finding out.
Conclusion
This broker appears to offer very generous leverage, which is competitive. The fact they offer MT5 is also an appealing factor, however, we cannot ignore the fact this broker fail to display even the most basic information that should be available to clients if this is a fully legitimate and fair broker. If deposit and withdrawal methods, a full list of instruments, and a demo account are not available, which is the case with FinOperate, it would be wise to approach this broker with caution or perhaps consider an alternative broker where you can be certain on what trading conditions will be available to you.