InvestAZ offers its pwn tailor-made trading platform as well as MetaTrader 4, with a large variety of trading accounts and over 100 assets to trade. The website itself is clear and simplistically set out for ease of navigation, and a live chat facility is available should you need assistance.
Account Types
InvestAZ offers 5 account types to choose from:
Mini
Standard
Universal
Pro
VIP
Minimum lot size and spreads do vary, however, leverage caps are the same across all accounts, as is the margin call and stop out level, as well as platform options and the fact that all accounts are not charged trade commission fees. Islamic (swap-free) accounts are also available upon request.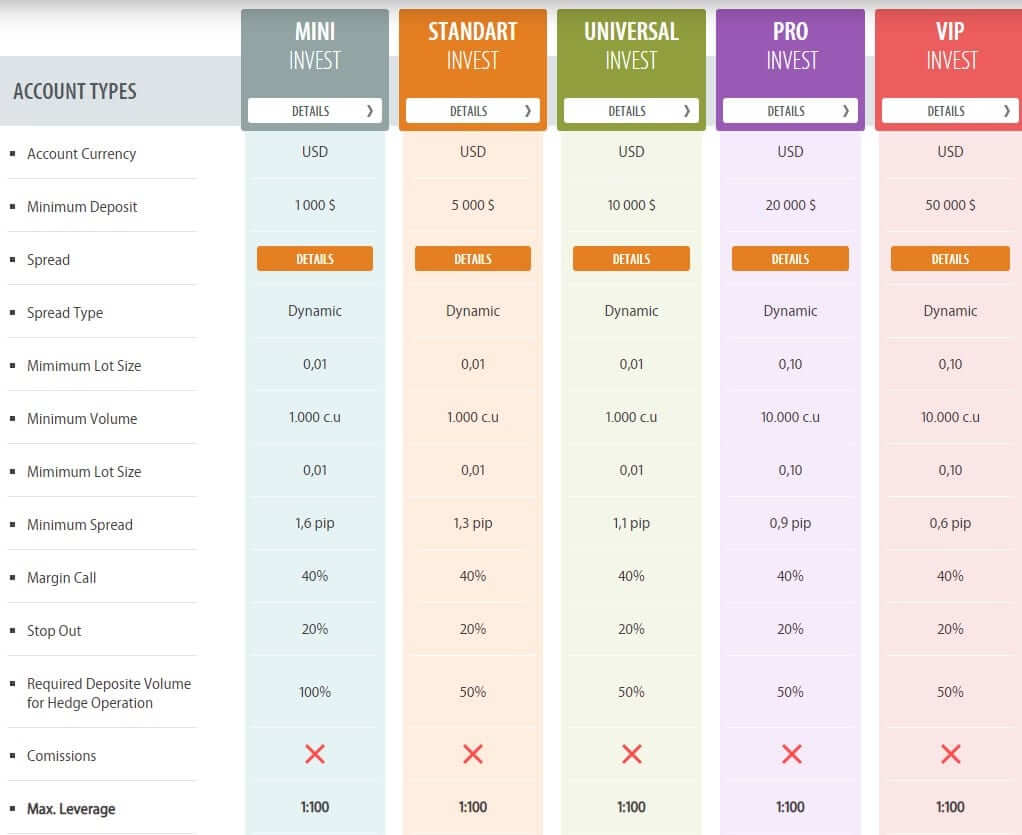 Platforms
InvestAZ offers two platforms: MetaTrader (4) and their very own customized platform, namely, InvestOR.Both options are compatible with both desktop and mobile versions. YOu are also not restricted to using just one platform in accordance with the account type you choose, which means clients can even alternate between the two if they prefer one over the other, for example; you are not stuck with one platform choice.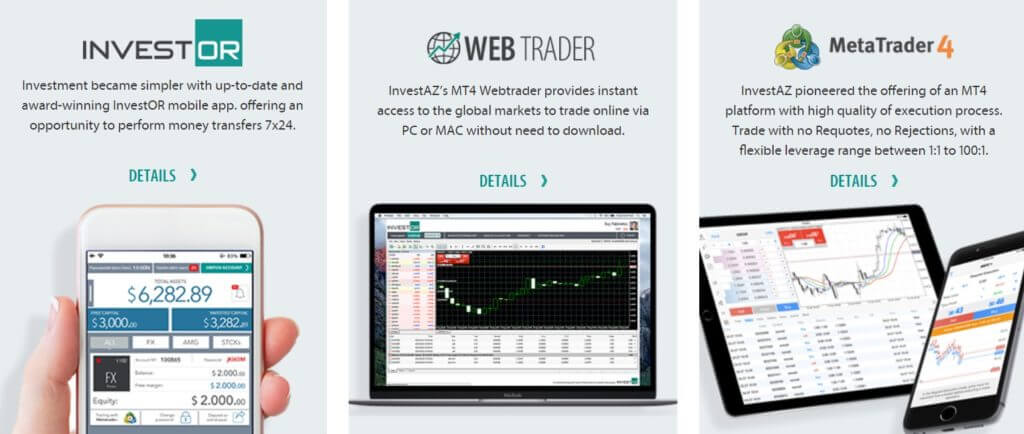 Leverage
This broker is rather liberal with leverage allowance, offering up to 1:100 leverage. This applies to all account types, which is nice to see, seeing as some brokers essentially penalize clients wth certain trading conditions and caps according to account type's deposit requirement.
Trade Sizes
Minimum trade sizes do vary according to the account type you choose, which are all set out on the website as well. The Mini, Standard, Universal accounts have a minimum trade size requirement of 0.01 lot and the Pro and VIP accounts have a minimum trade size of 0.10 lot
The maximum order volume is actually rather low in comparison to what many brokers allow. Nonetheless, the website does also state maximum trade sizes, which are the following:
Mini: up to 10 lots
Standard: up to 50
Universal: up to 50
Pro: up to 100 lots
VIP: up to 200 lots
Trading Costs
As mentioned earlier, this broker does not charge trade commission fees, on any of their account types, so this is one less concern for the client. This, however, does mean that InvestAZ makes their money via the spreads, which is why there is such a variation between the minimum spreads on each account type, which we will go into shortly.
For Swap fees, these are calculated according to spreads on particular pairs, so swap fees will vary between account type, and whatever volume you are trading.
Assets
InvestAZ offers over 100 assets in total which include Forex, Indices, and Commodities, which you can see on the website, along with their live spreads (floating). They do not offer an overly wide selection of pairs in comparison to other brokers, however, at the same time, this is also a sufficient selection of tradable assets that would satisfy most traders who are focused on just the FX markets.

Spreads
InvestAZ offer floating spreads, and you can see the live spreads on the most popular pairs, on the website. Spreads, overall, are relatively tight across the board, and definitely competitive, especially for the FX major pairs they offer.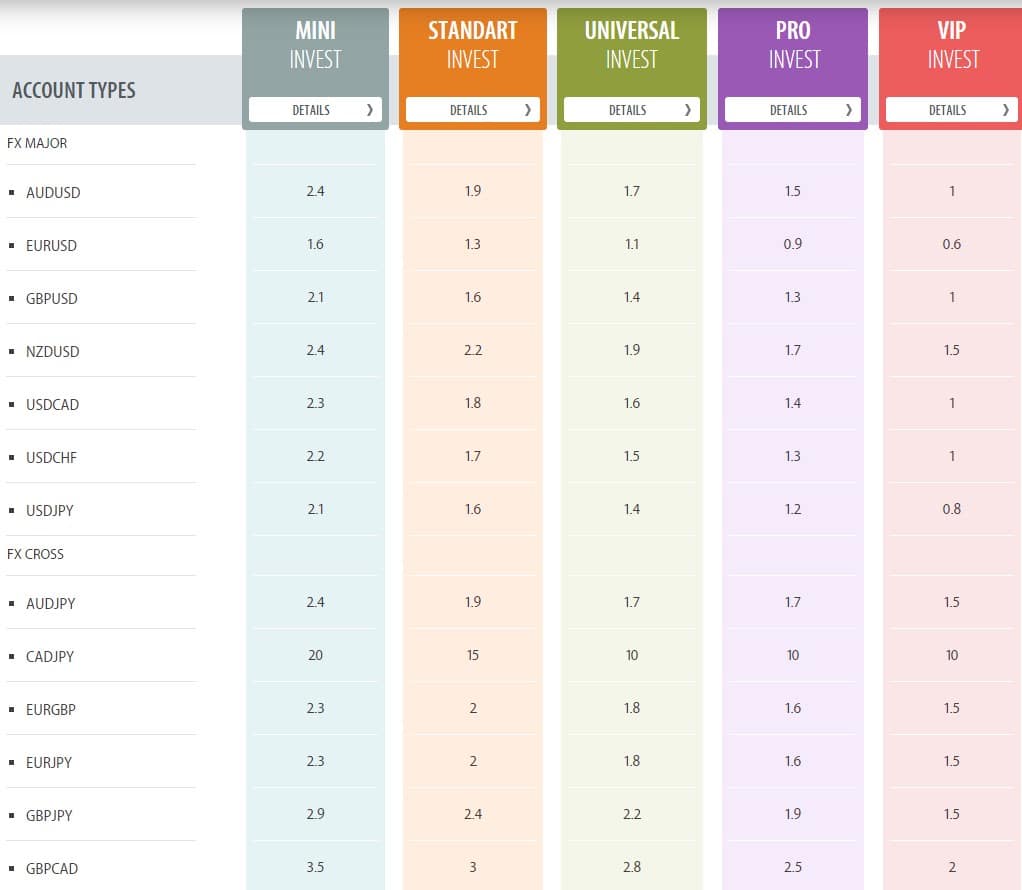 Minimum Deposit
As mentioned, there are 5 account types, and thus, each has a different minimum deposit requirement:
Mini: $1,000
Standard: $5,000
Universal: $10,000
Pro: $20,000
VIP: $50,000
By no means is even the smallest account among the lowest deposit requirements; in fact, this is rather high compared to other broker minimum deposit requirements. This is another reason why it is good practice to try a demo account first, with the required deposit amount of the account you think will be preferable, to gauge what capital works for you in line with your strategies.
Deposit Methods & Costs
The disappointment for this broker kicked in when we discovered that nowhere on this website does it state which deposit methods can be used. In this case, we tried using the live chat facility to find out, but on two occasions (two different times) they were offline, so we had to raise a ticket. After 36 hours, we had no response, on two occasions. This is slightly unnerving for potential clients when it is impossible to know which deposit methods are available and to see if there are any that are available for a trader personally.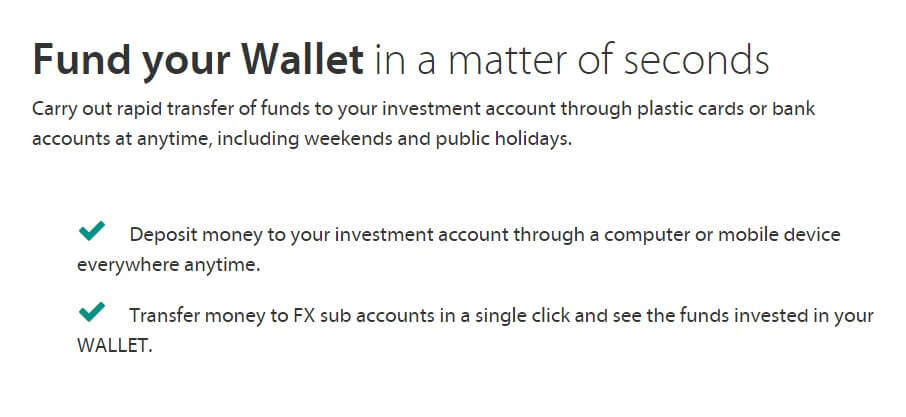 Withdrawal Methods & Costs
Similarly to what was mentioned above, it is disconcerting that the InvestAZ website does not contain an FAQ page to discover the withdrawal methods. The customer support team was also unresponsive on several occasions to help us answer this question for you. However, withdrawal fees are mentioned on the account comparison page, which is the same fee applied to all account types:
<1000$ – 25$
1000$ to 5000$ – 45$
5000$< – %1
This fee structure indicated that there is one withdrawal method, or very restricted selection, since the fee is the same for all accounts, for everyone.
Withdrawal Processing & Wait Time
Since we could not establish which withdrawal methods are even available, we cannot, at this time, comment on processing times or wait times for funds to land back with the client. It is very poor of a broker to not present such important information to clients prior to them registering.
Bonuses & Promotions
There is no mention of any bonuses or promotions, even away from the website, and on social media, we could not find any deposit bonus schemes being advertised in association with InvestAZ.
Educational & Trading Tools
InvestAZ does not offer any training courses or solid plans to follow to learn how to trade, but what they do offer is some handy tools to help new and experienced traders alike, along the way. These include a Forex Glossary to help understand trading terms used, as well as some reading material about Forex and how the industry works.
Customer Service
In order to contact InvestAZ, you have the option of live chat, email, or the option to fill out a ticket to request a callback. These facilities are all very good options if only the customer support team were responsive. To date, we have no received any response from any of the channels provided. This is an indication that this broker is perhaps not legitimate, or, have cut off means of contact for a reason, which is a concrete cause for concern.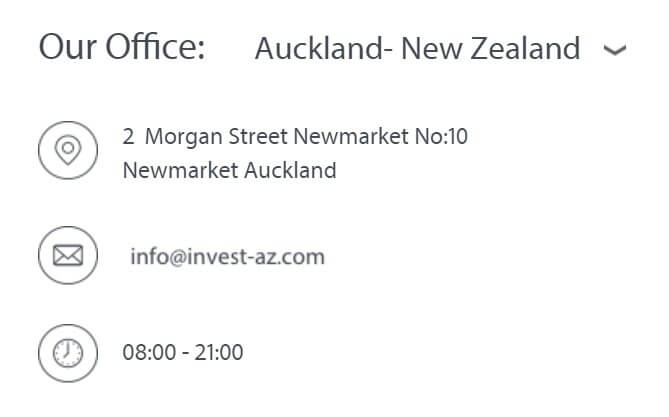 Demo Account
You may open a demo account with InvestAZ before you register for the live account. This is always a good way to gauge if this broker's trading conditions are a suitable match for you and your preferred trading style/strategies. This demo account opportunity is also good to practice with while you learn how to trade, if you are a new trader, or wish to brush up on your skillset before trading live.
Countries Accepted
InvestAZ is not regulated therefore is not restricting in the way a regulated broker would be when it comes to onboarding clients, but of course, this does mean the obvious; clients from the US should not be targeted. Nowhere on the website does it say which clients from which countries/jurisdictions would be accepted or denied access to these services, but bear in mind that as part of the registration process, you will be screened and verified via proof of address and ID documents. It is, of course, the individual's responsibility to check if their jurisdiction permits the use of these services by their residents/citizens.

Conclusion
On the surface, InvestAZ offers some very amicable trading conditions, and a broad range of account features across the board of account types. However, it should be concerning that clients would find it difficult, or even impossible to contact this broker with the poor quality of customer support communication. It is also a concerning factor that withdrawal methods are not mentioned, so clients would not know how to withdraw their funds, prior to becoming a client. This broker should be approached with caution before considering becoming a client.