Dividendcare is a broker that focuses on new trading technologies and providing market liquidity through fast order executions. Account holders can enter and exit positions through the MT4 platform, a state-of-the-art ECN that leads the ForEx market. Some of the main advantages of using Dividendcare include its strong leverage offerings, a generous initial bonus, and the personalized attention that account holders receive. Having said that, some traders might find their minimum deposit requirements to be too high. Just as importantly, there is a limited number of currency pairs and the broker is not available in most of North America.
Account Types
Dividendcare has 3 types of accounts: Standard, Premium, and VIP. Forex traders have to install MetaTrader 4 (MT4). Regardless of which account you choose.
Standard Account:
Minimum Deposit: $10,000
Commission: $0
Leverage: Up to 1:400
Premium Account:
Minimum Deposit: $100,000
Commission: $0
Leverage: Up to 1:400
VIP Account:
Minimum Deposit: NA
Commission: NA
Leverage: Up to 1:500
The broker doesn't have a specific minimum deposit for the VIP Account. When you apply for one, they will look at the amount of your capital, expected future deposits, and how often you plan to trade. To get a VIP Account, traders have to contact Dividendcare's customer support team. While Standard and Premium traders enjoy zero commissions, the fee is unspecified for VIP clients.
Platforms
You can download MetaTrader 4 (MT4) directly from Dividendcare's website to your Mac, Windows, iOS, or Android device. The MT4 platform provides traders with in-depth technical analysis tools that include various indicators, chart types, and diagrams. It is available in English, Spanish, Russian, French, German, Arabic, Turkish, and other languages. You can also download datasets and historical performance metrics. MT4 can be accessed and managed directly from your phone, but the desktop version has more features and tools.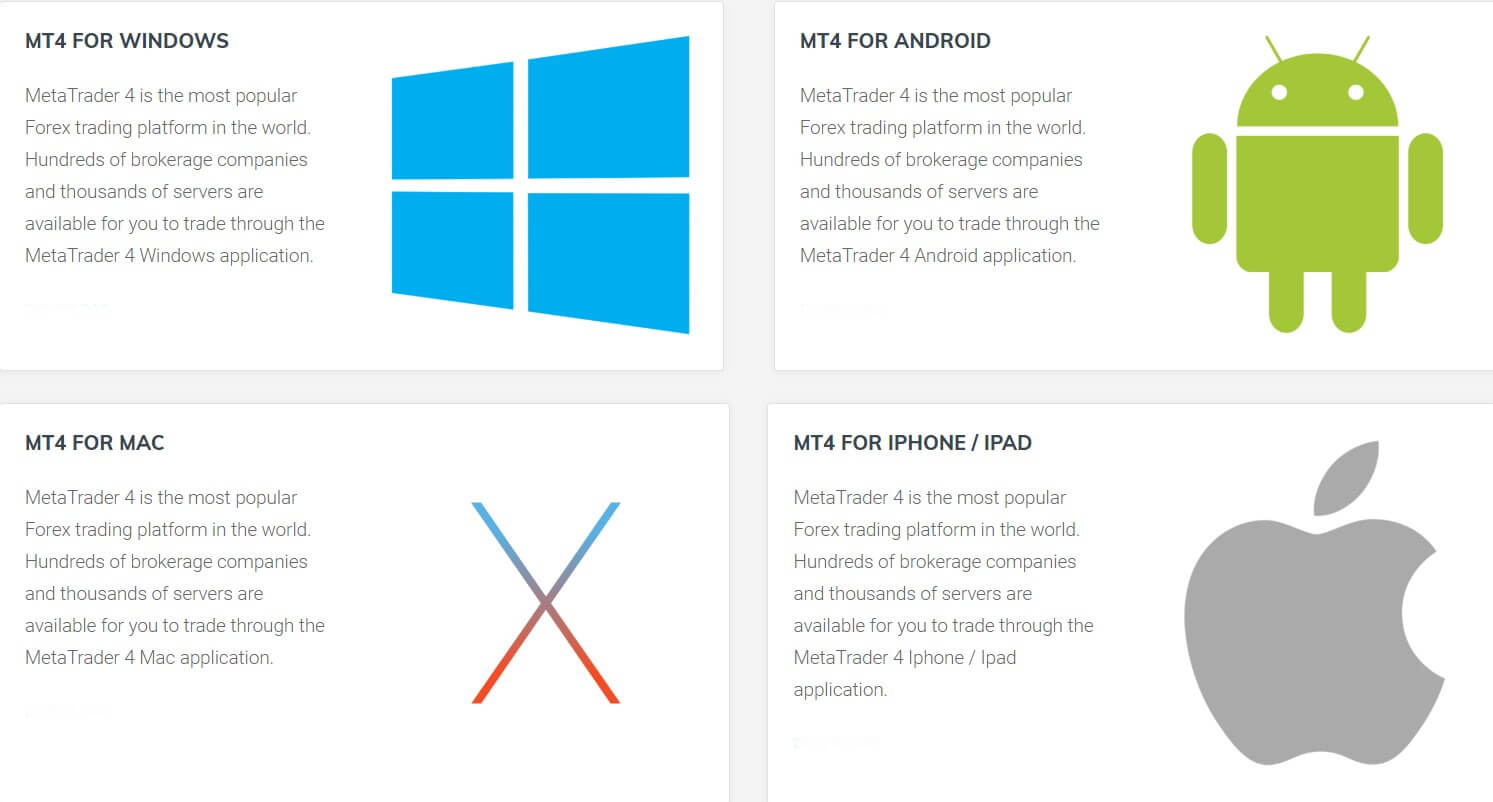 Leverage
Standard and Premium traders have up to 1:400 in leverage. The VIP Account comes with 1:500. Nonetheless, all 3 types have relatively high leverage that only a few brokers in the industry can match.
Trade Sizes
Margin levels vary, they largely depend on the specific instrument and how much leverage you use. Dividendcare may change the margin requirements if you incur significant losses. Similarly, they don't issue any margin calls and will immediately liquidate all your positions if you fall below the required maintenance amount.
Trading Costs
Standard and Premium are not charged any trading commissions, but they do incur spread fees. The VIP Account has much narrower spreads, but traders may have to pay commissions. Dividendcare will charge a swap fee when you keep your positions open overnight.
Assets
You can trade ForEx pairs, commodities, bonds, indices, options, and stocks on Dividendcare. Standard and Premium account holders can trade up to 27 different currency pairs, while the number of available ForEx instruments is not specified for VIP Accounts.
Minimum Deposit
As previously outlined, each account type has its own minimum deposit requirement, which is $10,000 and $100,000 for Standard and Premium, respectively. To open a VIP Account, your available capital and trading experience will be assessed. There is no specific minimum deposit requirement.
Deposit Methods & Costs
You can deposit funds via Visa, MasterCard, Bitcoin, or CryptoCoins. If you want to make a deposit by transferring money from your bank account, you should contact Dividendcare's customer service team for detailed instructions. Transfers from your debit or credit card are immediately available for you to trade, while it can take the broker up to 3 days to process bank wires. Dividendcare doesn't charge any fees for depositing funds.

Withdrawal Methods & Costs
Similarly, you can use a debit/credit card or a bank transfer to withdraw money from your Dividendcare account. The broker doesn't charge any fees for credit or debit card withdrawals, but your bank or the card-issuing institution might. Their website doesn't mention anything about bank transfer withdrawal fees, apart from the fact that the VIP Account doesn't incur any charges through using this method. You should contact their customer support team to make sure that your account type and bank transfer fees suit what you're looking for.
Bonuses & Promotions
Traders get a 10% bonus when they create an account, install MT4, and deposit funds. For example, if you deposit $200,000 into your account, you receive a $20,000 bonus (10% of $200,000). There are no other promotions or bonuses that are currently offered by Dividendcare.

Educational & Trading Tools
You can access live charts, economic calendars, and daily market analysis reports through Dividendcare. The VIP Account comes with free, one-on-one training that the broker offers. In addition, all account types can access training courses that thoroughly explain how the financial markets work and specifically focus on different Forex concepts.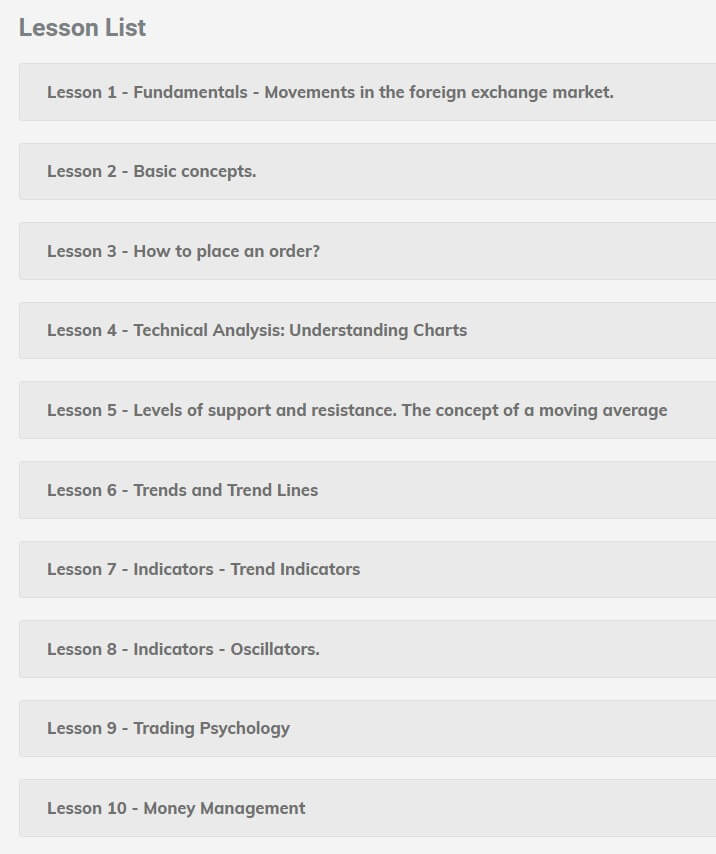 Customer Service
Whether you open a Standard, Premium, or VIP Account, Dividendcare's customer support team is available 24 hours per day and 5 days a week. Similarly, you can request a bank transfer anytime and someone will be there to process it for you around the clock during weekdays. The website is available in English, Spanish, and Russian. You can contact the broker via phone, email, or by filling out a form on the website.
Phone: +852 589-85-264
Current clients: compliance@dividendcare.com
24 hour (weekdays) customer support: support@dividendcare.com
Demo Account
Through MT4, you can open a demo account and immediately start trading. This will give new traders the chance to develop their approach and test their strategy, while those who are unfamiliar with the MT4 platform can take the time to learn how to use its various tools. Demo accounts have access to more than 200 financial instruments.
Countries Accepted
Dividendcare is headquartered in the Caribbean country of Saint Vincent and the Grenadines. Traders from all over the world can open an account. However, the broker is not available to residents of the US and Canada.
Conclusion
All in all, we found that Dividendcare's features will largely depend on your personal trading strategy and risk tolerance. This is an essential part of determining whether or not this broker is the right fit for you. Traders who have a sizable amount of funds and are willing to take risks can enjoy Dividendcare's generous leverage. This applies to beginner and experienced market participants, especially because of the dedicated and personalized account supervision features that the broker provides. Additionally, the 10% initial deposit bonus can come in handy.
However, if you prefer access to more currency pairs, cryptos, and the latest MetaTrader platform (MT5, instead of MT4), then you might find better options elsewhere. Just as importantly, if you don't have the minimum $10,000 deposit requirement, you can't open an account with Dividendcare. Therefore, you must weigh all aspects, negative and positive ones alike, and determine which of them matters most to you.