LMFX is an offshore Forex broker offering Forex trading services out of Saint Vincent and the Grenadines. This firm offers a wide variety of assets, including currencies, commodities, indices, and more within their version of the MetaTrader 4 trading platform. The LMFX review that follows will provide you with the latest information regarding this FX broker, including current trading conditions, deposit & withdrawal information, trading costs, and more.
Account Types
LMFX offers three distinct account types to their clients. The three available options are as follows:
Premium: This account type can be opened with a deposit in the amount of $50. All subsequent deposits can be as small as $25 each. Premium account holders are treated to the platform's largest leverage ratio (up to 1:1000) and will trade on spreads starting at 1 pip. There are no commission charges on this account type. The margin call and stop-out levels are 50% and 20%, respectively.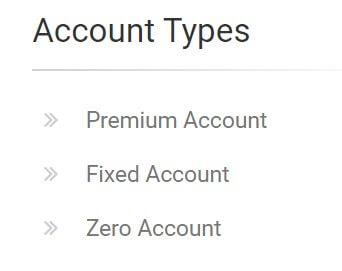 Fixed: This account is named such due to the fact that it provides the account holder with access to fixed spreads. The same as the Premium, Fixed is not associated with any commission charges. A Fixed account can be opened with a deposit in the amount of $250, with all subsequent deposits needing to be only $50 or more. The maximum leverage here is 400%. The margin call and stop-out levels are 30% and 15%, respectively.
Zero: This account is named such due to the fact that it offers spreads as low as 0.0 pips. The minimum deposit requirement for this account is $100, with subsequent deposits needing to be in the amount of $50 or more. The leverage maximum here is 1:250, while margin call is set to occur at 30% and stop-out at 15%.
Although not listed along with the primary account types, Islamic accounts are an option for those of faith. In order to open an Islamic account, one would need to fill out an application that differs from the standard application. The LMFX support team can provide you with complete details regarding this type of account.
Platforms
LMFX has opted to offer the MetaTrader 4 platform to its clients. They also offer this platform in app and WebTrader formats. The apps are available for Apple (iPhone and iPad) devices, along with a separate version for Android. The MT4 software download is provided for both Windows and Mac, and the broker does provide a user guide for each. With LMFX MT4, end users have access to more than 50 total advanced indicators and tools to help with the analyzation of price dynamics across nine separate time frames.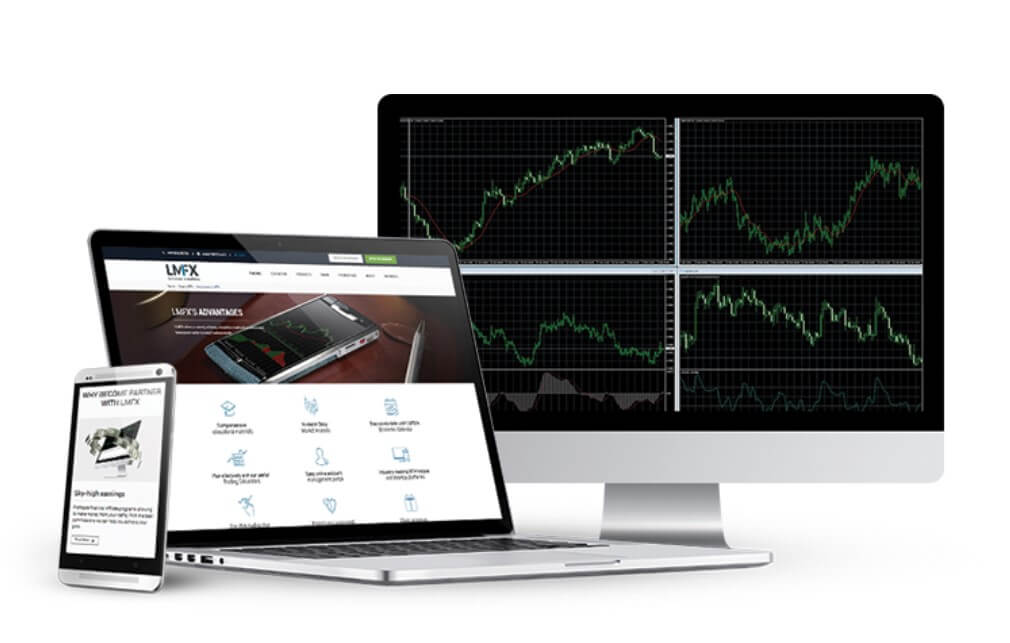 Leverage
The maximum leverage varies by account as follows:
Premium Account: Up to 1:1000
Fixed Account: Up to 1:400
Zero Account: Up to 1:250
Even the Zero account provides a respectable leverage maximum, so there are no problems to report here. Just be certain to select the Premium account if you plan to make use of seriously high leverage ratios.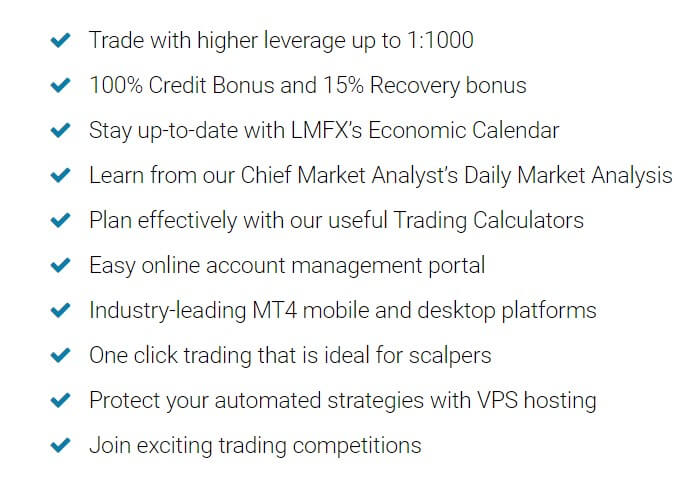 Trade Sizes
At LMFX, most trading conditions vary by account type and allowed trade sizes are no different. The smallest allowed size is 0.01 (micro) lot, and this applies to all account types. The maximum trade sizes are broken down as follows:
Premium Account: 60 Lot Maximum
Fixed Account: 75 Lot Maximum
Zero Account: 100 Lot Maximum
The firm also has maximums in place when it comes to the number of positions that can be open simultaneously. Those maximums are shown below.
Premium Account: 100 Lot Maximum
Fixed Account: 150 Lot Maximum
Zero Account: 200 Lot Maximum
Trading Costs
There are no commission charges on the Premium and Fixed accounts. However, you will need to pay up if you opt for the Zero account. With this account, there will be a cost of $4 per lot traded. All accounts, aside from Islamic, are subject to Swap or Rollover fees. These come into play whenever a trade remains opened before 21:00 GMT that are left to run after market hours. As always, these costs will vary from asset to asset, but each individual cost can be viewed within the trading platform using either a demo or live LMFX account.
Assets
Currently, there are 80+ assets to trade on, including:
(48) Forex Pairs
(9) Indices
(5) Commodities
(7) Metals & Oil
(15) Shares
It is worth mentioning that the currency list does not include any cryptocurrencies. This will certainly be disappointing for some. A comprehensive asset list can be accessed from the broker's website.
Spreads
Spreads vary (you guessed it) by account type, with the lowest available spreads being as follows:
Premium Account: As low as 1 pip
Fixed Account: As low as 0 pips
Zero Account: As low as 0 pips
LMFX does provide an account comparison page on their website and this proves quite helpful when breaking down what each account offers. Simply select the asset of interest and then click on 'Spreads' to see the details for each.
Minimum Deposit
The smallest acceptable deposit is $50, which is for the Premium Account, whereas the largest is $250, which is for the Fixed Account. Between the two is the Zero Account, which requires a minimum deposit in the amount of $100. After the initial deposit, there are smaller minimum requirements for adding funds. Those are as follows:
Premium – Reload $25 or More
Fixed – Reload $50 or More
Zero – Reload $50 or More
Bonuses & Promotions
There are two options for LMFX bonuses. One is offered in the form of a deposit bonus, while the other is known as a "Phoenix Recovery Bonus" (or redeposit bonus). The deposit bonus offers a 100% match on all first-time deposits in the amount of $100 or more. The Phoenix bonus is equal to 15% of the total first deposit amount and will only be added to the account if the entire first deposit is lost. Obviously, both bonus types have terms and conditions to go with them, so be sure to read up on those before accepting bonus funds.
At the time of this LMFX review, there were three live contests taking place:
LMFX Crystal Ball Contest: Predict the most accurate future exchange rate of the currency pair of the week to win one of several prizes up to $1,000.
LMFX Ultimate Traders: Show off your trading skills by competing with other traders and have the chance to win $1,000 monthly.
Learn & Earn Contest: A demo account contest, this contest offers a risk-free way to compete for cash prizes.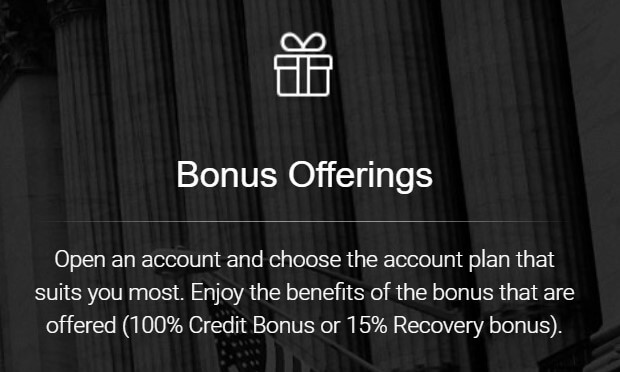 LMFX is also one of the few forex brokers to offer ongoing contests, so this is certainly a plus. Clearly, bonuses and contests should not factor strongly into the broker selection decision, but they do go a long way in highlighting the FX brokers that are quite client-centric.
Deposit Methods & Costs
LMFX accepts several different deposit methods, which certainly is a plus at a time when many brokers struggle to offer more than one. Even better, there are no deposit fees, regardless of the payment method chosen. Below, you'll see a complete list of the accepted deposit methods, along with the minimum deposit amount required for each.
Visa – $50
MasterCard – $50
Wire Transfer – $250
Skrill – $50
Neteller – $50
Fasapay – $50
VLoad – $50

Credit/debit and e-payments offer the fastest way to fund an account. These types of payments typically clear within only a few minutes. Wire transfers are the slowest option, typically taking 2 to 5 business days to arrive.
Withdrawal Methods & Costs
LMFX charges no withdrawal fees, not even on wire transfers. The list below outlines the available withdrawal methods and the smallest allowed withdrawal amount that is associated with each method.
Visa – $10
MasterCard – $10
Wire Transfer – $1,000
Skrill – $10
Neteller – $10
Fasapay – $10
VLoad – $10
As you can see, most of the minimums are more than reasonable. Even the highest requirement for wire transfers is understandable, as this payment method tends to be the most costly and labor-intensive for Forex brokers.
Withdrawal Processing & Wait Time
Any withdrawal request that is submitted prior to 10 am server time will be reviewed and if approved, paid out on the same day. The anticipated average wait time for payment to arrive can be seen below.
Visa – 2-15 days
MasterCard – 2-15 days
Wire Transfer – 2-15 days
Skrill – Same day
Neteller – Same day
Fasapay – Same day
VLoad – Same day
Educational & Trading Tools
LMFX does offer several educational tools, along with some attractive trading tools as well. Video tutorials, an economic calendar, market analysis, and more are provided. An impressive seven total Forex calculators are also provided on-site. The platform itself contains a variety of indicators and other helpful analysis tools for traders to make use of.
Customer Service
This broker offers customer support 24-hours a day, 5-days a week (Monday to Friday). The available contact options include telephone, email, and live chat. There are several different contact numbers available and those are provided below.
Business Phone: +44 2035192105
General Support: +44 2035192105 or support@lmfx.com
Sales: +44 2035192105 or sales@lmfx.com
Affiliates: affiliates@lmfx.com
Trading Desk: +44 2035192105

The available departmental email addresses are as follows:
Sales Department: sales@lmfx.com
Affiliates Department: affiliates@lmfx.com
Customer Support: support@lmfx.com
Demo Accounts
LMFX does offer free demo accounts, but traders should note that these do not provide the exact same trading conditions as the live platform. They do, however, mirror the conditions closely and are unlimited. Furthermore, they can be opened in the platform of your choice and do allow for the testing of expert advisors (EAs) and strategies. New Clients must first register an account in order to open a demo trading account. Existing clients, on the other hand, can log into their Wallet and open the practice account directly from there.
Countries Accepted
LMFX has decided not to extend services to residents of Belgium, Bulgaria, Macedonia, and Cyprus. It appears that all others (including residents of the United States) are welcome as of the writing of this LMFX review. Broker rules and regulations do change rather quickly though, so do check with the broker should you encounter any issues with registering a new account.
Conclusion
After completing a large number of Forex broker reviews, it becomes quite easy to quickly spot a scam broker. LMFX most certainly does not come off as anything more than a brokerage that wants to keep its clients happy and wants to do what it takes to remain in business (which they have managed to do since 2017). The FX industry is tough on brokers and those who do not remain trustworthy are quickly ousted. As for the conclusion of this LMFX review, we are recommending them. This could change in the future, of course, but as of now, they appear to be one of the better offshore brokerage options in operation.