FXGlobe is an ECN broker registered in the Republic of Vanuatu and, currently catering for over 45,000 traders. FXGlobe started as a side project for a few traders but quickly grew over the past 9 years into what it is today. In this review we will be looking at what FXGlobe offers and if it is worth signing up to do your trading with them.
Account Types
FXGlobe currently offers three different accounts, the standard, Pro and ECN Razor, each with a different requirement and offering different trading environments, let's take a look at what is on offer.

Standard: This account requires a minimum deposit of at least $250, it has a minimum trade size of 0.01 lots (micro lot), spreads starting at around 1,.6 pips, these are variable spreads so can be seen slightly higher or lower, this account gives you access to customer support but not an account manager.
Pro: The pro account increases the minimum deposit needed to $1,000, this entitles you to slightly lower spreads starting at 1.2 pips, as with the standard account, these are variable and so can be seen higher or slightly lower. This account entitles you to an account manager.
ECN Razor: The top tier account from FXGlobe, this account requires a deposit of at least $2,000. Spreads are further decreased and now start at around 0.4 pips, again these can be seen slightly higher and lower. With the ECN Razor account, you are provided with a dedicated account manager.
It would appear that all other trading conditions will be the same across all accounts including trade sizes, leverage and so forth, these will be outlined later in the review.
Platforms
There is currently one platform on offer from FXGlobe so let's take a little look at what it is.
MetaTrader 4 (MT4): MetaTrader 4 (MT4) is one of the world's most popular trading platforms and for good reason. Released in 2005 by MetaQuotes Software, it has been around a while, it is stable customizable and full of features to help with your trading and analysis. MT4 is compatible with hundreds and thousands of different indicators, expert advisors, signal providers and more. Millions of people use MT4 for its interactive charts, multiple timeframes, one-click trading, trade copying and more. In terms of accessibility, MT4 is second to none, available as a desktop download, an app for Android and iOS devices and as a WebTrader where you can trade from within your internet browser. MetaTrader 4 is a great trading solution to have.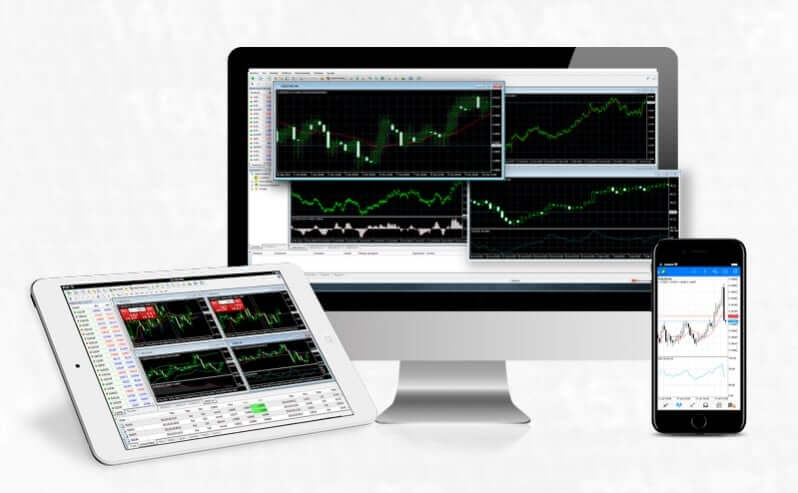 Leverage
The maximum leverage given by FXGlobe is currently 1:300 which can be used on any of the accounts. Lower leverages can be selected when opening an account should you wish to trade with less leverage.
Trade Sizes
The minimum trade size for all accounts is 0.01 lots which are also known as a micro lot. We could not locate a mention of the maximum trade size but this normally sits between 50 lots and 100 lots.
Trading Costs
We had a look around the site but not seen any information in regards to any commissions for the accounts, normally an ECN account will have commissions attached to it due to the low spreads but we can not see if any are present here, so there may be some, we are just not sure what they are at this point in time. There are swap charges, which are paid or received for holding trades overnight and also a small markup on spreads which we will look at in more detail later in this review.
Assets
Plenty to chose from when it comes to assets and tradable instruments, a number of different categories are present with different amounts of assets in them. We have listed out the categories along with how many different instruments are present within them.
Forex pairs: 51
Commodities: 5
Indices: 11
US Shares: 10
German Shares: 4
UK Shares: 6
Cryptocurrencies: 2
While it is great so see things like cryptocurrencies making an appearance, it would have been nice to have had ore choice when it comes to the number of instruments available from the crypto world.
Spreads
The spreads that you get with FXGlobe all depend on the account that you are using and the instrument that you are trading. The standard account has spread starting at 1.6 pips but they are variable, so they fluctuate with the markets and can often be seen higher. The pro account starts at around 1 pip but again they fluctuate so can be seen higher, finally, the ECN Razor account starts at around 0.4 pips but can increase with market movement. With all accounts, some currency pairs naturally have higher spreads and so can be seen much higher than the starting spread numbers.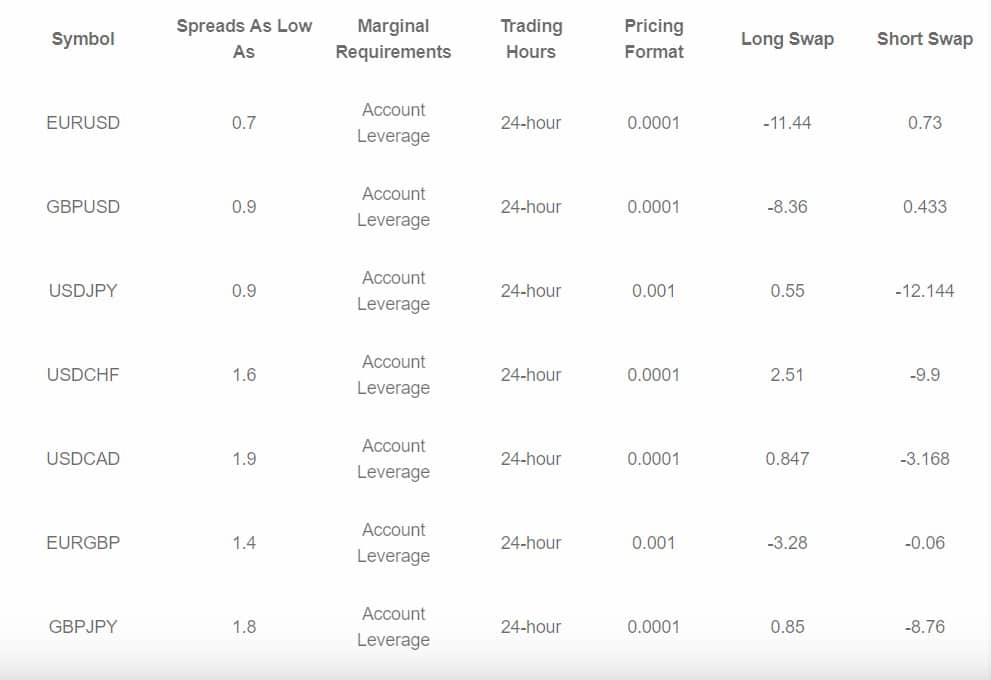 Minimum Deposit
The minimum deposit in order to open up an account is currently $250, there is no mention if that remains the minimum deposit after an account has been opened but it would be strange if it remained at $250 after the account is already open.
Deposit Methods & Costs
There are a number of different methods available to deposit with, FXGlobe currently accepts credit and debit cards, CashU, Neteller, wire transfers, bitcoin and more, but without having an account you are not able to see what the additional deposit methods are.

There are no additional fees when depositing with FXGlobe but be sure to check with your bank when making wire transfers just in case they charge their own fee. Third-party deposits are not accepted and all deposits must come from an account under your own name.
Withdrawal Methods & Costs
You can use the majority of the same methods to withdraw that you did to deposit, there are no additional fees when withdrawing which is nice to see and similarly to depositing, all withdrawals must go to accounts in your own name. You must also withdraw an amount equal to your deposit for each method before you can use a new one.
Withdrawal Processing & Wait Time
The FXGlobe FAQ states that all withdrawal requests will be processed within 24 hours, so for e-wallets, this means you will receive your funds within 24 hours, for other methods such as card it will take between 1 and 5 days and bank transfer between 3 and 7 days.
Bonuses & Promotions
We could not locate any information in regards to bonuses or promotions so we do not think there are any at present, however, this does not mean that there won't be in the future so be sure to check back from time to time to see if any have popped up.
Educational & Trading Tools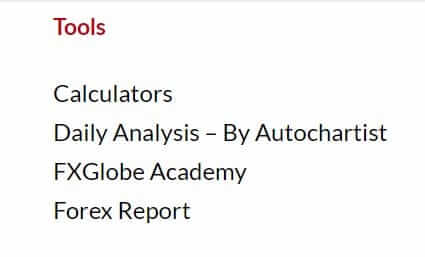 The FXGlobe academy is there to help you learn and earn. There are a number of different courses available which will teach you a lot of the basics when it comes to trading and how to use different software such as MetaTrader 4.
There are also signals available for you to follow and copy to help give you trading ideas, there is also the standard economic calendar which tells you about any upcoming news events and the effect that they may have.
Customer Service
The customer support is a simple page, there is a web form to fill in which once they receive your query will reply to you via email. There is also a live chat but we have checked the site a number of times and it has never been available. Finally, there is a phone number to call if you want to speak to someone directly.

Demo Account
Demo accounts are available, however, when clocking the trial account button on the front page it led us to an error page. Demo accounts if you get one open give you an idea of the trading conditions and allow you to practice any trading strategies that you may have. The demo accounts with FXGlobe last indefinitely unless they are left dormant for too long in which case they are removed but a new one can then be opened.
Countries Accepted
We could not find any information regarding countries accepted or excluded on the site or in the terms and conditions, so if you are unsure, get in contact with support to see if you are eligible for an account.
Conclusion
The FXGlobe accounts offer a competitive trading environment with good conditions, spreads are relatively low and the entry cost of $250 is reasonable. It is nice to see cryptocurrencies available for trading and also banking however t would have been nice to see more of them. We were concerned about the fact that the demo accounts were currently not working but this may have been a temporary thing. Leverage is acceptable and trade sizes are fine, the fact that FXGlobe currently has 45,000+ clients means they must be doing something right.
We hope you like this FXGlob review. Be sure to check out some of the other reviews to help find the broker that is right for you.