Forex Optimum is a Russian-Indonesian, unregulated, off-shore broker with HQ located in Moscow. The Forex Optimum Group Limited is registered in Kingstown, St. Vincent & the Grenadines, a common Island for brokers with a shady background. The broker does not have any worthy regulation although it is present and popular in Russia and Indonesia, revealing good standing with the user opinion benchmarks sites.
Founded in 2009 the group had in mind to offer some specialized and better services in countries that did not have the CFD trading availability like most western countries. Forex Optimum presents its mission to focus on Expert Advisors (EAs), education centers, analytics, personal traders and fund managers. These services are further diversified as the broker wants a different approach to cope with the investors, manager and retail traders around the common goal, a bridge between investors and knowledgeable traders. Thus Forex Optimum created services that are different than we see usually in the industry.
Forex Optimum does not have much content on the website related to marketing. Even the About Us page just states 3 figures that are not important and some additional features points like 24/7 support, 24h Dow Jones, Reuters, TASS news feeds, and that is all. This minimal marketing idea is sustained throughout every page, focusing on key figures and facts. Sometimes this can mean that the transparency and the quantity of information are not a priority, although this is not the case with this broker. Even there are enough ratings and user reviews on the best-benchmarking sites, we will evaluate the services so the reader will understand the risks, specific trademarks and pros of Forex Optimum.
Account Types
Forex Optimum presents a very clear table of their two account types differences. Standard Account and Cent Account do not differ much except for the minimum deposit and the fact that the Cent Account has cents counting as one currency unit, therefore $1 has 100cents. Cent Account has a very low minimum deposit without any features unavailable and reserved only for higher deposits, which is usually the case.
Forex Optimum main idea is to trade with a real-money environment but with low risk, a blend between live and demo account. Deposit bonuses are available for this account type. The Standard Account requires a higher deposit then the Cent and is the classic trading account that features a high leverage level, competitive spreads, and over 100 trading instruments. The deposit bonus is also available for this account.
Forex Optimum also has a VIP service for high-ticket investors. VIP includes 3 packages, Classic, Gold, and Platinum. All VIP account types have "Accumulation Bonus on deposit" which is a percentage based interest on the client's funds, accrued monthly. The conditions apply. To be eligible for the interest for that month traders need to meet trading volume based on the sum of the funds available at the start of a month + credit bonus)*2/1000.

Only trades on Metals and Forex are counted and they have to be at least two minutes long, with a 0.05% price movement. The interest is void for the month for which a withdrawal is made. Classic VIP has 2% interest, Gold – 2.17% and Platinum – 2.33% per month. Additional benefits for VIP traders include a 20% Swap payments rebate and a cashback on spreads on similar conditions as for the Accumulation Bonus on deposit. All of the VIP packages include free training and a Personal Account Manager for Gold and Platinum Accounts.
It is very interesting to see that the broker features Bitcoin-based accounts. They are set in micro BTC (0.000001 BTC). This cryptocurrency account is not presented until you file for registration where all account types are listed. Here, swap-free accounts are also offered for the Cent and the Standard Account. To have a BTC based account will be very interesting to a wide range of traders, we are unsure if the lack of marketing is intentional or just a misunderstood opportunity. There are no restrictions to the trading styles, scalping, hedging, news trading, EAs are allowed.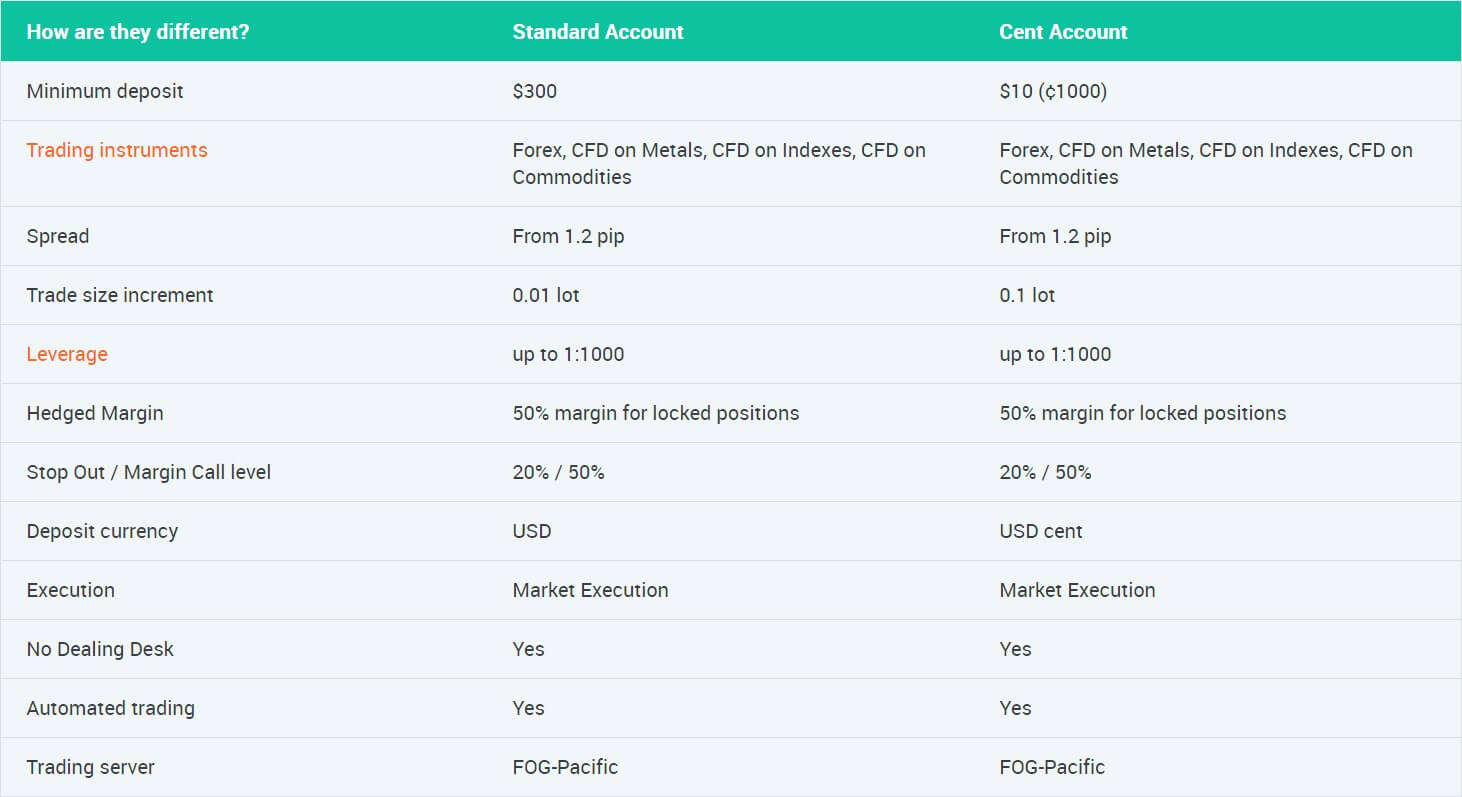 Platforms
Forex Optimum is a MetaTrader 4 platform broker only. Not all MT4 versions are available from the website. Only desktop PC and Mac are optional for download without registration. Mobile and the web version are available once registered from the Clients Portal. On the dedicated page is a detailed step by step guide with screenshots on how to install the platform. The MT4 client is updated to the latest version and Forex Optimum servers are quickly found, showing a ping of around 80ms. Everything is set to the defaults, settings and the chart layout, showing the standard 4 major Forex pairs on the H4 timeframe.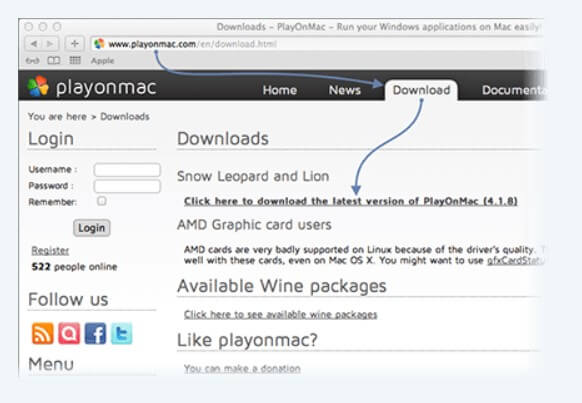 The instrument specification is filled out with all the key trading information. The symbols are categorized although some categorization has no clear meaning, like "CFD-ADR". The execution times fluctuated between 300ms and 370ms with an average of 341ms. Forex Optimum is declared STP according to its product offering, so these execution times are a bit slower comparing to other STP brokers. We have encountered where some of our orders were reported as off-quotes, signaling liquidity problems, even for the EUR/USD pair. Trade Terminal displays the swaps and commissions on the demo account too.

Leverage
The leverage is set to 1:1000 on all account types. This high leverage is possible where regulation is not strict, it allows more experimental trading, especially with the Cent Accounts. Investors and longer-term traders rarely need the leverage of 1:200 or higher. As the minimum deposit is also low, this leverage will benefit high-risk, frequent day traders that can show off their profit rates when managing other investors' accounts or qualify for copy trading. It is almost impossible to maintain ROI of 100, 200% per month in the longer term, figures that are often marketed to attract unwary investors. Similar figures are presented on the Forex Optimum website.
BTC/USD leverage is 1:10, higher than usual, but with some other limits that will be discussed in the next section. LTC/USD has 1:5 as well as all the other cryptocurrencies. Spot Gold and other metals have 1:100 leverage while Oil is set to 1:50.
Trade Sizes
Trade sizes for the Standard Account are in micro-lots or 0.01 lots. Step Volume is also in 0.01 lots while the maximum trade size possible is 40 lots. Forex majors also have a 40 points Stops level, meaning any Stop Loss or Take Profit orders need to be placed 4 pips away from the current price. Stops level may be different for some currency pairs like EUR/NZD is set to 80 points, GBP/NZD – 120 points, CAD/JPY – 50 points, etc. These levels may not be important for traders on higher timeframes, but for those that do not hold trades longer than a few minutes or EAs. Forex exotics category, as classified in the MT4 have the maximum trade sizes set to 20 lots and wider Stops levels. For example, USD/RUB has 10.000 points stops level, EUR/HUF – 300 points, CHF/SGD 90 points.
Energies have the same micro-lot trade sizes and steps, with the maximum trade possible set at 20 lots. Their Stops levels are 30 points. Metals have the same trade sizes as energies with the Stops level at 200 points for Gold and 100 points for Silver. In the cryptocurrencies category, BTC/USD has a 0.01 lots minimum trade size and steps volume with a maximum per trade of 1000 lots. Be warned that this instrument has Stops levels of no less than an extreme 3000 points. ETH/USD has Stops levels at 2 points only, with the same trade sizes. XRP/USD Stops level is set to 600 points, meaning it could also be cumbersome for SL/TP orders.
The Cent account has trade sizes in 0.1 lots for all instruments. Both accounts have a Stop Out at 20% margin level and 50% Margin Call. Margin Stop notifications can be set to notify by e-mail in the Client's Portal.
Trading Costs
Forex Optimum does not charge commissions as for now, although there is a clause in the Terms and Conditions document that formulates it. An inactivity fee of $50 will be charged if you leave your account without activity for three months. This fee is published only in the Terms and Conditions. As for the swaps, they are at normal levels, with common positive figures. For Forex the swaps are calculated in points, tripled on Wednesdays. The EUR/USD has a positive 5.327 on the short position and -7.256 on long, GBP/CHF has 4.374 long and -6.472 short, AUD/JPY 0.88 long and -2.286 short and so on.
Most of the Forex pairs had a positive swap. Spot Gold/USD has -75.15 on long and -14.2 on short so traders also might want to trade XAU/EUR with better swaps, 8.86 long and -10.32 short, or maybe XAU/CHF option that is also available and uncommon with 22.28 long and -10.129 short swap. For energies the swaps were negligible. Cryptocurrencies have swaps calculated in percentages per annum. BTC/USD has -30% on long and -20% short position swap. The same pattern is set for all other cryptocurrencies.
Assets
Forex Optimum does not show all of their products offer on the website as Cryptocurrencies are completely hidden and show up only in MT4. The forex range is great with 50 currency pairs total. Apart from majors and their crosses exotics are present with many combinations. For example, CHF/SGD, GBP/DKK, EUR/PLN, USD/MXN, although USD/RUB is present but not the Chinese Yuan, TRY or the HKD which could be interesting to the Indonesian clients.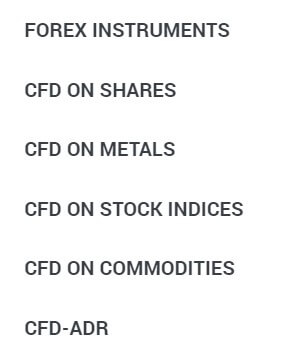 Precious metals are limited to Spot Silver and Gold. Forex Optimum offers different currency quotes for these thus making a better selection even though the charts look very similar. A trader can find Spot Gold crossed with USD, GBP, CHF, EUR, and AUD. The same is with Silver making a total of 10 CFD on Metals.
Commodities are limited to only three energy assets. CFDs on both Oil types, Crude, and Brent with the addition of US Natural Gas completes this minimal offer range.
Stocks are split into Russian and US companies. Most of the offer is comprised of 106 US major companies like Apple, Microsoft, Coca-Cola, McDonald's, Alibaba and so on. Russian companies are in the CFD-ADR group where VTB Bank, Gazprom, Lukoil, Norilsk Nickel, and Sberbank can be found. The dividends list is presented on the Dorex Optimum website.
Indexes range is rather small with 9 listed, mostly from the US and Europe. Even though this is a Russian broker, no Chinese or Russian Indices are present.
The cryptocurrencies range is very good although visitors of the website will think crypto is not offered at all. As with the BTC nominated account, we are not sure why there is no promotion for a very interesting, popular market such as cryptocurrencies. MT4 platform shows a total of 17 unique coins and 18 crypto instruments. Major cryptos are present with a lot of less common ones like the 0x, Zcash, Monero, Stellar, TRON, OmiseGO, NEO, IOTA, EOS, and Golem.
Spreads
The spreads are floating type and generally average comparing to the industry. EUR/USD currency pairs show 15 points spread in the MT4. Similar is for the AUD/USD, USD/JPY, EUR/JPY, GBP/USD and USD/CHF. As we go into less traded pairs we could see wider spread naturally, but not bigger than 1-2 pips. Most of the exotic pairs have 10-20 pips and some go higher like AUD/NOK – 83 pips, USD/ZAR – 35 pips, USD/MXN – 36 pips, or GBP/SEK – 32 pips.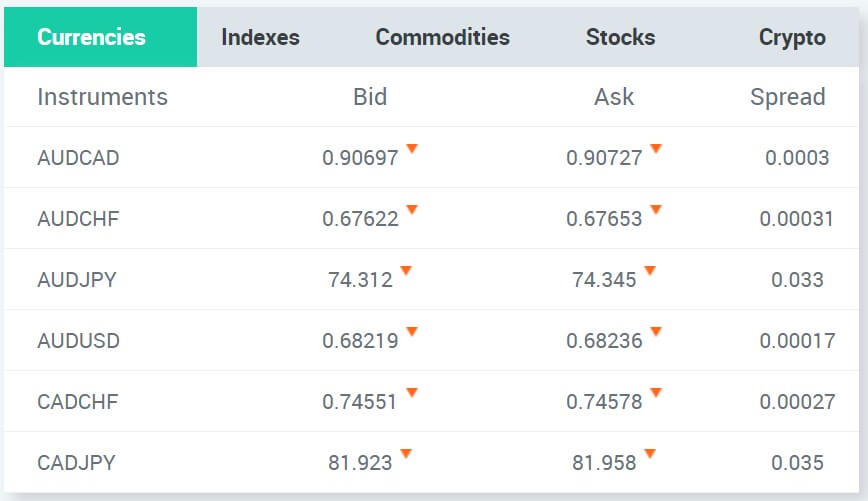 Spot Gold/USD has spread ranging from 35 to 45 pips. These spreads are not that attractive to fast traders. On some pairs like the XAU/EUR, the spread is 25-30 pips.
All energies show 1 pip spread according to the MT4 while BTC/USD has 60 pips, LTC/USD 50, ETH/USD 20 pips, etc. A more exotic TRON has a more attractive spread at 20 pips, which is around 1,5% of the token price.
Minimum Deposit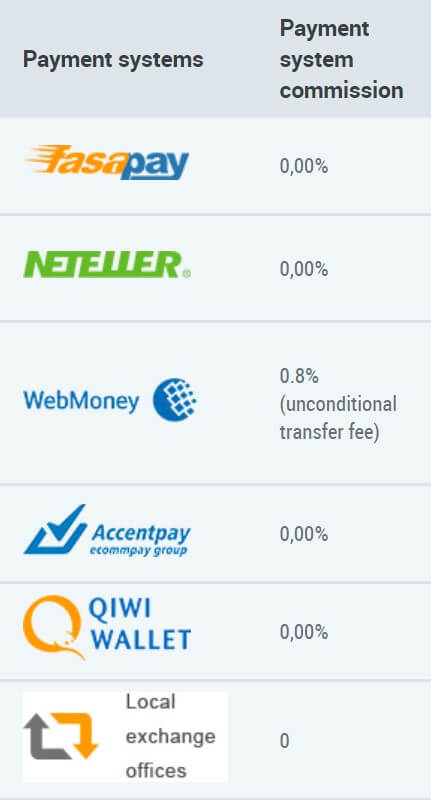 For the Cent Account, the minimum deposit is only $10. Traders that want to invest with Forex optimum can try their services, including the withdrawals and Signals with little risk. Scam brokers rarely have low-value deposit minimums. Standard Account requires a $300 deposit to be opened as well as the BTC (micro BTC) nominated. Mentioned VIP accounts require $10.000 for Classic, $30.000 for Gold and $100.000 for the Platinum package.
Deposit Methods & Costs
Forex Optimum will not charge a fee for deposits although some fees are bound by the third party transfer service. Such is the WebMoney deposit option that has a 0.8% fee. Forex Optimum will offer a kind of compensation for this in the form of a 0.8% bonus. The methods listed on the website are AccentPay, FasaPay, Local Exchangers, Neteller, Qiwi, and WebMoney. Some additional methods are displayed in the footer such as Wire Transfer, UnionPay, and Payonline.ru. The broker is special in a way that it also accepts Bitcoin deposits, yet this information is not clearly presented and clients will only find out about this once they register.
Withdrawal Methods & Costs
As with the deposits, no fee is charged by the company. Payment processors may have their fees as well as Banks included in the transfer. For WebMoney withdrawals, fees (0.8%) are compensated by the broker for the Gold and Platinum VIP packages. According to the Forex optimum website, fees charged by FasaPay is 0.5%, Netteler 2% ($1 min, $30 max), and WebMoney 2%. As mentioned, BTC is also an option.
Withdrawal Processing & Wait Time
According to the Terms ad Conditions document, payment of funds will be made to the Client within 7 (seven) business days. In cases of requirements of the legislation concerning anti-money laundering and counter-terrorism financing, the broker will postpone the withdrawal. There is no more information about the wait time.

Bonuses & Promotions
There are four kinds of bonuses offered for live accounts. 50% Bonus on First Deposit is the usual bonus for first time funding available for all account types, although the deposit requirement is $100.
Security Bonus is a Standard Account bonus only for clients who are verified. The amount can vary from 50% to 100% of the deposit amount and depends on the broker's decision. It cannot be withdrawn, only profits made by using it. The bonus acts as a buffer and needs to be topped up if there is a drawdown. If the account is not topped up for two days, the bonus is canceled.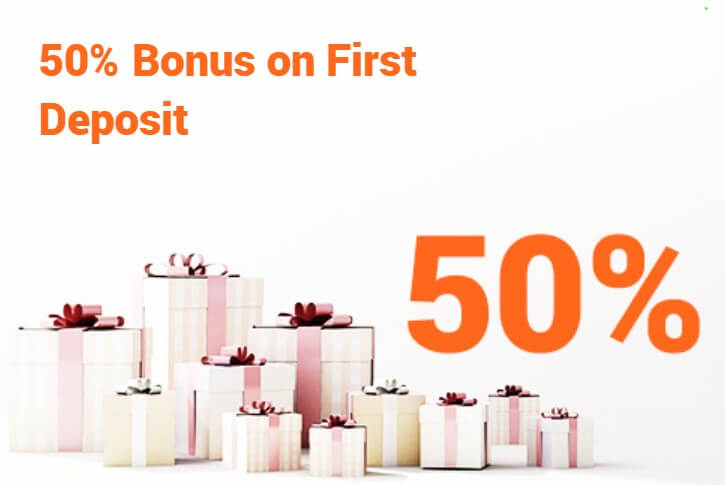 100% Bonus is accrued to every deposit of %500 or more fo the Standard Account type. The bonus is time-limited and is used only as a margin, unavailable for withdrawing immediately. Trading volume requirements exist, and the maximum bonus amount is $3000. The trading volume required is calculated by the bonus amount divided by 3. After trading requirements are met, the bonus is transformed into real funds.
Cashback is reserved for the VIP accounts, or $10.000 minimum deposit. The benefit is a rebate on account balance but does not account for the bonuses already present and the additional deposits for that month. Profits are accounted into the cashback. Three cashback levels depend on VIP status (Classic, Gold, or Platinum).
Educational & Trading Tools
Forex Optimum focuses on its LAMM service, as one of their selling points. Investors can copy trades by their selected traders and LAMM (Lot Allocation Management Module) will allocate the provision to the trader based on lots of copied trades. The service is marketed as a solution for novice investors and for experienced traders that want to have additional income from qualifying for the program. From what we have seen on the performance list, All-time gains are very high, for example, the top one has 2565% made in just 2 months. Such trading involves extreme risk allowance. This particular trader receives a 5% commission.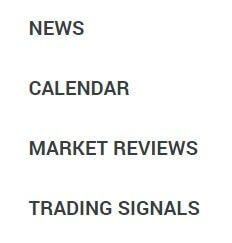 Trading Signal service is provided for registered accounts and has to be requested within the Client's Portal. At first glance, the signals provided by the broker do not have a great depth and are based on Support/Resistance levels, basic trend indicators, channels, and Price Action methods. There are 3 types of signals: Short-term trading signals, for timeframes like M15, "Integrated technical analysis" for H1-H4 and SMS Signals that are sent as an SMS. According to Forex Optimum, their signals are successful since 2008, with only one month in the negative.
Market reviews were released almost every week, although the reviews are outdated for two years. The content is professional, written by Forex Optimum staff. Most of the reviews include technical figures, fundamentals, and clear logic. Reviews can be filtered by date and the articles overview is clean.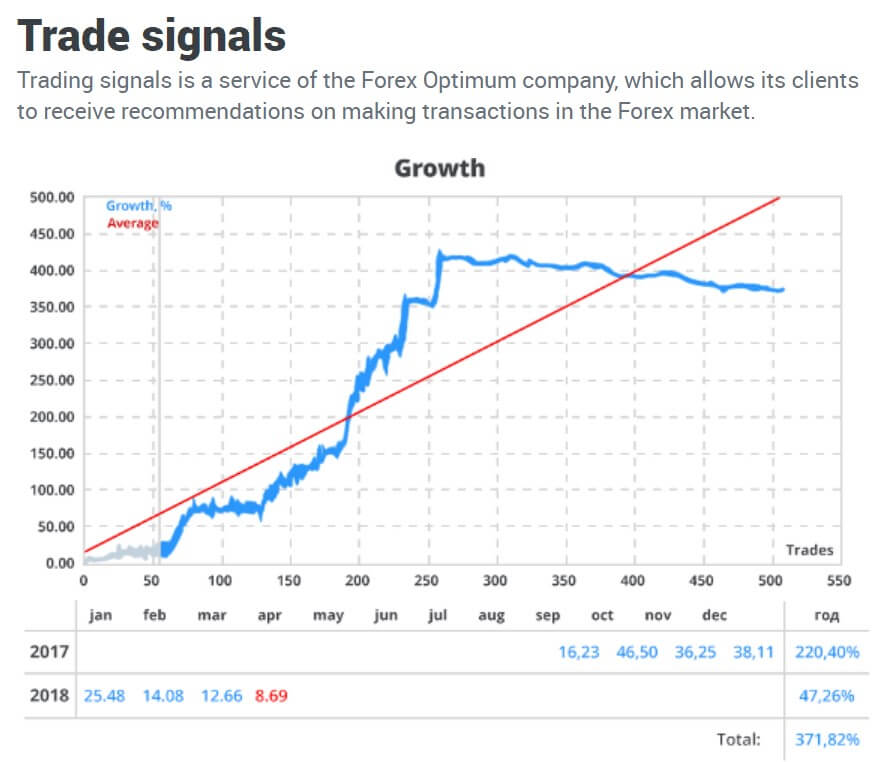 The news section is fresh and it contains the latest from Reuters and other sources. The news is mixed with economic events and new articles are published almost every 15 minutes. Filtering is also available. This service probably made Market reviews obsolete although the analysis is more valuable as it extracts the most important information out if the events and news. The News section is very good and provides a lot of actual information.
Forex Optimum Economic Calendar is very well designed with a lot of filtering options. Impact levels can be sorted and filtered in addition to the region and time zone. Some events can be expanded for more information where traders can see many useful figures, for example, historic values for several years back, description, source, the impact relevance explanation, and the chart showing previous levels with a scalable timeframe.
Customer Service
The broker has several phone lines and offices for Malaysia & Indonesia, Thailand, Russia, and Internationally in English. Asking questions is also possible within the Clints's portal and serves as a support ticket system. Chat service is also available but we were able to reach out to the support staff only by using their Facebook page. The support is therefore not 24/7 online. Some questions we have posed were ignored but generally, the answers were in full with obvious knowledge form the industry. Forex Optimum has a very well developed Social Management and the Group is present on several social platforms.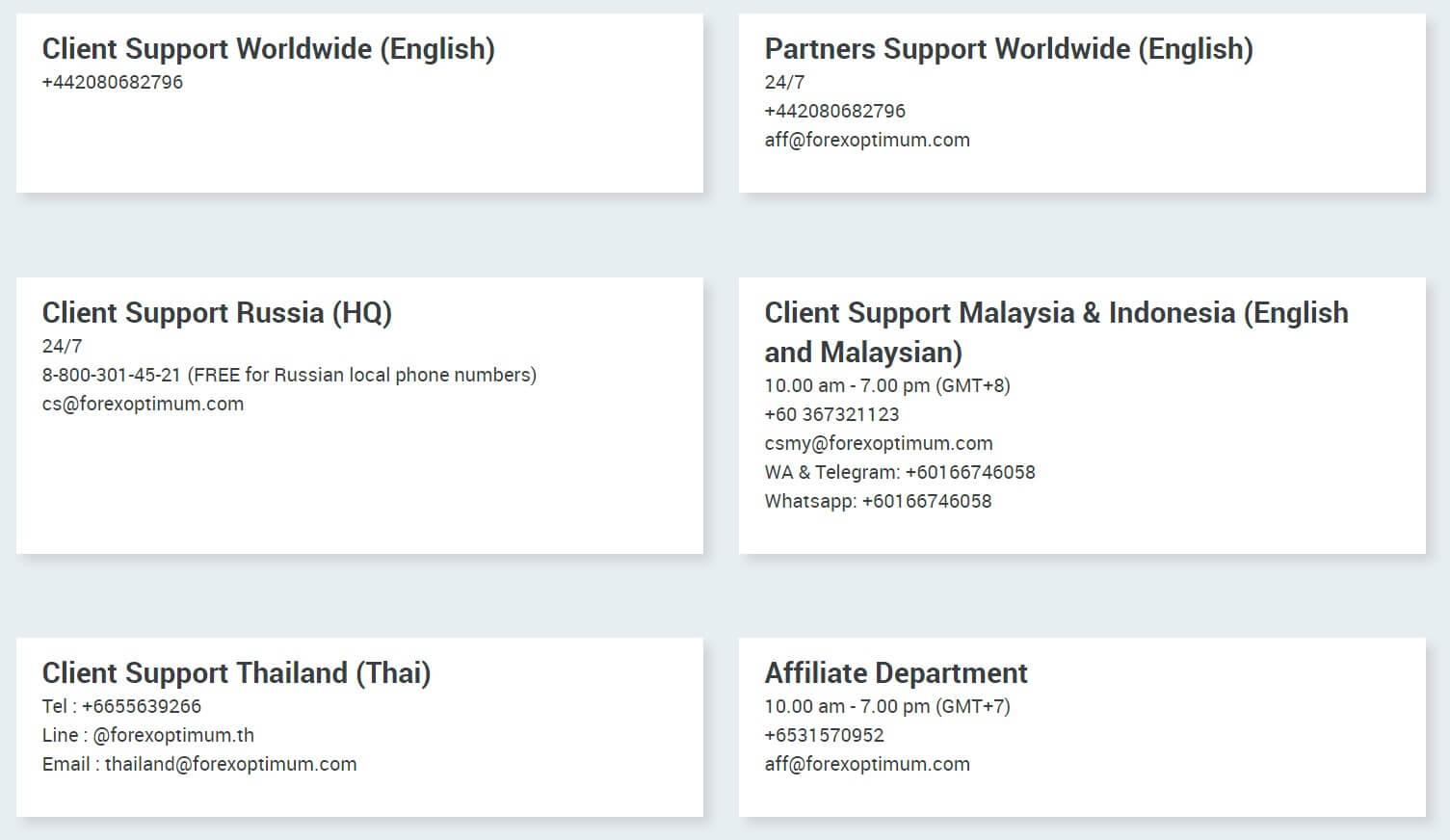 Demo Account
The Demo is very easy to open using the MT4 platform. You will not be able to open a demo BTC based account although the information MT4 reflects is the same as from the real accounts. There is no difference in the trading environment for live and demo accounts and all the information is clearly presented. The account will be closed after 3 months of inactivity but a new one can be opened.
Countries Accepted
According to the information from other sources, Forex Optimum does not accept clients from Canada, The United States, Saint Vincent And Grenadines, and the Dominican Republic. The regulation the broker has is very open so this list could be even shorter.
Conclusion
Forex Optimum can be perceived as an older NDD mixed STP broker with a very clear image. The user ratings are very good even though worldwide popularity is not high. We have not seen a single negative review where the broker staff has not resolved. Most of the clients come from Russia, Indonesia, India, Thailand, Vietnam, and other countries in the region. There is a possibility that the broker does not want the attention of the Russian government about the Bitcoin inclusion in their services hence the silence about all the benefits. The regulation does not mean much to traders although trust could be gained by opening a $10 Cent Account and test the withdrawal service.
Some additional clauses exist in the legal documents. For example, in case of insolvency or bankruptcy of the Broker or its branches through used to execute client transactions, a client has a right to claim the available funds on the Account, as it is stated in the Account History, directly from the governmental/non-governmental securities in accordance with international laws.
Forex Optimum could be one of the few reliable brokers that have the option to have a BTC based account and use BTC for deposits and withdrawals. Also, the range of assets and services available further supports this advantage with some unique bonuses. It can be said that the broker has succeeded to differentiate in the industry, but the liquidity pools have to be larger to match the trades execution quality and time with other STP type brokers. Finally, beginners should know that the figures for the LAMM service could be only marketing as such gains are not sustainable in the longer term.