FXFlat is a broker focusing on Forex, CFDs, and futures, they are based in Germany and was founded in 1997. FXFlat states that they have won multiple awards for their brokerage service and offer proven and powerful trading software and tools to help bring a beginner up to a professional level. In this review, we will be looking at what is on offer from FXFlat and to see if they live up to their own expectations,
Account Types
There are two account types on offer, the standard account, and the professional account, let's take a little look to see what each of them offer and require.
Standard Account: The standard account requires an opening deposit of 200 Euro. Leverage depends entirely on the asset that you use and we will go into that in more detail in the leverage section of this review but for forex, this account offers up to 1:200 leverage. The margin call is set at 50%, there isn't much more information on the accounts page, but we will go into more details about different reading conditions throughout this review.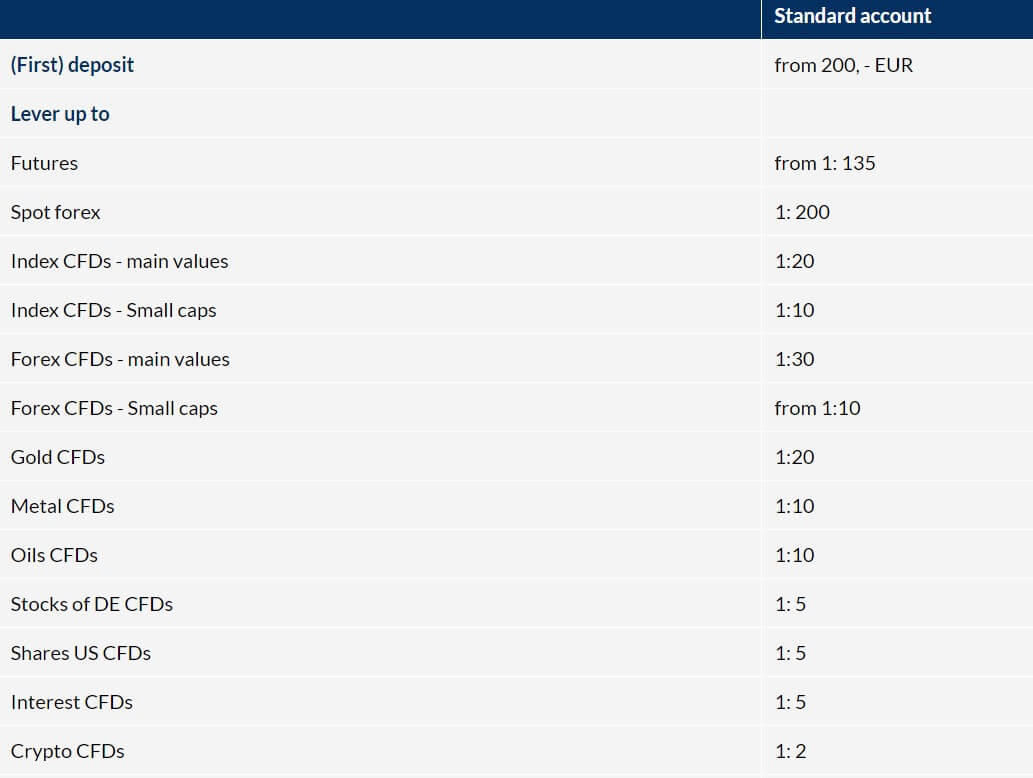 Professional Account: Similarly to the standard account, there is not too much information available, this account requires a deposit of 200 euro plus, and in regards to its leverage, the forex remains at 1:200 as a max, other leverages are different but we will look at those in the leverage section of this review. Margin close is set at 100% for professional accounts.
Platforms
There are three platforms on offer from FXFlat, we will go over them and what they offer down below, it is great to have a choice so you can be sure you will find a platform that offers the tools you need.
MetaTrader 4 (MT4): MetaTrader 4 (MT4) is one of the world's most popular trading platforms and for good reason. Released in 2005 by MetaQuotes Software, it has been around a while, it is stable customizable and full of features to help with your trading and analysis. MT4 is compatible with hundreds and thousands of different indicators, expert advisors, signal providers and more.
Millions of people use MT4 for its interactive charts, multiple timeframes, one-click trading, trade copying and more. In terms of accessibility, MT4 is second to none, available as a desktop download, an app for Android and iOS devices and as a WebTrader where you can trade from within your internet browser. MetaTrader 4 is a great trading solution to have.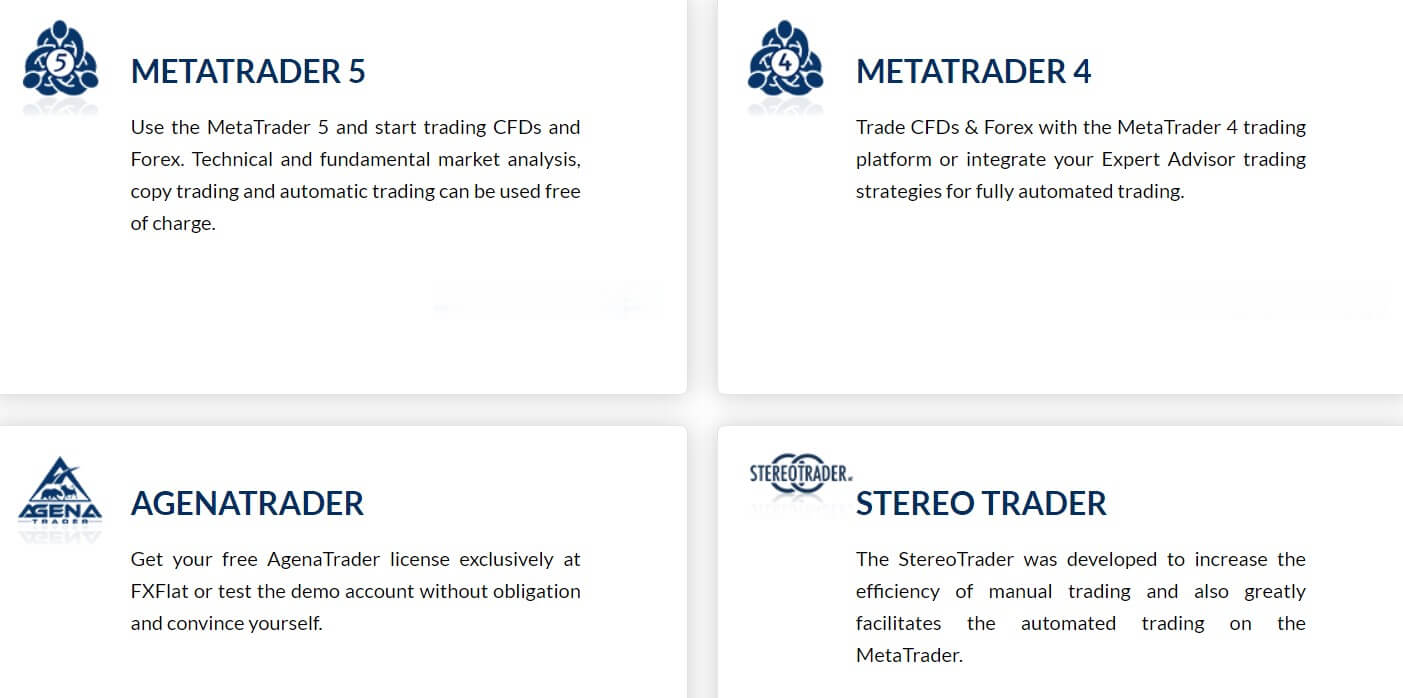 MetaTrader 5 (MT5): MetaTrader 5 (MT5) is the younger brother of MetaTrader 4 (MT4)m developed by MetaQuotes Software and released in 2010, MT5 is used by millions and for good reason. Offering plenty of trading and analysis features to ain in your trading. Additional services expand the functionality of the platform making its capabilities almost limitless.
MetaTrader 5 offers the built-in Market of trading robots, the Freelance database of strategy developers, Copy Trading and the Virtual Hosting service (Forex VPS). Use all these services from one place, and access new trading opportunities. MetaTrader 5 is also highly accessible with it being available as a desktop download, application for iOS and Android devices and even as a WebTrader where you can trade from within your internet browser.
AgenaTrader: AgenaTrade is an award-winning software (according to FXFlat) designed specifically for FXFlat. Offering C# programming it offers huge amounts of customization in regards to automating your trading. There isn't too much information regarding this platform on the site, but it comes free with any active clients of FXFlat.
Leverage
Leverage depends on the account that you use and the asset or instrument that you are trading, we have noted all available leverage below dependant on the account type.
Standard Account: Futures from 1:135, Spot forex 1:200, Index CFDs – main values 1:20. Index CFDs – Small caps 1:10, Forex CFDs – main values 1:30, Forex CFDs – Small caps from 1:10, Gold CFDs 1:20, Metal CFDs 1:10, Oils CFDs 1:10, Stocks of DE CFDs 1:5, Shares US CFDs 1:5, Interest CFDs 1:5, Crypto CFDs 1:2
Professional Account: Futures from 1:135, Spot forex 1:200, Index CFDs – main values 1:200. Index CFDs – Small caps 1:200, Forex CFDs – main values 1:200, Forex CFDs – Small caps from 1:200, Gold CFDs 1:200, Metal CFDs 1:200, Oils CFDs 1:50, Stocks of DE CFDs 1:10, Shares US CFDs 1:20, Interest CFDs 1:100, Crypto CFDs 1:3 
Trade Sizes
Trades start at 0.01 lots which are also known as a micro lot, trade sizes can then increase in increments of 0.01 lots so the next available trade size would be 0.02 lots and then 0.03 lots. We could not see any mention of maximum trade size, but no matter what it is we would not recommend going over 50 lots as it can become harder for instant execution the bigger you get.
Trading Costs
It does not appear that there are any commissions added to trades as there was no mention of them in the trading conditions page, there was only mention of spreads which we will go into later in this review. We are still unclear if there are commissions or not, but at the moment we feel that there are no added commissions. There are however swap fees that are either paid or received by holding trades overnight, these can be viewed from within the trading platform of choice.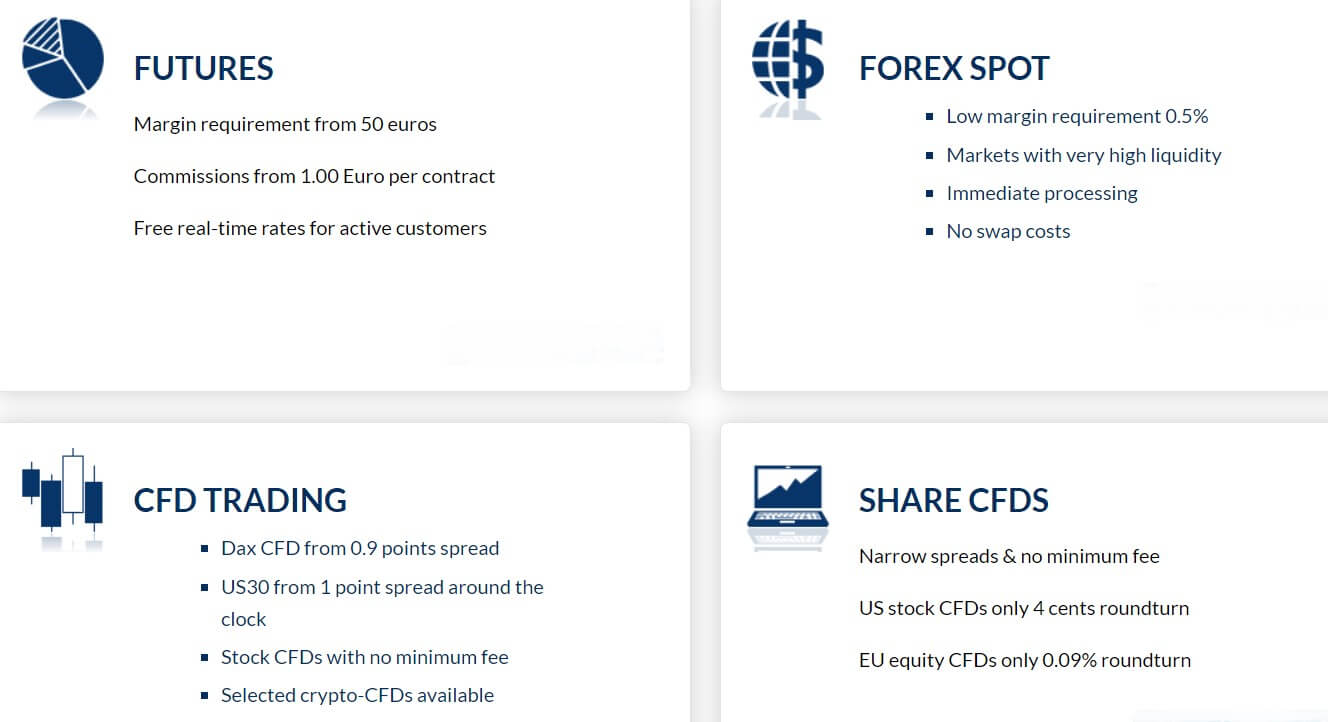 Assets
FXFlat have broken down their tradable assets into the following categories of Futures, Forex CFDs, Spot Forex, CFD Individual Shares, Index CFDs, Crypto CFDs, CFD Commodities Metals and, CFD Euro Bund. There is not a full breakdown but quite a few are mentioned and displayed on the website, there are too many for us to go through but the selection includes a number of major tradable assets such as major, minor and exotic forex pairs, cryptocurrencies such as Bitcoin, Ripple and Ehteruem and Oils, metals such as Gold and Silver and many more. You will easily find something to trade with FXFlat.
Spreads
Spreads with FXFlat are floating or variable spreads, this means that they change depending on the market conditions, FXFlat also adds a markup to the spreads to make them slightly higher instead of charging a commission on each trade.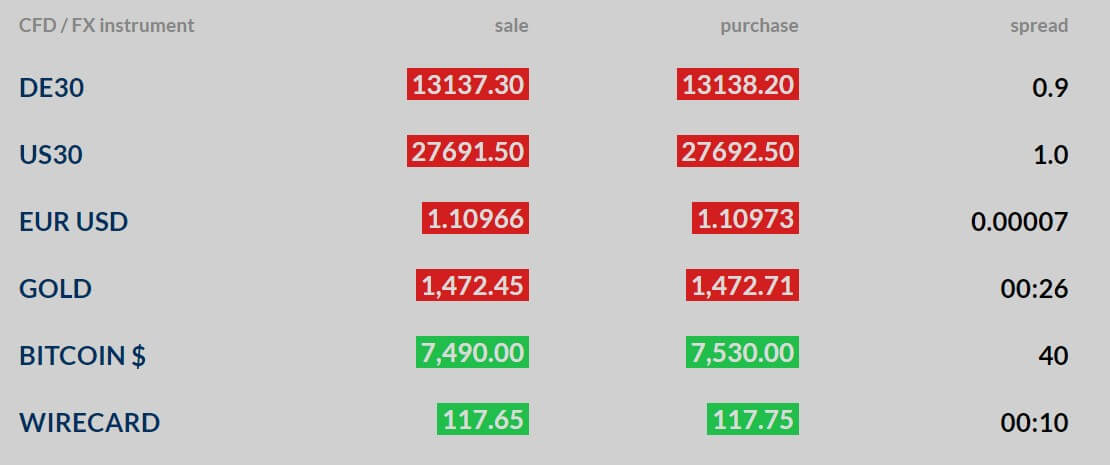 Spreads can start as low as 0.6 pips, however, for the most part, will not fall below 1.2 pips. It is also important to note that different assets and instruments naturally have higher spreads, so while some may sit at 1.2 pips, others will naturally site much higher.
Minimum Deposit
The first deposit has a minimum deposit value of 200 Euro, this is needed to open up one of the accounts. After this initial deposit, future deposits for already opened accounts will drop to 50 Euro.
Deposit Methods & Costs
There are a number of different deposit methods available, you can use bank transfers, you can also use credit or debit cards, PayPal, Instant Internal Transfer, iDEAL and Skrill. There are no added fees to deposits, however when using credit or debit cards, you can deposit up to 3 times and a total value of 15,000 Euro free, any further deposits will result in a 4% fee being charged.
Withdrawal Methods & Costs
The same methods to deposit are also available to withdraw, you must withdraw to the same account that you deposited to and can only change method once the same amount has been withdrawn as has been deposited. There are no added fees to withdrawals.
Withdrawal Processing & Wait Time
FXFlat aims to process withdrawal requests within 2 working days after it has been processed the amount of time it will take is dependant on the method used. E-wallets such as PayPal and Skrill should come within 15 minutes of being processed, credit or debit cards can take between 1 to 5 business days and bank transfers can take between 3 to 5 business days to arrive in your account.
Bonuses & Promotions
At the time of writing this review, there did not appear to be any promotions or bonuses available, however, there are several references to past ones so there may be some more available in the future.
Educational & Trading Tools
FXFlat offer some webinars but that's about it when it comes to education, the webinars are available on YouTube once they are finished and offer some helpful advice but nothing that you can not find in other places on the net.
Customer Service
The FXFlat support team is open 24 hours a day from Monday to Friday. There are a few different ways of getting in touch including the broker's favorite online contact form, fill in your query and you can expect a reply via email. There is also a call back service to leave your number and someone will give you a phone call back later. There are direct lines available to several departments including support and the trading desk. Finally, there is also a dedicated form for complaints which is nice to see.

Demo Account
Demo accounts are available, Simply click the open demo account button and fill in the form. The demo account gives you a taste of the trading conditions that FXFlat offers. When creating the demo account you can choose the platform to use and test and the account type. We did not locate information in regards to how long they last so we can not comment on that at the moment.
Countries Accepted
We did not see much information in regards to any countries that are excluded, so if you are unsure, be sure to get in contact with the support team to see if you are eligible for an account.

Conclusion
FXFlat offers some decent trading conditions, there are far worse looking environments to trade on out there. It would have been nice for there to be a bit more information in regards to the account features and some of the other items we looked at. Plenty of ays to get in contact is always a good sign. There is not enough information regarding deposits and withdrawals for us to be completely confident, but it appears that FXFlat could be a competent broker.
We hope you like this FXFlat broker review. If you did, be sure to check out some of the other reviews to help find the broker that is right for you.