At first look at the Varchev website, visitors will think it is Bloomberg with a dark theme. News around the world will dominate the page without the classic template we see with many brokers. Varchev presents itself as a professional information station that is supremely packed with knowledge on many markets and finance subjects. Varchev is multidisciplinary and provides more services than an average broker. It is regulated in the UK by the FCA although Varchev is based in Bulgaria and obeys the MiFID directive of the EU and Bulgaria's Financial Supervision Commission. Transparency is great, a lot of useful information can be found on the website without redundancy, leaving a serious, formal business approach to customers.
To understand what makes Varchev a different choice, a simple page is created with all the key points about his broker, like its business model, No Dealing Desk Direct Market Access, great trading instruments range, exact figures of spreads, bonuses, 3 different platforms and many more. This may be overwhelming for first-time traders, for anyone having at least basic knowledge will stay and explore what this broker has to offer. This review will summarize the most interesting aspects.
Account Types
Varchev does not feature different account packages. Once applying for trading, you will be given 3 platform options, each has its trading conditions that do not differ much. We have noticed some inconsistencies about the minimum deposit amount on the website and the Trading Conditions document. The documents for all platforms state no minimum is required although the website mentions $200 or another currency equivalent. Trading terms are very detailed, transparent and plentiful, both online and on paper. Terms are also separated across trading instrument categories like Gold Trading Terms, Cryptocurrencies Trading Terms, and so on.
Varchev will present the Demo account many times on their website to see all the trading figures applicable to the real account. The VIP Account is mentioned although not as clearly, for clients that deposit $50.000 will have the option to negotiate some trading conditions such as the leverage level.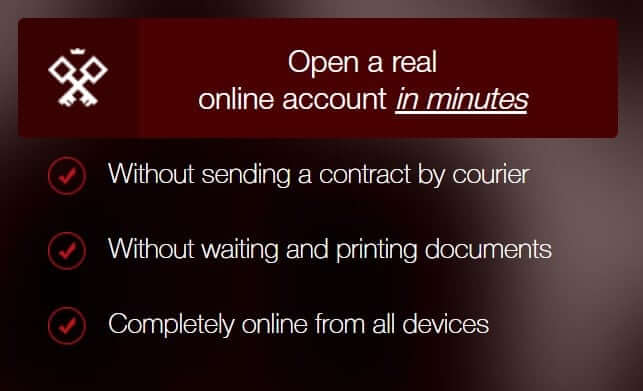 MT4 platform account features benefits like Video lessons, although we are sure the MT4 platform does not have videos. Also, traders will enjoy negative balance protection, narrow spreads, EA allowance and all types of strategies, winning trading tips, etc.
MT5 has the same offers while the Varchev Absolute Trader platform has slightly different margin requirements. The margin requirements list is extensive and split into 9 tiers, ranging from 1% requirement to 100%.
Platforms
Varchev goes a step further than other brokers offering 3 platforms for different devices and computers. Both MetaTrader 4 and 5 platforms are offered with the addition of Varchev's branded xStation platform called Varchev Absolute Trader (VAT), platform originally developed by XTB broker.
The VAT is a web-accessible platform that is well developed with user experience in mind. The VAT has a dark theme by default and looks more pleasant than both MetaTrader platforms. The market watch has a built-in sorting, asset categorization with additional context buttons, search box, and asset basket creation, thus making it much more useful than MT4 / 5 counterpart. One-click trading is available immediately without any confirmation. VAT charts have a great overview by giving the trader all the major information ready to consume around the chart. Such as period countdown, handy toolbars for drawing, text, chart comparisons in the same window, customizable visible layers or toolbars, better crosshair information, and indicators insertion.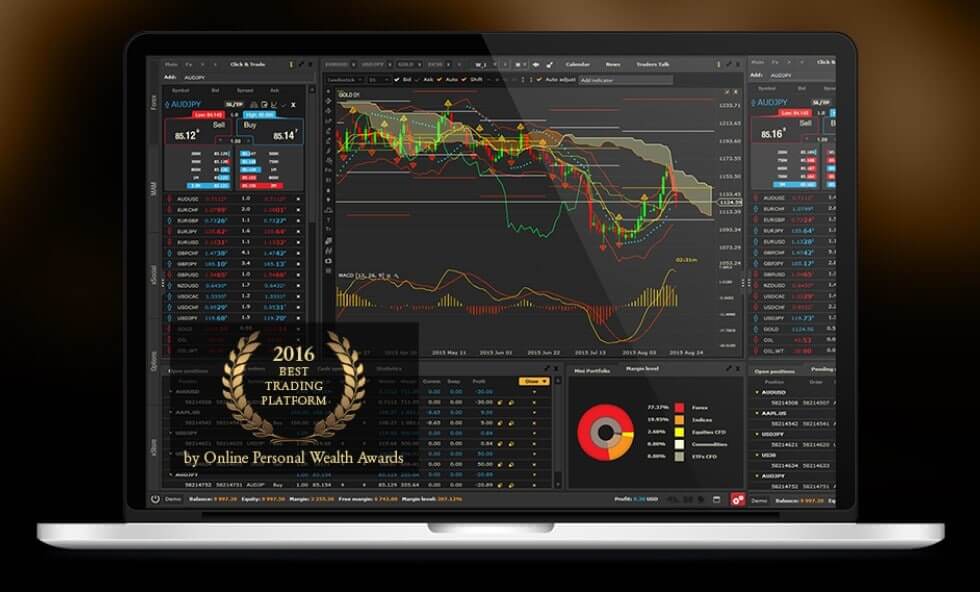 A major drawback is immediately clear once you scroll for the available list of indicators, only a handful are listed. This also means no automated trading is possible. The same chart can be detached as a separate browser window but also arranged into a grid, vertical, horizontal or full screen. Aside from charts, other tabs can be selected so traders can see the News, Calendar, Market Analysis, and trading history. The news feed comes from the xStation sources with good quality and quantity relevant to different asset categories that can be filtered to the trader's interest. All content has charts and related arguments that go well with the analysis, clearly professionally made.
Next is the Economic Calendar that is well designed, although we found that the filtering is available but not working. Sorting by Impact or Currency is possible, yet some currencies are not typed in. Market Analysis gadget has 4 sections: Market Sentiment, Top Mover, Heatmap, and Stocks Scanner. All of these are very useful and interesting, especially the Stocks Scanner that has an impressive range of Ratio Analysis applicable to all stocks tradeable. Trade Ordering has advanced Stop Loss and Take Profit, as well as other pending orders with the addition to set price levels according to pips, price or percentage.
Execution times are very fast, we have not encountered anything slower than 100ms. This platform is very useful as a demo or to execute signals out of MT4 or other platforms that support more technical indicators. Whatsmore, this platform analysis, and news feature provide great value to traders. Some of these could be added to MT4/5 in the form of various plugins or indicators although a ready-made quality solution like VAT platform has its advantages. VAT platform is also available for mobile devices, both Android and iPhone.
MetaTrader 5 platform found Varchev's servers in a blink and relays the signal in 35ms. Everything is at default settings, the client updated to the latest version with one-click buttons visible. We have moved on to see if the execution times are as great as with the VAT platform and they were around 140ms, slightly slower than with the VAT. The asset specification window is fully loaded with information on all key points. We have noticed that some assets are disabled for trading even though they have active trading sessions and no risky market events. The same assets were enabled on the VAT platform. Assets range is neatly categorized in groups and subgroups.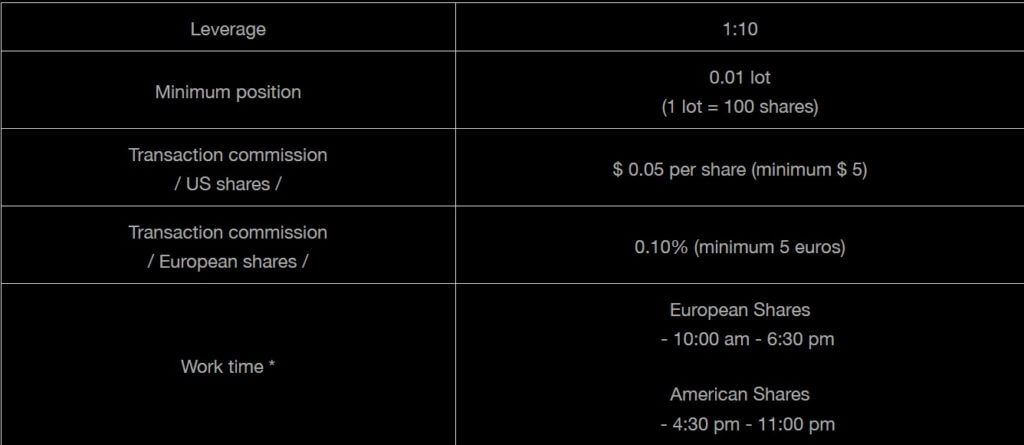 Unlike the MT5, the MT4 platform is not by default settings. Varchev customized the platform with its in-house indicators, chart layout, and templates. We have explored what custom indicators are offered by Varchev and found a total of 15 Varchev Indicators. Some of them are and extended versions of popular indicators like the Keltner Channel with additional settings options. Indicators extend the MT4 in numerous ways, the Overlay indicator adds the ability to plot another instrument chart over the other. Trend Filter shows multiple signals from poplar indicators under the bottom corner of the chart, giving an easy big picture glance of the market.
Varchev did a great job providing these indicators that greatly contribute to the trading environment and presenting them in full glory with a non-default layout. MT5 does not have these probably because they are not ported to the MQ5 language yet, a common drawback for MT5 that is still missing the support MT4 has. The execution times are around 350ms which is a bit slower than with the MT5 and the VAT platform. What amazed us is that MT4 has some assets that are not found either on the MT4 or VAT. More info on this in the Assets section.
Leverage
The leverage is presented at the 1:500 level and traders should know this is for professional traders. Since the ESMA policies went into effect in 29.07.2018, to have higher leverage than 1:30, traders will need to meet two of three criteria. These are transaction size requirements, in significant size, on the relevant market and frequency; The size of your financial instrument portfolio exceeds EUR 500,000; You work or have worked in the financial sector for at least one year in a professional position. We will display leverages for non-professional traders as these are the majority.
For VAT and other platforms accounts, except the VIP clients, the leverage is 1:30 for Forex majors, 1:20 for non-majors like EUR/AUD or USD/TRY, 1:20 for Gold and major Indices, 1:10 for the rest of the metals and commodities, and 1:5 for the remaining of available CFDs. Cryptocurrencies have 1:2 leverage.
Trade Sizes
Varchev is a micro-lot broker meaning the minimal trading size is 0.01 lots. Step volume is also 0.01 lots with the minimum Stops level at 0 points. These figures make the best possible environment for precision trading for any strategy, allowing better Money Management, scaling, and Risk management. The maximum trade size is 100 lots. This trade size setup is consistent across the Forex range. For Oil, only the maximum is set to 10 lots, and for Gold and other precious metals at 50. Indices have the minimum set at 0.1. Bitcoin and other cryptos are set to the maximum trade size of 5 lots and a minimum of 0.01. VAT platform had a minimum trade size of 0.1 lots for crypto. Note that the VAT platform has more assets to trade as well as some minor differences in the trading conditions. Margin Stop Out is at 30% and Margin Call at 50%.
Trading Costs
Varchev does not charge commissions except for CFDs on shares, Oil, and ETFs. For the MT5 platform, the commission for US shares is $0.05 per stock, min $5 and EU 0.10%, min 5 EUR. As stated for the MT4 platform, only $0.05 per any stock is charged. For traders utilizing the VAT platform, the commission for shares is specific to countries. For Czech companies, the commission is 0.25% (min 300 CZK), 0.08% (min 8 EUR/USD)for the EU, United Kingdom, Swiss, and US companies. Poland is an exception like Czech Republik and has 0.25% (min 25 PLN) commission charged. For the EU ETFs, the commission is 0.1%. (min 8 EUR) and for the US ETFs, 0.08% (min 8 USD).
The Swaps are under normal industry levels and with frequent positive values. They are calculated in points for forex. EUR/USD swap has a positive figure on short position 6.245 and -9.981 for long, the US dollar has a positive on USD/JPY and –8.627 on the short position. EUR/GBP also has a positive swap on the GBP side 1.395. From what we have seen in the MT5 platform, many pairs have a positive swap, tripled on Wednesdays. Spot Gold swap is also calculated in points with -10.24 for long and 7.733 for short positions. Palladium has somewhat higher levels, -14 for long and -35 for short. For stocks, the swap is calculated in percentage terms per annum and Cryptocurrencies -30% per annum on both positions, tripled on Fridays. VAT platform has different swaps, so for example, Bitcoin had -30% for long and -10% for short positions. Varchev also has a Rollover Table for Indices and Commodities published under Trading Conditions.
Assets
Varchev took great efforts to bring numerous instruments to traders. Is it promoted that over 3000 assets can be found. We have confirmed that this true although traders should know that not all are open for trading and that some have limited trading sessions.
The Forex category is separated into Majors, Minors and Exotic groupings. All of the majors are present and interestingly currency pairs like USD/TRY and USD/BGN are under the Minors group. The Bulgarian Lev is certainly an exotic, very rare to see even with Forex focused brokers. Under Exotics, we found USD/MXN, USD/HKD, EUR/NOK, USD/RUB, and Scandinavian currencies.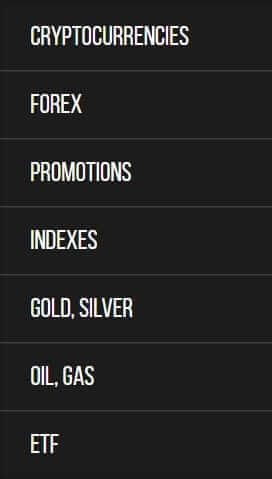 VAT platform has many more currencies like USD/Romanian Leu, Hungarian Forint, Chilean Peso, Brasilian Real and Czech Koruna. Overall, one of the longest list in the industry. The MT4 Forex range stepped to another level. In addition to the major pairs all brokers have, the exotics are unique and only a handful of brokers can offer Serbian Dinar, Croatian Kuna, Macedonian Denar, Ukrainian Hryvna, and Israeli Shekel. What we have disliked is that all of these were disabled for trading at the moment of our review.
Commodities are separated into Oil types, natural Gas and Metals. Crude, WTI, and Natural Gas are listed as several futures too. From Metals Gold, Platinum, Palladium, and Silver are present, completing the list for any metal-oriented trader. MetaTrader 4/5 does not have all the Commodities VAT platform has. In the VAT, traders can find Cocoa, Coffee, Cotton, Sugar, Wheat, Corn, Soybean, Zinc, Aluminium, Copper, and Nickel. The MT4 has Pork Bellies not found in MT5 or VAT. Also, Palladium is not listed in VAT, only MT4/5 has it.
Bonds are not officially listed as a category but they are present under the Commodities group in VAT for unknown reasons. There are 4 of them under BUND10Y for German 10 year Bonds, SCHATZ 2 Year German Bonds, TNOTE for the US 10 year Treasury Note, and an interesting EMISS for CO2 Emissions Contract. These Bonds are not found in MT4/5.
In the MT5 platform, we found a total of 15 Indices, some disabled for trading like the Volatility Index, VIX and the Dollar Index. All of the majors are present with a few specialties like the Swiss SMI, CAC 40 and UK 100 besides FTSE. The VAT platform, again, offers much more. Indices are split into Asia-Pacific, Americas and Europe groups.
A total of an amazing 24 indices are listed with a lot of interesting, uncommon like the Largest Polish companies Index, W20, HUNComp, Netherlands NED25, CZKCASH, RUS50, INDIA 50, CHNComp, HKComp, South Korean KOSP200, MEXComp, and more. A great range that offers more diversification in the indices category, experienced traders know many indices are heavily correlated. Under the "New" group, the MT4 has a few of Indices and stocks that are introduced recently, further expanding the range.
ETF range in the VAT is again much better than what is commonly seen in the industry. We have counted more than 100 ETF in the VAT and most are from the US. These are not available in the MT4 or 5.

Varchev stocks range follows similar depth as with other categories. Impressive companies range is from the US, UK and the rest of Europe. We found some differences from the MT4 / 5 and the VAT platform although they are hard to find. For example, Holland companies are not found in VAT but are listed within the MT5 and 4. Stocks traders should find even the rarest of companies within the Varchev offer.
Cryptocurrencies are most dominant with the VAT platform. The only drawback is the minimum trade size volume is 0.1 lots. A total of 29 crypto pairs are found and all are available for trading. Apart from the majors like Bitcoin or Ripple, traders will see EOS against the USD and Ethereum, Dash vs BTC, TRON, Monero, IOTA, Zcash, Stellar, NEO, Cardano, NEM and many crosses with another major crypto. MT4 and 5 do not have such an extensive range or are disabled for trading.
Spreads
Varchev has floating spreads that are competitive. The tightest spread comes from the EUR/USD and USD/JPY at 8 points and there is a very small spread difference in the comparison of VAT and the MT5/4 platforms. The widest spread among the major forex group was with the GBP/CHF at 2.7 pips and GBP/NZD at 4 pips. The spread does not have high deviation so the spreads are competitive across all currency pairs. Exotics also had very competitive spreads, for example, EUR/CZK had 2.8 pips, USD/PLD 11.5 pips, and GBP/PLN 29.5 pips.
Spot Gold spread had a slight difference, VAT platform showed about 38 pips while MT4 was like fixed on 40 pips. Bitcoin/USD spread was around 34 pips in MT4/5 and almost double, 60 pips in the VAT. On the other hand, Etereum/USD has 40 pips spread in MT4/5 and 37 pips in VAT. For some coins the spread difference is more noticeable like for LTC/USD – 102 pips in VAT and 145 in MT4/5. When having this mixed trading environment, it is best to see what are the most traded assets and compare those among the platforms. Traders can also use both of them and select what is best of each although this will make management more complex.
Minimum Deposit
Varchev website and the trading documents show different statements about the minimum deposit. On the website, the minimum is 200 USD/EUR/GBP or 400 BGN for all 3 Account types or platforms. Trading Conditions state no minimum is required. To make sure, we have confirmed with Varchev support that the true information is stated on the Trading Conditions website page. The VIP account requires a $50.000 minimum deposit which will allow negotiable trading conditions.
Deposit Methods & Costs
Varchev has a good range of methods of deposit. E-wallets supported are Skrill, Paypal, ePay.bg, Netteler, Giro pay, Itau, Ukash, and even Bitcoin. Whatsmore, traders can even deposit in cash within Varchev's offices in Sofia and Varna. Aside from these, the usual deposit methods via Credit/Debit card and Bank Transfer exist. The costs will depend on the method used, Varchev will not charge any additional costs. As per the latest info from the Varchev support, Bitcoin deposits are not possible at the moment because of Netteler.
Withdrawal Methods & Costs
Varchev will use the same method as with the original deposit for withdrawals. For a bank transfer, it is required to download and print the withdrawal request form, sign it and send it to Varchev. Varchev does not charge any fees for withdrawals, all the cost associated with the withdrawal from third parties are carried over to the client. Not all withdrawal options will be available for every country the client comes from. In-hand cash withdrawal is possible with the commission of 0.5%.

Withdrawal Processing & Wait Time
Varchev will process the withdrawal request in 24 hours. At the moment Varchev receives your withdrawal request, the broker will issue a wire transfer through a Bulgarian bank – within the day. If it is towards a foreign bank – 3 to 5 working days will be required. For e-wallets, this time is reduced and is usually within the same day of the withdrawal request.
Bonuses & Promotions
ESMA restricts bonuses, as can been noticed with Varchev that offers bonuses only to professional traders classification. If a trader is accepted as a professional client, there are 3 kinds of bonuses Varchev offers.
Client Bonus is a classic addition of company funds to new real accounts. The structure is scaled to the initial deposit amount. Over $3000 – $250 bonus is applied, Over $10 000 – $1000 and over $50.000 the bonus can be negotiated as well as other trading conditions. The bonus follows the usual trading volume clause to become withdrawable. A client has to trade 10 lots for every $1 bonus, which is very high although there is no timeframe this has to be achieved. Withdrawals will reduce the bonus proportionally to the amount taken.

Cashback Bonus is not a rebate benefit but a reimbursement in case clients go into negative on the first trading day. $500 will be compensated or if the trader has a loss below $500, his account will be restored to the original amount.
Friend Bonus is a classic referral bonus of $100 that is awarded to both parties. The conditions are the minimum deposit of at least $1000, introduced trader has to trade at least 10 lots for you to receive $100, and the other $100 will be funded to the introduced trader after he trades another 10 lots. Introducing more than 10 clients in 6 months gives the ability to apply for Introducing Broker program.
Educational & Trading Tools
Varchev features a special section for training. It consists of various categories of material, ranging from videos, ebooks and just fresh economic events. It is not well organized although the content is of good quality. Interesting is the "60 seconds with Biser Varchev" videos that explain interesting trading topics but it is not in English, YouTube has captions in English available though. Technical analysis features explanations on some advanced topics that are narrow in scope, like "Falling Knives" FX Strategy and how to use Varchev's mentioned indicators already inserted in the MT4 platform. There is a lot of material to consume but finding what you need might be tedious.
The second section that could be regarded as an additional information tool is the Varchev Blog. This is a combo of tweets from the founder Biser Varchev and other social media content. Here you can see how Varchev is trading, his positions, and opinions, something other brokers do not do. This section is not frequently updated and 2 months gaps are not uncommon. On the same page, there is a contact form for directly asking questions to Varchev. FAQ section is not comprehensive enough and is separated dor different sections of the website.

Economic Calendar is not present although the VAT platform has it integrated.
A lot of additional content is presented on the website homepage. This is a mix of in-house analysis, news, and tutorials. News windows are categorized by asset classes, so you can find Commodities news, Stocks Daily Forecasts, Market Rumors, Great Traders, Interest Rates, Trading Univesity and much more. This page is also one of the Varchevs selling points.
Varchev website also features a Currencies Exchange calculator. This calculator is specific because it lists offices in different parts of Bulgaria, adhering to different BLG exchange rates. There is also a crypto exchange office rates located in Bulgaria. Therefore, Varchev is also offering exchange services.
Customer Service
Varchev Customer service is 24/5 available through e-mail, contact form, chat, and Telegram group. The broker is also very active on social media. Chat service uses a unique client that features a chatting room where all Varchev treaders and staff can see and answer you. You will also see questions from other clients. Talking is possible as well as uploading a file. The staff is knowledgable and responsive within minutes, so you will not feel someone is giving full attention only to you.

Demo Account
The Demo account is encouraged all over the Varchev website. The demo does not have a time limit and is customizable in terms of leverage, currency, amount, and all the platform types. The Demo will correctly reflect real trading conditions in all platforms offered. The opening process is simplified and can be done through the MT4/5 terminal or by the standard e-mail credential procedure for the VAT platform.

Countries Accepted
Varchev does not show this information as all countries are accepted. Of course, this cannot be true since they are regulated. We are informed by the Varchev staff that the USA and Belgium are the currently prohibited countries.
Conclusion
Varchev ahs established good connections in London and with the XTB brokerage house especially. The VAT is based on XTB's xStation platform that received a lot of rewards. The asset range is strangely similar to the XTB as this broker is just a proxy with a markup. Still, Varchev offers a lot of additional services like Investment Consulting, business plans, marketing analysis, enterprise processes optimization, opportunities for attracting equity, crisis management planning, tender preparation and more. Varchev also features Portfolio management for VIP clients and manages their Fund called High-Yield Fund. The Fund price chart is not that promising as it shows a negative number in the past two years. Whatsmore, the Fund assets diversification is heavily biased towards the Bulgarian market.
Varchev security rating is good enough as it is regulated in different jurisdictions by reputable FCA and less important FSA of Bulgaria. The broker adheres to MiFID directives, has segregated funds within multiple banks and features Investor Compensation Fund that protects clients funds with 20.000 EUR pool. Most experts think this pool is far from enough to cover everyone's losses in case of broker default.
Varchev does not have any rating on benchmarking sites, as completely unpopular worldwide despite the well-developed structure. The rating on other social media has less weight although is mostly positive and from Bulgarian clients.