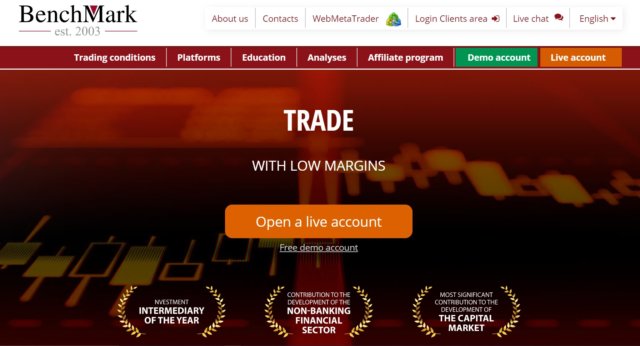 Founded in 2015, BenchMark is a UK-based broker that gives traders access to a variety of financial assets and instruments. Amongst them are exotic and major forex pairs, alike. BenchMark's trading costs and spreads are minimal.
Moreover, the broker utilizes state-of-the-art and popular trading platforms. Above all else, you can access in-depth and highly informative educational materials, including video tutorials, eBooks, and more. In addition, traders can transfer money in and out of their accounts quickly, easily, and cheaply.
Lastly, BenchMark offers a wide range of bonuses and promotions that you can take advantage of. Read this article to find out about this broker's unique features and how traders can take advantage of them.
Account Types
There are two account types offered by BenchMark: Professional and Retail. The broker doesn't require you to deposit a minimum amount before you can start trading. All you need is enough to buy or sell the smallest permissible lot size.
Minimum Deposit: None
Spreads: From 0.1 pips
Commission: None
One of the main differences between the two accounts is the type of trader that they cater to. Retail, as suggested by its name, is for retail traders. Professional, on the other hand, includes features that are designed for those who trade currencies to make a living. Neither of the two accounts have a minimum deposit requirement. However, the Professional has margin restrictions that are based on the account's cash balance.
Platforms
You have the option of choosing between MetaTrader 4 (MT4) and MetaTrader 5 (MT5) as your trading platform. Both of them are available for Professional and Retail account holders, alike. MT5 is the newer version, but some traders may prefer MT4 because of certain features that it uniquely provides.
Each platform's software can be downloaded to mobile and desktop devices. Furthermore, they have a web version that can be accessed directly from your browser, without having to download any software or apps.
Leverage
Retail accounts only have up to 1:30 in leverage, which is low in comparison to the Professional and the general brokerage market. When it comes to the Professional account's leverage, traders are placed in four different groups. Group 1 (accounts with less than $10,000 or 10,000 euros) have up to 1:400 in leverage. Groups 2, 3, and 4 are given 1:200, 1:100, and 1:50, respectively. The minimum account size threshold is $10,000 to $50,000 (group 2), $50,000 to $200,000 (group 3), and $200,000 or more (group 4).
You can change your leverage amount through the account dashboard. BenchMark, however, recommends that traders gradually work their way up with buying power. Otherwise, it gets too risky when a large amount of money is involved (such as with group 4).
Just as importantly, different currency pairs have their own leverage and buying power. For example, traders enjoy the maximum leverage rate of their account type or group when buying/selling major currencies. The leverage is more restricted when you trade secondary forex pairs (such as the USD.NZD – New Zealand Dollar). It is even more limited for exotic currencies (the Norwegian Krone, for example).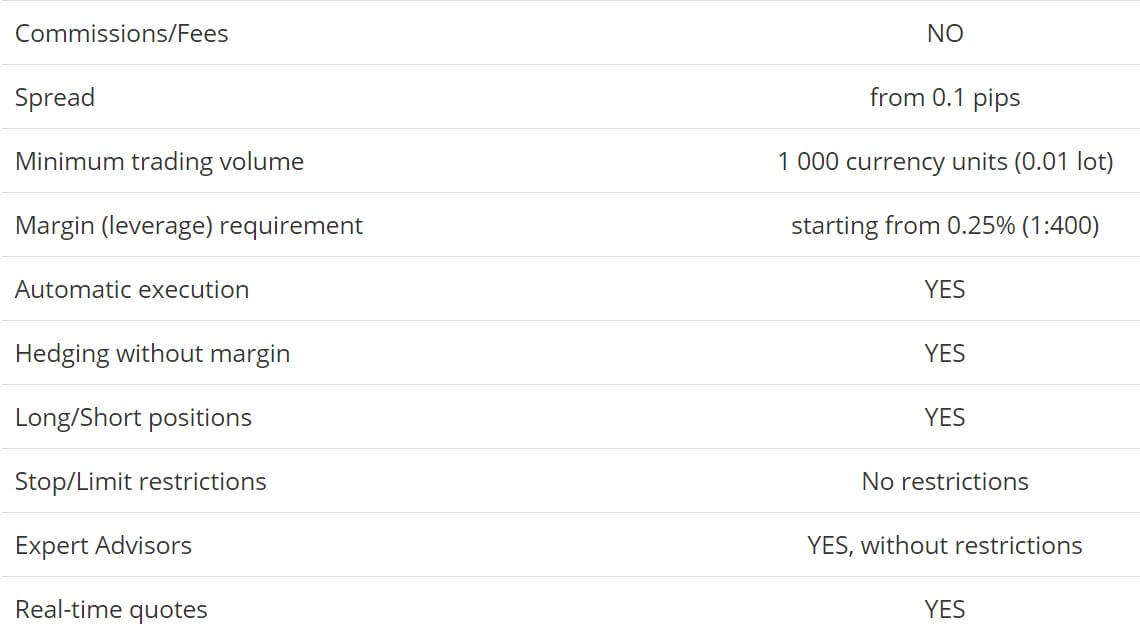 Trade Sizes
BenchMark uses the standard (1 lot equals 1,000 in the base currency) trade size. The smallest Forex contract that you can trade is 0.01 lots or 1,000 in the base currency.
Margin Call: 70% (Retail); 50% (Professional)
Stop-Out: 50% (Retail and Professional group 4); 30% (Professional groups 1, 2, and 3)
A margin call is triggered before the stop-out. When Retail and Professional traders hit the margin call, BenchMark will require you to deposit more funds and, therefore, increase the margin level. The other option is to close some of your trades to bring your balance down to the required amount. A stop-out is triggered when a trader's balance is at 50% or 30% the margin amount. At this point, all of your positions are automatically closed.
Keep in mind that Professional account holders can change their margin group. This can be done by depositing money and bringing your balance to the required minimum of the desired group. Moreover, traders can request a margin level change by filling out a form on their account dashboard.
Trading Costs
One of the best things about BenchMark is their calculator tool. Not only can users measure their risk, account balance at stop-out, and margin size, but the calculator also gives you the swap fee for each currency pair. This number also depends on how many lots you bought/sold. The swap fee is an interest charge that traders incur when they keep positions open overnight. It covers potential changes to a currency's value, such as new interest rate policies or major economic developments.
Almost every broker in the industry will charge traders swap fees. Apart from this expense, BenchMark will only make you pay the spread. They don't charge any commissions on trading. Moreover, this broker's spreads are minimal, starting at only 0.1 pips. Many other firms may have a spread of 3 pips or more, with 1 pip being considered low. BenchMark is one of a few brokers that go down to the fractions of pips.

Having said that, both the spread and swap fees depend on the traded currency pair. In unstable countries, interest rates may move dramatically and economic events can be difficult to predict. Similarly, short and long positions have their own swap fees on each forex pair. Spreads will also vary from one currency to another, especially because BenchMark's numbers are tied to the market. For example, during volatile and uncertain situations, the spreads are much larger than what they normally are.
Assets
BenchMark provides traders with a wide range of assets. Indexes, commodities, stocks, and cryptocurrencies are all available. Add to that 40 forex pairs (28 majors and 12 exotics). Uniquely, BenchMark categorizes currencies into majors, secondary ones, and exotics/minors. Secondary pairs are, more or less, major currencies that are not as widely traded as the USD, Canadian Dollar (CAD), British Pound (GBP), Euro (EUR), Japanese Yen (JPY), and Swiss Franc (CHF). There are only two secondaries on BenchMark: The Australian Dollar (AUD) and New Zealand Dollar (NZD). In a way, this makes the category somewhat pointless, especially since most brokers would include the two with the rest of the major pairs.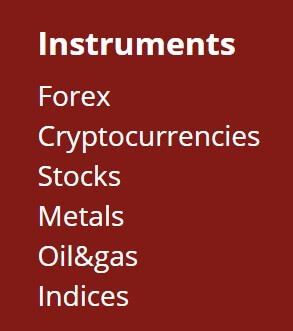 Amongst the 12 exotics are the Swedish Krona (SEK), Norwegian Krone (NOK), Mexican Peso (MXN), and Polish Zloty (PLN). However, the two pairs involving the zloty (USD.PLN and EUR.PLN) can only be traded through the MT5 platform. Similarly, exchanging the five cryptocurrencies on BenchMark requires you to install MT5. All crypto CFDs are paired against the dollar (Bitcoin (BTC.USD), Bitcoin Cash (BCH.USD), Ether (ETH.USD), …etc.).
Meanwhile, BenchMark lets you trade US and European companies' stocks, with more than 100 CFDs that are available. If you want to open a demo account and learn how to trade stock CFDs, you can only do so through MT5. Moreover, there are only seven companies on the demo. Trading in the live market, though, can be done on MT4 and MT5, alike. The broker also gives you access to 12 indices, including the three major ones that track the US stock market (Dow Jones, Nasdaq, and S&P 500). International market indexes include those of the UK, France, Japan, Australia, and China. Just as with stocks, indices are traded through CFDs.
Lastly, BenchMark's commodities list encompasses five precious metals (Gold, Silver, Copper, Palladium, and Platinum) and five energy instruments (Brent, Natural Gas, UK crude, US crude, and WTI). They are exchanged as CFDs, too. All of the different assets have their own margin rules, which also varies from one account/group to another. The same applies to spreads, swap fees, and leverage. However, BenchMark doesn't charge commissions on trading any of their assets.
Spreads
The Retail account and all Professional groups have the same spread, regardless of the forex pair that you want to trade. The EUR.USD has the lowest bid/ask difference. The highest spread on the majors (including the secondary ones) is about 2.5 pips or less. Popular pairs, such as USD.JPY, GBP.USD, and EUR.GBP are at 1.2 pips or lower, down to the fraction/point.
Nevertheless, BenchMark has a Zero Spread program. You can trade six forex pairs (EUR.USD, EUR.GBP, GBP.USD, USD.CAD, USD.CHF, and USD.JPY) without incurring any spread fees. The difference between the bid and ask would be 0 pips. This program, though, expires at the end of 2019 and its application deadline was April 30th, 2019. Yet, it is always a good idea to keep an eye out for similar future programs or ask customer service about them.
Zero Spread was only available through the MT5 platform and legible traders needed to have a Professional Account. The minimum deposit was $500 or 500 euros, which would let you trade up to 10 lots with 0 spreads. Funding your account with $2,000/2,000 EUR gave you 30 spread-free lots. Anything above $10,000/10,000 EUR came with unlimited zero-spread trades.
Minimum Deposit
There is no minimum deposit required to open an account, regardless of whether it is Professional or Retail. The base currency has to be the US dollar or the euro. Yet, traders can deposit funds in their home country's money, which will afterwards be converted to the account's base currency.

Deposit Methods & Costs
You can fund the account via a debit card or a bank transfer. Traders may also transfer money between the BenchMark accounts if they have more than one. The best thing about this is that the broker charges no fees on deposits. Moreover, all transactions are processed within 30 minutes or less (as long as they are made on weekdays between 7 am and 2:45 pm GMT). When a margin call is issued and you try to deposit funds to bring your balance back to the minimum requirement, bank transfers can include the trade that needs to be funded so that the broker automatically buys/sells it after the transaction is processed.
Withdrawal Methods & Costs
The same three methods (debit/credit card, bank wire, and transfers between BenchMark accounts) are used to withdraw money. Just as with deposits, there are no fees charged on withdrawal transactions. One downside, however, is that BenchMark doesn't accept deposits or withdrawals via Visa cards.
Withdrawal Processing & Wait Time
Transfers are processed within 30 minutes or less. The speedy and cost-free transactions give BenchMark a strong advantage over the rest of the industry. Withdrawal requests, similar to deposits, can only be made between 7 am and 2:45 pm GMT on weekdays.

Bonuses & Promotions
BenchMark has a competitive affiliate program that traders can join by filling out a form on the broker's website. They can also contact the firm via email or phone. Affiliates receive commission revenues when they promote the broker and persuade other traders to open an account. Even those that can't rely on personal connections are invited to contact BenchMark for help. There are many marketing materials and promotional content that are available through the firm.
Affiliates must inform the broker before a client they referred opens an account otherwise, they will not receive the commission. BenchMark's bonus has two structures. The first one allows you to receive one-time payments whenever a new client deposits $200 or 200 euros into their account. This model pays less but faster. The second structure pays a larger commission, but only after an affiliate's referral makes a certain amount of trades and keeps their account active for a period of time.
Educational & Trading Tools
Educational material is broken into video tutorials, PDFs, and written trading courses. BenchMark's tutorial footages are professional and easy to understand. Most of the basic introductory videos are from 7 to 10 minutes long. The advanced ones, such as tutorials on specific technical indicators or fundamental measurements, tend to range from 15 to 20 minutes. PDF tutorials are especially useful to those who aren't familiar with the MetaTrader platforms. They outline how to use both MT4 and MT5 on different devices.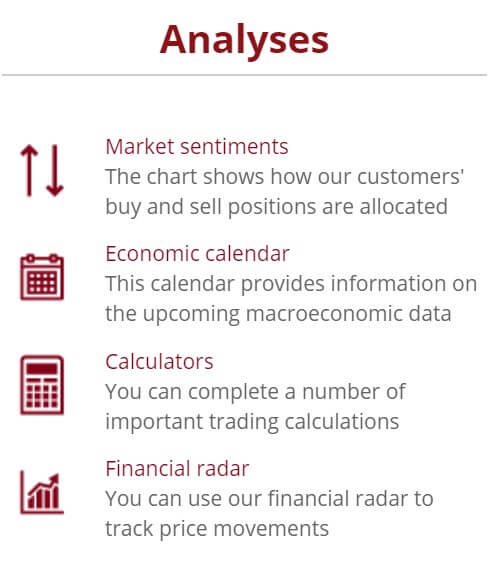 Above all else, BenchMark's 'Trading Sentiment' tool is incredibly unique. It shows how many of their clients bought or sold different currency pairs, as well as the proportion of pending buy to sell orders. Meanwhile, the Financial Radar shows the daily, weekly, and monthly changes of major forex and crypto pairs.
The Financial Radar also includes a correlation scatter plot and a price-change table. Each of them allows you to see the widest moving instruments during the day, week, and month. BenchMark's rich trading tools include an economic calendar, alongside a calculator that allows you to measure the swap fees, margin, risk, and stop-out balances. Traders would input a certain currency's ticker, the number of lots to buy or sell, and other similar measurements.
Customer Service
BenchMark's customer service team is available 24 hours a day, starting from 8 pm GMT on Sunday up until 10 pm on Friday.
Phone: +44 203 769 5788 (general inquiries); +44 203 769 5788 (account information and transfers).
Email: [email protected] (general); [email protected] (accounts and transfers).
Demo Account
You can open a demo account and trade through the MT5 platform. However, an MT4 account is available through a browser trading version. Demos can trade during the same hours as live accounts and they access precise market prices. Traders start with $100,000 in paper money.
Countries Accepted
BenchMark doesn't mention anything about country restrictions on the website, including the United States. They are registered in France, Germany, Spain, and the UK.
Conclusion
The unfortunate reality is that traders in the US can't open an account with BenchMark. However, this doesn't discount the great features that the broker offers to users from around the world. For a start, the MT4 and MT5 platforms are accessible through all types of devices, allowing traders to manage their positions regardless of where they are located. Furthermore, transfers (inbound and outbound ones alike) can be made through various methods.
Just as importantly, they are instant and free. The only downside to BenchMark is that the two account types incur spreads. However, they do offer a Zero Spread promotions that you can take advantage of. This especially benefits traders who rely on scalping or use a large amount of leverage.
BenchMark sets your leverage based on the portfolio's balance. Professional Account traders start with a generous 1:500, but that goes down as the amount of trading capital climbs. However, if you have a proven track record, the broker may be willing to adjust your buying power. Lastly, but certainly not least, BenchMark's highly resourceful calculators allow you to figure out a potential position's spreads, margin, and risks. In short, this broker has plenty of incredibly useful tools that many traders at different levels of experience can appreciate.