BlueStarFX does not give a lot of information about themselves away, only stating that they are an established ECN broker serving both individual and corporate clients. They have a comprehensive range of tradable assets, technical support, consulting services and they have a goal of making the trading process efficient, hassle-free and above all, profitable. We will be going through the services on offer to see if they do offer these things or if they are a broker you would be better to avoid.
Account Types
There are two different accounts available, we will outline some of the basic features of the account below.
Variable Spread Account:
This account has a minimum deposit requirement of $500, spreads on this account start from 1.6 pips and are variable. The account can be leveraged up to 1:500 and trading starts from 0.01 lots.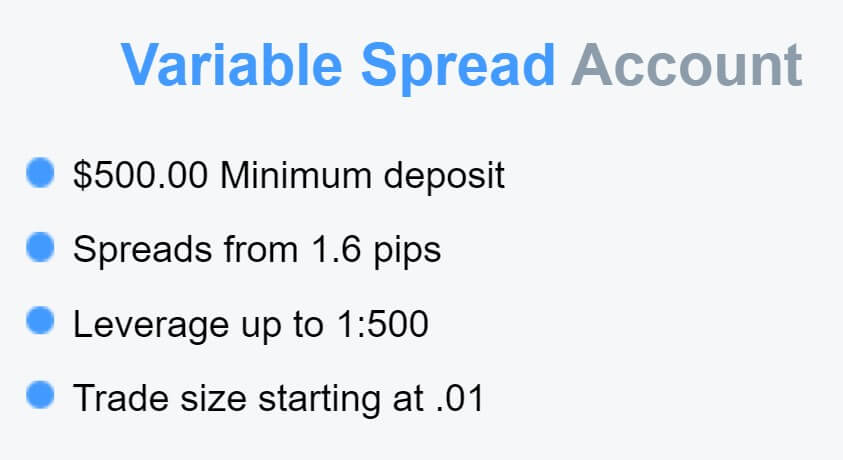 ECN Pro Account:
The ECN Pro account requires a minimum deposit of at least $1,000. Spreads on this account start from 0.2 pips and the account can be leveraged up to 1:1000. Trade sizes start from 0.01 lots and there is an added commission of $10 per round lot traded on the account.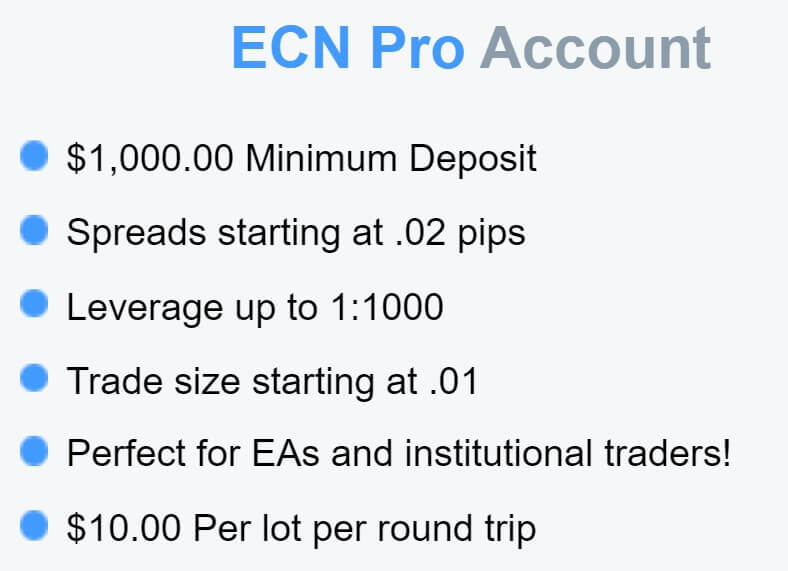 Platforms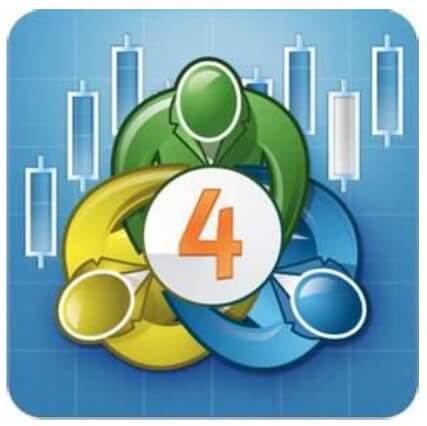 The only platform on offer is MetaTrader 4 which is a great option to have. MetaTrader 4 is a highly popular trading platform due to its many features. These include its accessibility, it is available as a desktop download, web trader and as an application for your mobile devices. Its distributed architecture, robust security system and convenient mobile trading are some of the core competencies that give MetaTrader 4 its compelling competitive advantages, offering the perfect solution to the even most demanding trading needs.
MT4 is also perfect for traders of all experience levels and is recognized for its user-friendly interface, advanced charting features, technical analysis tools, and automated trading capabilities. Our MetaTrader 4 platform supports multiple account base currencies including USD, EUR, GBP, SGD, and PLN. It is also available in over 30 different languages.
Leverage
If you are using the Variable Spread account then the maximum leverage is 1:500. If you are using the ECN Pro account then your leverage can go up to 1:1000, we would suggest not going over 1:500 though as higher leverage can increase risks. Leverage can be selected when opening up an account and should you wish to change it you will need to contact the customer service team with your request.
Trade Sizes
Trade sizes on both accounts start from 0.01 lots and go up in increments of 0.01 lots. We are not clear on what the maximum trade size is but would recommend not trading over 50 lots due to execution issues. We are also not clear on what the maximum number of open trades you can have at any one time is.
Trading Costs
The ECN Pro account has an added commission of $10 per round lot traded which is a little higher than the industry average of $6 per round lot traded. The Variable Spread account does not have any added commissions as it uses a spread based system.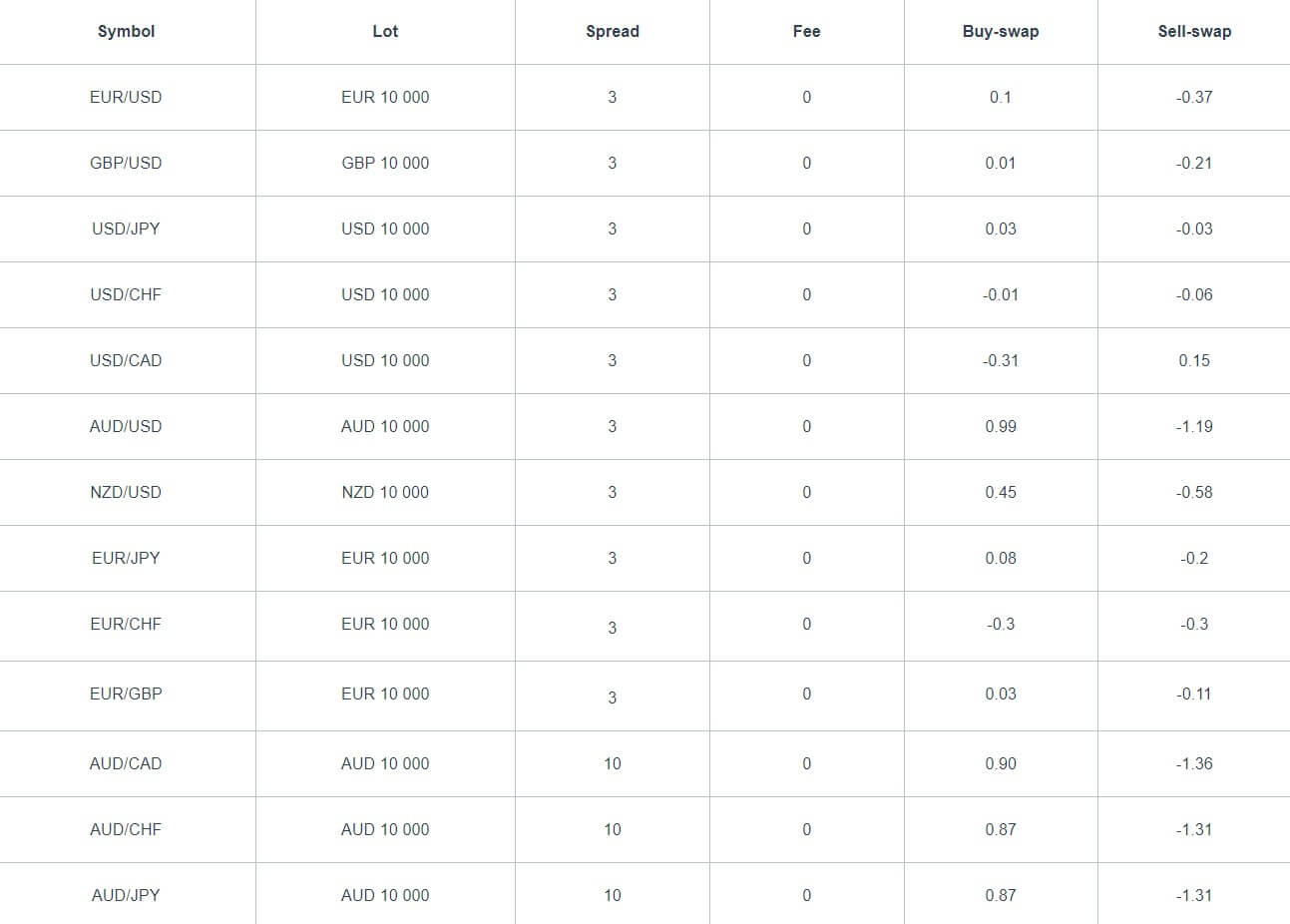 There are swap charges on both accounts, these are fees for holding trades overnight or over the weekend. They can be positive or negative and can be viewed within the trading platform you are using.
Assets
There is a very small list of assets detailed on the site, we believe that this is all that is available if it is then there really isn't much to trade at all.
Forex:
EURUSD, GBPUSD, USDJPY, USDCHF, USDCAD, AUDUSD, NZDUSD, EURJPY, EURCHF, EURGBP, AUDCAD, AUDCHF, AUDJPY.
Spreads
The starting spreads that you get depend on the account you use. The Variable Spread account has spreads starting from 1.6 pips, while the ECN Pro account has spreads starting from 0.2 pips. The spreads on both acocunts are variable which means they move with the markets and added volatility in the markets will mean more movement on the spreads. The different instruments will also have different starting spreads so not all spreads will be the same.
Minimum Deposit
The minimum deposit amount required to open up an account is $500 which will allow you to open up the Variable Spread account. If you want the ECN Pro account, you will need to deposit at least $1,000. It is not known if the minimum amount reduces once an account has been opened.
Deposit Methods & Costs
There is a little confusion as to which methods are actually available. When looking at the bottom of the screen there are images of Bank Wire transfers, MasterCard, Visa, WebMoney, CashU, Ukash and Skrill, however when going to the deposit page, the three options given are Bank Wire, Counter Deposit and Bitcoin, so we would suggest that those three are the real options available to use. It is not clear to us if there are any added fees, but whatever method you use, be sure to check with them to see if there are any added transfer fees.

Withdrawal Methods & Costs
When we go to the withdrawal page the only two options stated are Bank Wire and Bitcoin. Just like with the deposits, we are not sure if there are any added fees for the withdrawals but check with your bank to see if they have any incoming transaction fees added by them.
Withdrawal Processing & Wait Time
Unfortunately, this information was not stated. However, we would expect BlueStarFX to process any withdrawals within 48 hours of the request and so depending on the method used the withdrawal request should be fully processed between 1 to 5 working days from the request being made.
Bonuses & Promotions
We did not see any information relating to bonuses or promotions, so there may not be any active at the time of writing this review. If you are interested in promotions then we would suggest contacting the customer service team to find out if there are any upcoming promotions you could take part in.
Educational & Trading Tools
The only educational tool that seems to be available is an economic calendar. This details upcoming news events as well as detailing which currencies they may have an effect on. It would have been nice for there to be more education as a lot of brokers are now looking to help their clients improve their trading so it would be nice to see BlueStarFX follow in those footsteps.
Customer Service
The customer service page only contains a web form to fill in. You can fill it in with your question or query and then you should get a reply via email. There doesn't seem to be any other way to get in contact which is a little concerning. The minimum expected would be an email address being available with there also being an expectation of a postal address or phone number being available to use.
Demo Account
Demo accounts are available, the account has a choice of ECN spreads or Variable spreads and uses the MetaTrader 4 trading platform. There aren't any further details on the demo account such as whether or not there is an expiration time on the account. Demo accounts are great as they allow you to test out the trading conditions and also strategies without risking any of your real capital.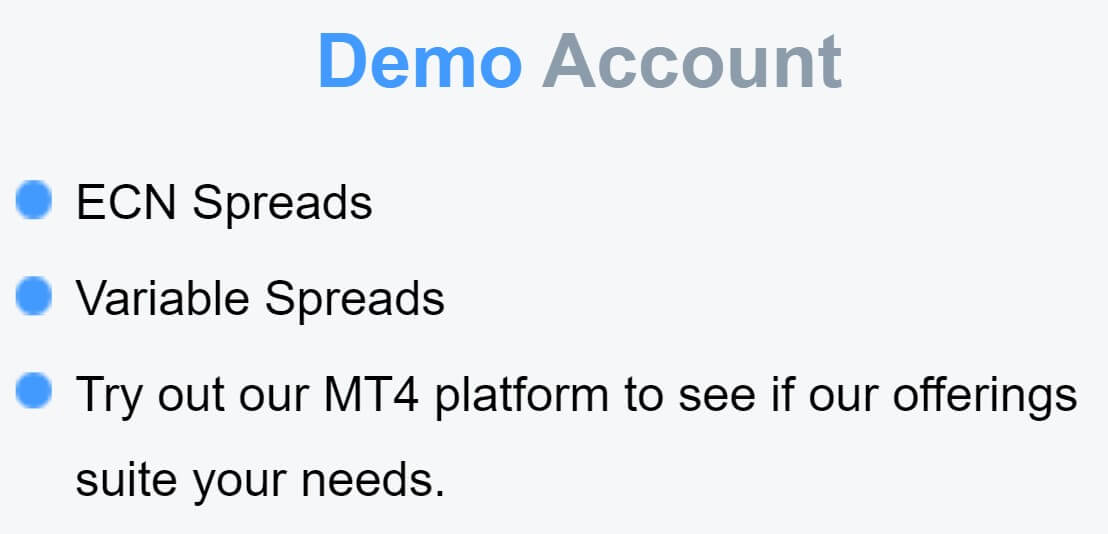 Countries Accepted
This information is not present on the site so we would recommend contacting the customer service team prior to signing up just to make sure you are eligible for an account.
Conclusion
BlueStarFX does not offer up much information about themselves which makes it hard to form a full opinion on them. The trading accounts offer some variation in regards to spreads and available leverage, the commission on the ECNM account is a little high at $4 per lot higher than the industry average of $6 per lot traded. The main confusion comes from the deposit and withdrawal methods. Lots of images at the bottom of the site which seemingly has no reason to be there as those methods are not available to use. There is also no information on any potential fees for moving your money. The final point we want ed to make is on customer service. There just aren't enough ways to contact them. It is no longer acceptable to just have an online submission form. There needs to be a more personal way to get in contact also. For these reasons, we cannot recommend BlueStarFX as a broker to use at this point in time.