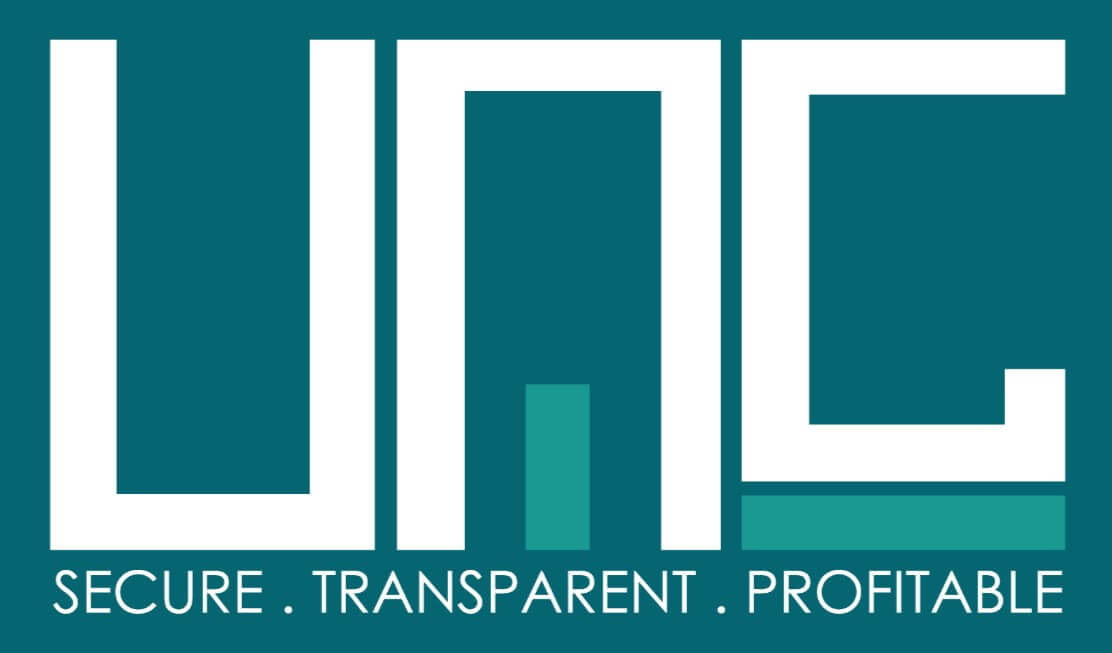 UAGTRADE is an STP broker with no dealing desk that provides trading services for fund managers as well as retail traders. This company was founded back in 2015 and it is currently based in Dubai. This company is registered in Ajman Free Zone in Dubai with the registration number AFZ/OS/1454. For those who have never heard of it, Ajman Free Zone is a free trade zone in the United Arab Emirates offering offshore company setup and operation to investors.
AUGTRADE is also authorized and regulated by the Cambodia Securities Exchange under the reference number 160/18 SECC/ D. We always advise clients to be highly cautious when dealing with offshore brokers as there are risks which one should take into consideration.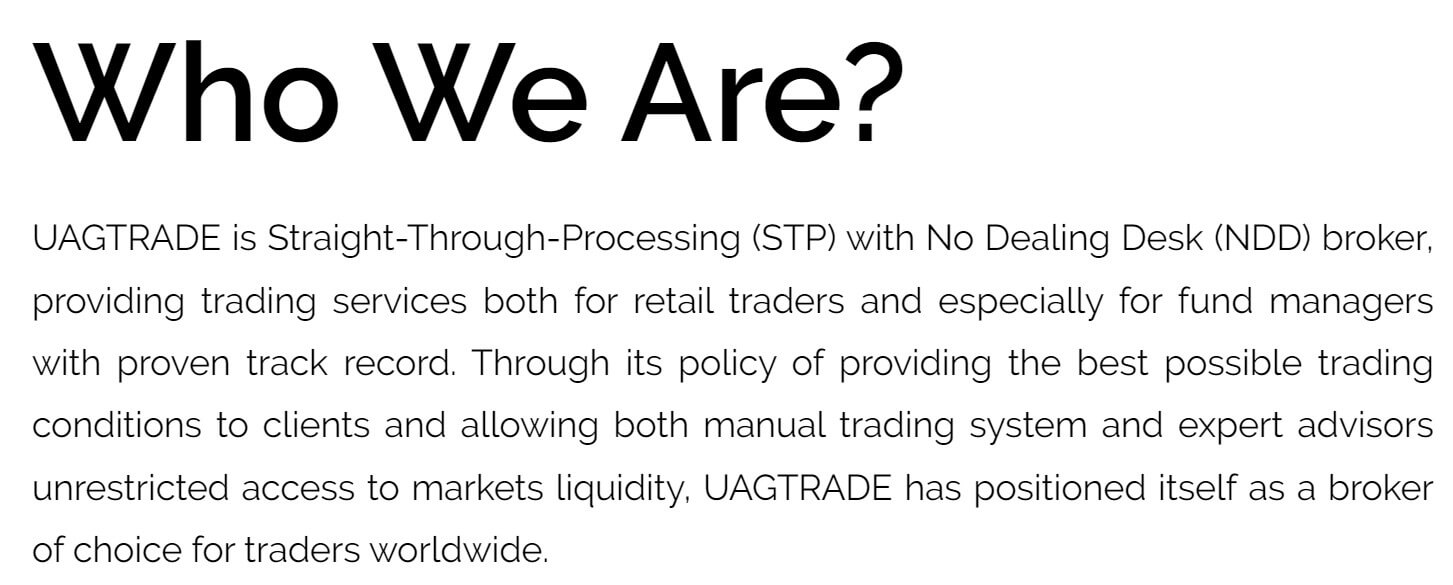 This broker claims to be secure, transparent and profitable whilst trading currency pairs, precious metals, index CFDs and commodities. They offer a variety of account options with varying spreads and minimum deposits plus they also cater to Islamic clients as they have the option of having a swap-free account. Join us as we unveil what this broker has to offer and determine whether this broker is the right one for you.
Account Types
UAGTRADE offer their clients a choice of 3 accounts namely, the Pro Account, The Supreme Account and finally the ECN account. The cheapest account to open is the Pro as it has a $100 minimum deposit. Spreads for this account are quite low since they start from 0.3 Pip which is the same for the ECN account. On the other hand, the Supreme account has spreads starting from 1.3 Pip which is rather high.
To make up for the high spreads, the Supreme account comes fee-free whereas both the other accounts have a commission fee applied namely; $17 per lot for the Pro account and $5 per lot for the ECN account. Minimum and maximum trade sizes are the same for all accounts; Minimum lot 0.01 and Maximum 100 Lots and the stop out level and margin calls are also identical for all accounts. The stop-out level is set at 50% whereas the margin call is set at 150%. All accounts have USD as their currency.

In order to open up an account with UAGTRADE, it is of utmost importance to have an introducer. For those who do not have an introducer, the broker suggests to contact them via live chat or email to discuss getting one. Since no other information is given regarding what the Introducer actually is, we decided to take a look at their FAQ page which generally houses information such as this, but to our disappointment, the FAQ page of this broker is either not working at the moment or non-existent. We also tried to contact the broker via live chat to ask about the introducer but we were not given a reply so we cannot comment any further about this for the time being.

As we mentioned before, this broker also caters to clients who follow the Sharia Law as it has a swap-free account. We are not sure of the trading conditions for these swap-free accounts as they are not explained on their website.
Platforms
This broker offers the MT4 trading platform which is a very popular, user-friendly interface with fast executions and numerous technical indicators and charts that help traders make the right choices. Some advantages of this platform include; detailed analysis of quote dynamics, the ability to view multiple charts simultaneously, pre-programmed analytical tools and a frequently updated news feed to keep users up to date. This platform can be used on a number of devices including Mac, Windows, Android, and iOS. You can find MT4 download links on UAGTRADE's Platforms page.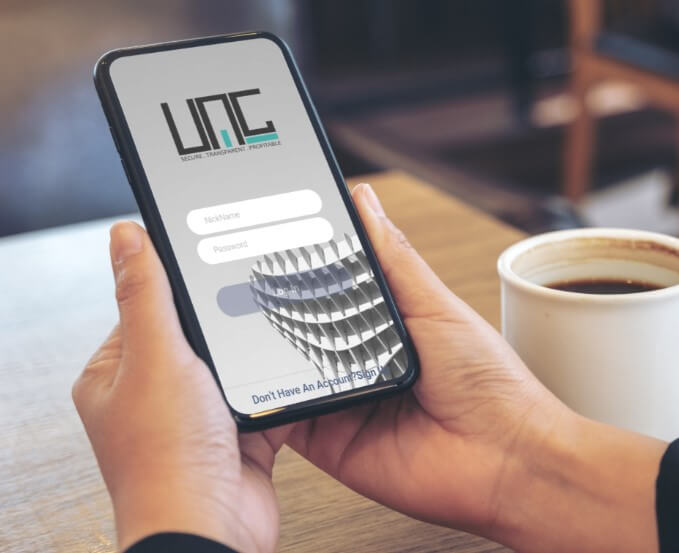 Apart from the MT4, this broker also has its own UAGTRADE mobile application. This app enables you to access your account wherever you are and effectively manage your portfolio. At the moment, this application is only available for Android but it will be made available to download for iOS in the future.
Leverage
The maximum leverage offered by this broker is 1:200 (0.5% margin requirement). This ratio is industry standard as most brokers offer it as maximum leverage.


Trade Sizes
The minimum trade size available with AUGTRADE is 0.01 lots and the maximum is 100 lots.
Trading Costs
Unless a client opts for an Islamic account, he/she will have to pay the swap rate and overnight fees. It is good to note that Wednesdays are a triple swap day for all trading instruments due to the markets being closed on Saturday and Sunday. Obviously this can go both ways as clients can either make a good sum out of it or lose more money than they intended to.
Apart from the swap rates, the Pro and the ECN accounts both have a commission namely; $17 Per lot for the Pro, which is quite high, and $5 per lot for the ECN account. Although the Supreme account comes fee-free, the spreads of this account are way higher than the others, so clients should choose wisely before opening up an account.
Assets
UAGTRADE has quite a variety of trading instruments available including Forex, precious metals, energies, and Index CFDs. On their Trading Instruments page, we counted over 25 currency pairs including AUD/NZD, AUD/CAD, EUR/USD and GBP/CAD just to name a few major pairs whilst they also have a decent number of minor and exotic pairs available for trading.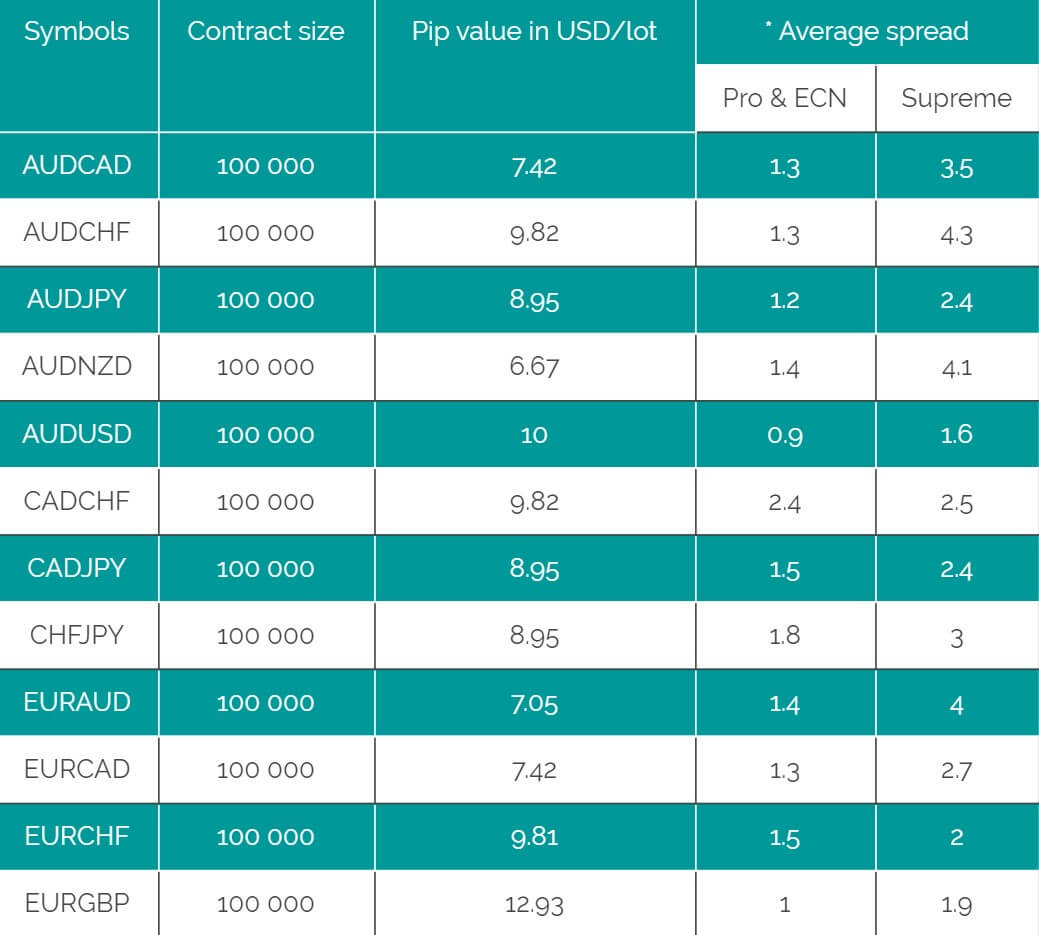 Clients can choose between Gold and Silver as precious metals and BRENT or WTI as energies. This broker also offers over 10 Index CFDs including Nasdaq, Dow Jones, and CAC FRANCE among others. You can find a detailed list of all available assets and their average spreads, contract sizes and trading hours on their Trading Instruments page.
Spreads
UAGTRADE offers variable spreads for all their trading instruments, so expect spreads to widen or tighten based on the overall market volatility. Since this broker is an STP broker, meaning they do not have a dealing desk, there will be no requotes and pricing is more transparent. On their Trading Conditions page, they state that their spreads start from 0.3 Pips for the ECN and the Pro Accounts, whereas the Supreme account has higher spreads starting from 1.3 Pips.

When going through their list of available assets and their spreads, we found that the most popular currency pair EUR/USD has a spread of 0.7 for the Pro and ECN accounts and 1.3 for the Supreme account, which is quite standard. Other less popular pairs such as CAD/CHF has a spread of 2.4 for the ECN and Pro Accounts and 2.5 for the supreme. You can find all this information on their Trading instruments page.
Minimum Deposit
The minimum deposit required varies from account to account. The cheapest entry amount is $100 which is required to open up either a Pro account or the Supreme account. The amount increases drastically for the ECN account as clients are required to deposit $10,000.

Deposit Methods & Costs
Clients can deposit funds to their UAGTRADE accounts by Direct bank transfer, Paypal or through a bitcoin wallet, strangely they do not offer credit/debit card deposits for some reason. This broker processes all deposits within 24 hours upon a successful transaction and they do not have any fees applied to their depositing methods.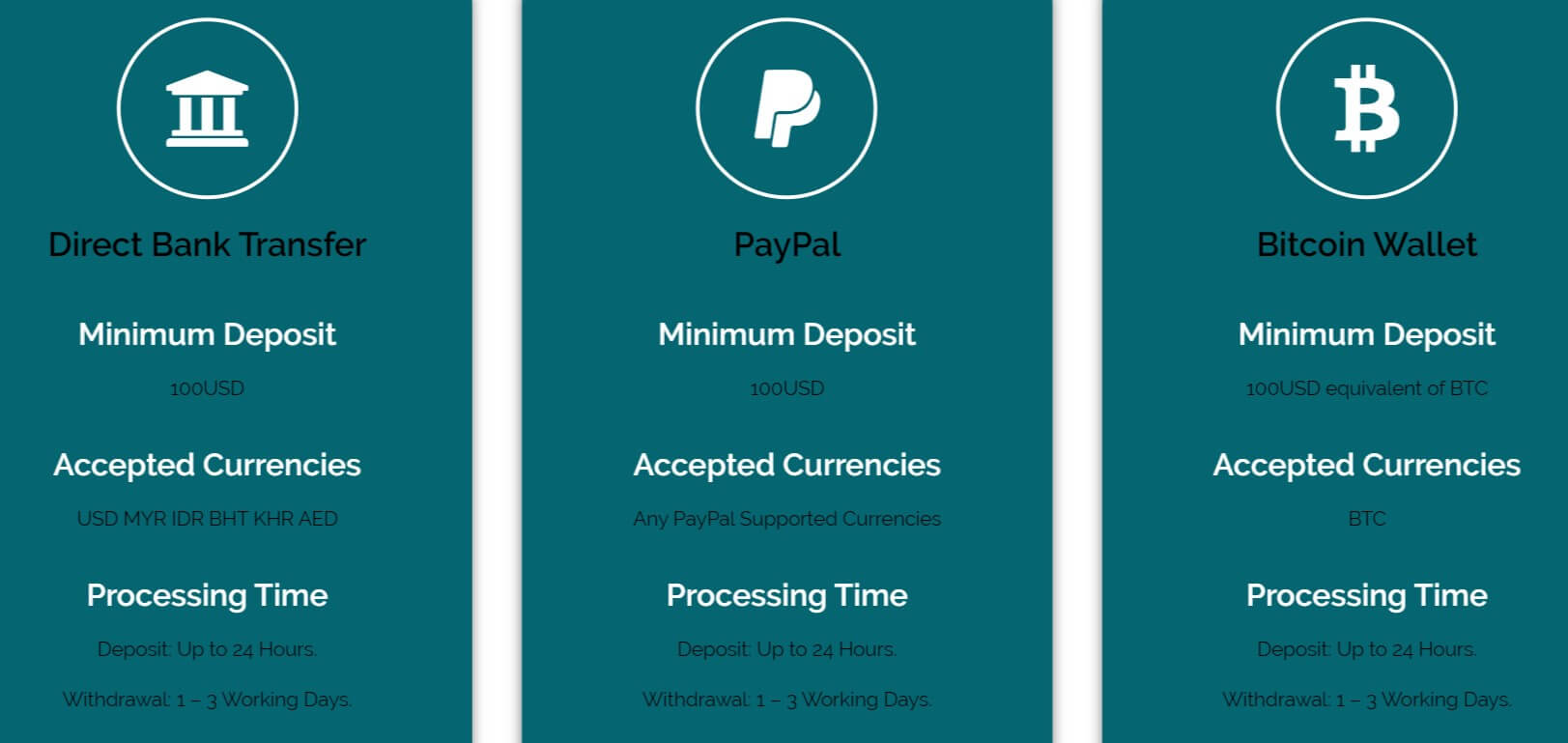 Withdrawal Methods & Costs
Clients can withdraw their money using the same method they used to deposit it. Although UAGTRADE does not have any fees for withdrawals, clients are still susceptible to transfer fees which are independent of the broker. Any fees will be deducted from the client's withdrawal amount.
Withdrawal Processing & Wait Time
UAGTRADE processes all withdrawal requests within 1-3 working days and any requests coming in during the weekend will be processed on the next working day.
For faster processing, all account holders of UAGTRADE are now required to submit deposit and withdrawal requests from the members' dashboard which clients can find on their trading platform.

Bonuses & Promotions
At the moment, this broker doesn't seem to have any ongoing bonuses or promotions on offer. We also found no mention of any previous bonuses or promotions, so this broker might not be interested in offering anything similar to a welcome bonus.
Educational & Trading Tools
On their website, clients can find a Resources and Education segment which includes weekly technical analysis by Muhd Haniff (Hanzo). According to their website, Hanzo is a full-time trader and fund manager with more than 5 years' experience (which might not seem like a lot to clients that have been trading for longer than that themselves). Going through their analysis articles, we were pleased to find that these are in fact uploaded weekly. The analysis comes in the form of videos, approximately 12 minutes in length, with Hanzo himself analyzing charts and giving tips on how to trade during certain market conditions. These can be very helpful for those who are still starting out. Apart from these videos, clients also have access to UAGTRADE's Fundamental News & Report.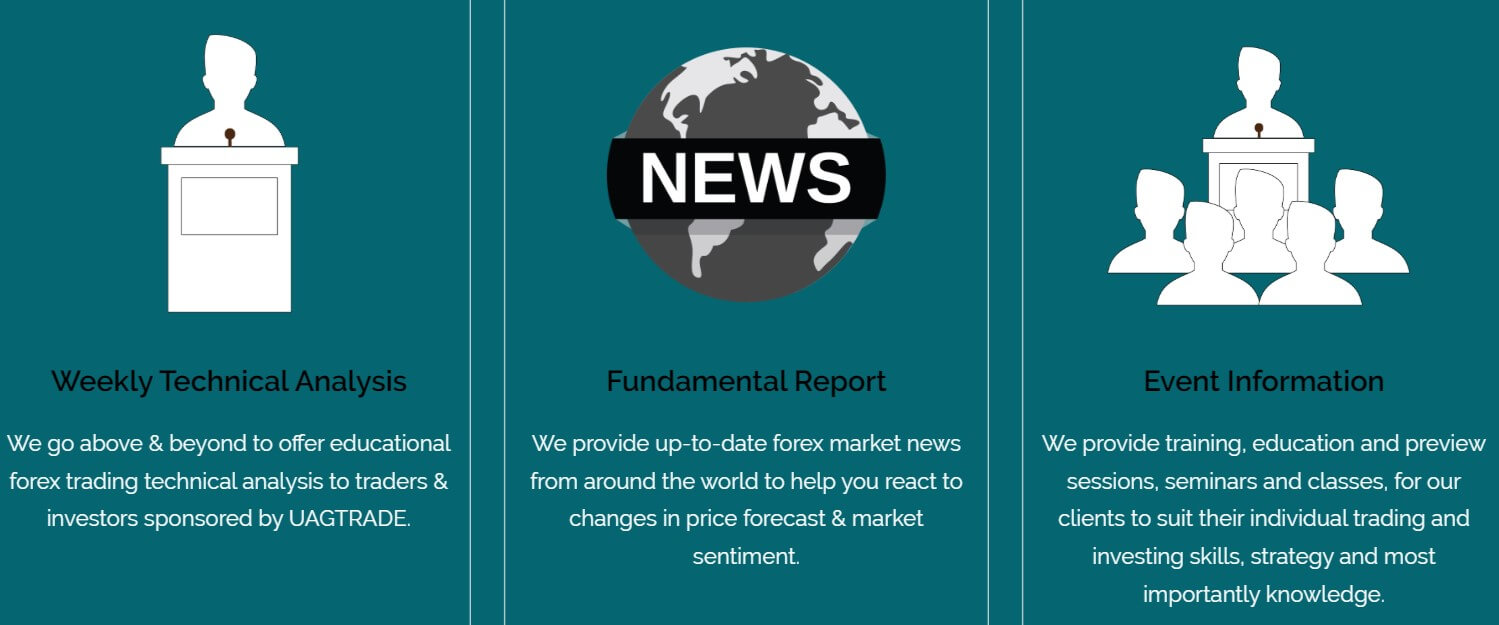 In this section, the broker takes into consideration factors like interest rates, productions, earnings, employment, gross domestic products, housing, manufacturing, and management in order to forecast the overall state of the economy. Although the idea is pretty cool and quite useful, these articles aren't uploaded very frequently, with the latest one being uploaded back in September 2019.
UAGTRADE also provides training, education & preview sessions, seminars, and classes for their clients to suit their individual skills, strategies and overall knowledge of the subject, or at least that is what they state on their website. When we opened up their calendar to take a look at what sessions or seminars are available in the near future, we found the calendar to be completely empty, so although they claim to offer some seriously useful guidance and education, at the moment they don't have anything to offer apart from the weekly analysis.
Customer Service
UADTRADE's customer service isn't the best out there for sure. We tried to contact them via live chat and even through e-mail (on two separate occasions, both on weekdays during office hours) but we weren't given any answers to our questions. We are unsure whether there were any technical issues with the live chat, as our messages remained pending, or whether this broker needs to invest more into their customer service. This is their contact information:
Address: P.O Box 337188, Office N 706
Jumeriah Bay X2 Tower, Cluster X, Dubai
United Arab Emirates
Email: support@uagtrade.com

Demo Account
If you'd like to test out UAGTRADE's trading conditions, you can sign up for a free demo account that can be created through their website. Clients are required to fill in a simple form, choose what leverage they want to try out with (maximum offered is 1:200) as well as how much they'd like to deposit. The demo account uses the USD currency. We found no information regarding how long clients can test their skills out on their Demi account. We did reach out to them via e-mail and live chat but we weren't given any answers.
Countries Accepted
There is no information on whether UAGTRADE has any restrictions regarding countries that might be banned from doing business with them. We did try to contact the broker via E-mail and via Live chat, but no answers were provided. We did go through the list of available countries when filling in the open account form, and it seems like all countries are accepted as we didn't notice any that are missing.
Conclusion
This broker has a decent variety of assets available for trading on 3 different account types that cater to a variety of trading enthusiasts. Spreads are average on some accounts whilst being quite high on others and minimum deposits vary from $100 to $10,000 which means this broker is suited for new traders as well as more professional ones. Their website has a cool layout and quite a lot of educational information, but we did find the FAQ section to be non-existent, which is frustrating since this section usually holds a lot of important information, and their customer support leaves much to be desired as we were left without answers after multiple attempts at getting in touch with the brokerage. They do offer a demo account, so if you're interested in what this broker has to offer, try the demo out and decide whether this broker could be the one for you.