Larson & Holz is established in 2004 from a group of traders and is regarded as a veteran in the industry using a fast expansion franchise model to cover a wide market presence. Looking at the company history that is transparently published and organized by years, one can notice the aggressive effort to have partnership networks, a large number of clients, social network presence and multiple forms of promotion through awards, bonuses, affiliates and so on.
Still, it is interesting how the broker that is this old and expanded does not receive attention from user benchmark sites, as no rating is given by users. On the other hand, It is also interesting that the broker is offering multiple trading, Binary Options since 2016 and retail CFDs. Whatsmore, Larson&Holz uses two types of business models, Non-Dealing Desk and Dealing desk, and both can be selected on the website.
In 2019 the broker has introduced the MetaTrader 5 platform and it is taking over the older MT4, after the 1st of February, 2020, the MT4 will cease to be operational. No new clients can register for the popular MT4 platform. Even though the MT5 is more advanced, most of the traders think that the benefits it offers cannot compensate for the vast availability of EAs and indicators coded for the MT4. Larson&Holz will not be able to renew its MT4 platform license.

The website design is not very good for orientation, mostly because there are too many selections and menu options that are completely overhauled when you switch from the DD to the NDD. It would seem like you have a new broker, features and conditions. There is also another domain, lh-crypto.com where cryptocurrency trading is offered. As for the regulation, Larson&Holz does not directly promote it, using the network of representatives that act according to the franchises license, the regulation applied is from the client's country of registration. By looking at the trader list for the contest, one can see that the majority of registrations come from the former Soviet Union block.
The Larson & Holz review that follows will give you a better overview of what this FX broker provides and help you to understand if it will be able to meet your needs.
Account Types
Larson&Holz has 3 service sections, for CFD trading using the DD and NDD model and for Binary Options trading. Each has different trading conditions and requirements. We will focus only on CFD trading accounts on both models.
Classic Dealing Desk account offered on lh-broker.com (the address will change if you switch to NDD) is described as having a guaranteed execution of the pending orders and also controlled spreads during the high volatility periods. The broker even states that the maximum is capped to 5 to 7pips. Interestingly the disadvantages are also stated, Classic account has slower execution and wider spreads than the NDD account. It is suitable for beginners and traders doing a few trades per day. Classic accounts are diversified into 3 service classes, Start, Standard, and Pro. The commissions, leverage, swap, bonus availability, assets range, and interest rates are scaled to the account funds amount.

Starting from $1000, traders will have some bonus options, interest rate, and only Forex assets while from $10,000 they will have Forex and Equities range, better interest rates, commissions, more bonuses, and lower leverage. Furthermore, the commission is reduced also by increasing the trading volume. This structure could be overcomplicated when trying to select an account, especially for beginners.
Start class has the lowest minimum deposit requirement, promoted with no requotes feature and competitive spreads for major currency pairs. The account class is also described as "for strategies testing". By looking at the specifications table, traders will see that Start class accounts will have the least favorable spreads and commissions, but trade sizes are in micro-lots.
Standard class is described as a "service for aggressive trading", but it is not stated why as the conditions are not better execution or spread-wise. The account will offer Stocks, Commodities and Forex instruments interest of up to 5% per annum and require a higher minimum deposit.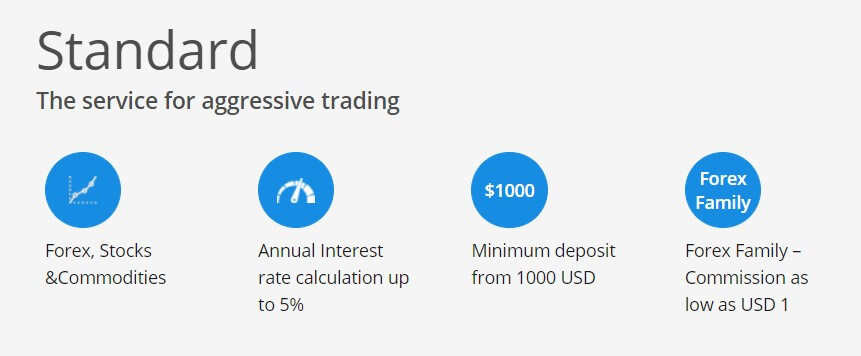 Pro class, formerly called Safe, is described as "for conservative trading". This class requires the highest deposit and interest rate of up to 10% per annum. Some of the details in the account specification tables are not logical and it could be that it is not updated. Based on this, traders will have to confirm the information from the website with Larson&Holz.
The Contest account present on the menu is not a separate classification. It is just has a promotional function since traders that have real accounts with more than $100 balance are automatically included in the monthly contest. The Non-deposit accounts participate in the contest after funding the real account. The total prize pool is usually more than $10,000 and it is distributed according to the profit gain. More on this contest in the Bonuses and Promotions section.
The mentioned Non-Deposit account is not available at the moment of writing this Larson&Holz review. According to the past data, it is designed as a time-limited, non-withdrawable bonus that is enabling traders to generate profits and withdraw them. Additionally, the bonus could be reset 3 times.
NDD/ECN accounts have a specially dedicated site ecn.lh-broker.com. Traders will have similar 3 accounts like with the Classic DD service, Safe, Standard, and No Deposit Account which is suspended currently. The description is the same as with the classic accounts, Standard is for aggressive trading, Safe for long term traders and Start features micro-lot trading. Notable is the difference about the swap, Safe accounts do not have swap rates at all. There are a lot of 404 pages about certain trading conditions and the NDD website feels unfinished.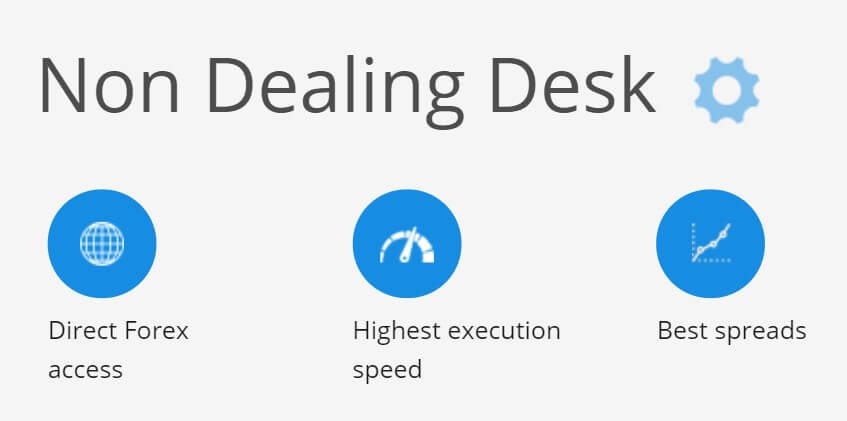 Note that based on the table overlook, the account classifications are just for presentation purposes and the actual conditions on any account depend on the account balance size/deposit amount, and trading volume. What makes Larson&Holz offer unique is the monthly interest rate on free margin credited with compound, if a trader makes 1 lot trading volume. Interest rate amount will depend on the balance size and, for example, accounts with balance above $100,000 have 10% per annum, above $50,000 – 5%, above $25,000 is 4% and so on until the minimum of $1000 which allows 1% interest rate.
Platforms
Since 2020 Larson&Holz does not offer any other platform except the MetaTrader 5 for CFD trading. MetaTrader 5 platform seems still offline for new registrations and we could not test it. Also, some MT5 platform pages show 404 error signaling the broker is still making changes.
Leverage
The maximum leverage may depend on the registration country but the maximum stated is 1:500. Larson&Holz use the so-called dynamic leverage adjustment so once a trader's balance exceeds $1000 the leverage is reduced to 1:200. Above $10,000 the leverage is 1:100 and from $100,000 it is capped to 1:50. EU regulated clients do not have leverage higher than 1:30.

Note that there is conflicting information in the specifications page where maximum leverage is set to 1:100 for Forex, 1:10 for CFD stocks, and 1:50 for Commodities. Traders will have to check with the broker about specifics as currently there are too many inconsistencies.
Trade Sizes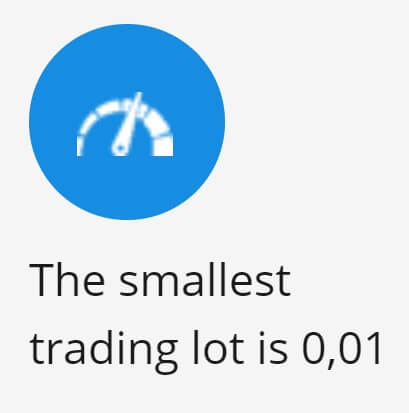 Trade sizes are set to differ between Start, Standard and Pro service class. Start accounts are the only that have micro-lots trade sizes or 0.01 lots. Standard minimum trade size is increased to 0.1 lots and Pro is set to no less than 1 lot according to the published table. There is also a defined Freeze level, meaning any modification, deletion, or closing the orders is denied until the price moves away by a certain amount of pips from the order opening price. A Margin Call is set to 20%.
Trading Costs
Larson&Holz charges a commission that is affected by trading volume, balance size and also on other factors like affiliates, promo codes, etc. The NDD/ECN accounts commissions are from $6 to $12 per standard lot traded. To reach the $6 commission a trader will need to execute more than 10,000 lots per month. As for the swaps they are tripled on Thursdays and it is fixed to 1.0 pips for all instruments and all accounts.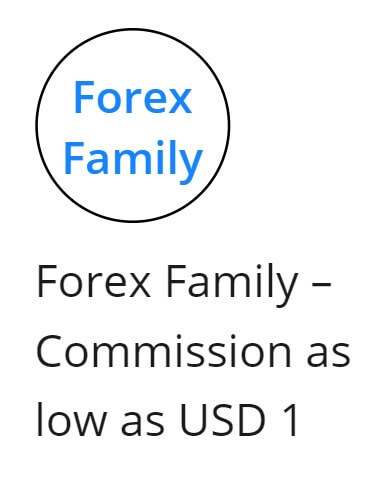 Commissions for the Classic DD accounts the commission is based on the class selection. Start class commission is 0.0089% up to 0.0178% for exotics and some other Forex currency pairs. For stocks CFDs is it 0.05% and 0.035% for Commodities. Standard is stated to have 0.008% to 0.016% for Forex assets, and 0.0315% on Commodities. Pro has the lowest commissions, 0.0062% to 0.0125% for Forex, 0.035% on stocks CFDs and 0.0245% commission on Commodities.
The broker may charge from 25$ to 100$ penalty for every month of non-activity on your account of at least 3 lots for 6 months in a row. If your balance is above $2500 no fee will be charged.
Assets
According to the Larson&Holz published table and accounts, all tradeable instruments are only available for accounts above $25,000 while others could be limited to Forex. This unnecessary complexity is further questioning the reliability of this information. There are a total of 24 Forex currency pairs, all majors and minors are present. From the exotics, the most interesting pairs are USD/HKD, USD/RUB, USD/PLN, and USD/MXN.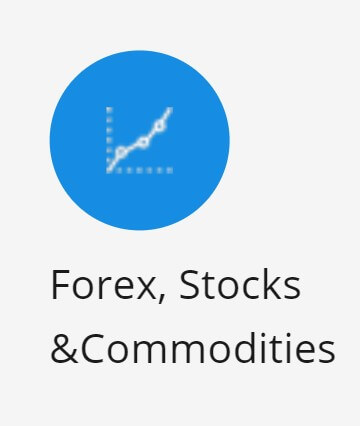 The stock range is average featuring a total of 75 companies. Most of these are world majors and diversified enough across industries. Precious metals are not just limited to the standard spot Gold and Silver. Aside from these, traders will find Platinum against the USD.
Commodities range is very good and competitive with many other brokers. A total of 10 instruments are listed including both Oil types, Brent and WTI. Natural Gas is also added in the energy class and other commodities are Rice, Coffee, Wheat, Soybeans, and Corn.
Indexes are present but not open for trading. On the list are S&P 500 and Dow Jones.
Note that the Larson&Holz also offer cryptocurrencies and other instruments on their crypto dedicated domain.
Spreads
Spreads are promoted as starting from 0 pips. They can be floating and fixed according to the broker statements. The average daily spread is about 1,6 – 2,1 points for majors Forex currency pairs and 4,0 – 5,0 pips for crosses. On the NDD ECN pages, the spreads are also presented from 0 pips and can be reduced with trading volume. By looking at the specifics, readers will be very confused. It is not certain at what time the spreads are fixed and what is the real spread value.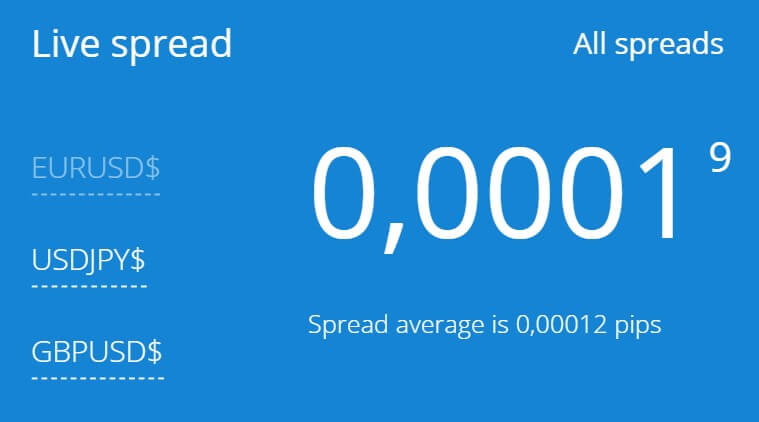 A helpful table can be opened from the homepage of the Larson&Holz website. The table will show the average spread for each asset during the last 24h and also how many seconds the spread was zero. The EUR/USD spread is from 1.13 pips to 2.14, USD/JPY from 1.4 to 2.5 pips, AUD/USD from 1.49 to 2.44, USD/CHF from 1.45 to 5.56, and GBP/USD from 1.80 to 4.30 pips on average. Spot Gold against the USD spread starts from 27.6 pips to 35.0 and for Silver, it is 7.5 to 11.2 pips.
Minimum Deposit
Similarly like with the other information, the minimum deposit is stated at $25 for the Start service but on other pages, it is $250. Traders will have to ask for the latest update on the deposit policy to be certain. On the NDD ECN website, the minimum stated NDD account balance required for trading is $300.

Deposit Methods & Costs
The broker notifies that any commission charged for the deposits will be compensated so traders will have no costs for deposits. Deposits can be made via local Bank Transfers with the commission of $30, VISA, MasterCard, Vload eVoucher, WeChat Pay, Alipay, Easy Pay, PerfectMoney, and Skrill.
Withdrawal Methods & Costs
The minimum amount for a withdrawal is $100. Funds are transferred to the same source from funds that were deposited. A minimum trading volume of 3 lots is required for withdrawal without any penalty fees. The methods available are the same as with the deposits but with commissions. For local Bank Transfers, it is $30, 2.75% for Credit Cards and Skrill, 6% for Vload eVoucher, WeChat Pay, Alipay, and Easy Pay, while PerfecMoney has a commission of 1% and $300 maximum withdrawal amount. In case you want to close your account without executing 3 lots of volume, Larson&Holz may charge from 25 to 100 USD penalty.
Withdrawal Processing & Wait Time
The withdrawals are processed in 24 hours except for the local Bank Transfers that require 2 to 3 working days. Withdrawals are made within the client's area.

Bonuses & Promotions
Contests are one of the highlights of Larson&Holz promotion. They are held every month and traders are automatically engaged once their balance is $100. The broker also mentioned that communication between contest participants is available through the client's area, but we were unable to find anything related. Referral bonuses are possible. Any broker represented on the website will receive a special bonus. The link to the page that should have more details about this program is dead.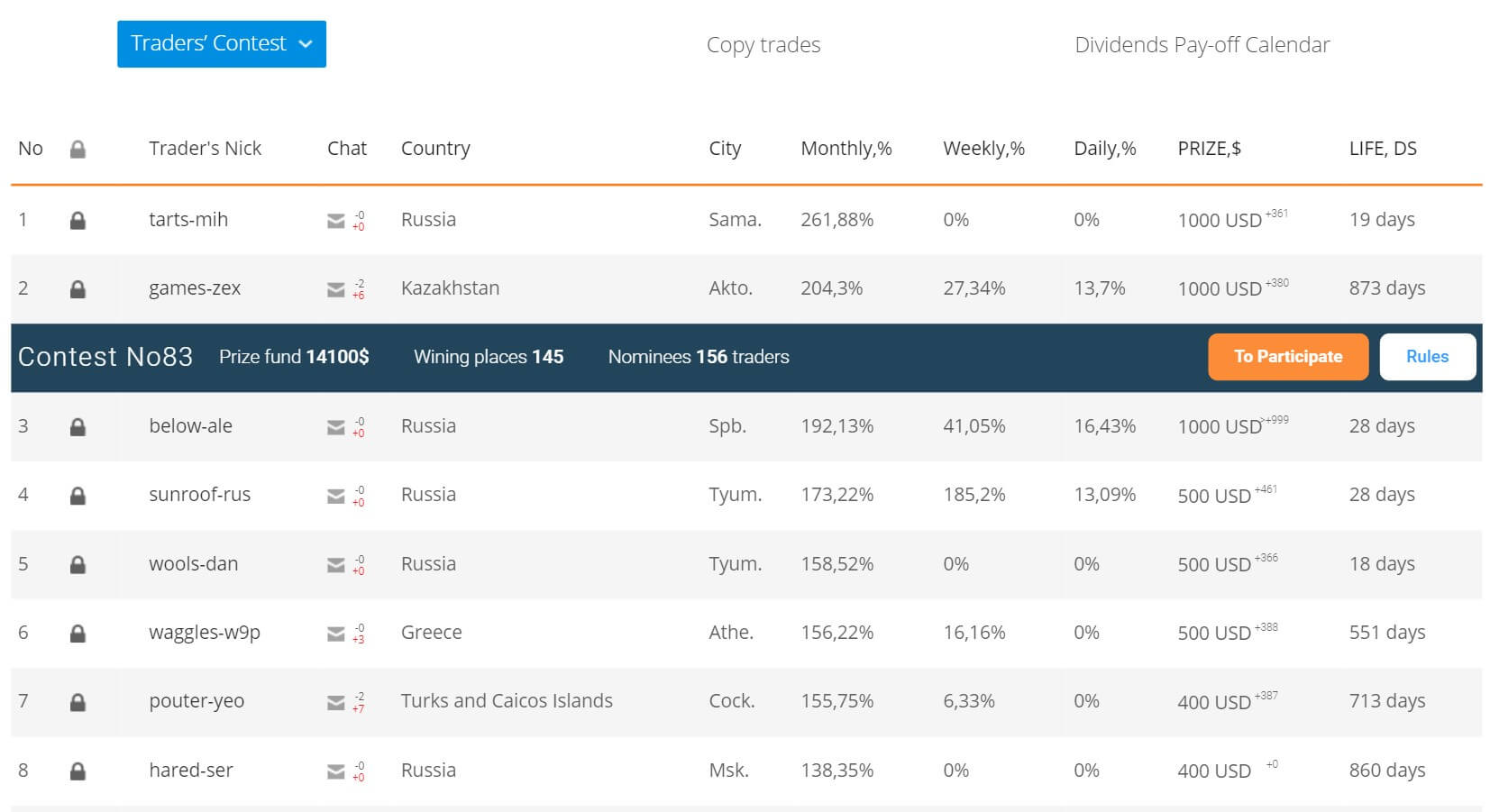 "DepoJet" bonus is a 10% bonus on deposit. On holidays, the bonus is doubled to 20%, but any specifics on which holidays are not given. The bonus is withdrawable after a certain amount of trading volume is reached. The trader will need to be on the Standard service package and have a deposit of at least $5000. Bigger deposits will require an increasing number of the executed trading volume. The non-deposit account is not always available and certain limitations may apply. In our case, it was not available. This kind of bonus was one of the trademarks of Larson & Holz.
Educational & Trading Tools
Trading Center is one of the side buttons always visible on the Larson&Holz website. Trading Center is an educational program service that is provided to traders of various levels and experience. Traders will have to register for this service and there is also a paid training. The fees start from $1300 for consulting to $9500 for the Daily analytical support for 12 months.
The homepage features numerous videos but most of them are more about the broker and its services. Company news is updated with the latest changes within the broker about trading and other important info. News related to trading though is not updated since 2016. There are other pages not directly linked to the Trading Center but contain educational material all over. Recommended literature is an interesting page where the broker lists some books on Fundamental and Technical analysis.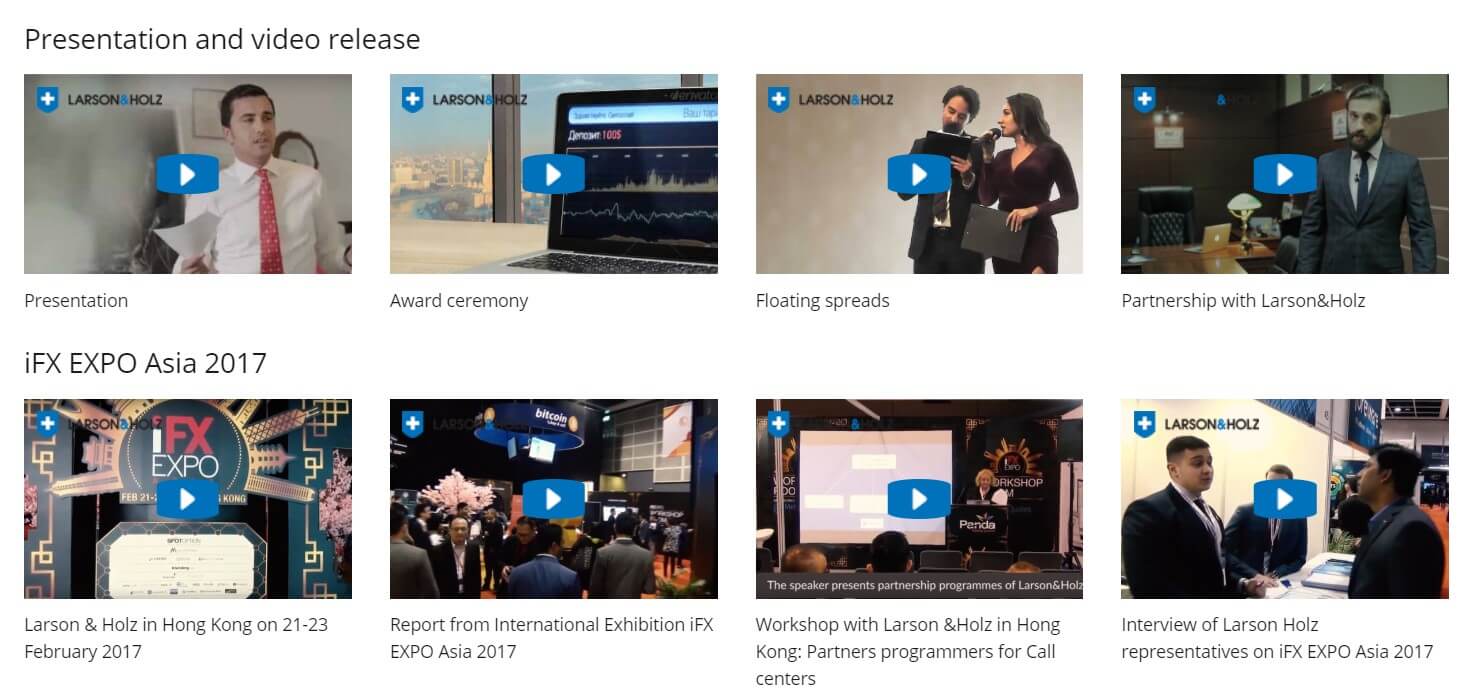 Computer Analysis page is about some of the popular indicators used for technical analysis. Each indicator is described and how it is used. Although the quality is very good and deep, no visuals are included. Fundamental Analysis page describes some of the main events that shake the market. Some of the categories include "Dynamics of prices of oil and energy sources", "Producer price index (PPI)", "FOMC and Meeting", or "Non-farm payroll". Market Execution page is about Larson&Holz models of execution. Although it could be educational, most of the material is promotional.
Customer Service
Larson & Holz has a phone line, mail and live chat for contact. During our testing, the chat service stayed offline and we were unable to reach anyone from the company. The response rate is longer than 24h for the email.
Demo Account
Demo Account opening is done via the email registration. Direct opening from the MT5 platform is not possible. According to the latest changes, the balance is now 10,000 and the minimum trading size is 1 lot. There is no information on any limitations.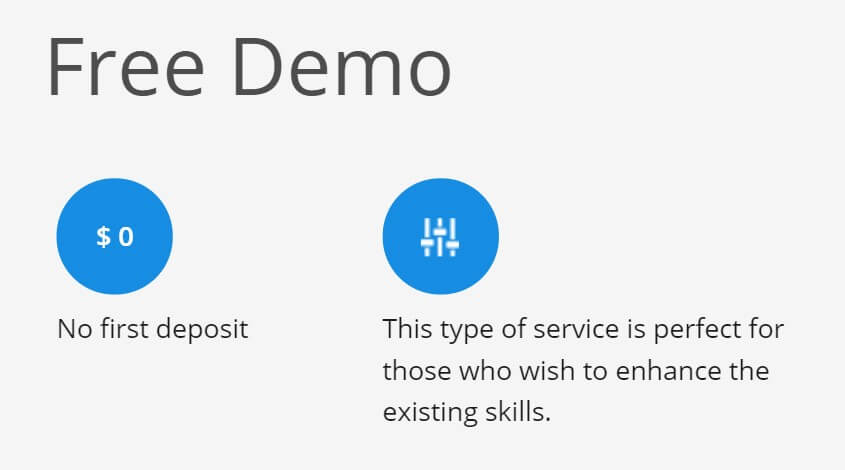 Countries Accepted
Even though the broker is widely spread out these are the countries that are out of service: Afghanistan, Burma, Central African Republic, Cuba, Democratic Republic of Congo, Democratic People's Republic of Korea, Eritrea, France, Guyana, Iran, Iraq, Ivory Coast, Lao People's Democratic Republic, Lebanon, Libya, Myanmar, Republic of Guinea-Bissau, Somalia, South Sudan, Spain, Sudan, Syria, Tunisia, Uganda, USA, Yemen, Vanuatu, and Zimbabwe.
Conclusion
This section of the Larson&Holz review will sum up the impressions and give our general opinion. At the current state, this franchise broker is not credible, transparent and precise enough to attract serious investors. The structure of the website is overcomplicated and the content is inconsistent. We were unable to get a definitive answer to trading conditions, the platform and see what are the real costs of trading.
The transition to MetaTrader 5 feels incomplete like the broker is coping with too many changes it can handle thus providing different info on the same issue. Whatsmore, lack of strong regulation is not the primary concern, but the main attraction was the non-deposit account or bonus that enabled traders to have profits without the initial deposit is not available at the moment. Traders do not appreciate this broker for its assets range, platforms or the interest rate paid on free margin, but the contests and the non-deposit bonus.
Larson & Holz acts as a franchise marketing company in the first place and as a broker the second. Once their specialty accounts are open again, it will attract less serious investors seeking quick and risk-free gains. The crypto domain at lh-crypto.com represents a better brand by this broker group as there are many deposit options, including crypto and other benefits attractive to new-age traders.