EightCap is not an obviously popular or much spoken about forex broker and does not receive a huge amount of online social media traction for their services, compared to other forex brokers of the same caliber, which usually suggests they could be relatively new to the industry. However, upon some quick research, we found that EightCap have in fact been operating a forex brokerage service the year 2009, and are also regulated by the Australian Securities and Investments Commission (ASIC), so this does provide some peace of mind in regards to security of client funds in the case of any trade issues or missing withdrawals.
EightCap also offers white label services alongside their trading services, as well as IB affiliate schemes so trading clients can expand their profit opportunities with this, if they wish to. In regards to the website, it is very modern and well laid out, and includes an FAQ page A live chat facility is available 24/5 for the fast resolve of queries you may have, also.
Account Types
EightCap offers two account types: Standard and Raw. Raw account holders will be charged trade commission fees of $3.50 per lot ($7 per round turn). However, the Raw accounts have tighter spreads, starting from 0.0 pips. While the Standard accounts charge no trade commission, this account has wider spreads, starting from1.0 pips. It should be noted that both accounts allow full scalping and hedging.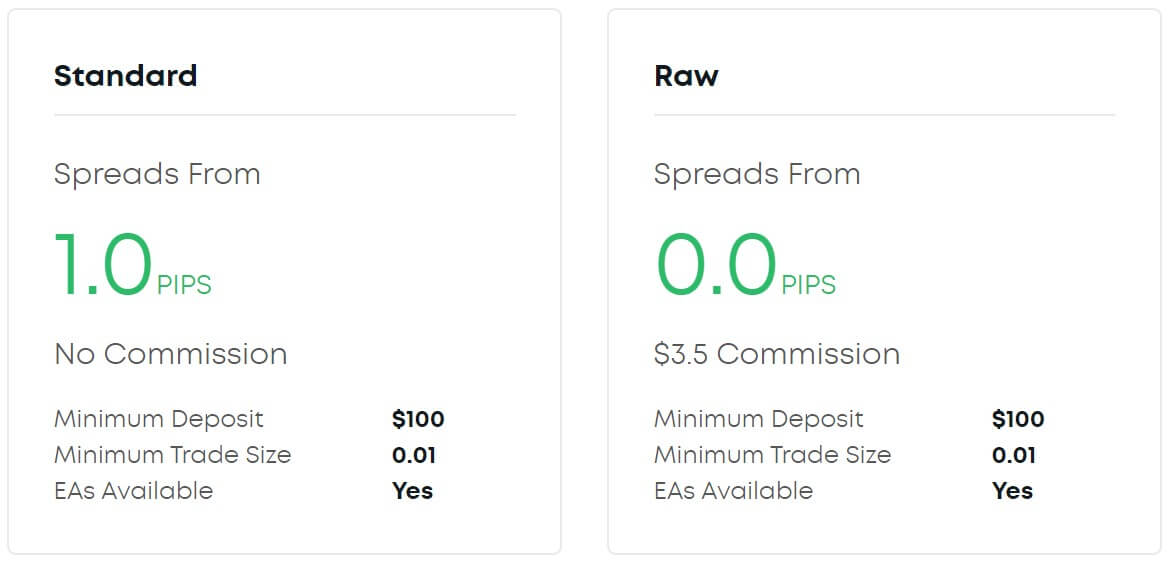 When choosing an account, the trader must consider what volume you are trading. If you are trading substantial (high) volume, it may be more cost-effective to go with the account that has tighter spreads yet still charges commissions. Similarly, if you trade very small volume, an account with 0 trade commission fees yet slightly wider spreads, may perhaps be more suitable. Of course, it is always wise to backtest a broker's services on demo prior to opening the live account, if you are unsure of what account will be more appropriate for your style of trading.
Platforms
EightCap is very much 'with the times' when it comes to their services, especially in regards to the choice of trading platforms they offer. Not only are their services compatible with MT4, but also MT5. Both web/desktop and mobile versions are all available for clients to trade both from home as well as when they're out and about.
Leverage
The maximum leverage EightCap offers is 1:500 which is competitive in itself. Both account types have access to this leverage, which is a great tool to use for profit maximization, even in the case of a small capital account.
Leverage options do vary however depending on the assets you are trading:
Forex 1:500
Commodities: some 1:100, others 1:200
Indices 1:200
Shares: some 1:100, others 1:200
Cryptocurrencies 1:5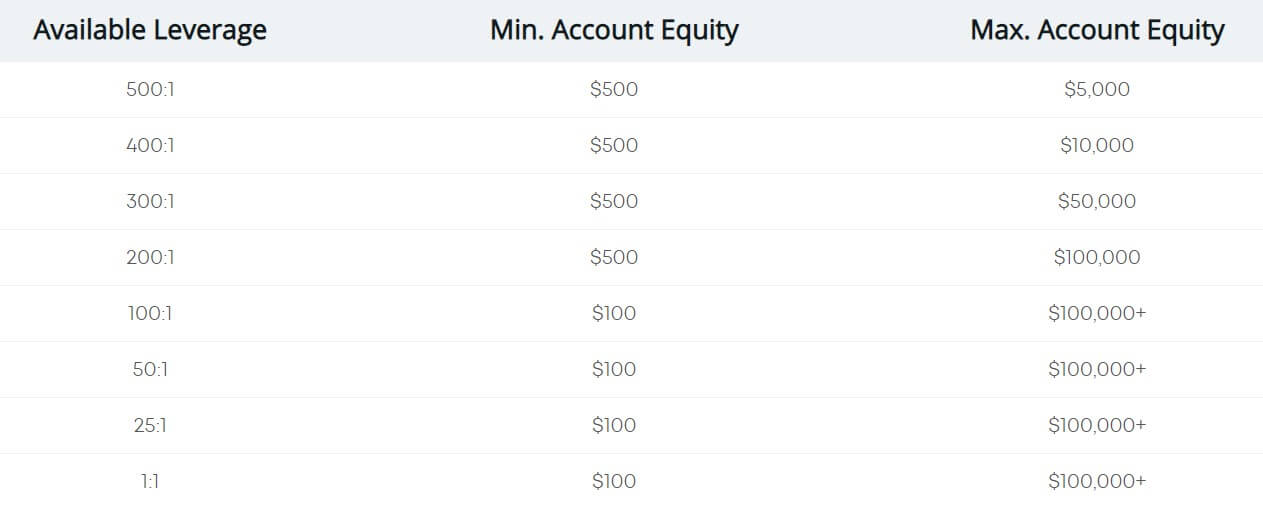 All leverage options are very generous except perhaps for crypto trading; 1:5 is very low and not competitive at all when other brokers are offering crypto trading leverage as high as 1:50 or even 1:100, which of course generates a lot more profit on winning positions than just 1:5.
Trade Sizes
The minimum trade size requirements set by EightCap actually depend on the assets you are trading, which re as follows, (all applicable to both account types)
Forex: 0.01 lot, maximum of 40 lots
Crypto: 0.1, maximum of 100 lots
Commodities: 0.1 lot, maximum of 100 lots
Indices: 0.1 lot, maximum of 30 lots
Trading Costs
As mentioned earlier, only 1 out of the two live account type options charge trade commission fees, which is the Raw account, which charges trade commission fees of $3.50 per lot ($7 per round turn).
It is always important when considering total client trading costs, not just the commission fees, but also the spreads; for example,t eh RAw account is charged trade commissions (not high ones, at that, in comparison to other brokers), but one must also consider the spreads. In this case, the Raw account has tighter spreads than the Standard account.
Assets
With EightCap, clients have access to the following markets, with over 40 of the following assets available:
Forex
Commodities
Indices
Shares
Cryptocurrencies
Spreads
EightCap offers variable spreads to all clients, on all tradable instruments. All tradable instruments available, together with their average spread, is available to see on the website. For the most part, spreads offered by EightCap are very competitive, especially for the FX Majors available.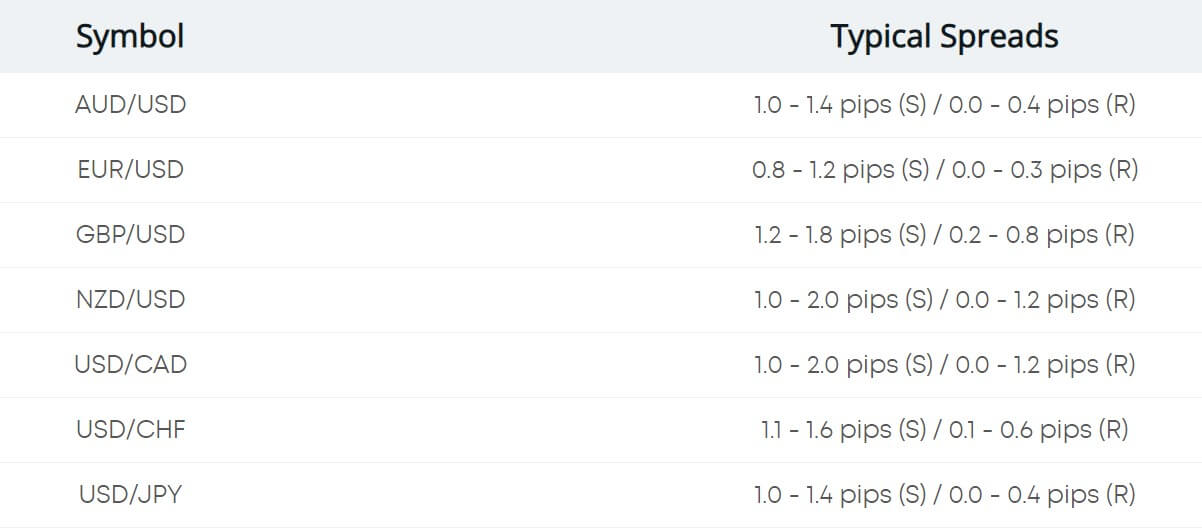 Minimum Deposit
If trading with EightCap, the minimum deposit is 100 of your base currency (USD, EUR, GBP, etc.), which applies to both Standard and Raw account. This is not an unreasonable minimum requirement to expect and is considered most probably, an average minimum requirement if compared to what other brokers require from their clients.
Deposit Methods & Costs
EightCap website clearly states the funding methods options which are as follows:
Debit/Credit Card (MasterCard/Visa) – 0 fee
POLi Payment – 0 fee
Bank Wire (check with your banking provider if any fees apply on their end)
BPAY – 0 fee
Skrill – 0 fee
China UnionPay – 0 fee

Withdrawal Methods & Costs
The withdrawal methods offered by EightCap are the same as of course, the deposit methods listed above. As stated on the website, EightCap does not charge any fees for withdrawals, however, it is also wise to check with your provider to avoid any disappointment, if you are liable for any fees from their side.

Withdrawal Processing & Wait Time
All withdrawal processing times are detailed on the website, for each withdrawal method offered, which are as follows:
Debit/Credit Card (MasterCard/Visa): Processing is 2 – 5 business days but completion is between 3-20 business days
Bank Wire: Process time is 24 hours, but completion time can take 2-5 business days
Skrill: 2-5 business days in total
It is also important to note that EightCap has a policy in place whereby you must first withdraw the amount you INITIALLY deposited (via the same method you used to make the deposit, then only after, you may withdraw any additional profits either via the same method used to deposit, or an alternative method of choice.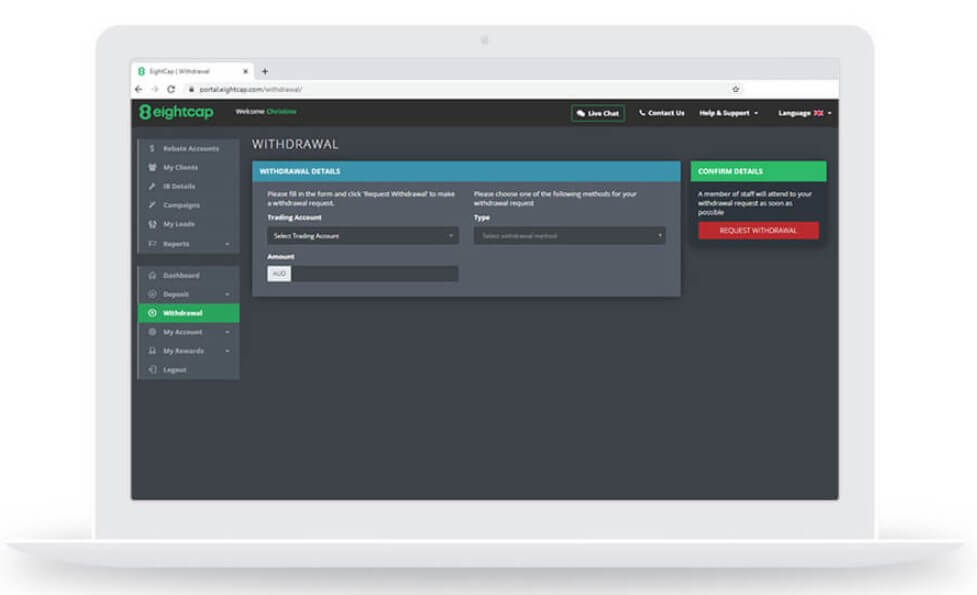 Bonuses & Promotions
EightCap does not offer any deposit bonus or promotional schemes at this time.
Educational & Trading Tools
EightCap has been very forward-thinking in how to appeal to all trader, new and experienced alike, as there is ample free educational material and trading tools that both types of traders can benefit from, including Analysis Overview, Forex News, guides on MT4 platform and how it works, Trading Strategies and so on.

Customer Service
EightCap Customer Service deserves a high rating for the prompt response time it consistently sticks to, and the knowledgable representatives who clients can speak with. The customer support team operates via telephone, email or Live Chat, all of which are available on a 24/5 basis.

Demo Account
You can create a demo account with EightCap upon request, however, note that this is only valid for 30 days. In the case of needing to spend more time on demo trading, you can of course simply apply for a new one after the 30 days expiry.
Countries Accepted
Due to EightCap's ASIC regulation policy, only residents of Australia are allowed to make use of these trading services, as stated in the website disclaimer at the footer of the page.
Conclusion
Overall, this broker is very impressive with their trading conditions offered, a wide variety of deposit and withdrawal methods, a choice of using both MT4 or MT5, competitive spreads, and a high-quality 24/5 customer support team. Many traders will not be disappointed with the overall services of EightCap, however, the only downside is that these services, as per ASIC restrictions and regulations, only residents of Australia can make use of the service.