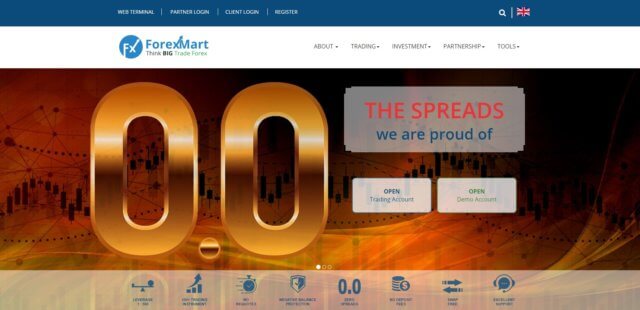 ForexMart is an offshore broker, registered in Kingstown, Saint Vincent and the Grenadines, and have been operating their services since the year 2015. This broker is most well known for its wide provision of tradable assets accumulating to over 100 instruments, as well as a high leverage of 1:500. This broker is also heavily affiliated with a number of online social media outlets, which is where many clients first hear about ForexMArt. This also means that for those of you wishing to expand your income outside of personal trading profit, you can also become an affiliate of ForexMart, and there are a variety of types of partnerships to choose from.
Account Types
ForexMart offers 4 live account types for their clients to choose from, and each has varying benefits:
Classic: Min Deposit $15, 0 commission, floating spreads from 1 pip
Pro: Min Deposit $200, 0 commission, floating spreads from 0.6 pips
Cents: Min Deposit $15, 0 commission, floating spreads from 1 pip,
0 Spread: Min Deposit $1, 0.02% – 0.07% commissions, min spreads 0 pips (fixed)
Platforms
ForexMart offers the MetaTrader 4 platform, which clients can use via Web base, Desktop and mobile (iOS/Android) versions, as you wish. This means clients of ForexMart have the flexibility of being able to trade both at home or on the go.

Leverage
The maximum leverage offered by ForexMart is a competitive 1:500 for Forex trading. This leverage allowance is rather high in comparison to many brokers, so ensure you are using it with caution, as it can be detrimental to trading loss as much as it can be a benefit to accumulating great profit.
For Gold trading, leverage allowance is up to 1:100 and for Crypto trading, it is very low, set at 1:2. Crypto trading leverage is not competitive at all, compared to what many brokers are offering, however, 1:500 for Forex is more than generous.
Trade Sizes
ForexMart requires clients to trade with minimum trade sizes of 0.01 lot and maximum of 1000 lots. The minimum requirement is standard and more than amicable even for those trading with small capital, and the maximum is very generous for those who wish to trade large volumes. These requirements are applicable to all trading account types, with the exception of the Cent account, which requires a minimum trade size is 0.01cent lots and 10,000 cent lots is the maximum.
Trading Costs
The FAQ page does not state the commission fees for each trading account type, so I spoke to the customer support live chat team who seemed very confused by my question and repeatedly linked me to deposit and withdrawal fee links from the website. After much time, we finally got to the bottom of it and can tell you that ForexMart does NOT charge trade commission fees.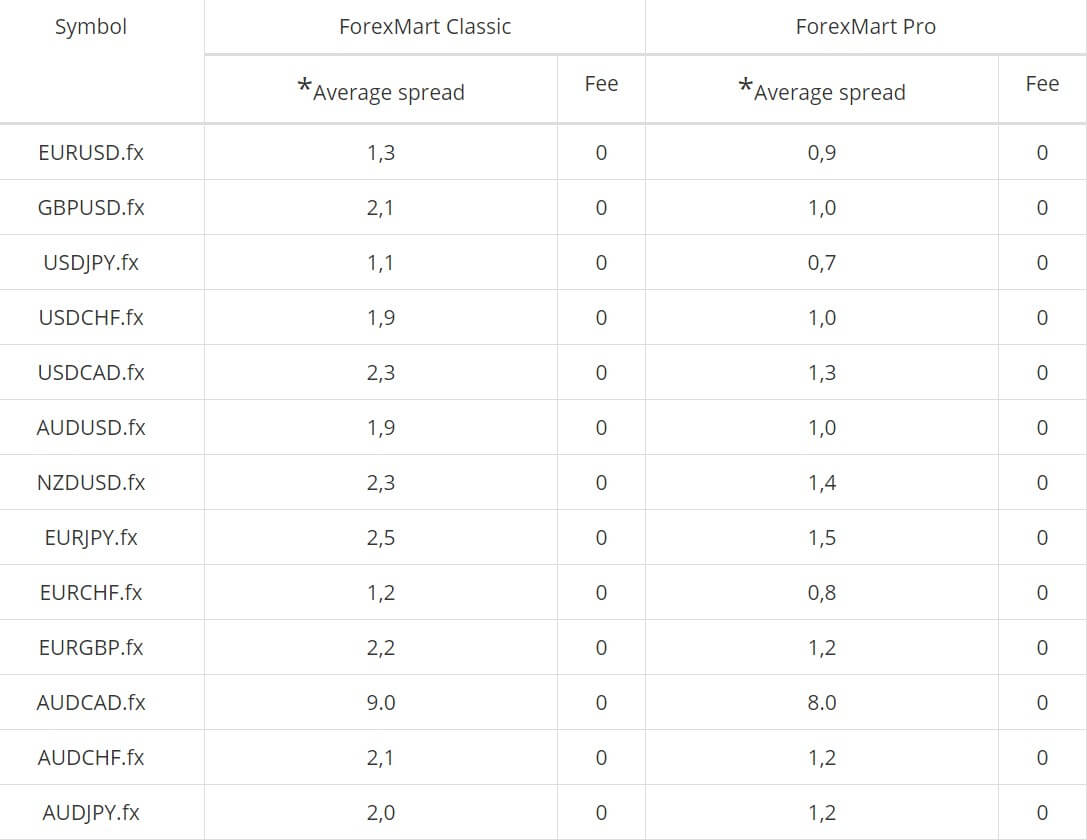 Swap fees are listed on the website and vary according to the pair you are trading. As for Islamic account (swap-free) options, these are also available upon request.
Assets
ForexMart advertises on the website that they offer over 100 instruments for their clients to trade. ForexMart displays all tradable instruments available (fixed and floating spreads options according to account type). Clients may trade CFD Forex, Cryptos and Shares, and there is the option also for Spot Metal Trading. Overall, ForexMart does offer a fairly diverse variety of instruments to trade, but the one that is really lacking is in the crypto trading department, where only 5 cryptos are available to trade.
Spreads
ForexMart offers both fixed and floating spreads, depending on the account type option and currency pairs you are trading. All spreads (typical for floating as well as fixed) are displayed on the website, to save you opening a demo account to see the spreads specific to each pair on each different account type.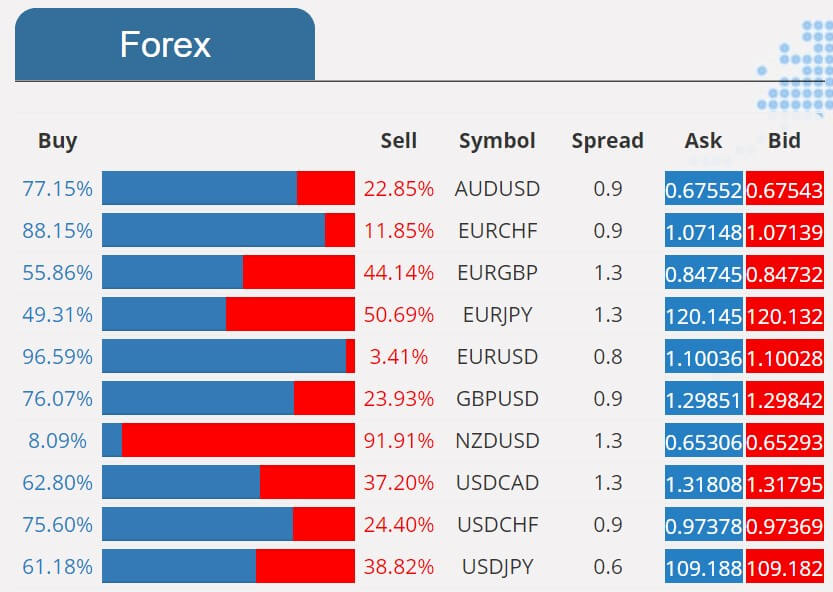 Minimum Deposit
The minimum deposit varies according to the account type, all of which are displayed on the website as seen below. We would say that even the highest deposit requirement on the Pro account, is appropriate and not unreasonable if compared to other broker's trading start requirements.
Classic: Min Deposit $15
Pro: Min Deposit $200
Cents: Min Deposit $15
0 Spread: Min Deposit $1
Deposit Methods & Costs
All Deposit methods available with ForexMart can be found on the website:
Bank Transfer
Card (Visa/Mastercard)
Skrill
Neteller
PayCo
FasaPay
Qiwi
UnionPay
AliPay
All deposit methods are free of charge from the broker, however, there is a statement on the website to tell clients that they may be liable to pay fees from the banking provider's side, although ForexMart, will, on occasion where they see fit, reimburse the fee to the client.

Withdrawal Methods & Costs
All withdrawal methods and costs are set out on the website as follows:
Bank Transfer: 2.5% fee, min 2 USD
Card (Visa/Mastercard): 2.50% + fixed fee 3.50 USD/EUR
Skrill: 1% (not more than 11,41 USD or 10 EUR). Transaction fee – 1.39%.
Neteller: 2%
PayCo: no fee
FasaPay: no fee
Qiwi: no fee
UnionPay: 2%
AliPay: 2%
Of course, always check with your banking provider to confirm if you will be charged a fee from their side as well as this is sometimes the case.
Withdrawal Processing & Wait Time
Withdrawal processing times are set out on the website: PayCo, FasaPay, Qiwi, UnionPay, and AliPay are all processed within 48 working hours while Skrill and Neteller can take anywhere between 1-7 days to be processed, and then received. Bank and card transactions can take between 2-4 business days to process. Overall these processing and wait times are not competitive when some brokers offer instant withdrawal options. This broker has 0 instant withdrawal options, so be sure there is an option that you are happy with before you register as a live client with ForexMart.
Bonuses & Promotions
Although ForexMart website does not clearly set out the bonus scheme they offer, the customer service representatives can offer this information. They explained that the bonus scheme is not only a one time offer but a revolving product whereby clients holding a Classic or Zero Spread account, can make use of a bonus each time they make a deposit. CLASSIC account holders can get an additional 20% while ZERO SPREAD account holders can receive an additional 30% of the deposit, each time they make a deposit.
Deposit bonus schemes are not entirely what they are cut out to be, and not as great as they seem at first glance, so ensure you read and fully understand all terms and conditions associated with them before making use of such schemes.
Educational & Trading Tools
ForexMart offers a range of trading tools to assist its clients including the following: an Economic calendar, market analysis, economic news information, currency converter, and a forex glossary. All these tools are freely available on the website, and highly beneficial to all client traders experienced as well as novice traders.
Customer Service
ForexMart operates its customer support on a 24/5 basis. You can speak to a representative via Live Chat, Email, Telephone, or call back request at a time that is suitable for you. What is also even more convenient for some customers of this broker is that ForexMart offers customer support via Viber, Skype, WhatsApp, and Telegram. These customer support channels give clients a lot of flexibility especially when out and about, or trading on the go and needing to speak to a representative in a more modern and convenient fashion.

Demo Account
ForexMart offers both live and demo account options. Whether you are an experienced and confident trader or not, a demo account is always good to make use of to try out the forex service of the broker overall before moving on to the live account. Bear in mind of course that while the demo reflects the live account trading condition environment, it cannot take into account things like slippage, which can, of course, occur in live trading.
Countries Accepted
Of course, in respect to the fact ForexMart are not regulated, and that some jurisdictions do not allow it's residents the use of trading services, the following countries will not be granted access to a live trading account with ForexMart:
United States
North Korea
Myanmar
Cuba
Sudan
Syria
If your residency is not accepted, this will become apparent as part of the verification process when you are required to submit both proof of photo ID and document proof of address.
Conclusion
ForexMart offers a fair amount of positive qualities in their trading service, such as the leverage allowance and 0 commissions, however, there are some questionable elements such as the deposit bonus schemes which can really get clients into some trouble if they do not fully understand how they work, and this can lead to aggressive trading and frequent deposits. Another issue with this broker is that they claim to have a 24/5 customer support service, but the live chat team are offline for the majority of the day, which indicates this broker is not true to their word on one aspect which then leads one to think: what else are they not 100% transparent on? This uncertainty is also backed up with the fact the FAQ page and the website do not set out information at all regarding the deposit bonus scheme; this only became apparent through a customer support representative.
If you are considering joining this broker, ensure you try out the demo first and get all questions you may have, answered well before you sign up so you fully understand the ins and outs of the service you are getting into.