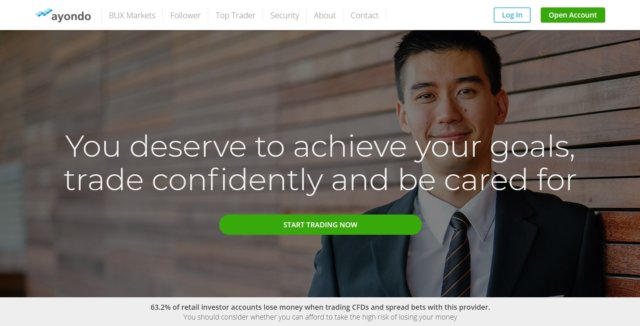 Ayondo is a UK-based company that offers both trading and social trading platforms. Ayondo is better known for its social platform as one of the bigger entrants in that market. Founded in 2008, Ayondo has won a number of awards and recognitions for its innovation and service. Ayondo is a social trading platform that allows traders to copy other traders and works slightly differently to the standard broker, so throughout this review, we will be looking into the services on offer to see how they live up to the competition.
Account Types
There are two different account types, the trading account or social trading account, there isn't a lot of information given out about them, so as we go through this review we will be looking into the different features being offered and will outline them within each section. There is a social account and a trading account that is based on the platform that you are going to be using.
Platforms
There are also two different accounts available which are based on the account type that you use.
Social Platform:
This platform allows you to copy the trades of other traders on the site. You can search through using various filters, drag traders into your trading list and then copy their trades with just £2,000. There are plenty of features to help with risk management and profitability.
Trading Platform:
This platform comes with the following features:
Input notional amounts for trades
Trading for value allows you to quickly adjust positions
Constant support
24-hour dealing desk
Fast and accurate execution
Free telephone trading
Personal client service based in London, Frankfurt, and Singapore
Trade on the go
Access TradeHub® wherever you are, on your PC, tablet or mobile
Download the TradeHub® app for iOS and Android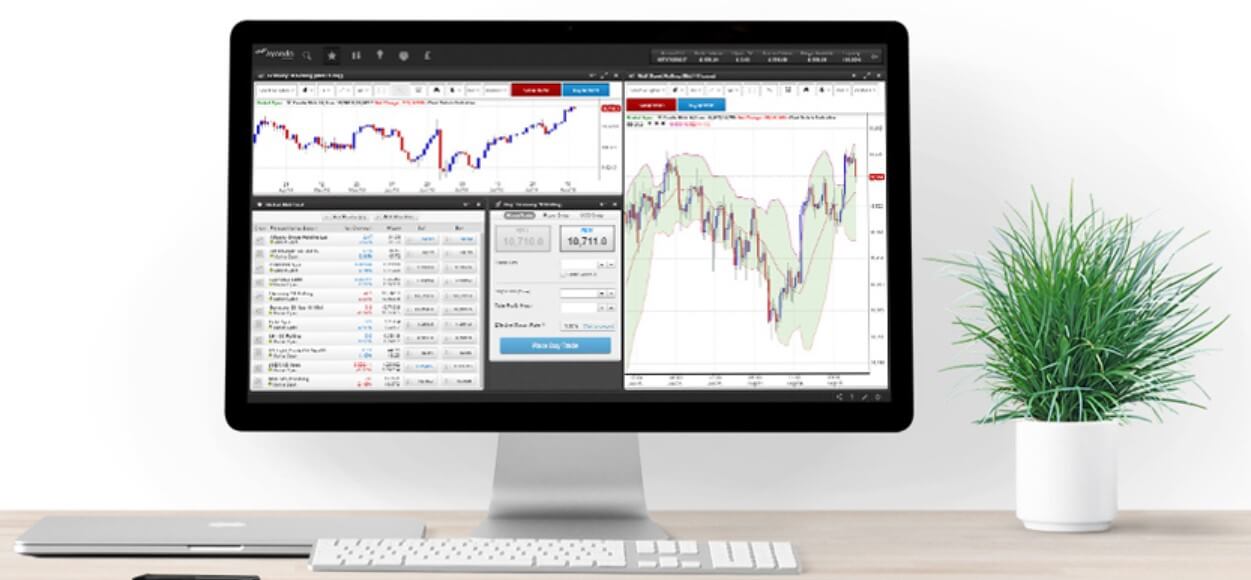 Leverage
The trading side of Ayondo, Bux Markets follows the recommendations of the ESMA which are as follows
30:1 for major currency pairs
20:1 for non-major currency pairs, gold, and major indices
10:1 for commodities other than gold and non-major equity indices
5:1 for individual equities and other reference values
2:1 for cryptocurrencies
If you are considered a professional trader then you are able to have leverage up to 1:200.
Trade Sizes
Trade sizes on both the social and trading side start at 0.01 lots and go up in increments of 0.01 lots. We do not know what the maximum trade size is or how many open trades you can have at any one time.
Trading Costs
We did not see any mention of any commissions as it seems that both sides of the broker use a spread based system that we will look at later in the review, there are two charges which will be charged when holding your trades overnight, you can vire these swaps within the trading platform that you are using.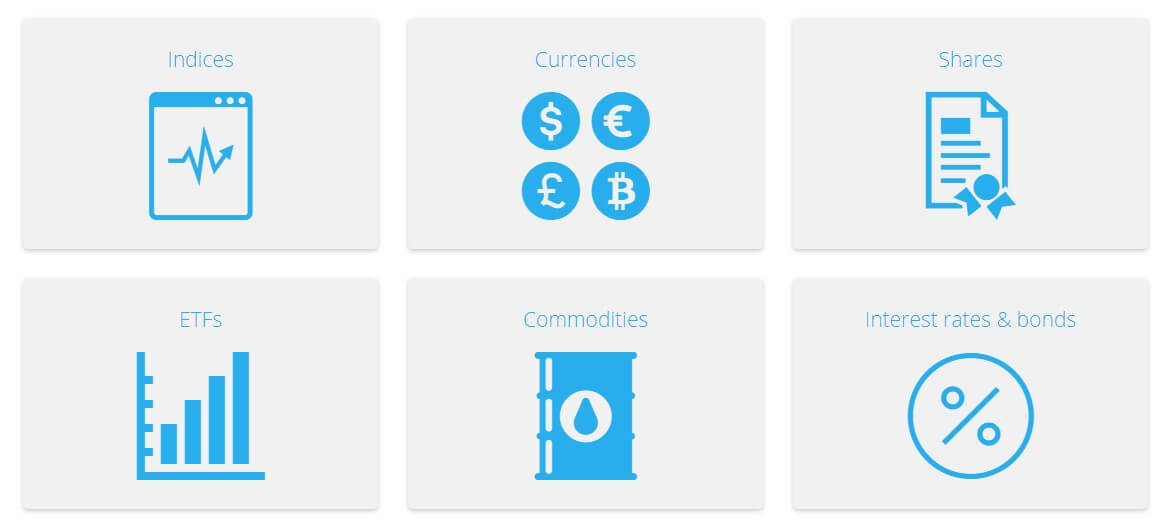 Assets
The assets have been broken down into a number of different categories, we have outlined them below along with the instruments within each category.
Currencies:
AUDCAD, AUDCHF, AUDJPY, AUDNZD, AUDUSD, CADCHF, CADJPY, CHFJPY, EURAUD, EURCAD, EURCHF, EURDKK, EURGBP, EURJPY, EURSEK, EURSGD, EURUSD, GBPAUD, GBPCAD, GBPCHF, GBPJPY, GBPNZD, GBPSEK, GBPUSD, NOKSEK, NZDCAD, NZDCHF, NZDJPY, NZDUSD, USDCAD, USDCHF, USDJPY, USDNOK, USDSEK, USDSGD, USDZAR.
Crypto:
Bitcoin, Bitcoin Cash, Ethereum, Litecoin, and Ripple.
Indices:
UK 100, Wall Street, US 500, US Tech 100, Germany 30, European Stocks 50, France 40, Spain 35 + more
Shares:
There are plenty available from all over the world including UK, US, France, Germany, Belgium, Netherlands and more.
EFTs:
QQQ Nasdaq, SPDR DJIA, SPDR Gold, SPDR S&P 500, Vanguard, iShares.
Commodities:
Gold, Silver, Platinum, US Crude Oil, Brent Crude Oil, and Wheat
Spreads
The spreads seem to start from around 0.7 pips, however, there is a wide range of spreads as each instrument has a different starting spread, so while EURUSD may start at 0.7 pips, a different instrument such as AUDCAD has a starting spread of 5 pips. The spreads are also variable which means they will move with the markets and will grow larger and smaller depending on how much liquidity or volatility there is in the markets.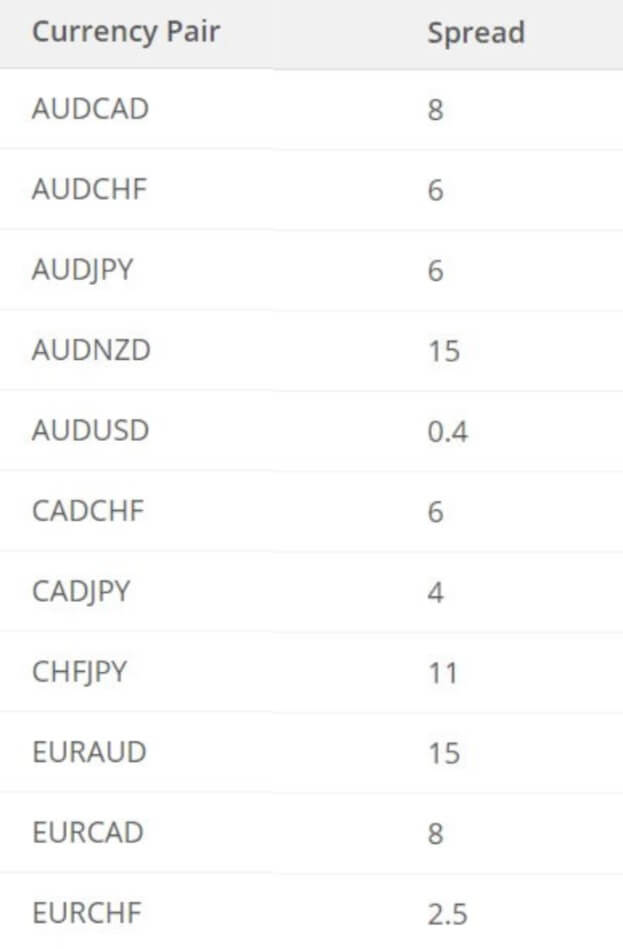 Minimum Deposit
The minimum amount required to open up an account is £2,000. We are not sure if this amount reduces once an account has been opened but we suspect that it will.
Deposit Methods & Costs
You are able to deposit into Ayondo using both Bank Wire and Credit/Debit Card. There may be other methods available however they are not mentioned on the site so we cannot say for sure. We also did not locate any information in regards to any potential fees or commissions, you should, however, check with your own bank or card issuer to see if there are any added transfer fees from them.

Withdrawal Methods & Costs
We do not have much information on withdrawals either, you can certainly use Bank Wire Transfers as a withdrawal method, but we do not know about the Credit/Debit cards or any other available methods., Once again we also do not know if there are any added fees or commissions, but check with your own bank for any incoming transfer processing fees.
Withdrawal Processing & Wait Time
We do not have any concrete information on this, however, we would expect any withdrawal requests to be fully processed within 1 to 5 working days from the request being made, however, we cannot say this for sure.
Bonuses & Promotions
Looking through both sides of the site there does not appear to be any active promotions or bonuses, if you are thinking of joining and like bonuses, you could always contact the customer service team to see if there are any available, however, Ayondo is not known for their bonuses.
Educational & Trading Tools
The education side of the site isn't really an education, it is more just a group of pages giving you an idea of what different things mean. There is a page explaining what CFDs are, what spread betting is and then a glossary of trading-related terms which you can refer back to just in case you come across something that you do not know the meaning of.
Customer Service
There are offices in both London and Frankfurt, the client services are open between 08:00 and 17:00 UK time, and the trading desk is available between 22:15 on Sunday and 22:15 on Friday UK time.
You are able to use the available postal addresses, telephone numbers, and email addresses for both locations (London and Frankfurt).
London Details:
Address: BUX Financial Services Limited, 2nd Floor, Canvas, 35 Luke Street, London, EC2A 4LH, United Kingdom
Email: [email protected]
Phone: +44 (0)20 3326 2131

Demo Account
Demo accounts are available from the Trading side (Bux Markets), the trading conditions on the account will mimic the trading conditions mentioned in this review and allow you to trade and test out new strategies without any real risk, we do not know if there is an expiration on the account though.
Countries Accepted
The following statement is present at the bottom of the website: "The information on this site is not directed nor is intended for distribution to, or use by, any person in any country or jurisdiction where such distribution or use would be contrary to local laws or regulations. Such residents and countries include, but are not limited to, the United States."
Conclusion
There are two very distinct services on offer and neither of them gives us all the information that we really need. There is a slightly higher than normal minimum deposit requirement of £2,000 which could price out relatively new traders. The leverage on offer is also relatively low, it is capped at 1:30 for most clients due to the ESMA recommendations which can greatly limit profit potentials. The lack of information on deposit and withdrawal methods is also disappointing and for the reasons mentioned above, we would currently not recommend Arondo as a trading service or a social trading platform, as there are better out there of both departments.