This is a Japan-based broker offering OTC Binary Options and OTC Forex leveraged derivatives. It is founded in 2006 as FXFOR JAPAN K.K. and rebranded into FXTF (FXTrade Financial) – Goldenway Japan Co., Ltd recently in 2019. The company is very transparent with the history and the way it is conducting business. Visitors to their website will notice the effort put into to disclose more key facts about the company than many other brokers in the industry. Financial statements are published for the latest quarter where potential investors can see Capitalization ($5.80M), sales performance, Net Income, Shares ratios, and key financial figures, ROE, all for the last four years.
FXTF risk disclosure is also one of the longest we have seen in the website footer. Here it is also explained in detail what traders are involved with without regard that it may be too confusing for them or that it could turn them away. For some, this is a good signal about the broker's clear ethics and business practices. FXTF holds several licenses, Type I Financial Instruments Business Operators, Director-General of the Kanto Local Financial Bureaus (Financial Instruments) No. 258; Financial Futures Association of Japan Registration No.1570 and Japan Investment Advisers Association No.012-02639.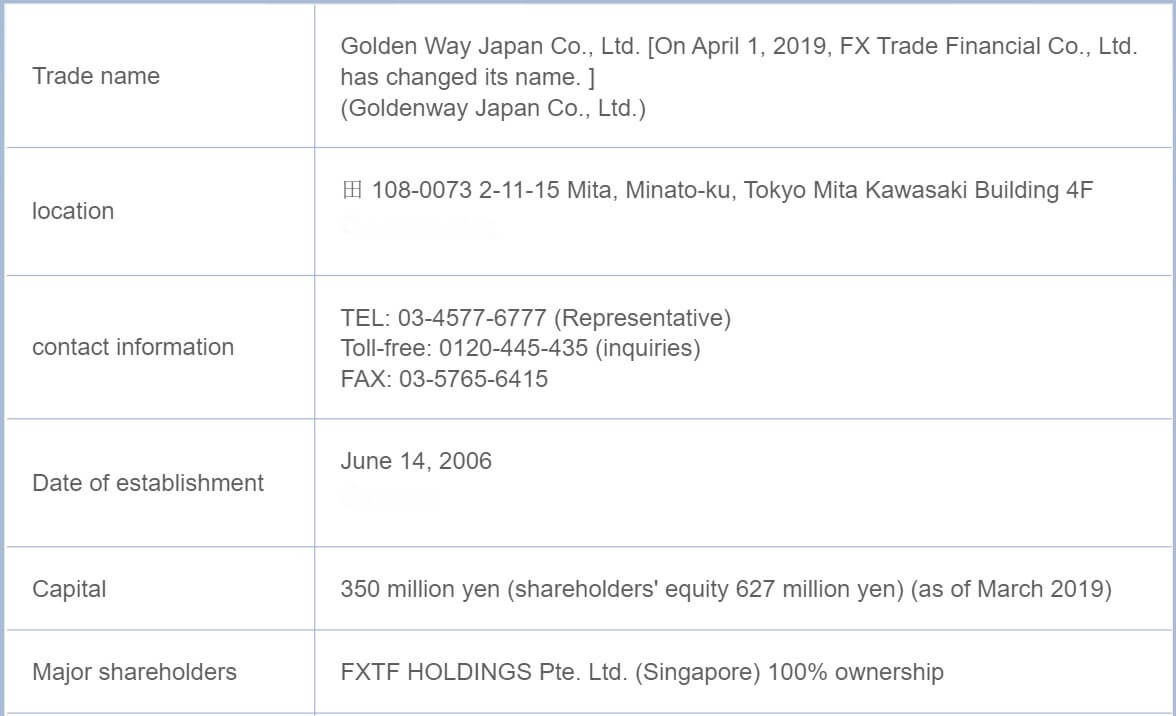 The website is devoid of any typical design works to make it pretty, the focus is put on functionality but also on transparency. The English version of the website is less developed, without the call to open the account or any kind of marketing. Whatsmore, the Contact page is intended only for B2B, with a clear no solicitation statement. This shows that FXTF is a domestic-only broker.
FXTF is formed based on a distinct culture, so traders will notice the difference in the broker philosophy, typical for Japan's discipline, morals, and precision. Not much can be found about FXTF on the internet or any kind of user reviews on benchmark sites. This FXTF review will present to you what makes this broker different across the services provided.
Account Types
FXTF does not offer any packages, traders can select MT4 Account or MT4 Account with Binary Options. These are also available for Corporate Accounts. The broker promotes them as without any fees. Upon registration, new clients will have to consent to several legal documents, some of which are very interesting, like "Consent not to be anti-social", "Confirmation" documents and the promise check beside it. None of these legal documents are in English so we assume the broker is focused on the local, Japan market. Additional information is required, such as trading experience, Tax-included annual income, Bank Account info for withdrawals, Occupation and a lot more. The application procedure is very extensive. The broker also offers Cent account where 1 lot is 10,000 currency units.
Platforms
According to the information we have from FXTF's website, only the MetaTrader 4 platform is available for CFDs. MT4 is adapted to work on Windows, Mac and also on mobile devices running on Android or iOS. For those who want to access trading without any installation, it can be also done with the MT4 web-accessible client. Once installed, the MT4 will show two servers, FXTF Demo and Live, both with a 280 ms ping rate. Note that FXTF's servers are located in Japan and they are proud to be domestic. The platform is not set to defaults, the first thing we have noticed is a slightly different chart layout.
There are four chart windows with major forex pairs but all are JPY quoted except for the EUR/USD. Also, the colors are changed from the default black/green setup with One-click trading buttons visible. Once you look into the custom indicators list, it will be clear that this is not the default installation package. There are 21 custom indicators from FXTF with a prefix. These indicators are very useful from what we could see, some of the indicators have advanced settings, although in Japanese characters, and some are intended to enhance the trading experience with positions info, Japan time, Price Action and similar.

Some of these work only on Live accounts. Especially interesting are the MACD versions and the one called Daijunkan MACD which provides multiple category signals. The same is with the templates pack, multiple FXTF custom templates are found named after some of the indicators included. They seem to be well designed and ready trading systems. Symbols list has only one group – "Forex-cd". The group also contains some of the commodity assets that obviously do not belong to Forex.
All assets have a cd suffix. The instrument specification window will show enough information but we have expected more on the leverage or margin requirements. The Terminal window will show all trade costs including swaps and commissions. The execution times are inconsistent, on average are about 650 ms with ranges from 400ms to 1300ms. These execution times are probably not relevant as the servers are located in Japan.
The other platform is called the "Bite trading system". This platform is designed for Binary options trading.
Leverage
FXTF stated the leverage of up to 1:25 for most tradeable assets. For TRY/JPY and ZAR/JPY, the leverage is 1:12.5. We have confirmed this leverage in the MT4 platform. This is lower than the industry average but the broker is transparent on the regulatory requirements for the leverage. The leverage is calculated by taking account only the largest position in a hedge scenario. Whatsmore, there is a very detailed explanation of how it is calculated, with visuals and methods. By the view of most broker houses, this information would be regarded as unwelcoming for complexity reasons.
Trade Sizes
FXTF is a micro lot broker, allowing minimum trade sizes of 0.01 lots. This is true for all tradeable assets. The maximum trade size is 10 lots. Stops level is set to 50 points for all forex pairs. This means all Stop Loss or Take Profit orders will have to be set outside 5 pip range from the bid/ask price. As for the Margin Call and Stop Out levels, they are set to 100% and 50% margin level. Note that the broker has a different practice on selecting the Stop Out level. Namely, FXTF has a certain period when the Margin requirement is observed. The so-called "Margin Judgement Time" is from 15:30 to 15:45 Tokyo time when the Stop Out level is 100%. Outside this period the Stop Out is 50%. The largest position will be closed first. Additional information is presented with visuals.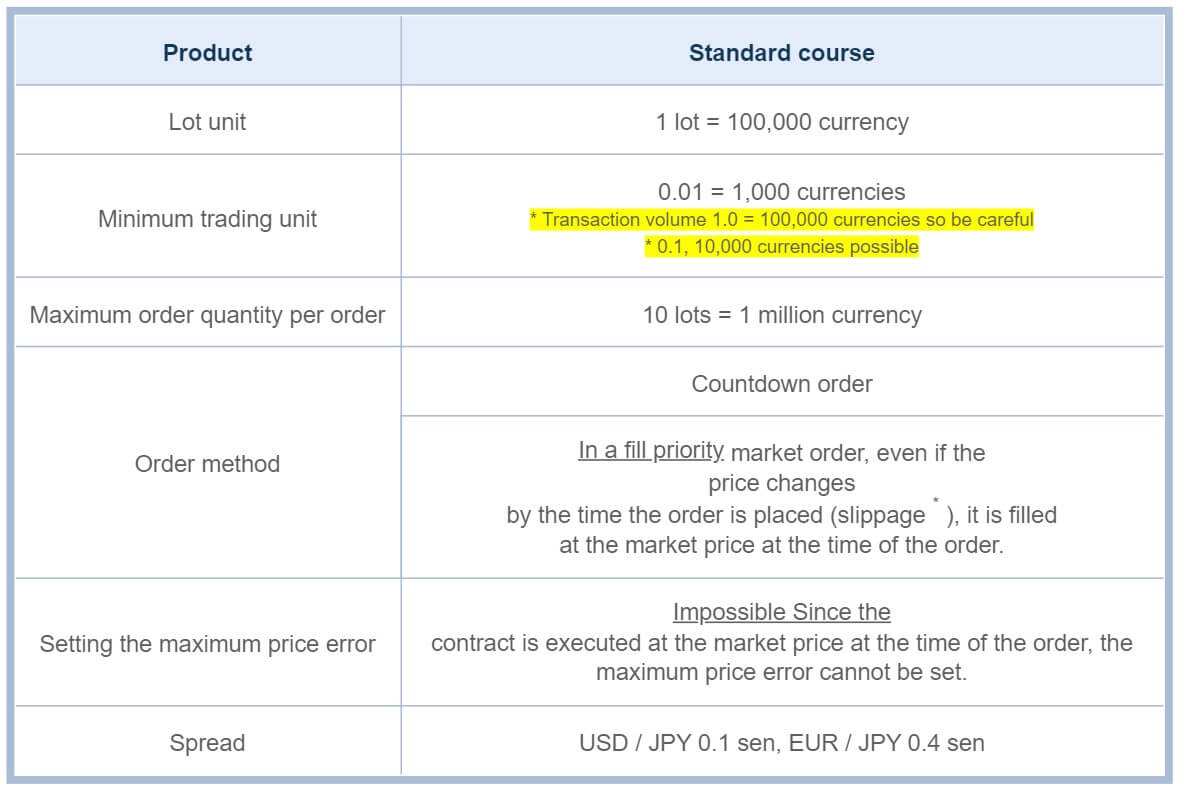 Trading Costs
FXTF is a commission-free broker. As for swaps they are under normal levels and calculated in currencies. The swaps are tripled on Wednesdays and positive values are common. For the most traded pair – EUR/USD the swap is -9.77 EUR for long and a positive 1.64 EUR for short. USD/JPY has -10.97 on short and 1.92 USD on long while other JPY quoted major pairs have single-digit negatives. It is rare to see a pair without a positive swap But this is true for example EUR/JPY with -2.38 EUR for long and -1.56 EUR for short position. NZD/CHF has a double-digit negative swap on the short side, -11.84 NZD and 0.98 NZD on the long. The other pairs that have double-digit swaps are the two exotic pairs, TRY/JPY with 27.01 TRY for long and -40.52 TRY for short, and MZX/JPY with 19.04 MXN for long and -22.51 MXN for short position swap. There are no other trading costs.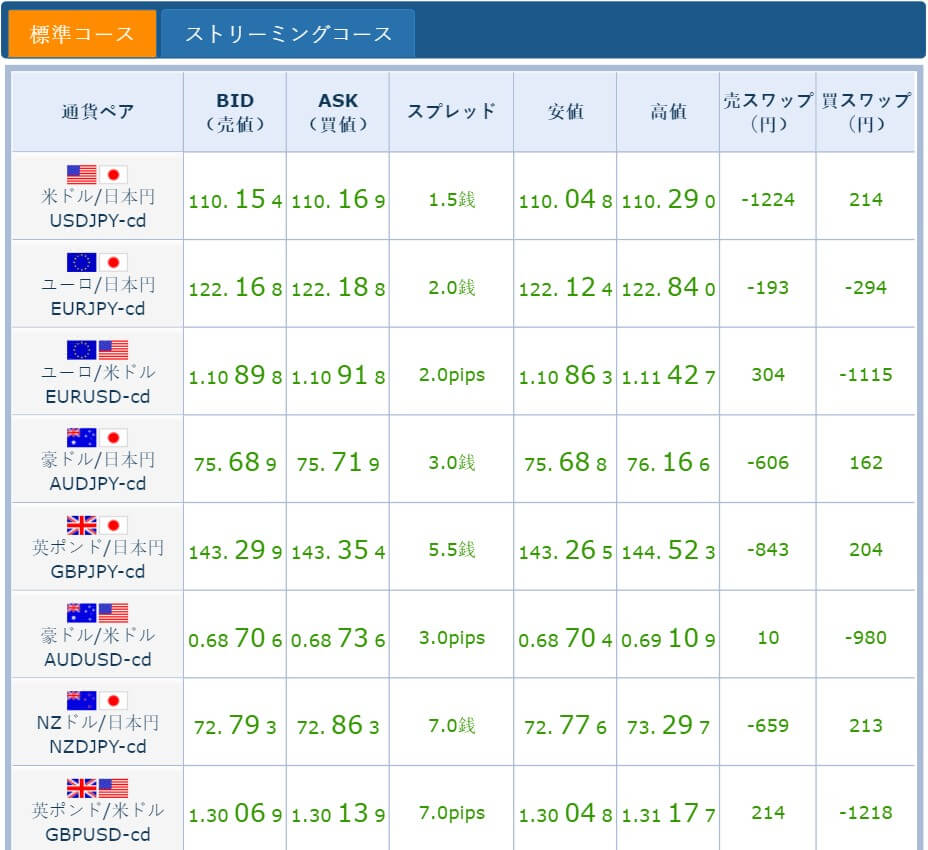 Assets
FXTF is a Forex only broker. We have counted a total of 40 currency pairs, but what makes this offer even better is the uncommon JPY quoted pairs. All the majors and crosses are listed, as expected, JPY pairs are more present. Interesting ones are TRY/JPY, MXN/JPY, and ZAR/JPY. These are the only exotics we have found in the MT4. Aside from Forex, the list contains Japan 225 and US 30 Index, US Oil, Spot Gold against the USD, and some cryptocurrencies. Cryptocurrencies listed are also uncommon because they are all quoted in JPY, we have found BTC/JPY, XRP/JPY, Bitcoin Cash and Mona Coin. Unfortunately, these assets were disabled for trading and indicative only. The broker could open them for trading soon.
Spreads
Spreads are probably the main selling point of this broker. FXTF even promotes its effort to break the record in Japan and offer the tightest spreads in history. The spreads are both fixed and variable types depending on the period. The fixed spreads period is from 8:00 am Japan time to 5:00 am the next day. Outside this timeframe, the spreads can vary according to the volatility or liquidity. We have observed the spreads during the session ending and the spreads were very tight across all trading instruments. For example, the most liquid currency pair EUR/USD has only 2 points spread but the liquidity is even better with the USD/JPY having only 1 point spread. Since the broker has 5-digit pricing, this means it is 0.1 pips as advertised.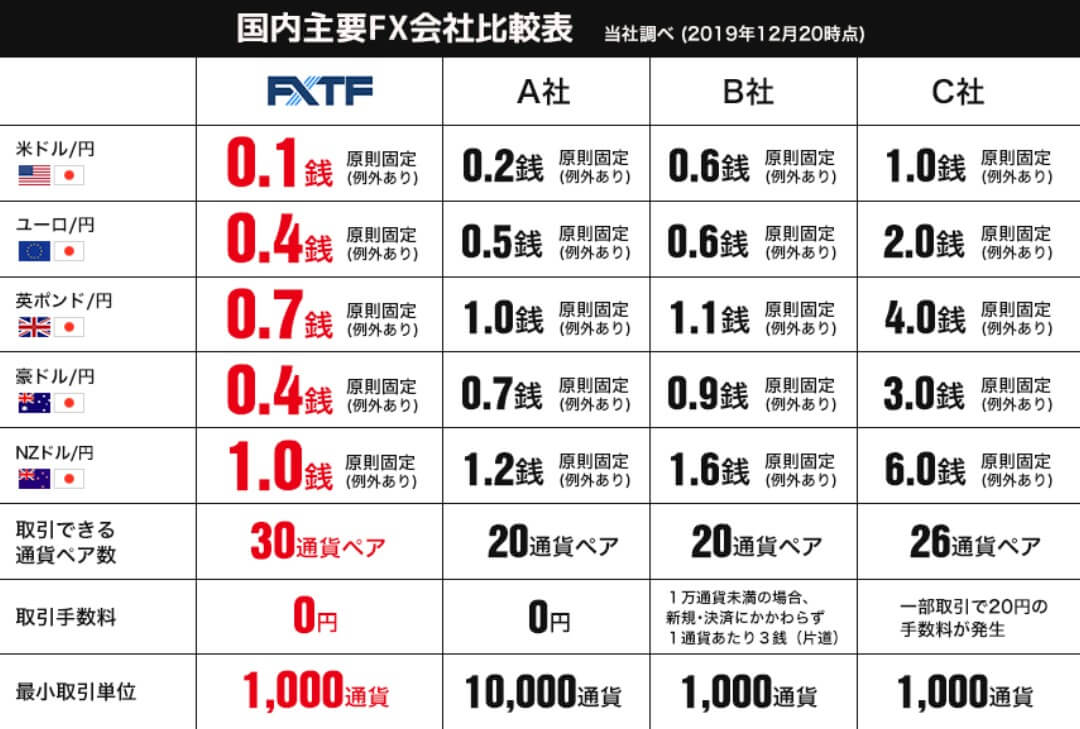 FXTF is even stating that the ad spread may not be reached outside the fixed spread timeframe. Other pairs had somewhat wider spreads but to a small degree. For example, GBP/USD – 0.7 pips, AUD/JPY – 0.4 pips, EUR/CAD – 2.1 pips, GBP/NZD – 3.9 pips, and the widest spread for the non-exotics belongs to the GBP/CAD at 4.2 pips. The three exotic currency pairs surprised us with the spreads.MXN/JPY has only 3 points spread and ZAR/JPY 9 points. TRY/JPY has 150 points spread although even this value is one of the best offers in the industry, especially during the session end time.
For other instruments not available for trading, XAU/USD had 50 pips spread, and BTC/JPY just 1 point
Minimum Deposit
The minimum deposit is 1000 Yen (roughly $10) for quick deposits and 1 Yen for bank transfers as stated by FXTF. In other words, there is no required minimum but considering the leverage of just 1:25 traders should have at least $500 balance to maintain normal risk management trades.
Deposit Methods & Costs
The broker states two deposit methods, Quick and Transfer. These are all local Japan financial payment processors and banks as the broker deal locally only. Quick deposits do not have any fees and what you deposit is reflected on the account in 24 hours. For Individual Accounts, the banks that are partners with FXTF and support this kind of deposits are MUFG, SMBC, Mizuho Bank, JP-Bank, Rakuten-Bank, Japan Net Bank, Sumishin SBI Net Bank, Aeon bank, and Seven Bank. The page describes in detail how to deposit this way. Regular transfers include ATM, Teller and other bank procedures and each trader will have a different account number for this deposit. Charges may exist for this type of deposit but FXTF does not apply any fees.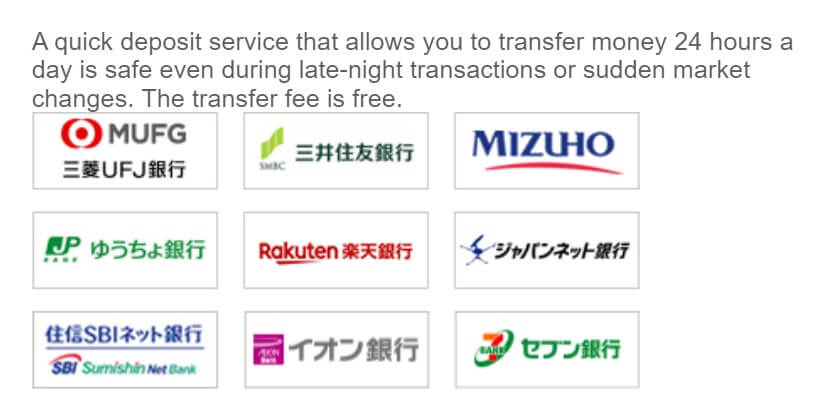 Withdrawal Methods & Costs
FXTF does not charge any commissions or fees for withdrawals. The minimum amount for a withdrawal is 1000 Yen if the account is not closing. The method used for withdrawal is the same as the one used for the deposit.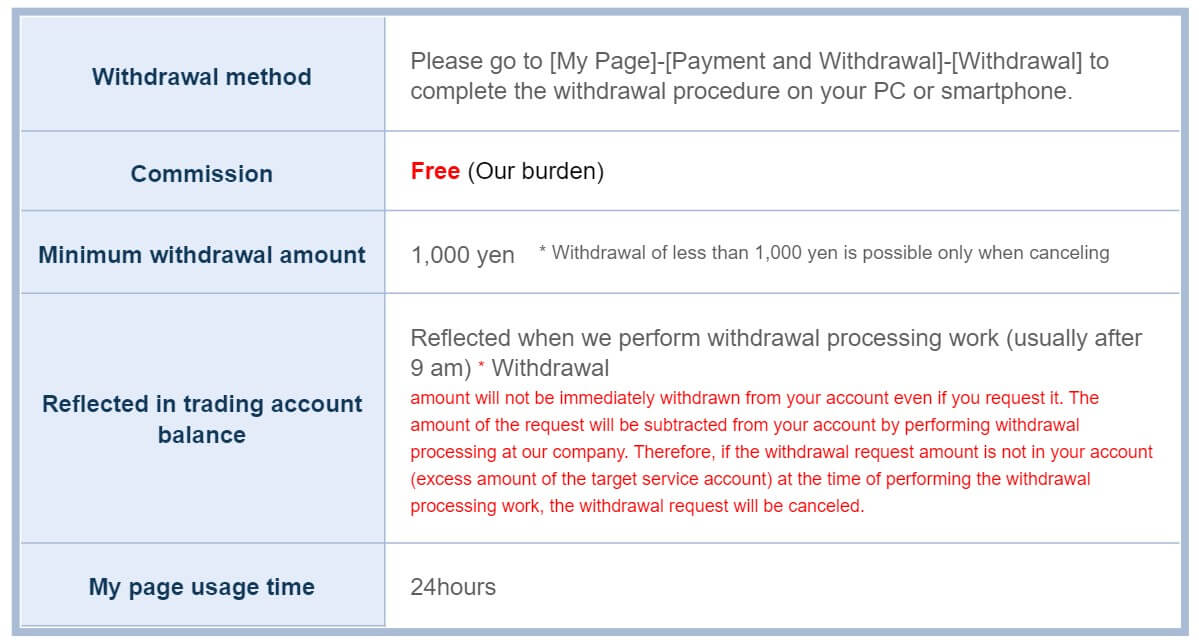 Withdrawal Processing & Wait Time
Withdrawals processing depends on the time of day, holidays and the amount requested. Requests made after 9 am will be accepted the next business day. The withdrawal amount will not be immediately withdrawn from your account after the request. The amount will be subtracted once the broker finishes the process of the request. Therefore, if the withdrawal request amount is not available in your account at the time of withdrawal processing work, the withdrawal request will be canceled. It will take 24 hours or less for processing the amounts lower than 2 million yen, while 10 million or more will require 2 working days.
Bonuses & Promotions
At the moment of writing this FXTF review, the broker offers 3 campaigns. These are "FXTF MT4 start campaign", "FXTF MT4 comeback campaign", and "Uniform cashback according to FXTF MT4 trading volume rank".
FXTF MT4 start campaign is for those who opened the MT4 account in December 2019 and January 2020 for the first time. This is a cashback program that offers 3000 yen cashback for 2 lots traded in two months. Other conditions may apply and this campaign can be mixed with the Uniform MT4 cashback.
FXTF MT4 comeback campaign is also a cashback program for those that resume trading after the period from 7th January 2019 to December 31st, 2019. The cashback amount is 1000 yen for 2 lots traded. This program can be mixed with the Uniform MT4 cashback for up to 51,000 yen cashback.
Uniform cashback according to FXTF MT4 trading volume rank is available for those who apply during the campaign period and trade more than 2 million round trips or 20 lots, a uniform cashback of up to 50,000 yen will be credited depending on the rank. The ranking is published on the FXTF website.
Educational & Trading Tools
FXTF offers some unique tools and is very professional in terms of education. Apart from the mentioned proprietary indicators that go with the MT4 installation package, The broker also has a "Mini Terminal" tool that complements the MT4 platform. This is convenient, ease of use tool that enhances decisions and risk management. Mini Terminal can be used for Profit, Risk and loss calculations, Stop Loss and Take Profit orders adjustment and info, batched ordering on set criteria, hedging, chart and order detachment from MT4, trade graphs, one-click trading, and so on.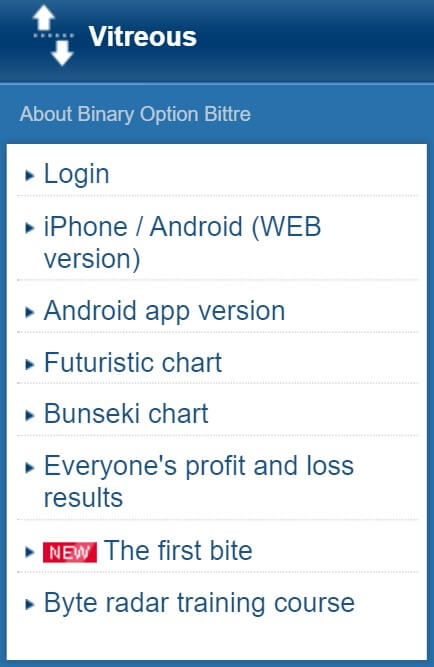 FXTF Live is another tool available only for live accounts and is purely made by the broker using the web service. FXTF Live is used for trade analysis, charting, position overview, ratio and other calculations, and position type filtering. It is complementary to the Mini Terminal tool. There is a long, dedicated page on how to use this tool along with practical applications.
Alarm Manager is a custom-developed tool by the broker that is rich in features for alarming the trader to various types of activity. Conditions trigger on new market events or changes, account balance, etc., and notify the pop-up notification on the MT4 screen, e-mail notification, and twitter. Various conditions can be set and combined for each alarm making this tool invaluable and versatile for customization. The broker has a long page dedicated to usage instructions. This tool required a lot of professional work for all of its complexity.
FXTF Future Chart is a tool accessible from the My Page section and is used for predictions or as a signal service. It is stated that this is the first such tool to support the 1-minute chart period. The tool also features a signal panel, loss/profit display, and opportunity overview in a ranking style.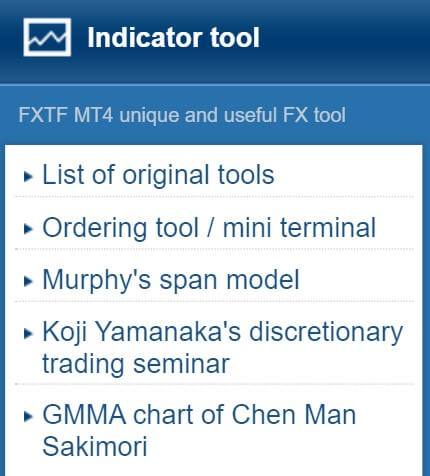 Other highlighted indicators included in the package is the Span Mode and Super Bollinger developed by Toshihiko Masaki. The broker has published his biography, blog and his webinars on the trading system. The content has high quality and is deep into the subject, made for professionals but also appropriate for enthusiastic beginners.
Koji Yamanaka is another financial professional featured by the broker. There are many videos on trading and how to use the tool provided. A complete biography is published along with the written material about the trading methodology used by this man.
As far as education goes, there are numerous courses, webinars, and written material that go deep into interesting trading subjects. For example, the GMMA chart provided with the MT4 as an indicator has multiple uses for various strategies. For example, these are "Sardine Eating Signal", "Firefly 1 and Cashilot 1" and similar interesting strategies made by Chen Masato.
Additional material is provided for many more indicators that are even standard with the MT4. More seminars exist on other trading subjects. An economic Calendar is published on the FXTF website but it is a very basic design, without any filtering options.
Customer Service
To contact FXTF you can use email, phone line in the Japanese language only or use the chat service. The Chat is provided using the LINE Chat program only. Similarly, as with other tools, this program is specialized and rich in features. Even though it is more complicated to use, users can also use this program to chat with other users, create groups, upload images, screenshots and so on. The application is on par with other major social networks company products.

Demo Account
FXTF states that the MT4 demo transaction is different from the FXTF MT4 live service, the MT4 demo and MT4 live do not always match in terms of delivery price, execution time, etc. From our experience, the demo account usually uses the same servers and the actual difference is minor if not intentionally caused. The Demo does not have an expiration date and is easy to set up form the MT4 platform directly. You will have 1 million yen as practice money.
Countries Accepted
FXTF is a Japanese-only forex broker.
Conclusion
This section will provide additional information not described above for the better image and understanding of this FXTF review. FXTF does not have a great asset range but is great in so many other areas. The key selling points are the tight, semi-fixed spreads and an amazing unique tools offer. This is further complemented by strong business ethics towards providing supreme service and setting promotion and marketing as secondary.
Many of the tools mentioned are offered for free on the demo account MT4, the effort needed to make this surpasses what many big brokers will even try. Whatsmore, they are truly intended to develop profitable traders, without any kind of solicitation for investment or other types of promotion. This approach is felt throughout the website content, even the ads must contain precise spreads numbers without any deviation from the real trading conditions.
Many traders would be left disappointed knowing the broker offers their service only to Japan, but still the tools and other trading material are certain to attract attention and could be used for trading ideas. The broker received recognition in Japan and was awarded as the Best Binary options broker in 2015. FXTF is a great representative of Japanese philosophy about the brokerage as with many other businesses.