GEMFOREX presents itself as a Japanese brand broker that has interesting beginnings and a special way of doing business. The broker has started in 2010 as an automated trading software company for the MT4 platform (EAs) under the name of Gem Trade. This service was recognized among all tech-savvy Japanese clients that boosted the popularity of the company. The main selling point was the free EAs available, a breakthrough window for the market that was seeking for such service.
Later in 2013, Gem Trade went on and recognized the popularity of copy trading service that was adopted to complement the already popular EAs aimed at clients who just want to copy other traders without involvement in EAs or manual trading. In 2014, the company merged all the best features of Forex trading and created GEMFOREX brand allegedly based in New Zealand, under the name of GEM GROUP NZ LIMITED. License from the New Zealand Financial Services Provider – NZ FSP is legit although with some inconsistencies with the company history.

Currently, the broker has the main office in Auckland, and branches in Hong Kong, Vietnam, Vanuatu, and London. Their website has a simple style and a great amount of useful information on every category. Transparency and trust are used as the main marketing, especially evident with statements such as that GEMFOREX do not investigate client backgrounds as long the clients is 18 years old, self-responsibility is encouraged. This statement could even be false as the ID documents have to be uploaded at one point.
Following Japanese ethics, the website contains ads, although we could say the main promotion effect is the open-handed approach to the visitor that is backed up with actual services and products. Their EA and mirror trading are still available under certain requirements. Transparent on their trading conditions, GEMFOREX also strives to bring competitive spreads, fast withdrawals, and deposits.
As their main drive is the Global-Expansion-Method – GEM, this broker is competitive but not in every category. This GEMFOREX review will reveal what is best about this broker, possible issues, and are the overall conditions good to your trading style.
Account Types
Before opening any live account, the broker advises trying the demo first. This practice is a good sign the broker is not pushing for deposits. Traders ready for live experience can choose 2 account types, All-in-One and the No Spread Account. The first account encompasses all the automated and mirror services without any limitations although the spreads are somewhat wider than using the No Spread Account. EAs are not available with the No Spread Account, it is dedicated for manual trading. Traders will allegedly enjoy 0 pip spreads for major currency pairs but will have increased minimum deposit, unlike the All-in-One account which does not require any specific amount.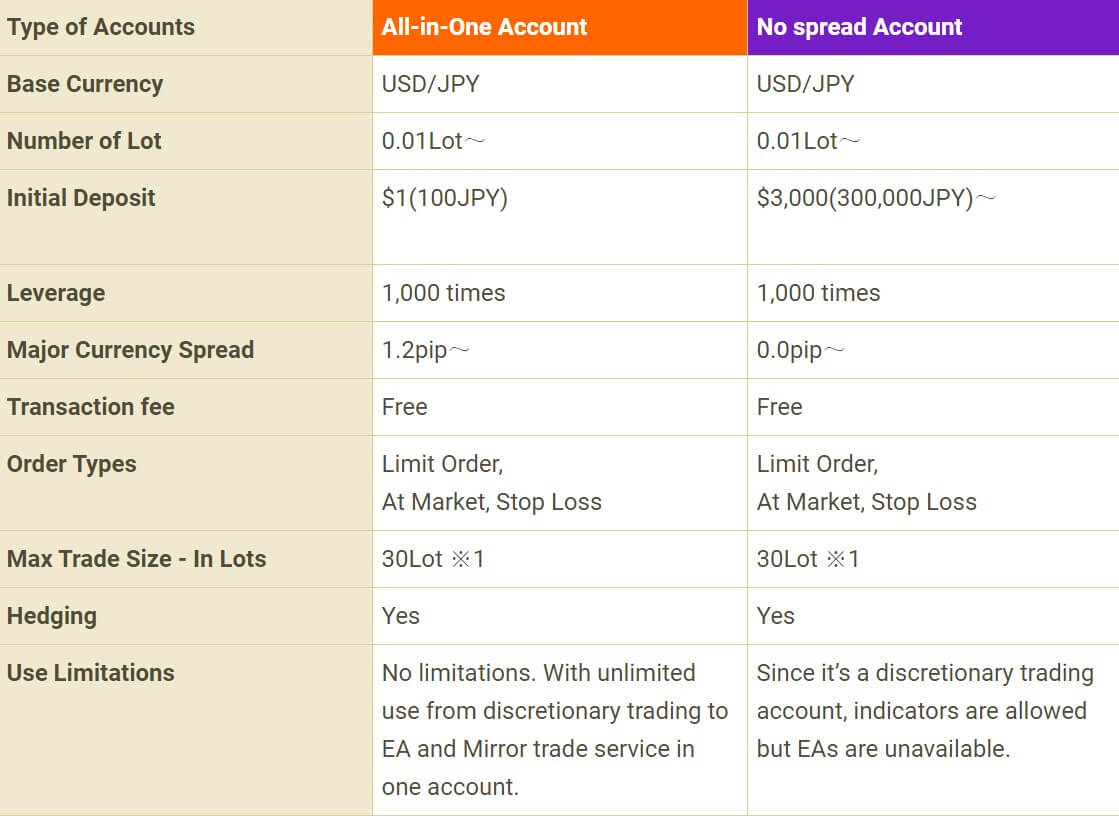 GEMFOREX published a good comparison table although more information about trading instruments could be included. The account opening process is fast indeed as the broker promotes. No documents verification is needed for the actual account opening, just the email. Of course, ID verification is necessary for deposits and withdrawals. All account types are denominated in JPY or USD. Traders can have up to 4 different accounts at their disposal if they want different types.
Platforms
GEMFOREX offers only the MetaTrader 4 platform in all versions. MT4 is available for Windows and Mac operating systems as well as for smart devices running on Android and iOS. The installation package is not exact as the default, some visuals and text are different and the platform startup is automatic after installation is finished. The log in screen will show three GEMFOREX servers, Live 1, Live 2 and Demo. All of them show around 210 ms ping rate. Interestingly, the about window shows GemTrade company and the address location in Seychelles and the updated version of MT4 client.
The starting template is by defaults, showing 4 major forex charts on the H4 timeframe with One-click buttons visible. There are no added custom indicators, EAs or templates. The symbols are grouped into 3 classes, Forex, CFD Indexes, and CFD Futures. The No Spread account instruments will have a "cn0" suffix. Opening a specification window will show enough trading information for each instrument. The trading terminal will show commissions and swaps columns even though GEMFOREX is a commission-free broker.
As for the execution times, they are 270 ms on average with small deviations from 260ms to 278ms. Note that the latency may be better if you are located in Asia-pacific. On some occasions, the orders were given an Off quotes message that did not repeat on retry. This may be signs of low liquidity caused by inadequate liquidity providers. Note that if the EA used has a high frequency of trading, trading could be suspended or limited by the broker.
Leverage
GEMFOREX is offering 1:1000 leverage and we have confirmed this in the MT4 platform. This leverage is true even for exotic currency pairs. For indexes, the leverage is 1:100 except for the Nikkei 225 at 1:200 and Hang Seng 50 at 1:66. For commodities, the leverage is 1:66. Spot Gold and Silver also employ the maximum leverage of 1:1000, which is very rare to see. These levels are one of the highest in the industry, especially if we know that the Margin Call does not exist and the Stop Out level is at 20% closing the biggest position first.

Trade Sizes
GEMFOREX sets micro-lot minimum trading sizes on all forex assets or 0.01 lots. The maximum trading size is 100 lots while additional volume steps are also in micro-lots. This setup is very good for scaling in and out trading allowing for maximum position precision. For Indexes, the minimum volume is increased to 1 lot, 12500 lots maximum and 1 lot for volume steps. Commodities have the same sizing policy as Indexes but precious metals assets are using 0.01 lots as the minimum trading volume size and 100 lots maximum.
Trading Costs
GEMFOREX does not charge a commission for any of the account types they offer. Trading costs emerging from the overnight open positions, or swaps, are the only trading costs if they are negative for that side of the position. The swaps do not have many positive figures on one side, many currency pairs feature only negative swaps. They are calculated in points and tripled on Fridays.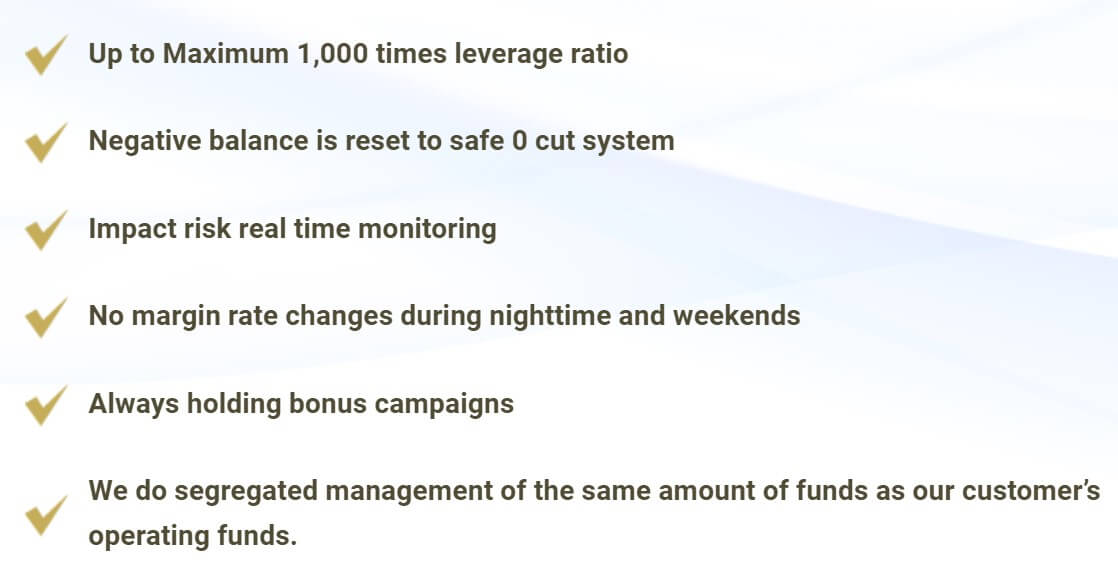 For example, the EUR/USD has -3.68 points for long and -1.78 points for a short position swap. Similar is with USD/JPY -2.88 points for long and -4.28 for short. Other majors have similar figures except for AUD/USD with a positive swap for long position 1.63 points and -6.37 for short. In fact, many AUD pairs have a positive swap. Exotics have a double-digit swap but in case of USD/MXN, the swap is -196.74 points for long and 33.29 for short. Precious metals swap is only negative but very low. XAU/USD has -2.17 points for long and -1.04 points for short and XAG/USD -4.68 long and -0.23 short. Swaps for Indexes are tripled on Wednesdays, all are negative although much lower than with forex currency pairs.
GEMFOREX uses the inactivity fees policy. For live accounts without transactions for the past 3 months, a fee of $15 will be charged on January 1st, April 1st, and October 1st. Note that the account balance will not into negative this way. Other fees may apply under certain conditions such as for withdrawals. More on this in the Withdrawal Methods & Costs section. Also, the broker may charge traders a fee for breaking the Terms and Conditions. Traders should still be aware of all of the limitations in that legal document.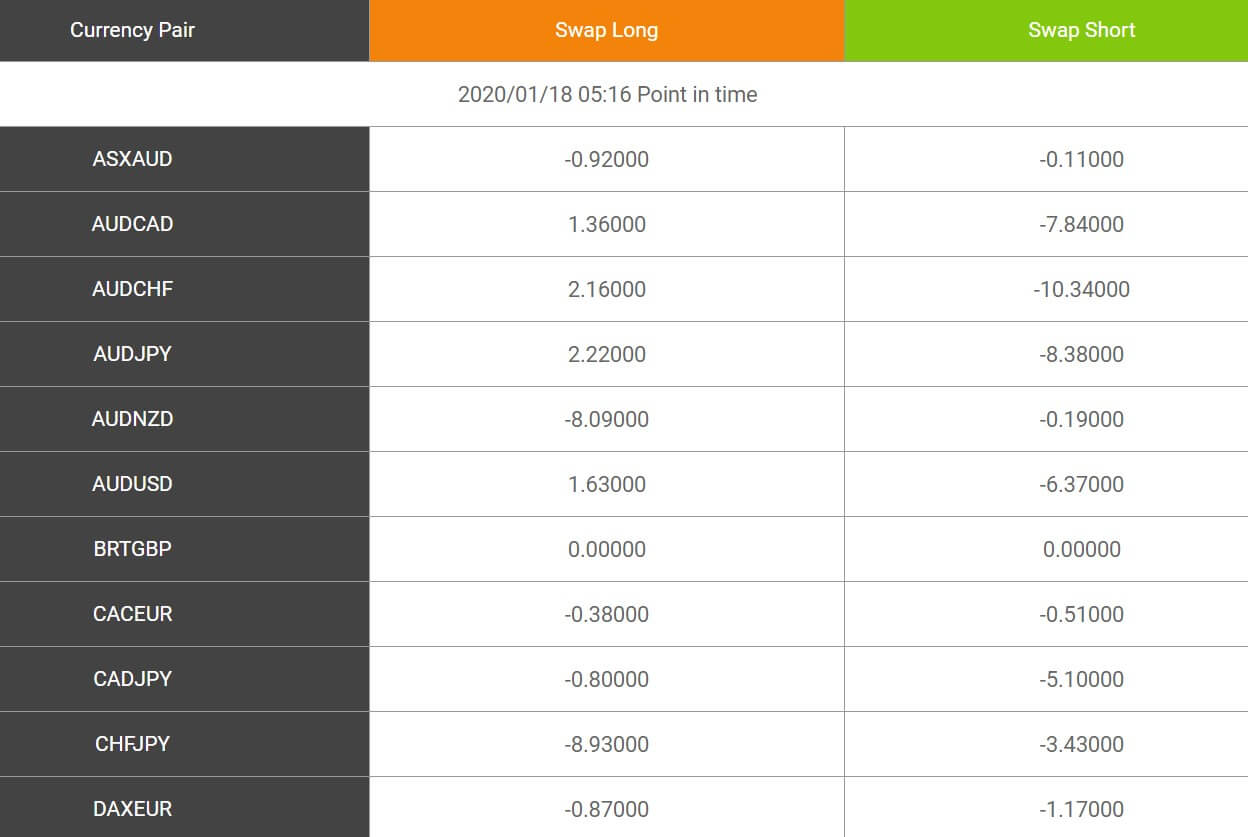 Assets
The only category where GEMFOREX is not competitive with the largest forex brokers is the asset range. The broker offers only 4 categories and some of those are modest. These are Commodities or better to say Energies, Precious metals, Forex, and Indexes. Forex has exotics pairs but there are only 34 in total. Although all majors and minors are present, some may notice Scandinavian currencies missing. Exotics are USD/MXN, USD/TRY, ZAR/JPY, USD/ZAR, USD/HKD, USD/CNH, and EUR/ZAR.

Precious metals are limited to Spot Gold and Silver against the USD. Again, GEMFOREX does not offer anything special here. The Indexes range is similar, with modes with 10 listed in MT4. They are all majors except for the Spain 35. Interestingly, the Index symbols have EUR or USD suffix to denote what currency is used. Commodities are limited to two Oil types, Brent and WTI. And this is the end of GEMFOREX's assets offer to leave a very thin impression compared to other brokers.
Spreads
GEMFOREX has floating spreads applied for all trading instruments. All-in-One account has noticeable wider spreads then the No Spread account. According to the dedicated page on spreads, EUR/USD has an average of 1.2 pips spread. During the day ending, when the spread is usually wider, we have observed a 3 pip spread for this currency pair and then going back to 14 points soon after. The spread figures on the GEMFOREX website are precise and are competitive. The broker openly stated that they do not wish to engage in overspread dumping to keep the trading service in balance with other issues like liquidity, execution time and so on.
None of the major currency pairs have spread over 3 pips and minors largest average spread is with the EUR/NZD – 3.2 pips, GBP/AUD – also 3.2 pips, GBP/CHF – 3.1 pips, GBP/NZD – 3 pips, and GBP/CAD with 3.3 pips. During our observation during the high volatility period for the day end, none of the non-exotic currency pairs pushed the spread above 7 pips. For the exotics, the average spread is 17.4 pips for the USD/CNH, 15 pips for USD/HKD, 22 pips for USD/TRY, 16 pips for USD/ZAR, and the highest was for the USD/MXN 55 pips on average. XAU/USD average spread is 21 pips as stated by GEMFOREX, and from the MT4 it is 60 pips. Later, during the London trading session, we have expected spread narrowing. The spreads were lower up to 1 pip.

No Spread account showed similar if not the same spread levels during the high volatility period. It looks like the only difference between these accounts is the lower minimum limit. According to the broker's website, the average spread for USD/JPY and EUR/USD is 0.3 pips, and a minimum of 0.0. Periods, when the minimum is achieved, is probably between trading sessions, but this never happened in our testing. For the rest of currency pairs, the average spread is mostly under 3 pips, except for the GBP/AUD at 3.1 pips and EUR/NZD also at 3.1 pips. XAU/USD average spread is 21 pips.
Generally, No Spread Account features 0.1 to 2 pips lower spreads under normal conditions than the All-in-One account, but this is inconsistent. The broker went a step further and promoted their research on spreads with other brokers that do business in the area. The article presents a comparison table with major forex brokers and their spreads for major currency pairs. The writer went ahead and even explained the execution models such as NDD (Non-dealing Desk) and DD.
In our opinion, the spreads given by this account type were nowhere near 0.0 pips at any time. In fact, we have observed XAU/USD having wider (44 pips) spread than with the All-in-One account (30 pips) during the normal trading volatility period.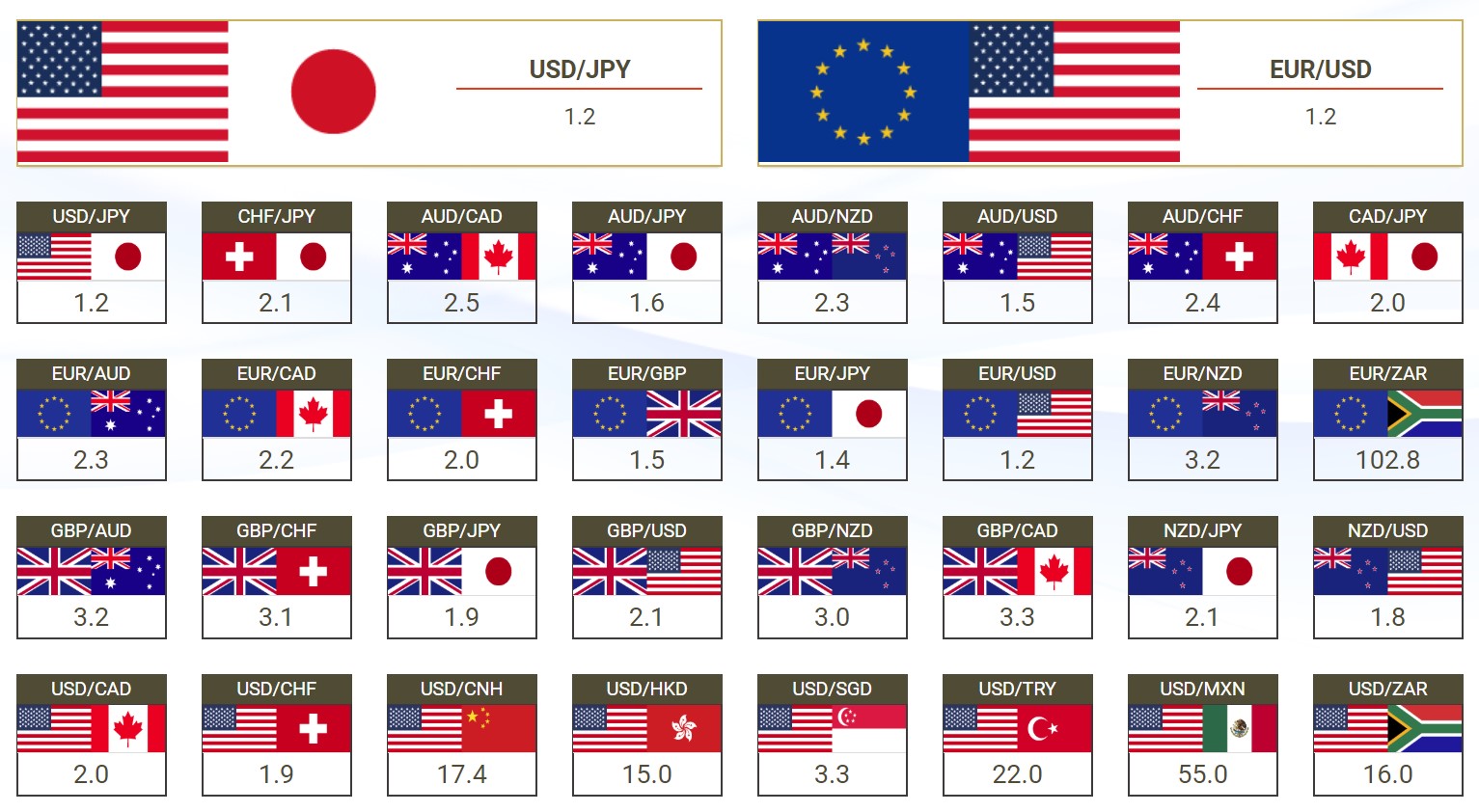 Minimum Deposit
For the All-in-One account, the minimum deposit is $1, although this amount may not be possible for all deposit methods. For the No Spread Account, the minimum initial deposit is $3000 or 300,000 Yen. The broker has published all the traits for each deposit method. So, for Credit Card payments the minimum is $50, as well as for Netteler and Skrill. Bitcoin and Ethereum have 0.01BTC and 0.1 ETH respectively, PayPal, PerfectMoney, MegaTransfer, PAYEER require $100. UnionPay, China domestic bank, Wechat deposits require 500 CNY. Bitwallet method is currently unavailable but it requires 10,000 JPY. MASTER / JCB, China domestic bank, STICPAY, and FastPay require $50. Note that deposits that are not made in US dollars will automatically be converted.
Deposit Methods & Costs
The broker does not charge any fees for deposits. Some transaction fees could exist with payment processors. There are more than the usual number of deposit methods available. Deposits by Credit Cards, Neteller, Skrill, cryptocurrencies like Bitcoin, PayPal, PerfectMoney, MegaTransfer, PAYEER, UnionPay, STICPAY, FastPay, and China domestic banks. The deposit will not be executed if positions are opened in the trading account, so they have to be closed first.
Withdrawal Methods & Costs
GEMFOREX does not charge a fee for the first withdrawal in a month. The fee for the second and subsequent requests in a month is 2% of the withdrawal amount. Also, in case of withdrawal without opening any positions after a deposit, the fee of $45 will be deducted from the withdrawal amount. Withdrawal amounts of more than $5000 in a month will be either processed by wire transfer to the specified bank or traders will have to wait for 30 days expiration.
Currently, 5 possible methods are available for withdrawals. Note that the broker will accept only domestic financial institution accounts where the client belongs to or with a matching nationality of the account holder. Any fees related to the transaction can be covered by the broker, traders will need to send a picture of the transfer and fee statement. The methods offered are Skrill, Neteller, Bitcoin, Bitwallet, and Wire transfer.
Withdrawal Processing & Wait Time
Withdrawals and fund transfer are not possible until all current positions are closed. In case of withdrawal, the bonus amount also disappears from the account. Wire transfers take from 3 to 5 working days, Skrill and Neteller 2 to 3 working days and Bitcoin or Bitwallet 1 to 3 working days. Note that Bitcoin withdrawal minimum amount is 0.1 BTC, or at the current rate about $750. The maximum amount for the BTC method is $30,000, while for e-wallets is $5000 monthly.
Bonuses & Promotions
The bonus is mentioned several times on the broker's website although we could not find any promotions of this kind. Introducing brokers and white labels are available. Currently, the bonus of 200$ is on right now. However, the bonus campaign is limited to the Japanese market where Japanese or foreigners work and live in Japan.
Educational & Trading Tools
GEMFOREX is known for its allegedly free EA and Mirror service. In practice, to use the EA service you will have to meet the requirements. First, you need to open an account with GemTrade at another domain. After linking the two accounts from the member's area and meet the minimum deposit requirement you will be able to use EAs according to the following scheme: From $500 to $ 1,000 – one EA can be used per month, $1,000 to $ 2,000 – 3 EAs, $2,000 to $ 3,000 – 5 EAs and from $3000 deposit unlimited number of EAs.
Moving EAs between account is not supported and if your balance drops below the category requirements, you will have to deposit to maintain that service level. The selection of EAs is very good, with many to choose from and it is also great to have filters to narrow the search. You can filter EAs by trading strategy (scalper or swing), low drawdown, trading frequency, profitability and so on.

The Mirror service need to be linked the same was as the EA service. Traders will have to register an account at a new domain and then link the accounts. The service is not advanced and it is not on par with some other brokers offering this service. Mainly it is for beginners.
GEMFOREX does not have an Economic Calendar or any other trading tools. Educational material is limited and is mostly guides and how-to content related to the page visitor is on. FX Column section has a few reports on the trader's performance for the mirror service. None of which has any interesting information. FX Dictionary is published and also on the homepage some research articles that feature comparisons of GEMFOREX with other brokers. The data presented in these articles are not consistent with what we have observed.
The News section available form the homepage of GEMFOREX's website contains just important notifications about trading and the company. These are updated regularly but do not have anything related to fundamental or technical research. GEMFOREX also provides VPS service under certain volume and other requirements. For those who cannot meet the criteria, the paid option is offered.
Customer Service
The company is reachable by email, phone line and by chat service if it is open. Our query by email was not answered in 24 hours and chat service is open from 10:00 am to 5:00 pm on weekdays local time. Their representatives are very fast, you will not have to wait for more than 30 seconds for an answer, and their English is very good. Although they could not answer us to some more demanding questions, they answer in full. Generally, the support service is acceptable, but not top-notch as advertised.
Demo Account
The demo account is available only for the All-in-One account and the expiration date is 90 days from the opening. The demo is accurately representing live trading conditions but not that you will not be able to test GEMFOREX EAs unless they have the minimum balance requirements. Traders will not be able to open the demo within the MT4 platform, the only login with the credentials sent to the email address they have provided. The demo will have $10,000 in practice money.
Countries Accepted
GEMFOREX does not have any records of restricted countries. The broker support replied to us that they accept all counties, even the US. Now, this is against many of the regulation protocols and there are specific restrictions on financial products outside the USA, that apply to USA citizens or persons resident in the USA. The broker recommends that you read the information about Terms and Conditions of financial products outside the USA, before making any decisions.
Conclusion
In this section of the GEMFOREX review, we will present important facts not stated above. We have found a few inconsistencies while investigating the GEMFOREX New Zealand FSP license. Namely, the company has changed the name from EFS GROUP LIMITED to GEM GROUP NZ LIMITED in June 2019, something that is not disclosed by the broker. Also, the directors are changed frequently and do not have Japanese origin as stated by the broker on their website. Furthermore, there are inconsistencies with the address in the MT4 platform where the broker is located in Seychelles, a location not mentioned in the company history or other web pages.
Upon further investigation, we have seen many changes and reports by the reputable broker benchmark sites about the broker and some negative reviews. The broker does not have any offices in Japan but uses the "made in Japan" ad. Trading conditions are also not as they are promoted, the spreads are not even close to 0.0 pips, during our testing, the EUR/USD pair spread never went below 1 pip. Traders are also not aware of the deposit requirement for their EA and copy trade service and that the procedure is overcomplicated.
Given all this, it is hard to shake the feeling GEMFOREX is not as good as it is presented on the first look. The regulation does not have any weight in this case even though the license is valid.