As a newly founded firm, JDC Markets has been offering unique services that focus on combining technology with individualized support to each trader and account holder. Since 2016, this broker has worked with retail traders, beginners, and long-term investors from around the world. Above all else, opening an account with JDC Markets is easy, especially because of their small minimum deposit that almost any trader can make.
From there, account holders can access a wide selection of forex pairs and other financial instruments. Moreover, JDC Markets' spreads, trading fees, and platform will also impress most traders. The question is, do these positive aspects make up for the firm's downsides, such as the limited leverage and narrow transfer methods? Read this article to find an answer to this question and more.
Account Types
JDC Markets only offers one account type. By making a relatively small initial deposit, traders can start exchanging forex pairs and other instruments that this broker makes available. It is important to note that JDC Markets doesn't have a swap-free Islamic account.
Minimum Deposit: $100
Spreads: From 0.2 pips (2 points)
Commission: None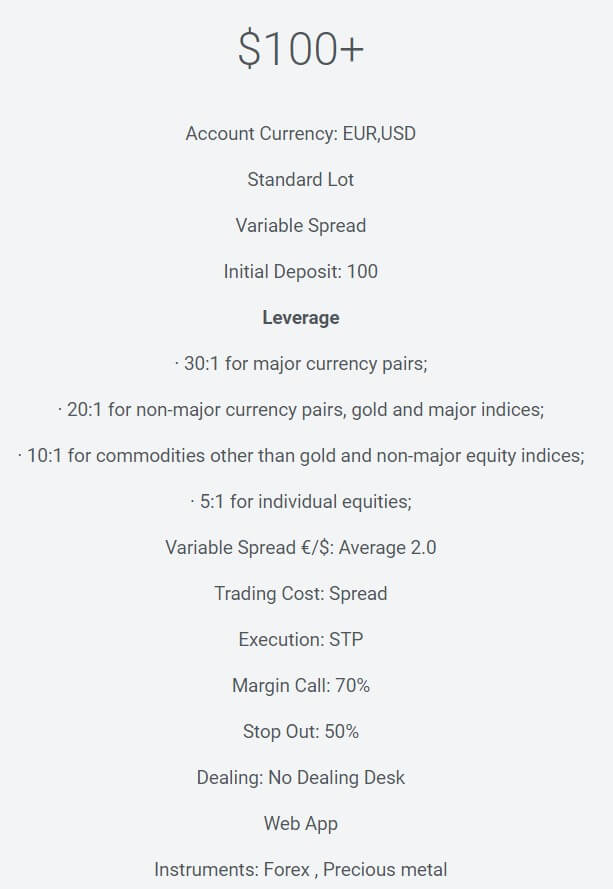 The obvious positive aspect of using this broker is that they have a very low and competitive spread. This is even more advantageous when we consider that JDC Markets doesn't charge account holders any commissions on trades. Additionally, your default currency can either be the USD or the Euro.
Platforms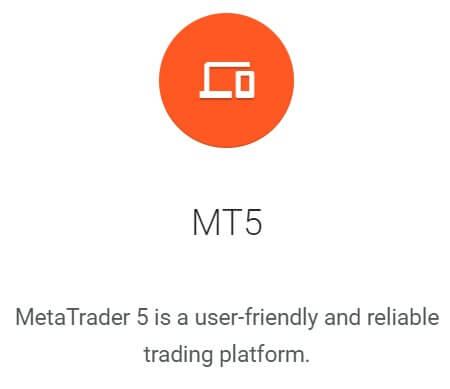 MetaTrader 5 (MT5) is a state-of-the-art and sophisticated platform that forex traders from all around the world utilize. There are several features that make MT5 especially desirable. First, the platform's tools and displays are incredibly easy to use. Second, their prices and order executions are both accurate and instant. Third, you can integrate many technical indicators and analyze several chart timeframes on the platform. Lastly, but certainly not least, all types of financial instruments are available on MT5. Above all else, you can download the platform on any device (including smartphones) or directly trade through your browser.
Leverage
Unfortunately, JDC Markets has a relatively restricted buying power. Major currency pairs have up to 30:1 in leverage, while exotics only come with a 20:1 buying power, which is the same for major market indexes (such as the US's Dow Jones) and precious metals (gold and silver). Similarly, because of their more volatile and risky nature, other assets have an even lower buying power. If you trade commodities (other than gold and silver) or the indices of non-major countries' markets, your leverage is only 10:1. Stocks' only have 5:1 in buying power.

Trade Sizes
JDC Markets's lot size is 100,000 units of the base currency, which is the standard measurement across the brokerage industry. The smallest position size that this broker will allow you to open is 0.01 lots, which is a micro lot or 1,000 units of the base currency. While the minimum trade size is in line with what the rest of the industry has to offer, JDC Markets will let you have up to 30 lots (3,000,000 in the base currency). This maximum trade size is a bit larger than most competitors will allow.
Margin Call: 70%
Stop-Out: 50%
This broker's margin call policy is to close some or all of your trades in order to bring your balance above the 70% requirement. In most cases, brokers will first close your biggest losing trades until your funds surpass the 70% margin level. However, at the stop-out point, the firm immediately closes all positions in order to prevent you from incurring more losses or potentially having a negative account balance. As always, using margin to trade is very risky and account holders must be cautious when they utilize their buying power.
Trading Costs
Account-holders only have to pay the spread (the difference between the bid and ask prices). Other than that, JDC Markets will not charge you any commissions when you open or close a position. Through any broker, however, traders must pay a swap charge when a trade is kept open overnight. Because this interest expense is based on the economic conditions and central bank policies of the currency's home country, swaps are out of brokerage firms' control. Some of them may offer a swap-free Islamic account, which would incur a fixed expense that doesn't fluctuate based on interest rates.
However, this is not an option through JDC Markets. Keep mind, nonetheless, that the swaps could be positive, such as when you short-sell a currency pair. In those instances, account holders earn money, rather than pay a fee, on overnight positions. For example, as of the time of writing this review, short GBP.NZD trades will allow you to earn revenues while long GBP.CHF positions also come with a positive interest rate. These figures, however, are subject to rapid changes, especially if a central bank changes its interest rate policy or unexpected events disrupt the markets.
Assets
More than 60 forex pairs are available through JDC Markets. The list includes both major ones and exotics. The most prominent examples of the latter are the Chinese Yuan (CNH), Czech Koruna (CZK), Mexican Peso (MXN), Norwegian Krone (NOK), Swedish Krona (SEK), and South African Rand (ZAR). Precious metals are also exchanged against the USD, with gold and silver's symbols being XAU.USD and XAG.USD, respectively. Additionally, you can also trade oil and natural gas as CFDs or futures contracts.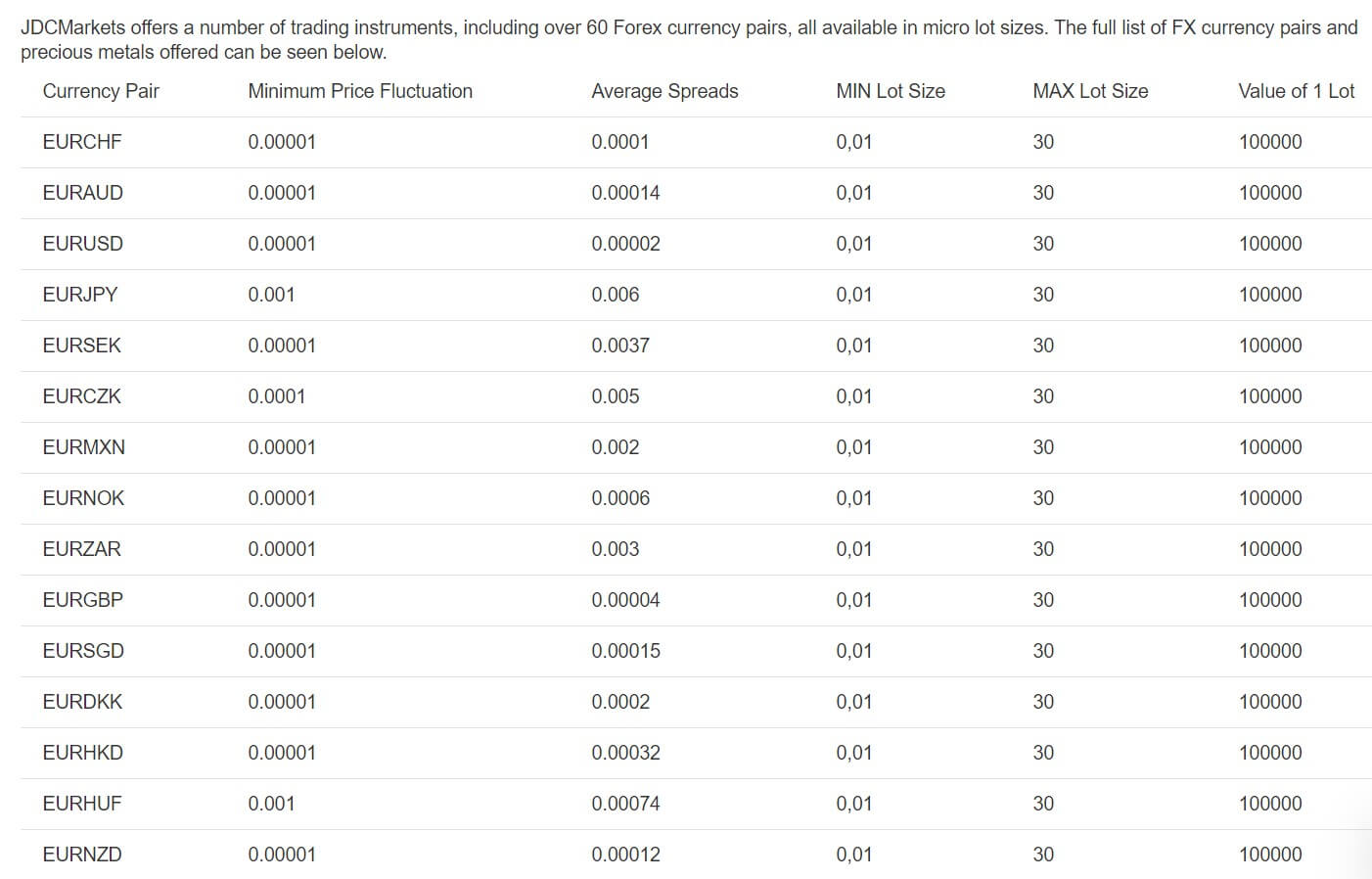 Spreads
Undoubtedly, JDC Markets's tight spreads are amongst the firm's leading features. When it comes to brokerage firms, in general, the average difference between the bid and ask prices will range from 1 pip (at its lowest) to 3 pips. Anything above the latter is considered too high in comparison to the rest of the industry. As far as JDC Markets is concerned, their spreads start from a fraction of a pip, or a point. EUR.USD has a 2 point spread, which is equal to two-tenths (0.2) of a pip. Similarly, the difference between the bid and ask quotes for EUR.GBP is only 0.4 pips or 4 points. Even some exotic forex pairs have a very tight spread, including the USD.SGD (Singapore Dollar), which is at 0.7 pips (7 points).
Yet, despite the incredibly advantageous and tight spread on forex pairs, there are two things that traders must always keep in mind. First, the bid/ask variation is almost always going to be larger when you trade commodities or indices. Second, and maybe even more importantly, this broker has a floating/variable spread. In other words, it is subject to change based on the market's conditions. Under normal circumstances, the spread is small, but it can get significantly wider when prices are volatile and during economic downturns.
Minimum Deposit
With an initial deposit of only $100, this broker is almost accessible to any type of traders, even those that don't have tens or hundreds or thousands in trading capital. When it comes to transfers, the JDC Markets doesn't specify a minimum requirement per transaction.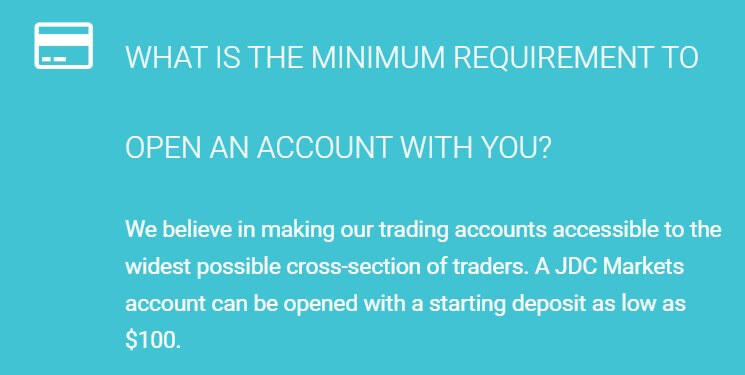 Deposit Methods & Costs
It doesn't cost any money to fund your account, whether its the initial deposit or any subsequent transfers. However, JDC Markets will only accept bank wires and electronic payments (namely Skrill). MasterCard, VISA, and other methods are not available through this broker. However, their website does note that they plan on introducing more ways to transfer money in and out of your account. They encourage traders to regularly check for updates and announcements regarding this.
Withdrawal Methods & Costs
You can use the same methods (Skrill and bank wire transfers) to withdraw money. The transfer fees, though, are not outlined on the broker's website.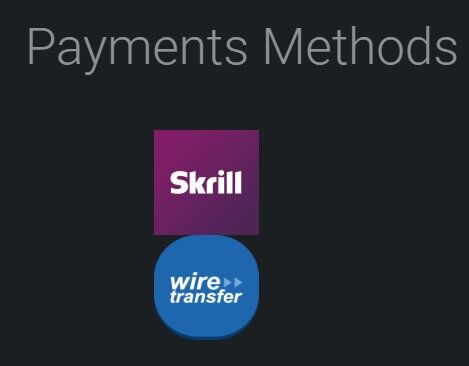 Withdrawal Processing & Wait Time
Outbound transfer processing times are not specified on the website, either. However, in most cases, transactions through ePayments, like Skrill, are instant. Bank wires, on the other hand, may take a few days to go through.
Bonuses & Promotions
There are no bonuses or promotions that are currently offered by JDC Markets.
Educational & Trading Tools
This broker has a forex glossary and FAQ section that is designed for beginner traders. In fact, the FAQ page benefits any person who is interested in opening an account with JDC Markets. It includes information about the documents needed to get started, deposit methods, and more. However, the FAQs also go over basic trading concepts, such as what a pip is, how leverage can be used, the different types of contracts, and more.
Similarly, if you are new to the markets, this broker has an alphabetically categorized glossary of key forex and trading terminology. You can use it to educate yourself and as a reference while conducting research or reading news stories. As a matter of fact, JDC Markets's website even includes a section where they post news stories and market updates. However, the page is somewhat inactive and their latest article was posted in March of 2019, which is almost a year ago.
Nonetheless, whether you are a beginner or an expert, MT5 has valuable and rich resources that are unmatched. You can certainly utilize them even if JDC Markets's educational content and trading tools don't satisfy what you're looking for.
Customer Service
JDC Markets is headquartered in Cyprus, an EU member state that is located in the Mediterranean Sea. You can mail them or visit their office by finding their address on the broker's website. Otherwise, customer support can be reached via phone, email, or an online contact form. If you prefer to communicate with them through email, keep in mind that each department (such as customer support, new accounts, payments, …etc.) has its own email address. The list can also be found online.
Phone: +357-25-260900
Email: [email protected] (customer support) and [email protected] (to open an account).
Demo Account
A demo can benefit you in two ways: You can either practice new trading techniques or learn about MT5's different tools. In most cases, traders open a demo account so that they can trade fake/paper money before they put their real funds on the line. Anyone who is new to MT5 or the markets, in general, can test and develop their approach through a demo account with a peace of mind. Just as importantly, demos retain the same live prices and market conditions that you would be exposed to when you open a real account.
Countries Accepted
This broker doesn't work with traders in certain countries, namely the United States, Cuba, North Korea, Sudan, Syria, and potentially others. As always, traders should always ensure that JDC Markets is available in their own country before opening an account. Moreover, check your local regulations or laws regarding trading CFDs and other financial instruments.
Conclusion
In short, the main pros of going through JDC Markets are as follows: A wide range of available forex pairs/financial instruments, an incredibly low spread (starting from fractions of a pip), nonexistent commissions, free deposits, an easy-to-open account, an easy-to-use platform, and a practical glossary/FAQ section that can be utilized during live market sessions.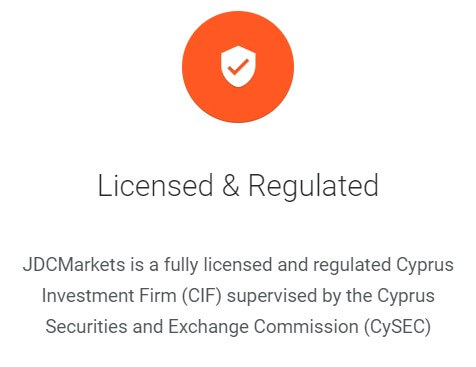 Meanwhile, the main downsides are as follows: A very small leverage, limited transfer options, the lack of trading tools, and country restrictions. Having said all that, this broker is continuing to expand and improve its offerings. For a start, they plan on introducing new payment methods, making their inclusive forex and asset selection even more accessible and lucrative. Support is also reliable and can be contacted through a variety of methods. Even if the firm's educational content doesn't suffice, you can still get plenty of advice and consultations from both JDC Markets's team and MT5's experienced specialists. Moreover, opening an account and meeting the minimum deposit requirement is certainly doable.
Do the nonexistent commissions and incredibly tight spreads make this broker worthwhile, especially in light of their very constraining buying power? That depends on the type of trader that you are. Will having only two transfer options (bank wires and Skrill) cause liquidity problems? Your transaction frequency will determine that.
Is opening an account with JDC Markets worth it? That, too, should be based on your preferences and methodology. Nonetheless, this JDC Markets review certainly helps you answer these questions and many more.