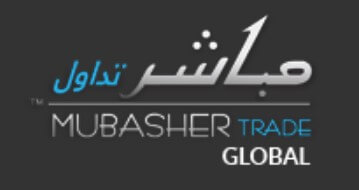 In business since 2006, Mubasher Financial Services (Mubasher or MFS in short) is a Middle East-based broker (headquartered in Bahrain) that offers thousands of financial instruments. The firm doesn't just have a highly expanded list of forex pairs, but they also enable account holders to directly trade the stocks of companies that are listed in over 25 countries' exchanges, alongside other assets.
Above all else, Mubasher's standard account gives you access to all of these financial instruments. Equally as important, the firm offers its own trading platforms while allowing traders to also use more popular ones. Mubasher has investment portfolios and services, where their financial experts manage the funds of clients. The different types of portfolios cater to each investor's preferences, ranging from aggressive and risky strategies to a more preserved approach to the market.
However, most of these offerings are tailored towards those who are looking for long-term growth. When it comes to intraday and swing trading, Mubasher's diverse and various tools will certainly suit all types of retail market participants. How? Read this Mubasher review and find out.
Account Types
While investors can choose between different portfolios, each with its own features and projected returns, traders only have a standard account type. Nonetheless, it still gives you access to forex pairs and other assets that are exchanged all over the world, ranging from the US stock market to those in the Middle East. You can also choose one of six options as the account's default currency, including the US Dollar, UAE Dirham, and Saudi Riyal.
Minimum Deposit: NA
Spreads: From 1.8 pips
Commission: NA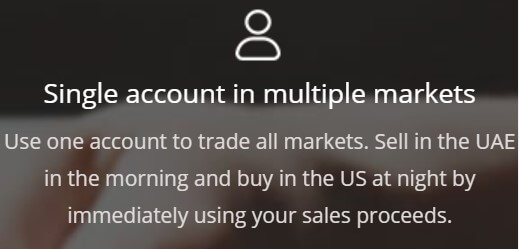 The minimum deposits, spreads, and commissions for forex pairs, specifically, aren't outlined in much detail on Mubasher's website. However, they do have this information when it comes to stocks and indices.
Platforms
This broker directly offers two platforms, as opposed to utilizing third parties like MetaTrader 4 (MT4) and MetaTrader 5 (MT5). They do, however, also offer MT4 to account holders. The MubasherTrade Pro platform allows you to trade all types of instruments from a single trading desk. Their portal is user-friendly and immediately gives you access to markets from all around the world. The platform also equips traders with in-depth analytical tools, including charting features, volume monitors, calculators, detailed datasets, and others.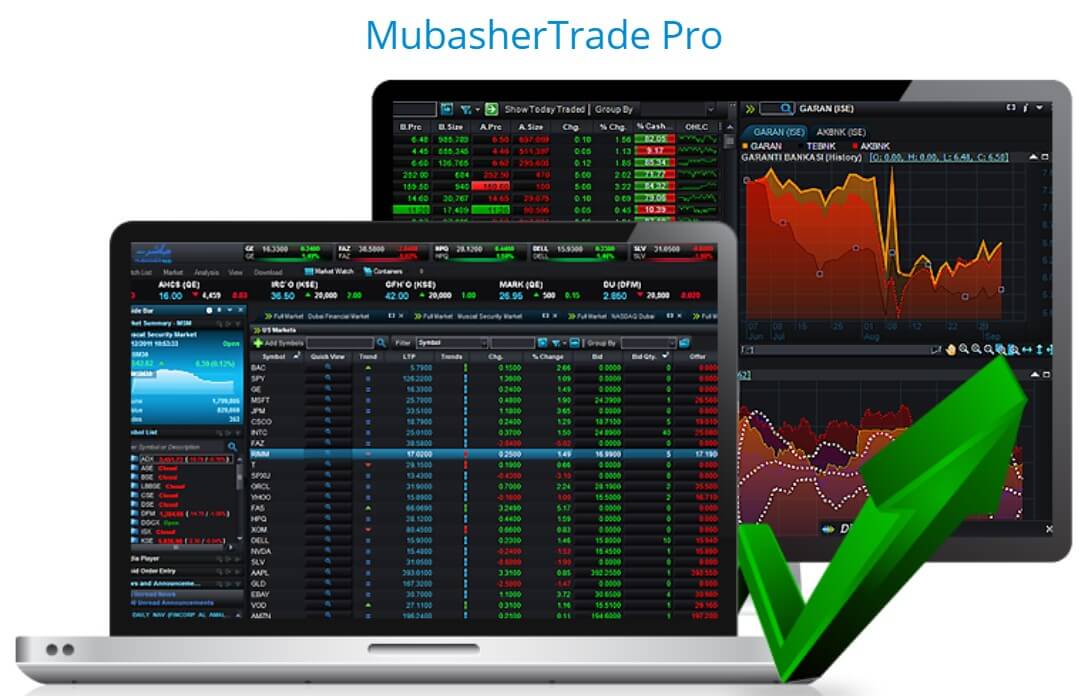 The second platform that this broker offers is MTrade Plus, which is available on Chrome, Firefox, and Safari browsers. Its main features include live news alerts, research reports, and a wide array of technical indicators, starting with 11 different moving averages. Just like the broker's website, MTrade Plus is available in both Arabic and English. MT4, meanwhile, is arguably the most popular trading platform in the world.
Mubasher offers access to it for free (although this is usually the case, regardless of which broker you choose). The MT4 platform has its own custom features and trading tools, which match the two that the broker provides. MT4 is known for its fast order execution timeframes, dedicated customer support teams, and reliable research reports.
Leverage
No information about the broker's leverage or buying power is on the website.
Trade Sizes
Mubasher offers the standard lot sizes, which are 100,000 of the base currency per single lot.
Margin Call: No information
Stop-Out: No information
Trading Costs
Similarly, Mubasher lists the commissions related to trading different financial instruments, but forex fees aren't mentioned. However, since this broker is a Sharia-compliant firm, their accounts retain Islamic features. More specifically, they charge no interest/swaps on overnight trades, but there may be a fixed fee (which is typically the case with Islamic accounts). Mubasher calculates the rollover swap fee daily at 3 pm EST. Trades that are kept open at that time will be considered overnight positions and incur the related fee.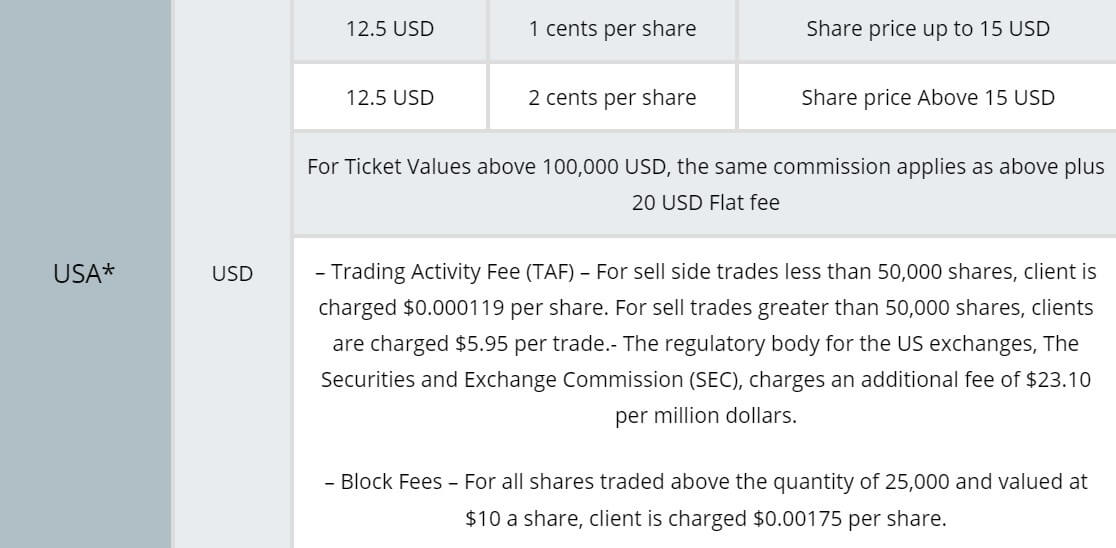 Assets
Mubasher's website notes that they offer almost 2,500 different asset symbols. Remarkably, over 130 forex pairs are amongst them. This, by far, is a much larger selection than what other firms will offer and only a few brokers in the industry can match it. All major currencies are paired against each other. Uniquely enough, you can trade pairs that include two exotic currencies, and not just those that are tied against a major one. For example, account holders have access to DKK.HUF (Danish Krone vs. Hungarian Forint), NOK.SEK (Norwegian Krone vs. Swedish Krona), PLN.CZK (Polish Zloty vs. Czech Koruna), and others.
There are also additional exotic currencies that Mubasher offers, amongst them, are the Thai Baht (THB), the Hong Kong Dollar (HKD), and the Romanian Leu (RON). In short, this broker's forex selection is more inclusive and expanded that most of its competitors. However, traders should keep in mind that exotic currencies are more volatile than majors, especially in a pair that includes two of them. Most exotics also have a large spread that can be 50 pips or higher.
You can also trade stocks in markets from all over the world. These include Middle Eastern ones (Saudi Arabia, the UAE, Turkey, Egypt, and others), European companies (such as those exchanged in Germany and the UK), and East Asian corporations (traded in the markets of Australia, China, Hong Kong, Japan, and more). You may also trade US stocks that are listed in the NYSE and Nasdaq.
Mubasher will give account holders access to options, ETFs, and others. In comparison to other forex brokers, this firm, by far, has the most expansive asset selection. Even brokers that have commodities, futures, and indices will only offer them as CFD contracts, instead of enabling traders to directly participate in the exchanges of different financial instruments. Furthermore, stock brokerage firms are restricted to a few countries, while Mubasher lets you trade equities of global companies through their standard account.
Spreads
The bid/ask gap starts from 1.8 pips. Several currencies enjoy this spread, including the AUS.USD, EUR.USD, GBP.USD, NZD.USD, and others. This gap between the bid and ask prices is about average. In most cases, brokers will have a spread that is between 1 and 3 pips.
Minimum Deposit
Even though the exact amount isn't specified, Mubasher requires you to firstly make a minimum deposit and, from there, maintain a balance that is above a certain level.
Deposit Methods & Costs
Whether an account holder uses MubasherTrade Pro or MTrade Plus, they can initiate deposits through their user dashboards. They would specify the transferred amount and the source. The only deposit method available on Mubasher is a bank transfer. However, traders that want to fund their account through sending a check should first contact the broker. The website makes no mention of what the deposit costs are. Typically, brokerage firms don't charge traders when they fund their account.

Withdrawal Methods & Costs
Withdrawals are also initiated online and must be sent to your bank account. No other methods are available. This broker also doesn't specify if they have any fees on outbound transfers.
Withdrawal Processing & Wait Time
No information about this is included on the website, either. Most of the time, though, bank transactions (both deposits and withdrawals) can take 1 to 3 days and, at times, 5. The latter is only the case when the bank or broker needs additional information or details. Keep in mind that Mubasher is based in the Middle East and they serve traders from all corners of the world. Because of this, certain regional or local restrictions on transfer times may apply, depending on where you're sending money to or from. However, the firm's international presence means that they are likely to be experienced in swiftly handling potential problems or delays and their team will be familiar with different countries' transaction requirements.
Bonuses & Promotions
Mubasher partners with ADS Securities (ADSS) and gives their clients access to a cashback promotion. For each lot than an ADSS account holder trades, they receive a $3 reward. After the cash starts adding up, traders can redeem it for a smartphone, Bluetooth speaker, or a power bank. This promotion, according to the website, expired in September 2018. Interested traders should inquire if it is still ongoing.
Educational & Trading Tools
The broker's platforms (MubasherTrade Pro and MTrade Plus) are rich with charting features, live newsfeeds, technical indicators, and many more offerings. Moreover, the same can easily be said about MT4, which is highly popular for a reason. When it comes to Mubasher's website, they offer four categories of research services that traders can utilize during live market sessions. First, the Real-Time Advisory (RTA) feature sends account holders recommendations to buy specific assets or forex pairs, alongside the target price, stop-loss placement, and instant notifications when the trade reaches one of these levels.
Second, Mubasher has more than 15 technical signals that alert traders when it is time to open or close a position. Third, through the MubasherTrade Pro platform, you can filter and construct a custom set of tools, including news alerts, technical signals, relevant research reports, and RTAs that revolve around your current trades or forex pairs that are on your watch list. Fourth, this broker's researchers and analysts provide account holders with fundamental reports that cover important and market-moving developments. These research reports are updated and published throughout the day, covering news stories and fundamental events from all across the globe.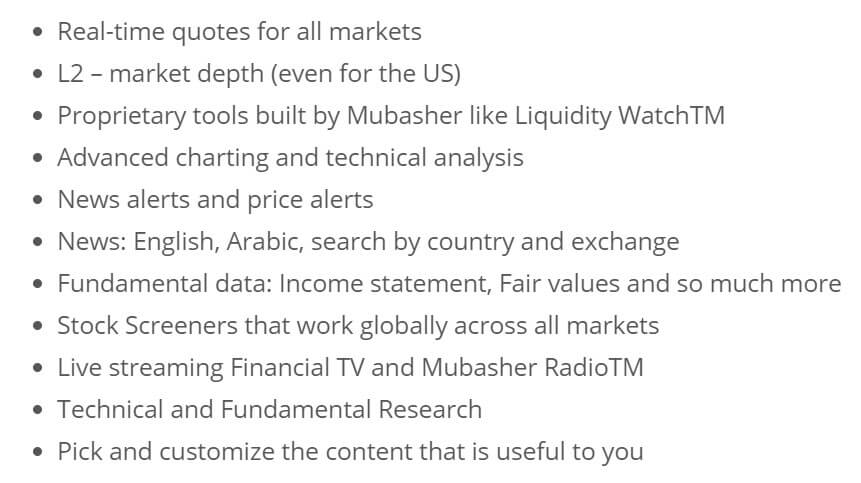 Customer Service
Customer service operates based on the local time in Bahrain, which is 3 and 7 hours ahead of the GMT and EST timezones, respectively. Support is available from Sunday to Thursday, which are weekdays in Bahrain and the greater region.
Phone: +97 317 300 849 and +97 317 556 139
Email: [email protected]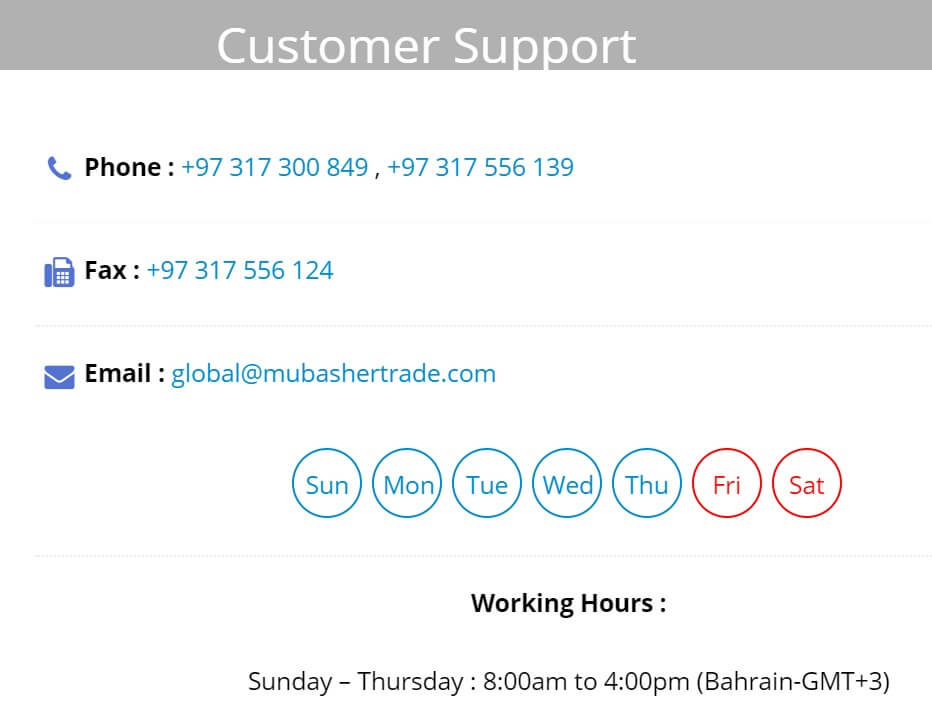 Demo Account
Initially, the broker will give you $100,000 in paper (fake) money to practice with before putting actual funds on the line. It seems, however, that the demo is only available on the MT4 platform. This is important because, alongside beginners who want to test different strategies on a fake account, professional traders should also get comfortable with a new platform through the demo.
If you are used to MT5 instead of MT4, as an example, the demos allow you to learn about the latter platform's tools and features. However, because MubasherTrade Pro and MTrade Plus are exclusively offered by this broker, new account holders are likely to have never used it before. Crucially, they should make sure that a demo is available to help them learn how to use the platform before risking their real money.
Countries Accepted
Since Mubasher gives you access to financial instruments that are traded in many markets across the world, there are barely any country limitations on utilizing their services. In fact, they are even available to US-based traders. Many brokerage firms that offer CFDs and similar contracts are restricted in the American markets. Mubasher, meanwhile, lets you directly participate in different assets' exchanges, such as by trading commodity futures or options instead of CFDs. In turn, this minimizes regulatory restrictions and enables the firm to work with traders from around the globe. However, Mubasher still gives account holders access to CFD contracts, which is another plus in itself.
Conclusion
At first glance, this broker's bonus (only offered to ADSS clients) might make Mubasher look like an exclusive firm, even more so when we compare the various investment portfolios to the firm's single retail trading account. In reality, though, Mubasher is one of the most inclusive and resourceful firms in the brokerage industry. Through its only account type, you can trade over 130 forex pairs and hundreds of stocks that are exchanged in global markets. They only accept wire transfers for both deposits and withdrawals.
However, considering the firm's international presence, they are more than capable of working with financial institutions from around the world and their team understands the transaction processes of banks in different countries. Having said that, Mubasher's trading conditions are somewhat mixed. Because they offer thousands of financial instruments, the broker doesn't give forex pairs as much attention as they should receive.
To clarify, no information about commissions and other forex-related aspects are made available on the website. Yet, because Mubasher is an Islamic broker, most of their overnight swap fees are fixed and not tied to interest rates. Meanwhile, the spreads on forex pairs start from 1.8 pips, which is about average when we compare this broker to other firms.

Other pros to opening an account with Mubasher include access to over 2,500 assets that you can trade. Futures and CFDs are amongst the options. Similarly, there are 4 incredibly valuable trading tools that are at account holders' disposal. Alongside trade recommendations, you can customize different aspects that shape your trading experiences, such as technical indicators, news alerts, and notifications regarding the latest research reports. Perhaps most importantly, Mubasher will give you access to 3 different platforms, which is unheard of. In fact, this broker even has its own 2 platforms: MubasherTrade Pro and MTrade Plus. Each of them has advantageous, customizable, and unique offerings.
Moreover, you can also install and trade through the globally reputable MT4 platform, which is famous for its accurate pricing and fast execution of buy/sell orders. However, because the former 2 platforms are exclusive to this broker, you should make sure that the demo is available through them. After all, any trader should get comfortable with a new platform before putting their money on the line. Customer support is available in two different languages, including Arabic and English, making Mubasher an even more inclusive and widely reliable broker.