Whether you are a new trader or have several years of experience, Prizm FX's services and features are tailored to meet your needs. Based out of London, the United Kingdom, this broker gives you access to a verity of trading accounts, financial instruments, and lucrative promotions. These offerings are even more advantageous when combined with the sophisticated platform that Prizm FX's account holders trade through. Just as importantly, while their leverage isn't that high, you can enjoy a risk-free and technologically efficient trading experience. In this article, we go over all that you need to know about Prizm FX's accounts, buying power, assets, transfer methods, and more.
Account Types
Prizm FX offers 4 different types of accounts. While the spreads are relatively large, account holders pay no commissions on trades (regardless of which type they choose).
Starter:
Minimum Deposit: $100
Spreads: From 2 pips
Commission: $0
Expert:
Minimum Deposit: $1,000
Spreads: From 2.2 pips
Commission: $0
Pro:
Minimum Deposit: $5,000
Spreads: From 2.1 pips
Commission: $0
Prime:
Minimum Deposit: $10,000
Spreads: From 2 pips
Commission: $0

Apart from the deposit requirements and spreads, the main difference between the account types is the leverage. Other than that, they all share the same trade sizes and each account can be managed through a single platform.
Platforms
MetaTrader 5 (MT5) is perhaps the most advanced and up-to-date platform in the forex industry. Prizm FX's account holders can manage their portfolio through their Windows, MacBook, iPhone, or Android device. The Windows desktop and smartphone apps may be directly installed from the broker's website. If you want to trade on a MacBook, you must first download certain software in order to install MT5. However, the software can be found in Apple's online store and it doesn't cost any money to download it.

On MT5, traders may integrate a wide range of technical indicators, view charts in different timeframes, and program their own automated trading algorithm. Equally as important, every currency pair and asset has its own live news feed, alongside an aggregated information stream that covers at-large economic and market-related topics. In short, MT5 is ideal whether you prefer the fundamentals or technicals.
Leverage
Starter and Expert have 200:1 and 150:1 in buying power, respectively. Pro and Prime, on the other hand, only have leverage of 100:1 each. To clarify, Prizm FX will lower your buying power when you have a larger account balance. This practice, however, is common and standard in the industry. Brokers prefer to limit the leverage that large accounts enjoy in order to minimize potentially hefty losses when the markets are volatile.

Trade Sizes
The smallest position that you can open on Prizm FX is a micro lot. To put that into perspective, the standard lot size is 100,000 units of the base currency. A micro lot is equal to 1,000 units or 0.01 the standard lot.
Margin Call: NA
Stop-Out: NA

This broker's website doesn't include information about their margin call and stop-out levels. Traders who plan on using a lot of leverage should inquire about this to ensure that the Prizm FX's margin requirements are aligned with their strategy. To be specific, at the margin call level, brokers tend to have different rules. The most lenient ones will inform you that your balance reached the margin call, without taking any further action.
Others may close some of your losing trades to bring the account back above the margin-call level. The strictest firms will close all your trades at the margin-call to limit your losses. Each broker's policy towards the stop-out depends on their margin-call approach. Some might close all of your trades and others only liquidate the biggest losers.
Trading Costs
We found that Prizm FX's trading costs have their own positive and negative aspects. Needless to say, their $0 commissions (applicable to all account types) is a more than a desirable feature. However, their spreads, which start at 2 pips, are very large. The broker doesn't mention anything about the availability of swap-free Islamic accounts. Either way, traders should keep in mind that almost any broker will charge them interest on positions that remain open overnight.
While Islamic account incurs no interest, they still have to pay a fixed fee on these trades. In most cases, swap costs are out of the broker's control. Economic conditions and the interest rate of your traded currency are what determines the overnight fee. For Islamic accounts, interested traders should contact the broker to see if this option is available and learn what the fixed overnight fee is.
Assets
Prizm FX has a very competitive and encompassing selection of financial instruments. First, there are more than 60 forex pairs. Just as importantly, this broker will let you trade 15 market indexes and commodities (namely gold, silver, and oil). Most of the time, commodities and indices are exchanged as CFD contracts. However, gold and silver may be paired against the USD, just as currencies are. For example, gold's symbol is XAU.USD. If you are a commodities trader, inquiring about these specifications would be a good idea. All of the assets and contract types are available on MT5.
Spreads
Even though Prizm FX has plenty of superior features, the spreads aren't one of them. Amongst the brokerage industry, spreads range between 1 pip and 3 pips. Anything below 1 pip is considered competitive while spreads that are above 3 pips are well-above average. For all 5 account types, the difference between the bid and ask prices on Prizm FX is 2 pips or more. In turn, this gives the broker a disadvantage over its competitors.

Minimum Deposit
To open an account, you must deposit $100, $1,000, $5,000, and $10,000 for Starter, Expert, Pro, and Prime, respectively.
Deposit Methods & Costs
You can fund your Prizm FX through a debit/credit card, bank wire transfer, Neteller, or Skrill. However, the broker's website doesn't list the costs associated with each deposit method. In most cases, firms don't charge account holders for depositing money, but some of them still do.

Withdrawal Methods & Costs
Traders can also withdraw funds through a bank transfer, Neteller, Skrill, or Visa/MasterCard. Just as with deposits, transaction costs aren't outlined on the broker's website.

Withdrawal Processing & Wait Time
No information about this can be found online. Since transfer fees and processing times are a delicate part of the trading experience, interested users should inquire about this and ensure that the transaction times and costs are convenient for them.
Bonuses & Promotions
You can become a Prizm FX partner by participating in one of their 3 promotional programs: Affiliate accounts, Introducing Brokers (IB), and White Label. Affiliate and IB promotions are similar because they allow traders to earn commissions when they refer someone to this broker. There are certain key differences, though. Affiliate programs target traders that have a large number of followers on social media or a strong professional network. Affiliates earn a commission revenue every time their referral opens/closes a position. IB is more for users who manage several accounts (usually for their clients).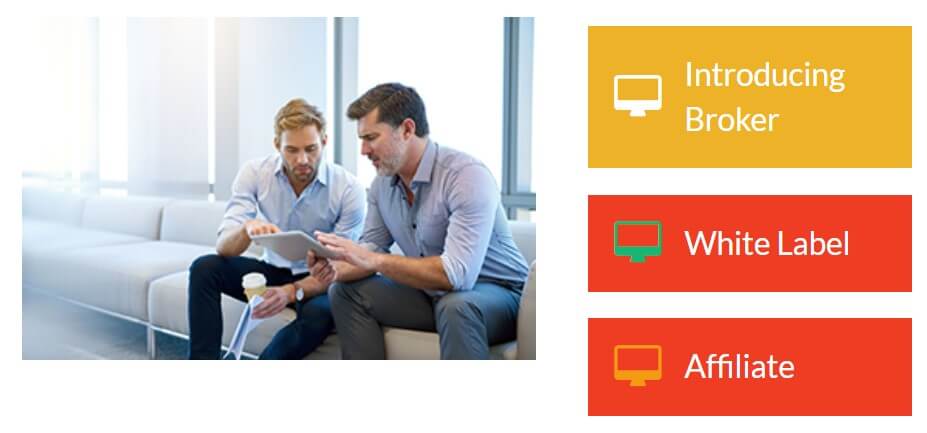 By joining Prizm FX, an IB can open portfolios for each of their clients. Meanwhile, the broker will provide them with administrative support. In other words, an IB can act as an independent office/business partner that offers its clients the features, account types, tools, and financial instruments that are available through Prizm FX. After that, IBs earn commissions whenever trades are executed on their clients' portfolios. Lastly, the White Label program is similar to IB. However, White Label mostly targets banks, medium-to-large institutions, and financial consultants.
Educational & Trading Tools
Prizm FX doesn't have any tutorials, educational materials, economic calendars, or other trading tools on their website. Having said that, this broker prides itself on enabling traders, both beginners, and seasoned veterans, to work with market professionals for guidance and support. Additionally, account holders can still access the valuable variety of features on MT5. First, the platform has plenty of trading guides and manuals for beginners, alongside one-on-one mentorship from an experienced account manager or trader. Equally as important, you can utilize many technical indicators, access several accounts from one screen, and take advantage of other trading resources on MT5.
Customer Service
There are three ways to get in touch with Prizm FX's customer support department: Via phone, by sending an email, or by filling out a contact form on the website. Traders who live in the United Kingdom may also visit the broker's office location in London.
Phone: +1 (872) 981 765
Email: support@prizmfx.com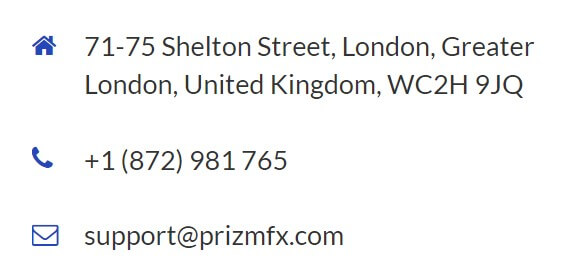 Demo Account
Before opening a real account and putting your money at risk, you may want to look into a demo. This is the case regardless of a trader's experience or level of expertise. For example, many market participants are used to the still active and globally popular MetaTrader 4 (MT4). In fact, while MT4 is an older version of MT5, it still has its own unique and useful trading tools. Because of this, if you mostly relied on MT4 in the past, a demo account gives you an opportunity to familiarize yourself with MT5's different order types, resources, and trading methods.
When it comes to beginners, a demo lets you try out different strategies and approaches by trading fake/paper money. After that, you will develop a proven methodology by the time that you start to trade your real funds. When opening a demo, there are a couple of things that traders should consider, especially because Prizm FX has limited information on the website.
First, choose a demo that doesn't have a short timeframe. Many brokers will only keep paper accounts active for 30 to 60 days. Second, make sure that the quotes and conditions on the demo are the same as the ones on a live account. This is most likely the case when you open one through MT5.
Countries Accepted
Prizm FX doesn't note any country restrictions. However, most brokers that offer CFD contracts don't work with American traders because the US government heavily regulates these types of financial instruments. Similar restrictions may apply in Canada, Belgium, and France. Yet, this may not be the case when it comes to Prizm FX. As always, traders should consult with the customer support department to make sure that the services are available in their location or country, alongside any regulatory restrictions that may apply.
Conclusion
First and foremost, before opening an account, traders should ensure that the transfer methods and costs suit their needs, especially because these details are limited on Prizm FX's website. For example, if you frequently transfer funds, then large transaction fees are far from ideal. Meanwhile, if you prefer liquidity, fast processing times should be your priority. Apart from that, this broker has different types of trading accounts and promotions. Above all else, each portfolio type and the promotional program is designed in a manner that allows traders to pick the choice that fits their goals and market methodologies.

Commissions are nonexistent, which is always a plus. However, Prizm FX's spreads are far from ideal and certainly above the industry average. As far as education is concerned, you can work with experts in a one-on-one setting for help with managing your account or (if you are a beginner) navigating through the markets and defining a winning strategy. Moreover, MT5 has its own selection of trading tools and educational materials. Lastly, but certainly not least, customer support can be contacted through a variety of methods.
In short, Prizm FX's pros are its expanded selection of assets, the utilization of MT5, zero commissions, and diverse account types. The negatives include wide spreads and relatively low leverage. Apart from that, not a lot of information about margin calls, the stop-out level, and transfer methods is included on the website. Because of this, interested traders should contact the broker and inquire about these features, especially to determine whether or not they are aligned with your strategy and preferences.