Forex Wings is a forex broker situated in St. Vincent and the Grenadines, their goal is to allow traders to become profitable by utilizing powerful trading platforms, access to proprietary straight-through technology, excellent liquidity, world-class customer service and a broad suite of advanced trading tools. In this review, we will be looking into the services being offered to see if they live up to their goals.
Account Types
There are three different accounts available from Forex Wings, these are the Gold, Platinum, and Diamond (Pro) accounts, each having their own entry requirements and trading conditions, so let's take a look at what they are.

Gold Account: The gold account has an entry requirement of $100, it uses market execution and only has forex pairs available to trade with spreads starting from 2.5 pips. Leverage can be up to 1:500 and the minimum trade size is 0.01 lots and there is no maximum trade size. Trades go up in steps of 0.01 lots and there is no limit to the number of trades you can have open at one time. This account has swap charges for holding trades overnight and there is no added commission. Scalping and Hedging are both allowed and the margin call level is set at 100% and the stop out level is set at 40%.
Platinum Account: The platinum account increases the minimum deposit up to $1,000. Spreads on this account start at 1.5 pips and this account also uses market execution. In terms of products, the account has forex pairs as well as Gold and Silver available to trade. Leverage can be up to 1:300 and the minimum trade size remains at 0.01 lots and goes up in increments of 0.01 lots with there being no maximum trade size or a maximum number of open trades. The account can be in either a normal account with swaps or as a swap-free account. Scalping and Hedging are both allowed and the margin call remains at 100% however the stop out level has reduced down to 35%.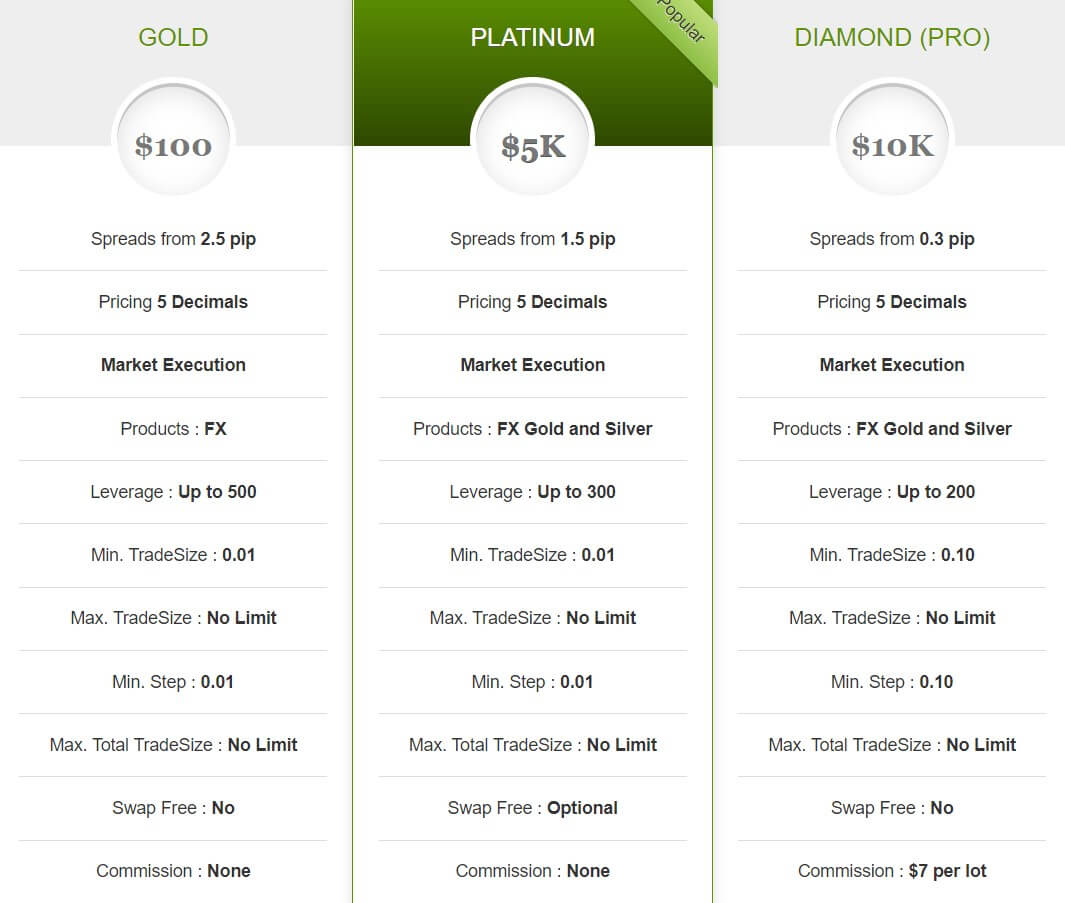 Diamond (Pro) Account: This is the top tier account with Forex Wings, it requires an opening deposit of $10,000 and with this raised deposit the spreads are starting as low as 0.3 pips. The account still uses market execution and has forex pairs as well as gold and silver available to trade. Leverage has been reduced down to 1:200 as a maximum and the trade sizes now start at 0.1 lots and go up in increment so f0.1 lots, there is still no maximum trade size or number of open trades. Due to the lower spreads, this account now has a commission of $7 per round turn lot traded. Scalping and hedging are both allowed the margin call level is not at 50% and the stop out level at 30%. This account can not have a swap-free version and so is charged swap fees.
Platforms
Forex Wings offers a singular trading platform which is a shame to take away choice, the good news is that the platform available is MetaTrader 4.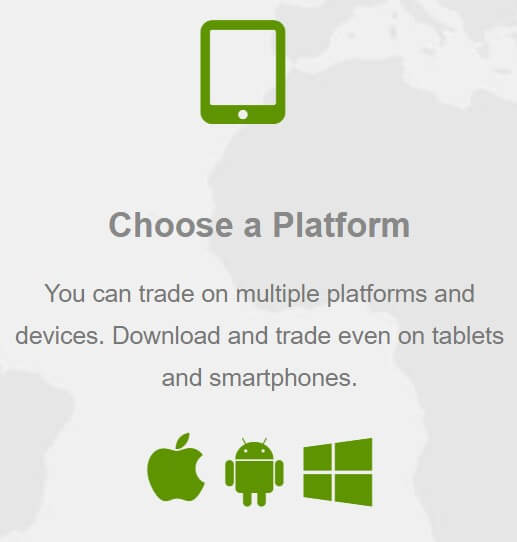 MetaTrader 4 (MT4) is one of the world's most popular trading platforms and for good reason. Released in 2005 by MetaQuotes Software, it has been around a while, it is stable customizable and full of features to help with your trading and analysis. MT4 is compatible with hundreds and thousands of different indicators, expert advisors, signal providers and more. Millions of people use MT4 for its interactive charts, multiple timeframes, one-click trading, trade copying and more. In terms of accessibility, MT4 is second to none, available as a desktop download, an app for Android and iOS devices and as a WebTrader where you can trade from within your internet browser. MetaTrader 4 is a great trading solution to have.
Leverage
The leverage that you have is dependant on the account that you are using, all accounts have a choice of leverage however the Gold account has a maximum leverage of 1:500, the Platinum account has a maximum leverage of 1:300 and the Diamond (Pro) account has a maximum leverage of 1:200. Leverage can be selected when opening up an account, once an account is open if you wish to change the leverage on it you will need to get in contact with the customer service team.

Trade Sizes
When using the Gold or Platinum account your minimum trade size will be 0.01 lots (also known as a micro lot), they will then go up in increments of 0.01 lots so the next trade would be 0.03 lots and then 0.03 lots. If using the Diamond 9Pro) account then your minimum trade size will be 0.1 lots (also known as a mini lot) and goes up in increments of 0.1 lots, so the next trade would be 0.2 lots and then 0.3 lots.
There is no maximum trade size or a number of open trades, however, we would always recommend sticking to trades under 50 lots as the bigger the trades become the harder it is for liquidity providers and the market to execute the trades quickly and without any slippage.
Trading Costs
The Gold and Platinum accounts do not have any added commissions and only use a spread based structure that we will look at later in this review. The Diamond (Pro) account has an added commission of $7 per round lot traded which is reasonable considering the industry standard seems to be around $6 per lot traded.
There are also swap charges on all accounts, these are charges for holding trades overnight and can be both negative and positive, these can be viewed wither on the Forex Wings website or within MetaTrader 4. If you are not able to receive interested due to your beliefs, then the Platinum account can be made as a swap-free account, however, there will be additional administration fees to counter this,
Assets
Instruments and assets is one of the places where Forex Wings falls short, there is a very limited number of assets, so few that we can list them all for you, it is worth noting that the Gold account only has access to forex pairs while the Platinum and Diamon (Pro) account also have access to both Gold and Silver.
EURUSD, GBPUSD, USDCHF, USDCAD, USDJPY, NZDUSD, AUDUSD, AUSNZD, AUDCHF, AUDJPY, AUDCAD, CHFJPY, EURGBP, EURAUD, EURCHF, EURJPY, EURNZD, GBPCHF, GBPJPY, CADJPY, NZDJPY, EURTRY, USDTRY, Gold, and Silver.
Spreads
Spreads are dependent on a few different factors, the account hat you are using decided what the minimum spread can be, the Gold account has a minimum spread of 2.5 pips,m the Platinum has a minimum spread of 1.5 pips and the Diamond (Pro) account has a minimum spread of 0.3 pips. The reason they are the minimum is due to the fact that they are floating (also known as variable) spreads, this means that they move with the markets when there is more volatility the spreads will be seen higher.
It is also important to note that different instruments will have different starting spreads, for example, EURUSD may have a spread of 2.5 pips, but another pair may be higher and have over 3 pips as their starting spread.
Minimum Deposit
The minimum deposit requirement to open an account is $100 which gets you the Gold account, if you want a different account you will need to deposit £1,000 for the Platinum account and $10,000 for the Diamon (Pro) account. Once an account is open, any further deposits to top up the account has a minimum of $100 for all account types.
Deposit Methods & Costs
The deposit methods page on the website only mentions Bank Wire Transfers, however on the main page there are images of Visa, MasterCard, Neteller, and Bank Wire Transfers, so it is not completely clear which methods are actually available to use. There is also no mention of any fees when on the deposit page so we can not comment on this, we can advise you to check with your p[rocessor though to be sure they are not adding any fees of their own.

Withdrawal Methods & Costs
On the withdrawals page, there is the only mention of Bank Wire Transfers and not any others. You must withdraw to the method that you have used to deposit and the minimum withdrawal amount is $100, there is, unfortunately, a withdrawal processing fee of £25 – $30. Many brokers are getting rid of withdrawal fees so it would be nice to see Forex Wings do the same thing.
Withdrawal Processing & Wait Time
As the only method of withdrawal mentioned on the site is Bank Wire Transfer, this is normally processed within 1 – 5 business days. Requests are processed in around 1 hour of receipt, however, the office hours are 09:00 – 19:P00 GMT+2, if your request is outside that time then the request will be processed the next working day.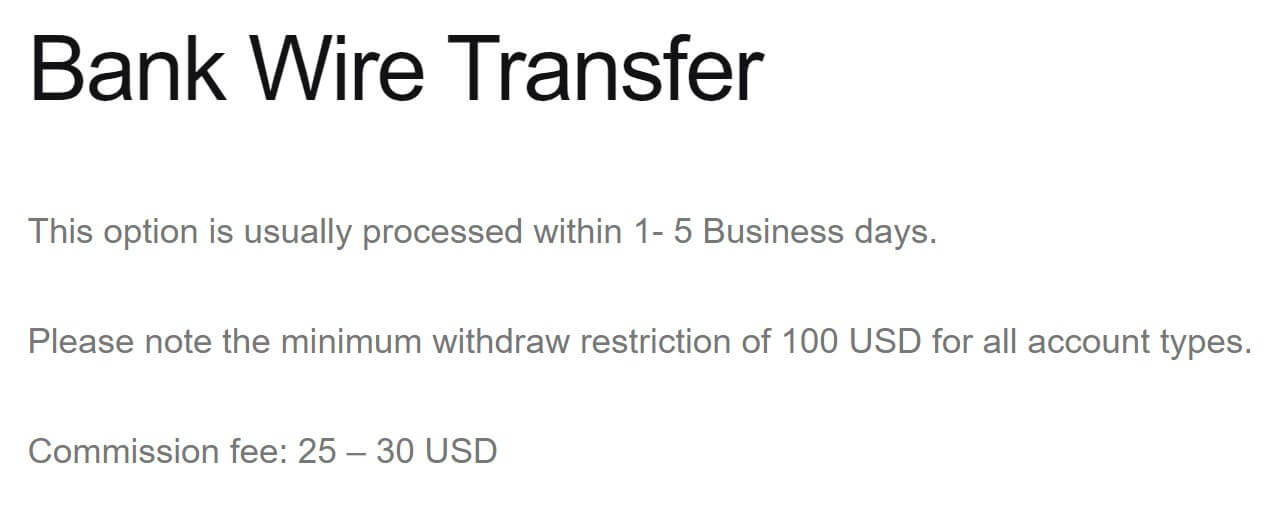 Bonuses & Promotions
There are three different bonuses and promotions available to use, we will outline the basic information about them below:
$10 Live Welcome Bonus: You can receive a $10 bonus to start trading live, this is deposited straight into your account, the account being used must have a leverage of 1:300 and minimum trade size of 0.01 lots, one account per person. You can withdraw any profits made from the $10 account without any restrictions.

50% Deposit Bonus: You can receive up to 50% bonus on top of your deposits, if you deposit between $100 and $3,000 you will receive a 50% bonus, between $4,000 and $10,000 40% bonus and any more, you will have a max bonus of $5,000. Applied to first deposit only and is deposited within 24 hours. In order to withdraw the funds, you must trade 0.1 lots for every $1 of bonus funds, so if you have a $1,000 bonus, you will need to trade 100 lots to withdraw it, this rollover must happen within 6 months, this is an achievable target.

FW Markets Champion DEMO Contest: You can enter a demo account competition in order to try and win real prizes, 1st prize is 500 USD, 2nd is 300 USD and 3rd is 100 USD, the person coming last also gets 100 USD. Prize money is paid into the winner's real account and can be fully withdrawn.

Educational & Trading Tools
Not much when it comes to educational or trading tools, there is an economic calendar which outlines upcoming news events and which markets they may affect, this is not Forex Wings own calendar, instead, they have embedded one from another site., There is an analysis section of the website however this is currently giving off a PHP error and so it's not loading and we can not comment on it.
Customer Service
Forex Wings don't offer too much in the way of contacting their support team, the contact us page is just a simple web form, fill it in and you should get a reply via email. There is also a phone number at the top of the page. We did not get to test the support team at this stage of the review.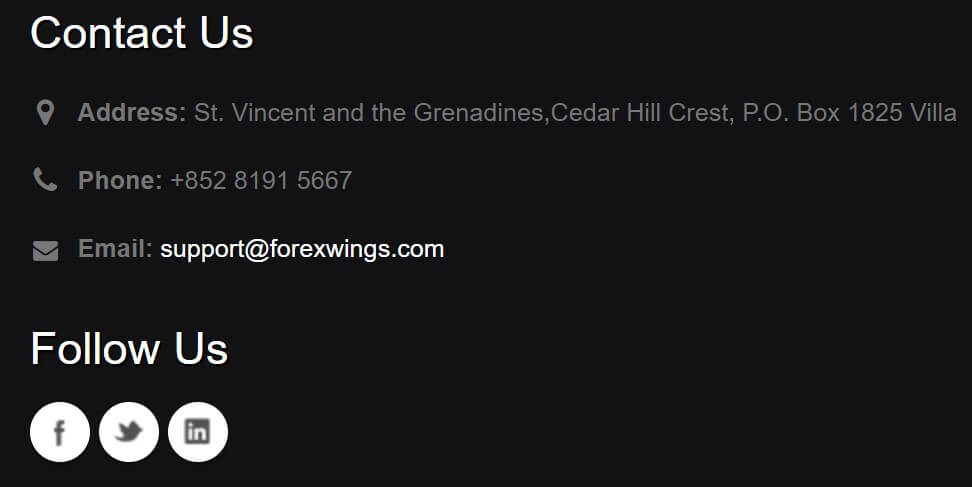 Demo Account
There is mention of the demo accounts in the demo contest page however nowhere else on the site are they mentioned, this leads us to believe that the demo accounts may only be available during the contests, this would be a strange move for Forex Wings to make. Demo accounts are important to both new and existing clients as new clients may want to test out the trading environment and existing clients may want to test out new strategies without risking their capital, this is an area that Forex Wings should be looking at improving.
Countries Accepted
Information about which countries are accepted and which are not is not present on the website, so if you are interested in signing up with Forex Wings be sure to get in contact with their customer service team to see if you are eligible for an account or not.
Conclusion
The Forex Wings site is riddled with PHP errors which means there is something wrong with the site or its databases. Putting that aside, the trading conditions are ok for what is being offered, but far better conditions can be found elsewhere, the lack of deposit and withdrawals information is the biggest worry as Forex Wings will be holding onto our money, this information is vital to help clients understand and be confident with how Forex Wings deals with their money, for these reasons it is currency hard for us to recommend Forex Wings as a broke to use.