IFX Brokers is a foreign exchange broker that is looking to offer their commitment to delivering their promises of client satisfaction, transparency to show their honesty and to build trust in order to gain long term relationships with their clients. In this review, we will be looking at the services being offered so you can decide if they are the right broker for you.

Account Types
There are three different account types to choose from the IFX standard, IFS Raw and IFX Islamic. Here is what they offer.
Standard Account: This account has a minimum deposit requirement of $100, it has spread as low as 0.8 pips and has no added commissions. The account uses MetaTrader 4 as its trading g platform and has access to all the instruments/assets that IFX offers. It has a minimum trade size of 0.01 lots and a maximum of 100 lots. The account has swap fees and the base currency can be in USD, ZAR, GBP or EUR.
Raw Account: The Raw account slightly increases the minimum deposit up to $250, it uses the MetaTrader 4 platform and has access to all currencies, as well as Gold and Silver to trade. Trade sizes start at 0.01 lots and go up to 100 lots, spreads are starting from 0.3 pips and there is a $3 commission one way. The account has swap fees and can only be in USD.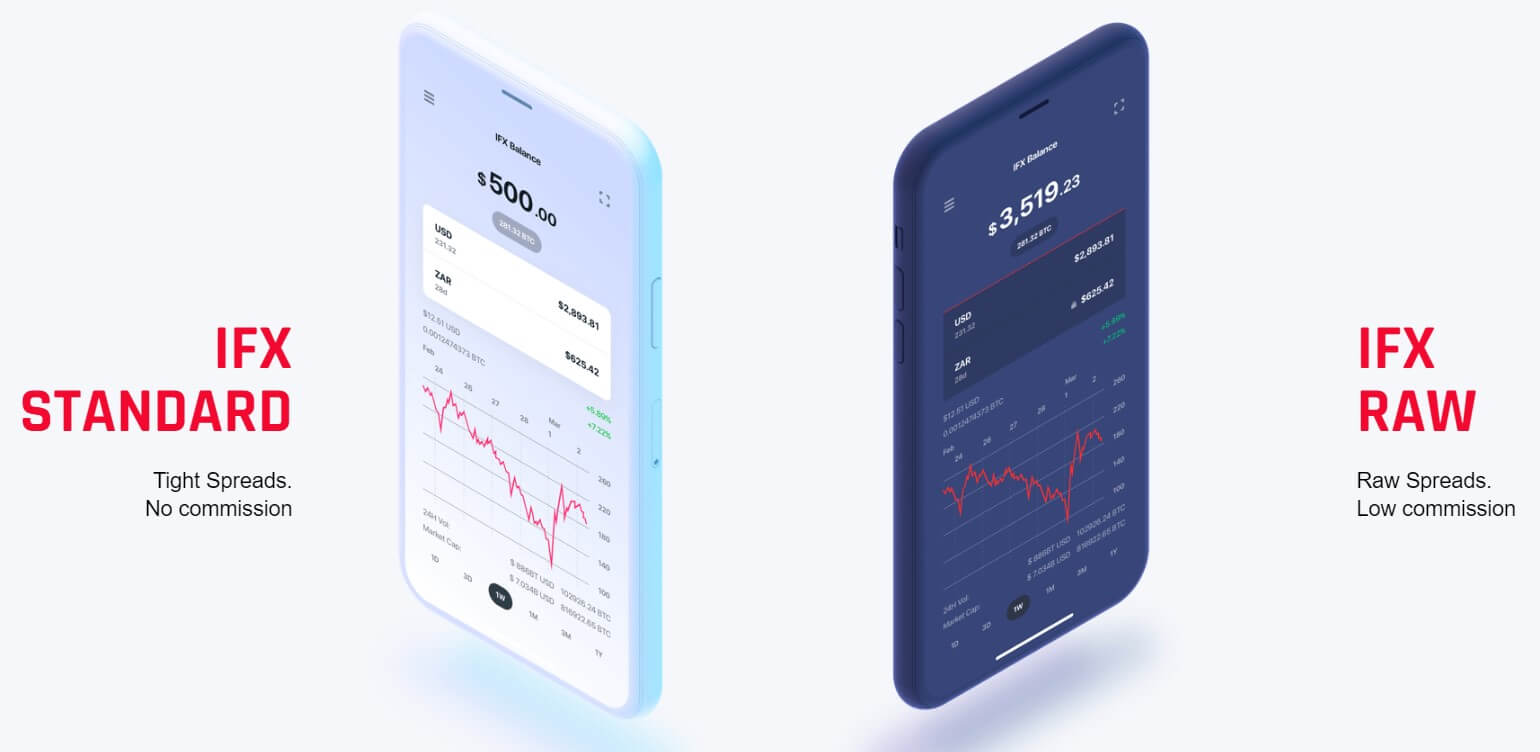 Islamic Account: The Islamic account is for those that can not accept interest due to their beliefs, so this account does not have swap fees. Its minimum deposit is $100 and it has spread starting from 0.8 pips with no added commissions. It uses MetaTrader 4 and has access to all instruments to trace, minimum trade sizes are 0.01 lots and the maximum is 100 lots, as mentioned there are no swap fees and the base currency must be in USD.
Platforms
IFX Brokers offer a singular trading platform in the form of MetaTrader 4 which is a fantastic piece of software, this is what it offers:
MetaTrader 4 (MT4) is one of the world's most popular trading platforms and for good reason. Released in 2005 by MetaQuotes Software, it has been around a while, it is stable customizable and full of features to help with your trading and analysis. MT4 is compatible with hundreds and thousands of different indicators, expert advisors, signal providers and more. Millions of people use MT4 for its interactive charts, multiple timeframes, one-click trading, trade copying and more. In terms of accessibility, MT4 is second to none, available as a desktop download, an app for Android and iOS devices and as a WebTrader where you can trade from within your internet browser. MetaTrader 4 is a great trading solution to have.
Leverage
IFX offers leverage up to 1:500 which is quickly becoming the industry standard. Leverage can be selected when opening up ana account and if you wish to change it after an account is already opened you will need to get in contact with the customer service team.
Trade Sizes
Trade sizes start from 0.01 lots (also known as micro-lots) and go up in increments of 0.01 lots so the next trade would be 0.02 lots and then 0.03 lots. The maximum trade size is 100 lots which we feel is too high. We would not trade over 50 lots at a time as it can become harder for the markets and liquidity providers to execute trades quickly the without slippage the bigger they are, but it is nice to have the options none the less.
Trading Costs
The Standard and Islamic accounts do not have any added commissions and instead use a spread based system that we will look at later in this review. The Raw account has an added commission of $3 one way, so a total round lot will have a commission of $6 which is matching the current industry standard.
Apart from the Islamic account, there are swap fees that are charged for holding trades overnight and can be both negative or positive. These charges can be viewed from within the MetaTrader 4 trading platform.

Assets
The assets and instruments available from IFX Brokers have been broken down into 4 different categories. Forex pairs are available, there isn't a full breakdown but some examples are given are EURUSD, GBPUSD, and USDCHF. Indices are also available however there is no information regarding which ones, Commodities is the next section with examples of Corn, Soybeans, Coffee, and Wheat. The final category is CFDs, however, there is no breakdown or example of these assets so we could only speculate what they could be.
Spreads
Spreads on the Standard and Islamic account start from 0.8 pips, the spreads start from 0.3 pips on the Raw account. These spreads are variable which means they move with the markets and when there is a lot of volatility the spreads will often be larger. It should also be noted that different instruments will have different starting and natural spreads, EURUSD may have a starting spread of 0.8 pips, while GBPUSd may have a starting spread of 1.2 pips.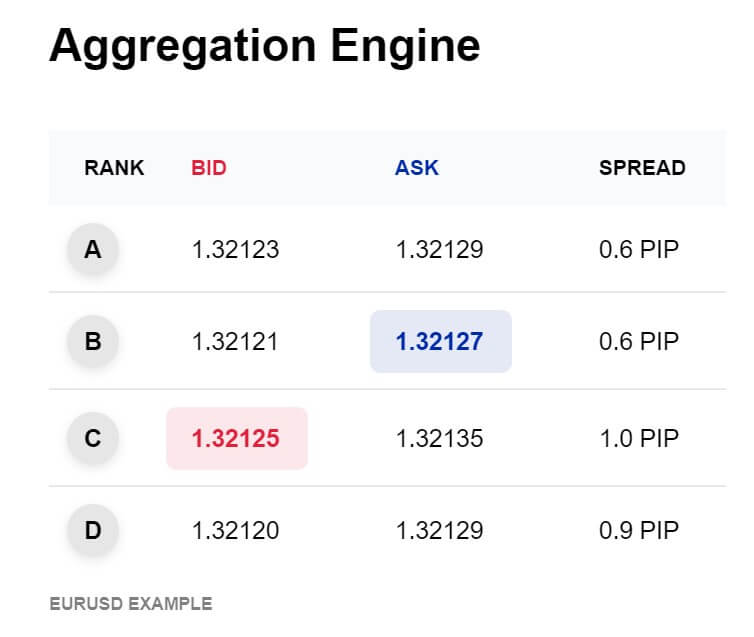 Minimum Deposit
The minimum deposit amount is $100, this will get you the Standard account, if you wanted a Raw account you will need to deposit at least $250. Subsequent deposits once an account is open have a minimum amount of $100.
Deposit Methods & Costs
There are a few different methods available to fund your account, you can use Wire Transfers which has a minimum deposit amount of $250, you can also use Local Electronic Fund transfers, the minimum for this method is $100 or ZAR 1500, Credit and Debit cards, both Visa and MasterCard can be used, the minimum for this method is $100 or ZAR 1500. You can then use PayFast, iPay, and PayU to deposit into your account, the minimums for this method is also $100 or ZAR 1500. You can also use broker-to-broker transfers to deposit directly from another brokers' account, as long as they are participating in the scheme.
There are no added fees from IFX, but be sure to check with your bank and processor to see if they add any fees of their own.

Withdrawal Methods & Costs
You can use the same methods to withdraw, for clarification these are Bank Wire Transfer, Local ElectronicFund Transfer, Credit and Debit Card, both Visa and MasterCard, PayFast, iPay, PayU and broker to broker transfers. Withdrawals must be made to accounts in your name and you can only withdraw to Credit / Debit cards the amount that you originally deposited, any more and it will need to go to a different method.
There are no added withdrawal fees but just like with the deposits be sure to check with your bank and processor to see if they add any fees of their own.
Withdrawal Processing & Wait Time
IFX Brokers aims to process withdrawals immediately and on the same working day, once a withdrawal request has been processed it can take up to 5 working days for you to receive your funds, dependant on the method you used to withdraw with.
Bonuses & Promotions
The only promotion on offer is something called IFX Evolve, this allows you to qualify to receive a funded account where you then receive 50% of the profits. In order to qualify you need to have an account with at least $500 in, you then need to trade successfully for 6 months before consideration.
Educational & Trading Tools
The IFX Academy holds all of the educational tools that IFX has to offer, initially, there is a free forex workshop to sign up to, this is where you will be taught about all the basics of trading and how it all works. Once you are signed up you receive full access to the educational material, there are full courses designed to give you the edge, teaching you about different assets, analysis techniques and other aspects of trading like risk management. It seems to be pretty in-depth and so if you are a part of IFX we would highly recommend utilizing this feature of the broker.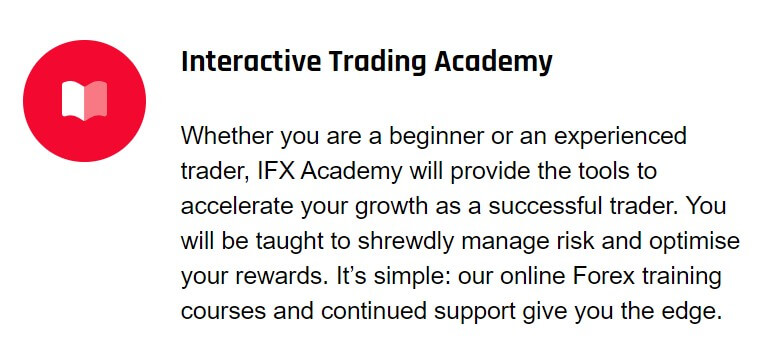 Customer Service
The customer service departments can be contacted in a number of different ways, the first option is a phone number to give them a call and chat about whatever queries you may have. Next up are email addresses for various departments including Customer Support, Education, Compliance & Regulatory Affairs, Partners, Complaints and, Marketing & Sales. Finally, there is an online form to submit where you fill out your query and you should then get a reply via email.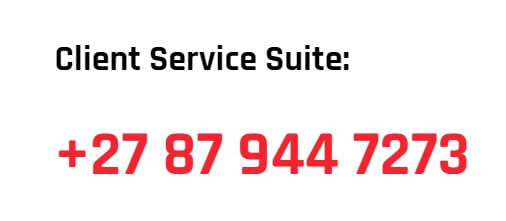 The customer support department is open 24 hours a day Monday to Friday, while all other departments are open between 08:00 and 16:00 GMT Monday to Friday.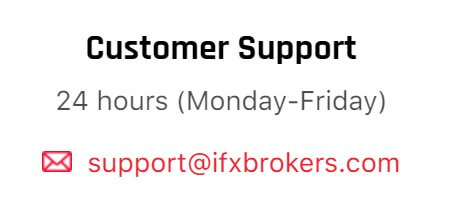 Demo Account
Demo accounts are available, simply fill in the application and away you go, you can select to have the demo account is USD, EUR, GBP or ZAR. The other features of the demo account are not specified such has which account it mimics or how long the accounts last for, this information would have been good to have so you can tell what the trading conditions of the demo account will be like.
Countries Accepted
Information regarding which countries are accepted is not obvious on the website, so if you are interested in signing up with IFX Brokers we would recommend getting in contact with the customer service team to see if you are eligible for an account or not.
Conclusion
IFX Brokers seem to be running a pretty tight ship, their trading conditions are competitive, leverage is good along with decent spreads for non-commission accounts. Demo accounts are available and the customer support team is accessible, the education section of the site seems to be going way above what most brokers do which is great as it is always good to see brokers helping their clients become better. It would be nice to see more methods for depositing and withdrawing but the fact that there are no added fees for the current methods is a big plus.