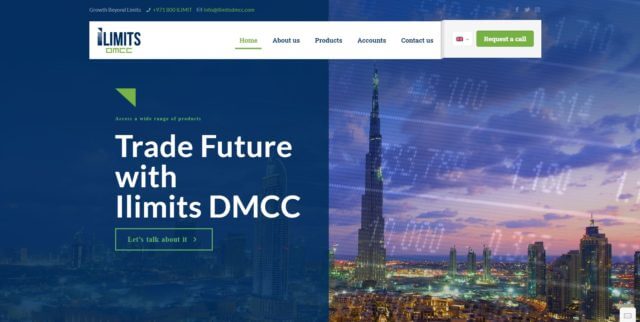 ILimits DMCC is a forex broker based in Dubai and is aimed at people who currently reside in Dubai itself. Established in 2016, it claims to offer an advanced trading environment with each client having their own account manager. We take a little look into what services are really being offered.
Account Types
ILimits DMCC offers individual accounts and corporate accounts, we will only be looking at the individual accounts as that is what 99.9% of retail traders will go for. Having said that, it is quite hard to talk about the account, simply because there is very little information available, the accounts page which normally details the conditions and features of an account simply states that you can sign up, and the requirements to do so, I am not talking about funding, etc, but the verification.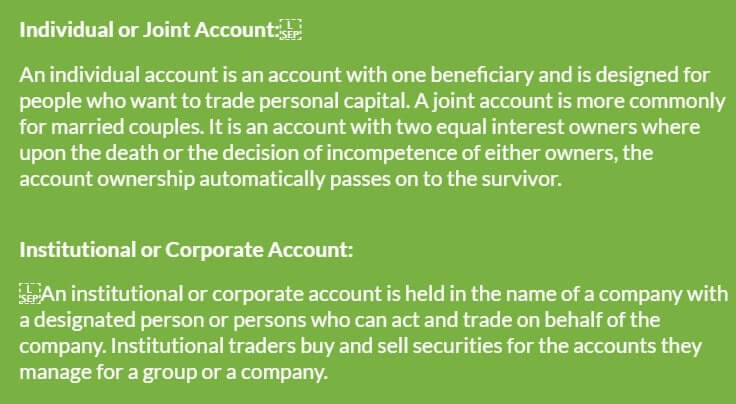 What makes this broker seemingly focus on those living in Dubai is the fact that if you wish to open an account, you need to physically go into their offices and hand over your documents and application form to one of their representatives. Due to all this and the lack of information, we can not comment much more on what the accounts actually are.
Platforms
ILimits DMCC uses MetaTrader 5 (MT5) as their trading platform, it is the only one currently on offer, even without any other choice MT5 is a solid option. It offers high levels of customization and access to hundreds and thousands of expert advisors, indicators and signals to help with your analysis and trading. It also offers access anywhere with it being available as a desktop download, and app for iOS and Android devices as well as a web trader to use from within your internet browser.
Leverage
We are unfortunately not able to comment much on the leverage that is being provided as there isn't any information about it on the website. The only information is a little bit of text that states "optimal leverage" but we are unsure of what this actually means.
Trade Sizes
Trade sizes start at 0.01 lots which are also known as a micro lot, however, there is no information regarding the maximum lot sizes. These are normally around 50 lots to 100 lots but we are unable to give any solid information on what they are with ILimits DMCC,
Trading Costs
We have no idea, this review is starting to seem like we didn't even check, but there really is very little information available. We are if there are any commissions added to each trade as it is not mentioned on the site. We are assuming that swaps are a thing, but again not indicated but 99.9% of brokers have them. We had a little rummage through some of the documentation and noticed that there is talk of clients paying commissions, however, how much is still not stated.
Assets
ILimits DMCC work on futures, there are a number of different ones such as currencies, metals, options, equities, and hydrocarbons. There is not a huge selection within each, 20+ in total, so there isn't a huge amount to chose from. There is a full breakdown of what is available on their website.

Spreads
You can guess what we are going to say here cant you? We have no idea. Once again there is very little information and none on spreads, so we can not comment at this stage.
Minimum Deposit
There is once again no information in regards to the minimum amount of equity required, either to open an account or for any other subsequent deposits.
Deposit Methods & Costs
Diving deep into the documentation on the site we see a mention of bank transfers, there are no other mentions of deposit methods or any fees.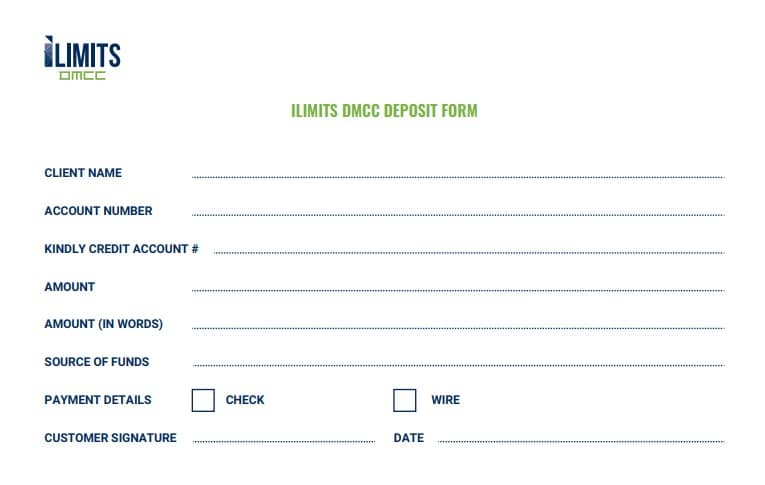 Withdrawal Methods & Costs
Similarly to the deposits, the only method mentioned for withdrawing is also bank wire transfers. There is a mention of a potential fee, but how much is not specified.
Withdrawal Processing & Wait Time
Unknown, we can't comment on this as the information is not available.
Bonuses & Promotions
There are no bonuses or promotions currently being advertised on the ILimits DMCC website.
Educational & Trading Tools
We could not locate any additional tools or education on the site and there is no mention of any in the documentation provided so we are confident that there is currently none available.
Customer Service
Customer services are open between 9:00 and 18:00 (except Saturday) UAE timezone. There are a number of ways to get in contact, using the online web form to send a message and get a reply by email, there is also a phone number to call and an email to email directly.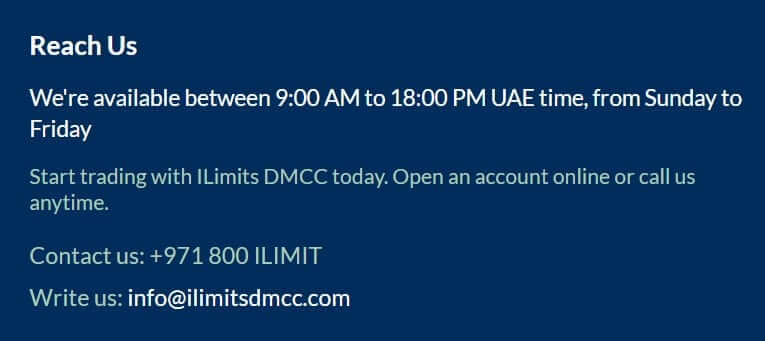 We tested both the web form and email to ask for some of the missing information above, unfortunately, after 72 hours, we are yet to have a response and so have given up on the wait, hence why the information in this review is a little sparse.
Demo Account
Unfortunately, there are no demo accounts available. This is a real shame whenever we see it, as it is important to be able to see how the broker runs (although on demo) or to be able to test your new strategies.
Countries Accepted
This information is not available on their website or terms and conditions, but as the broker seems to be focused on people living in Dubai, we would only recommend them if you are from Dubai.
Conclusion
It is hard to look past the lack of information available, it does not help to build any confidence in the brand and as a potential client, does not allow me to understand exactly what is being offered. The broker is focusing on those living in Dubai and so alienating a lot of the Forex trading world, this along with the lack of response from the customer service team means it is really hard for us to recommend this broker at all.
We hope you like this ILimits review. If you did, be sure to check out some of our other reviews to help find the broker that is right for you.