BormanCorp is a registered online broker that offers leveraged trading of up to 1:400 on FX and CFD options. According to its website, the company was established by veteran traders, with the goal to provide a groundbreaking trading platform, progressive analysis tools, industry-leading education, and one-on-one account management services. The broker also lists transparency as a major point in their agenda. Our research revealed some interesting facts about this choice, so stay with us to find out exactly what this broker has to offer.
Account Types
BormanCorp offers five different accounts: Basic, Silver, Gold, Platinum, and Diamond. From the start, traders will notice that the broker doesn't provide exact details related to each account type. Instead, the account types page focuses on some of the extra advantages associated with each option. From the Gold account and on, the broker advertises lower spreads, access to senior account managers, etc. Some advantages related to the platinum account would be VIP webinars and live trading with an expert.

This leaves out any of the real conditions for any of the account types, which is our first indication that the broker isn't as transparent as they claim to be. Some of the only information we could find was that there are no commission charges and that leverages go as high as 1:400. The broker requires proof of identity and proof of residence document to be submitted within 5 days of account registration for account verification.
Platform
The broker supports the infamous MetaTrader 4 platform on mobile, PC, and MAC devices, in addition to their own trading platform that is offered for mobile devices. MT4 is the most commonly available platform offered by forex brokers, as it comes equipped with multiple features and tools that would satisfy even the most professional traders. The user-friendly interface is also easy to navigate, making for a seamless experience for beginners that have never used it before. As for the broker's own platform, we get access to more than 1,000 assets, the ability to sort instruments by favorites, one-click trading, price alerts, etc. Both seem to offer enough to stand alone as worthy choices.
Leverage
One of the broker's main advantages would be their higher than average leverage cap that goes up to 1:400. Compared with their competitors, this cap is significantly higher than many other offers. However, traders won't want to choose the broker based on this alone, since it is possible to find others offering leverage caps that are as high as, or occasionally higher than this option. A word of warning to beginners – trading with high leverages can lead to substantial losses, as it is a risky experience better suited for those that have a lot of capital to risk. On another note, traders should be aware that this option isn't available on every instrument. For example, XRPUSD, BTCUSD, and other similar options have a cap of 1:5.
Trade Sizes
Once again, the website doesn't offer any information about minimum or maximum trade sizes, stop loss levels, etc. Although the website advertises 24/7 customer care, we were still waiting to hear back from an agent with more information related to this category after more than one business day.

Trading Costs
Traditional profits come from spreads and swap fees with this broker. Fortunately, commission fees are not charged. The broker also tacks on additional profit clearance fees, maintenance fees, verification fees, and dormant fees. Aside from inactivity fees, you'll rarely have to worry about these charges with other brokers, so this may warrant choosing a cheaper option. The profit clearance fee is charged, at $1.50 for profits of $250 or less, $2.00 for profits less than $501, $3.00 for profits less than $1,001, $4 for profits less than $2,500, and $5.00 on profits of $2,501 or more. Maintenance fees of $20 are charged on the last day of each month, starting from the first trade that is made.

If one begins trading later in the month, then the fee will be prorated based on how many active trading days were in that month. As if that wasn't enough, the broker will charge a $100 reoccurring monthly verification fee on accounts that aren't completely verified. This means that the broker could basically refuse to verify the account in order to collect these steep fees, while traders that make an initial deposit and later realize that they don't have the necessary documents to complete verification would be trapped. The dormant fee of $50 per month is charged on the 61st day that an account has remained active and occurs monthly from that date until the balance reaches 0, or trading resumes.
Assets
Available instruments are made up of FX, commodities, indices, and stocks. FX includes 55 total options, including majors, minors, and some exotics as well. Mingled in among those options one will also find some cryptocurrency pairs, like BTCUSD. The commodities category is made up of 15 instruments, including popular options like Silver & Gold, Oil, Corn, Sugar, Soybean, and more. An impressive 35 options are listed under the indices category. Finally, the available stocks are made up of 63 options, including many popular and easily recognizable US companies. Facebook, Apple, Disney, and Microsoft are just a few examples.

Spreads
On the "Asset Index" page, traders will find a list of all of the available instruments offered by the company, including live spreads. What isn't clear is whether these spreads are exclusive to one account type, or if they are universal. According to another page on the website, the Gold, Platinum, and Diamond accounts offer better spreads, but the broker never backs up this statement by providing access to those options. On EUR/USD, the listed spread was 0.000300000 pips, while options varied significantly on other assets.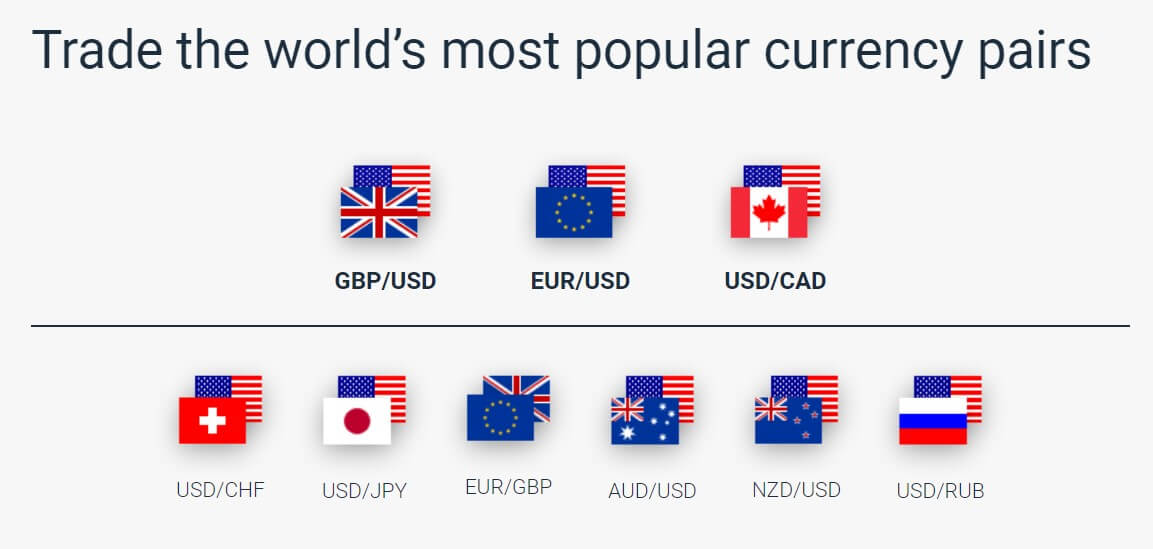 Minimum Deposit
Our frustration continued when it came time to check the minimum requirements for each account since the broker fails to offer us any information. Naturally, we're going to assume that the Basic account would be the cheapest, while the Diamond account would be on the highest end of the spectrum. This is based on the fact that accounts supposedly offer better conditions once one upgrades and brokers typically require larger deposits in return for these advantages. Some information suggested that it costs $5,000 to open a Silver account through the broker, but support never verified whether this information was correct.
Deposit Methods & Costs
Accounts can be funded through credit/debit cards, Neteller, Giropay, Sofort Banking, PaySafeCard, or Bank Wire Transfer. The website doesn't mention any fees charged on incoming deposits, although banks may charge their own fees for sending funds. We would hope that the broker doesn't charge deposit fees, considering that fees are charged on all withdrawals. Traders should definitely finish completing the verification process before making the first deposit since the broker charges those aforementioned $100 verification fees on accounts that remain unverified.

Withdrawal Methods & Costs
For regulatory reasons, the broker can only process the amount of the original deposit back to cards and profits must be returned through Wire Transfer. A service fee of 3.5% will be charged on withdrawals, in addition to any beneficiary fees charged on the bank's behalf. In the event that this equals $30 or less, the broker will charge a standard $30 fee. The maximum service fee is capped at a ridiculously high $3,500, an amount that we hope no trader would never have to pay.
Withdrawal Processing & Wait Time
It takes the broker 1 business day to begin the withdrawal process and funds should be credited back to the client's account within 3-7 working days. Be sure to complete the verification process ahead of time, in order to avoid any delay having withdrawals processed.
Bonuses & Promotions
On the account types page, the broker mentions that a bonus is applicable on Silver, Gold, Platinum, and Diamond accounts, but does not list the exact amount of the bonus. Under the broker's terms, we do see a condition that mentions that in order to withdraw any bonus from a trading account, one must execute a minimum trading volume that is 25 times the size of the bonus.
Educational & Trading Tools
Immediately from the website, traders can access a glossary, daily/weekly/monthly market summary, economic calendar, and financial news. According to the account types page, additional advantages can be accessed once one has signed up for an account, but those advantages depend on the account type that has been opened. Educational webinars are advertised on Basic accounts, while one-on-one tutorials are offered from the Silver account type and up.

From the Gold account up, there is a one-on-one MT4 course (which would have been very useful for beginners), and we see daily market briefs and VIP webinars on the Platinum and Diamond accounts. Overall, the broker seems to be offering some very interactive resources, although we wish these options were available for everyone, regardless of which account type can be afforded.
Demo Account
Oddly enough, the broker doesn't offer risk-free demo accounts. This is a strange choice, especially considering that most forex brokers do make these accounts available. We'd also expect to see BormanCorp offering demo accounts based on their statement that they are focused on education. Some may not miss the lack of demo accounts, but this is certainly a wasted opportunity for beginners that could benefit from the accounts.
Customer Service
BormanCorp's customer service team is supposedly available 24 hours a day on weekdays; however, another section of the website claims that support is offered 24/7. Getting in touch with an agent should be relatively convenient, with contact options being LiveChat, phone, email, or filling out a contact form. However, support wasn't always online on LiveChat when we tested the service, even during business hours. If you also try to chat when support isn't online, the chat will ask for a name, phone number, and email address so support can reach out. More than 24 business hours later, support still hasn't managed to respond to our inquiry, so we can't give the broker much credit in this area.
Email: support@bormancorp.com
Phone: +442036080432

Countries Accepted
If you load into the broker's website from the United States, you'll be met with a pop-up message claiming that residents from that jurisdiction are not accepted. It is possible to exit that window and access the website otherwise, the restriction can be avoided by selecting the "US Minor Outlying Islands" as one's country of residence.
Conclusion
Some of the advantages of choosing BormanCorp would be the lack of commission fees and the leverage option that goes as high as 1:400. Another plus is the availability of MetaTrader 4, which is arguably the best trading platform on the market, in addition to the 150+ instruments offered by the company.
On the downside, the website is extremely vague and fails to mention their exact spreads, minimum deposit requirements for each account type, trade sizes, etc. The broker's inescapable $30 withdrawal fee (with a ridiculous $3,500 withdrawal cap), profit clearance fees, $20 monthly maintenance fee, $100 monthly verification fee on non-verified accounts, and $50 dormant fee can quickly eat up any profits that traders are actually able to make. Another red flag would be the lack of information about where the company is based or regulated.

At first glance, customer support seems to be easy to contact; however, the website lists conflicting information about their business hours, agents are not usually on LiveChat, and it takes more than a business day for email responses to be returned. On the bright side, interactive educational resources are offered, but the broker reserves the best resources for those that open the better account types, presumably by making a larger deposit.
Oddly enough, demo accounts are not included with the other educational resources. Bonuses are supposedly offered on the Silver, Gold, Platinum, and Diamond accounts, but the website does not give us an idea of how much those bonuses are. Our final verdict is that BormanCorp seems to be offering a couple of advantages while failing to uphold its goal of transparency.