The First thing one must realize is that although Scope Markets Ltd is regulated by the International Financial Services Commission of Belize (IFSC), this is not a legitimate regulation body but instead a service offered to brokers to investigate client trade issues that may occur. This is a cheaper alternative to regulation (for the operators of the broker) but is not a legal/legitimate regulating body. Having said that, this is an added peace of mind for clients and the safeguarding of their funds.
On the whole, ScopeMarkets appear to offer a good range of trading services to their clients; MT4 and 5 trading platforms, a wide range of assets to trade and the freedom to trade with leverage of up to 1:500.
Account Types
ScopeMarkets offer two types of account to choose from:
Variable Spreads (no commission)
Raw Spreads + Commission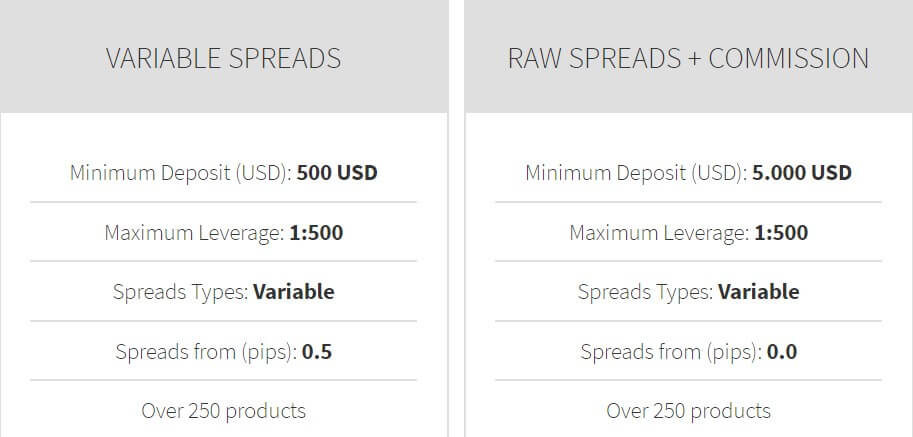 The two account types offer slightly, and the titles do what they say on the tin, essentially; the Variable Spreads account has a minimum deposit requirement of $500 while the Raw Spreads + Commission account requires a minimum deposit amount of $5,000 but the spreads start from 0 as opposed to 0.5 pips. Both account types offer 1:500 leverage maximum and over 250 tradable assets.
Platforms
ScopeMarkets offer the trading platform SCOPE MetaTrader 4 and SCOPE MetaTrader 5. Desktop and mobile versions are also available. Offering both MetaTrader 4 as well as 5 adds to the appeal for many traders, as some prefer to migrate to the newer version, while others may wish to stick with what they are familiar with. For those that wish to make use of additional technical indicators, 22 analytical objects, and 46 graphical objects as well as improved strategy tester for EAs, with agent manager for remote optimization, you have the option of trading with the MT5 platform.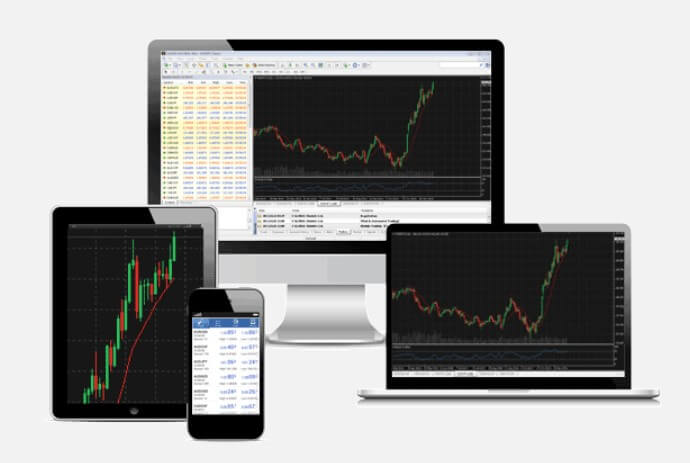 Leverage
As stated earlier, the maximum leverage allowed is 1:500 which is more than generous, not to mention highly competitive among other brokers. According to the live chat representative, it is confirmed that the client can use this maximum leverage of 1:500 on ALL tradable assets offered.
Trade Sizes
The minimum trade size for Forex pairs is 0.01 but for other tradable assets, it is different, although this is not stated on the website. A live chat agent confirmed that for Metals it is 0.01, Indices is 1 and for Energies, it is 0.01 lot.

Trading Costs
The website does not state any trade commissions being charged despite the account type comparison table stating that there is a commission charge on one type of account. A live chat agent confirmed that there is in fact 0 trade commission fee, and that profit is made via the spread, which answers why their spreads are not so competitive, which we will go into very shortly.
For swap fees, one must calculate them according to assets traded and also volume:
Forex= Pip value x Swap Rate x Number of Nights
Indices and Shares: Number of Indices or Shares x Swap Rate x Number of Nights
All other Instruments: Lot Size x swap rate x number of nights
Assets
With ScopeMarkets, you can trade over 250 tradable assets: Forex, Indices, Shares, Energies, and Metals. You can also find a complete list of all assets available directly on the website. There is a fair amount of pairs to choose from, although for our crypto traders, you may be disappointed to find that this broker does not offer any crypto CFD pairs to trade.

Spreads
All spreads are set out on the website, showing the average spread for each pair, not the actual live floating spread. This serves as a good indication but also shows that their spreads are not entirely competitive to other brokers. For example, the average spread for AUDCAD is 5 pips, while the average spread on USDZAR is 49.7 pips.
Minimum Deposit
The minimum deposit required by ScopeMarkets is $50 for the Variable Spreads (no commission) account and for the Raw Spreads + Commission account. This is both agreeable and affordable for the majority of traders, and about average when compared to other brokers of the same or similar caliber. It is rather confusing to be told this when the website states that the Variable Spreads (no commission) account has a minimum deposit of $500 and the Raw Spreads + Commission account is $5,000. The Live Chat agent seemed confused when this was bought up and then went on to say that there is a current promotion whereby the minimum deposit for all, is $50. It is not known how long this promotion will continue.
Deposit Methods & Costs
ScopeMarkets are somewhat limiting when it comes to the deposit methods offered, which are just two: Debit/Credit Card or Bank Wire Transfer. ScopeMArkets do not charge for deposits but your banking provider might apply a fee, so best to check with them before making a deposit.

Withdrawal Methods & Costs
You may withdraw via the same methods that you deposit which is Bank Card or Bank Wire Transfer. It must be noted that the withdrawal procedure requires a maximum of one free withdrawal per trading account per day and a maximum of five free withdrawals per week. After that, once you have reached the "maximum allowed withdrawal amount'', you will be charged $35! This is absurd and should be a little shock to all, as this is not very usual or normal for a broker to place limits on withdrawals that a client can make.
Withdrawal Processing & Wait Time
For withdrawals with ScopeMarkets, you should note that it can take up to 5 working days to process the withdrawal. Wire Transfers can take between 3-8 working days depending on the banking procedure of the beneficiary bank, so always check with your banking provider beforehand. This timescale is not particularly efficient, especially when it is common knowledge that other brokers can process withdrawals and have the funds back with their clients within a matter of hours or the same day.

Bonuses & Promotions
Earlier we covered the confusing topic of the minimum deposit which then led to discovering that ScopeMarkets currently have a promotional offer whereby the minimum deposit requirement has been reduced from 500 and 5,000 to just $50. It is not however known how long this promotion will continue. Asides from the minimum deposit requirement reduction, ScopMarkets do not currently offer any deposit bonus schemes or any other similar promotional schemes.
Educational & Trading Tools
ScopeMarkets do not offer anything in the way of trading education courses, but of course, this can all be found online for free. ScopeMarkets' website does, however, offer an economic calendar which is handy to all traders to refer to, to ensure they are trading the markets during the right times for them.
Customer Service
Telephone, email, ticket form or Live Chat are the customer service options clients of ScopeMarkets have. They operate their support team Monday through to Friday all day. Although some may find 24/5 support sufficient, it is frustrating when you cannot get an answer regarding potential trade issues during the hours that they are not available. In regards to the quality of service they provide, they do rank themselves fairly well, with a prompt response and a consistently professional manner.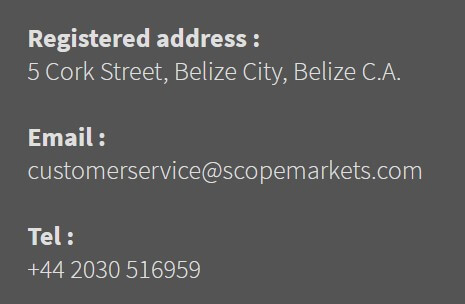 Demo Account
One should be wary of any broker that does not offer a demo account as this raises the question: why not? It is indeed highly questionable that ScopeMarkets does not offer a demo account, which also makes backtesting its trading services impossible without opening a live account right away. It should also be noted that the website actually advertises a demo account, and when you click on the button to open one, it directs you right to a page to make a live account. Asides from being incredibly deceiving, this is also not very helpful to anyone.
Countries Accepted
ScopeMarkets provide a disclaimer at the footer of their website that states that the provision of their services will not be granted to residents of the following countries: EU member states, Iceland, Norway, Liechtenstein, Afghanistan, Cote d'Ivoire, Cuba, Iran, Libya, Myanmar, North Korea, Sudan, Puerto Rico, USA, Syria, and Ecuador.
Conclusion
ScopeMarkets overall do offer a good service however some aspects of their service are questionable, such as the fact they do not offer a demo account and claim to be "regulated'' when really, their 'regulation' status is no more than a financial commission company. In addition, their spreads are by no means competitive however their leverage allowance is highly amicable. The quality of customer support is also something to commend, which is somewhat rare to find in a broker nowadays.