This broker is not regulated, with a completely obscured origin, location and trading conditions. The website is incomplete as pages are empty or blocked with visible language and typo mistakes. Content is typical for forex marketing, mentioning superior technology, without any fact to back the claims up. Emporio has some interesting ideas like the account type customization and different type of bonuses and promotions. This broker is new and as can be seen by the lack of Emporio's presence on various Forex media and the MetaTrader 5 only license. The key selling point of Emporio is probably their bonus and the vast assets range if the broker is legit in the first place. This review will reveal if you can reliably invest and trade with Emporio Trading.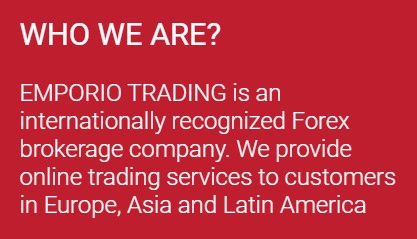 Account Types
Emporio offers 3 account types, at least that is what is described on their website. ECN Beginner, ECN Premium and ECN Pro. The starting and most affordable ECN Beginner has the least number of available assets to trade, but the largest leverage levels and micro-lot trade sizes. ECN Beginner account is also entitled to have the bonuses, the mentioned bonuses are called 1st-Week Bonus and a Welcome Bonus.

ECN Premium has more assets available to trade than ECN Beginner but requires double the investment amount and the leverage is reduced. Also, traders can request swap-free accounts and the "Kickback" option. Trade sizes are bigger but are enough considering the deposit requirement.

ECN Pro account has all the possible assets available for trading and these include, as published, 50 Forex pairs, 4 Metals, 4 Energies, 12 Indexes, 10 Commodities, over 5000 stocks, 8 Cryptocurrencies, and 7 Crypto cross pairs. Additionally, clients will enjoy all the bonuses, interesting Breaking Pip option, A cashback for every lot traded, but the leverage is reduced to 1:100.

These account types were not under the same name once you apply for registration. The options we were offered are "Standart", ECN, ECN Gold and ECN Bitcoin. It also required a promo code that is probably received during some promotional emails or campaigns. With code 999 the registration can be finished if you want to see more information. What is certain is that the website and the client portal are inconsistent in many aspects.
Islamic or swap-free is stated to be only available for ECN Premium and Pro accounts although in the FAQ this requirement is not mentioned. Emporio also has a strange clause on Islamic accounts: open positions should not be held for more than 3 days to avoid "storage fee". The FAQ also mentions account types that are probably outdated. USD is the only supported account currency.
Emporio also features Tune Your account option where traders can select what they want to be included. So they can select to have specific assets categories available for trading, what bonus, Trading Central signals type and info, partner KickBack commission, PAMM, Cashback, Money back, and the unique Breaking Pip option. These bonuses will be described in the Bonuses section. The Breaking Pip option is a method of breaking pips into smaller pieces to show smaller price movements. We are not sure what is meant by this as the smallest price movements should be in ticks. Cashback is a simple rebate of $6 for every lot traded. Finally, Money back is a deposit discount, 3% is given to $10.000 deposits, 6% for $25.000, and %9 for $50.000.
Platforms
Emporio has only the MetaTrader 5 platform offered that is available in the desktop versions, for PC and Mac, and also for mobile devices running on Android or iOS. MT5 web trader is a browser alternative for those that do not want any installation or a glance at their positions. MT5 will quickly find the Emporio servers showing a ping of just 50ms. The platform is at its default settings with the classic 4 major Forex pairs charts open.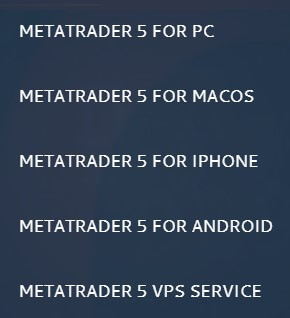 Emporio servers have an impressive 50ms average execution time like the server does not have any utilization. The same server is for Demo and Live accounts. Assets listing was very long and they are neatly categorized, for example, Forex pairs are grouped into 6 liquidity levels, where the most exotic currency pairs are inside the LQ6 group. Stocks market is also grouped by country companies are based in.
The instrument specification window is filled nicely will all the relevant trading information. To our surprise, the Market Watch does not show values for Bid/Ask price columns after roughly 20 currency pairs on the list. Trading was possible for these assets and charts could be opened, without the current price line. Trades opened on these instruments were still showing movements normally, just the Market watch feedback was bugged. This manipulation is often used to hide spreads or other abnormal trading conditions.
Emporio allows hedging but not the use of EAs. At least that is what we thought until we saw another contradictory information on the website about the Emporio's "features at a glance" where EAs and Signal Provider support is listed. MT5 supports EAs, but these are not yet widespread as with MT4. Scalpers are not welcome with this broker.
Leverage
The maximum available leverage is 1:1000 and only for the ECN Beginner account. This is one of the highest levels possible in the industry. ECN Premium has the maximum leverage set to 1:200 but it also requires a much higher deposit. Following the same pattern, the ECN Premium account has leverage lowered to 1:100. The high leverage for beginners is usually not recommendable, in addition to the high minimum deposit requirement that is not in line with the information in the Emporio's client portal. In fact, many key points about trading are not in line as contradictive and inconsistent statements are found all over the website. More on this issue in the following sections.
Trade Sizes
According to the account types, the ECN Beginner account allows minimum trade sizes in micro-lots or 0.01 lots. Information from the MT5 platform confirmed this, additional trades can also be opened minimally by 0.01 lots. The maximum volume a trade can be opened is the highest we have seen – 10000 lots. Stops level is set to 10 points for the EUR/USD, for some were 5 points like for GBP/USD, CHF/JPY has 20 points stop level.
As we explored the more exotic currency pairs we found out some Stop levels were obscenely high. Such examples are the USD/CZK at 1000 points, EUR/RUB at 100.000 points with also fixed spread set at 4500 points, and the winner – CHF/RUB with 100.000 points Stops level and 45.000 points fixed spread. To make things even more strange, an exotic pair like the USD/COP (Columbian Peso) had Stop level at 5 points. Emporio will not provide Margin Call warnings, their margin levels are zero, or there is no Stop Out level.
Trading Costs
Emporio does not charge commissions which is not usual for STP ECN type brokers. The only trading cost here are the swaps, no other information could be obtained from the Emporio documents or the web site. All the Forex swaps are negative except for the EUR/USD and GBP/USD but under normal levels. They are calculated in points. EUR/USD swap is -11.39 for long and 5.31 for short position and GBP/USD -8.31 and 1.87 for short. Other swaps do not go over 5 points negative, should not worry long term traders.
For exotic pairs, the swaps are normally higher, so, for example, EUR/TRY has -16.21 long and -3.89 short position, USD/NOK -37.5 and -42.19, and the largest swap we could find for currency pairs is with USD/NOK at -3.57 long and -68.41. Strangely, some very rare currency pairs have swaps much lower than EUR/USD.
Swaps for spot Gold has a positive 1.56 for short position and -2.56 for long. Palladium swaps were also very affordable, not that common to see for this heavy mover. Palladium swaps are –1.56 long and -7.5 short. On Wednesdays, the swaps are tripled.
Some cryptocurrencies have different swap calculations, in percentages per annum and in points. BTC/USD has -30% and does not triple on Wednesdays. Although, if you trade BTC/GBP the swap is only -2%, as well for BTC/JPY. Other crypto swaps are in points and can triple on Wednesdays or Fridays. This is a strange swap set up to say at least.
Assets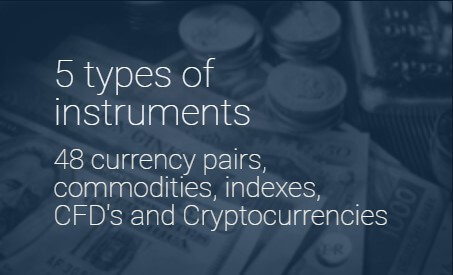 Emporio has a really impressive range of assets. Traders will enjoy great Forex offer, Metals, Stocks, Indices, Oil, and Cryptocurrencies. Starting with Forex, a plethora of exotics marks the broker. We counted a total of 56 currency pairs listed in the MT5. Apart from majors and major crosses, traders can find all of the Scandinavian currencies crossed with USD and EUR, Turkish Lira quoted with EUR, USD, and CHF. MXN, CHN, SGD, HUF also crossed with USD and EUR. The most exotic pairs are the USD/Chilean Peso, CHF/RUB, USD/Brasilean Real, USD/Colombian Peso, and USD/Argentinian Peso. Clearly, Emporio is focused on the Latin America countries but also Russia.
There is 4 precious metals total in MT5. These are spot Gold, Silver, Platinum, and Palladium. This range is enough for the majority of specialized metal traders, the only ones that are missing are that fall into the low cost, a commodity like metals.
Stocks range is also impressive, of course ignoring the fact Emporio restricts some assets based on the account type used. The stocks are grouped into the US, Russian and EU origin. Furthermore, the EU is divided into 13 major Europe countries. Thousands of companies are listed so we went on to see what is rare. In the EU group, we could see some companies from Greece, Portugal, and Norway. These were hard to find, like Alpha Bank, Energias de Portugal, Banco Commercial, etc. In the Russian zone, there are 24 companies, most are well known like Gazprom, Lukoil, and Sberbank. Overall, the range of the stocks is one of the best, unfortunately, it is reserved for high ticket clients.

Indexes are not that extensive as stocks, but still with 13 listed and with some rarities. Majors like UK100, Nikkei225, S&P500, Nasdaq and so on are unavoidable but we found Russia focused ones too. These are RTS and MICEX. Also, we found Hong Kong 33 and ASX 200. Emporio targets Russian traders' interest and familiarity.
Spreads
Emporio web site is full of different statements for a single trading condition. The same is for spreads. Spreads from 0.0 pips and 0.2 pips are both incorrect and are just a marketing phrase. What we found are both floating and fixed spreads (for some exotics). Emporio is officially a floating spread broker. For EUR/USD the spread was from 1.8 to 4 pips which is considered high in the industry.
AUD/USD has a lower spread at 1.7 pips, also USD/CAD at 2 pips. The highest spread we could find in the non-exotic category is for GBP/NZD at an extreme of 36.7 pips. This is another instance of unusual business practice of Emporio.
Spot Gold and BTC/USD have the same 54 pip spread. Palladium 400 points and Platinum just 33 points. Note that the spreads could only be calculated by trading as the Emporio servers do not provide feedback for Ask/Bid prices in MT5. Web MT5 did not show these problems.
Minimum Deposit
The minimum deposit for the ECN Beginner account is $10.000, an extreme figure, especially if we consider this is for "beginners". As we go on to the next, ECN Premium account, the minimum is $20.000 and for the full-featured ECN Pro is $50.000. Emporio sets a steep barrier for entry, as their inferior services are in extreme demand or as if they want to pick only individuals with deep pockets.
The Emporio client portal does not show these minimum deposit figures. We have found out that the minimum number threshold for deposit is $100. Different figures are stated on the Withdrawals and Deposits page, although these are probably not minimum deposits related to accounts.
Deposit Methods & Costs
Emporio will not charge fees for deposits and they will also cover the costs for bank transfers. The deposit methods are Bank Transfers, Debit/Credit Cards, e-wallets like Qiwi, Yandex.Money, Neteller, Skrill, Perfect Money, ePayments and also Bitcoin. If clients do not see these methods from the clients are they should contact Emporio via email. The broker also offers their branded ePayments card which offers benefits like 1% commission on deposits and withdrawals.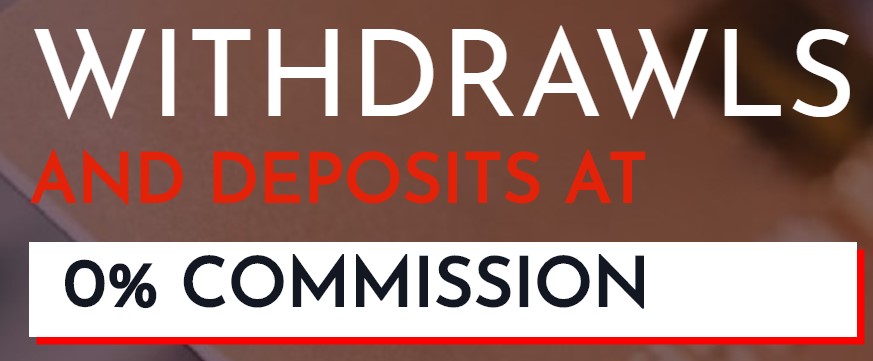 What we have encountered in the client's area is the Card deposit option which involved buying Bitcoin with the card, which is used for the deposit. This is one of the ways to void your chargeback protection Visa and MasterCard have. Bank Transfers option does not show any IBAN or details required for the transfer, so we can confirm it does not exist. The final option is "Alternative Methods" that again included Bitcoin or other crypto purchase for deposit. None of the methods are direct Card deposits. One of the two payment processors is a well known Virtual Office service web site used by scammers – pacifictradelp.com. The website serves as a masked Crypto wallet address. For those that are not aware, Bitcoin transfers are irreversible.
Withdrawal Methods & Costs
Emporio does not charge fees for withdrawals. The methods stated are the same as with deposits, Bank Transfers, e-wallets, and Credit cards. Note that there are minimum amounts for certain methods. Bank Transfer requires $500 minimum withdrawal, Cards $10 minimum and $2500 maximum, while e-wallets are not limited.
What we found in the Emporio's client's area is Bank Transfer, Credit or Debit Card, ePayments, and Bitcoin Address.
Withdrawal Processing & Wait Time
As stated, Emporio will process the request in one hour and funds should reflect in the clints account in 1-5 days if Bank Transfer or Credit/Debit Card method is used. Other methods are instant after they are processed.
Bonuses & Promotions
Emporio offers 3 kinds of bonuses. "$30 Non-Deposit Bonus" is a classic top-up of $30 for newly registered traders. All profits are withdrawable as stated but no conditions are published.
Another bonus is $1000 called "Hot bonus". This is a 10% bonus on deposits for new traders that is limited to max $1000. The bonus cannot be cashed out and is not valid for existing accounts.
Cashback is a $6 trading rebate per lot traded that will be credited every Monday. There is a structure and conditions for this promotion although it is also stated that the promotion is valid until December 2017.
Educational & Trading Tools
There is a special section called Emporio ED that is dedicated to education, This link will open a new web site that is unrelated to the broker, news-hive.com. A list of video tutorials and lessons will elaborate on various trading topics like Indicators, Chart formation patterns, Fibonacci, MT4, Cryptocurrencies and so on. The quality is good though it is available only in Spanish without subtitles. There are over 80 videos that are not longer than 5 minutes. No educational material or tools are found on Emporio's website.
Customer Service
The chat service is mentioned on the Emporio web site but we could not find one. The chat icon will open a contact form mixed in Spanish ad Russian language. Email and a phone line are published but it is an IP phone line.

Demo Account
The demo will expire in 30 days. Clients can always open a new one within the MT5 platform in a few clicks. We cannot confirm that the demo will reflect the same trading conditions but we know that the same server is used.
Countries Accepted
Emporio states that they do not accept clients from Belgium, Canada, the USA, Japan, Israel, North Korea, Iran, Syria, and Iraq.
Conclusion
Given all the above we can say that Emporio Trading is a big mess that should be avoided. The location address points to Saint Vincent and Grenadines, and to the same building numerous scam brokers use. The regulation is from Vanuatu and the license does not exist. Emporio presents a certificate from an unknown company in the UK that gives these business certificates, unrelated to any kind of regulation. Also, Emporio presents that they are listed as regulated on brokerregulator.com, a website that mixes a few proven scam brokers with major, world-known on their Regulated Brokers list.
Issues with the MT5 and obvious Bitcoin/e-wallet deposit methods further confirm that this broker is extremely risky, let alone the minimum deposit of $10.000. Legal documents do not have any credibility, in fact, Terms of Use state so many off-liability points for Emporio that clients are completely open for any kind of manipulation.