EverFX is a forex broker located and regulated within the Cayman Islands. They claim to be the brokerage that is on your side, so we will be expecting some good trading conditions and services. Their aim is to create a long-lasting relationship with their clients and to give the required tools, knowledge and support to improve their trading experience and results. We will be looking into what EverFX is actually providing to see if they live up to their statements.
Account Types
There are four accounts on offer plus an Islamic account from EverFX, each having their own entry requirements and also their own trading conditions, let's take a look at what is on offer:
Entry: The entry-level account requires a minimum deposit of $250, this gets you an account with spreads starting from 1.5 pips, maximum leverage up to 1:500, a potential bonus up to 30%, 24/5 customer support and an introduction call from a personal account manager.
Standard: The standard account raises the minimum deposit to $2,500 which is quite a big jump. This account has slightly reduced spreads starting at 1.2 pips, leverage remains at 1:500 as a maximum but the potential bonus amount has increased to 50%. Customer support is still available 24/5 and you now get a personal account manager and access to certain investment research and analytics.

Premium: The premium account increases the minimum deposit further up to $10,000 which now will price out many retail traders. With this account you get a minimum spread of 0.8 pips, leverage has slightly decreased down to a maximum of 1:400, you can now receive a bonus up to 100%, support remains available 24/5 and you also get an account manager. Along with the account manager, you will receive a monthly session with a senior market analyst, ongoing support over skype and access to investment research and analysis.
VIP: The VIP account is the top-level account from EverFX, it has a huge minimum deposit of $50,000 and due to this larger amount, the spreads can start from as low as 0.0 pips. The maximum leverage has dropped further to 1:200 and the bonus remains at a potential 100%. There is now a commission charged on this account of $6 per lot traded and you will receive a dedicated personal manager. Along with these benefits you also receive weekly sessions with senior market analyst exclusive trading strategies, development of an individual business plan, ongoing support via skype and finally, access to investment research and analysis.
Islamic: Along with the regular accounts, there are also swap-free accounts which are known as Islamic accounts, these accounts are not charged and also do not receive swap fees for holding accounts overnight, instead, they are charged via administration fees. The trading conditions remain exactly the same as the other accounts.

Platforms
EverFX is currently providing 2 different trading platforms for their clients, we take a little look at what they are below:
MetaTrader 4 (MT4): MetaTrader 4 (MT4) is one of the world's most popular trading platforms and for good reason. Released in 2005 by MetaQuotes Software, it has been around a while, it is stable customizable and full of features to help with your trading and analysis. MT4 is compatible with hundreds and thousands of different indicators, expert advisors, signal providers and more. Millions of people use MT4 for its interactive charts, multiple timeframes, one-click trading, trade copying and more. In terms of accessibility, MT4 is second to none, available as a desktop download, an app for Android and iOS devices and as a WebTrader where you can trade from within your internet browser. MetaTrader 4 is a great trading solution to have.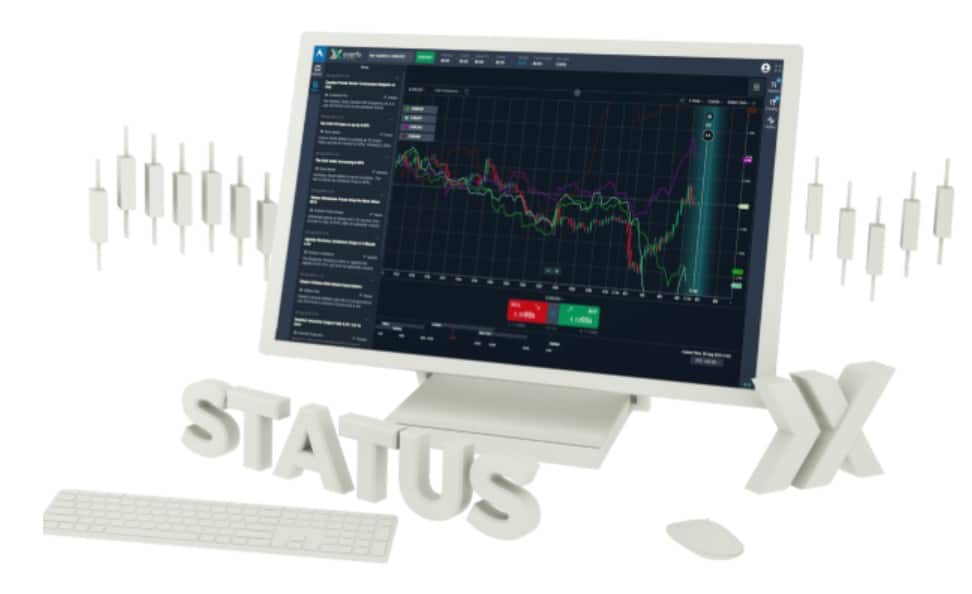 MetaTrader 5 (MT5): MetaTrader 5 (MT5) is the younger brother of MetaTrader 4 (MT4)m developed by MetaQuotes Software and released in 2010, MT5 is used by millions and for good reason. Offering plenty of trading and analysis features to ain in your trading. Additional services expand the functionality of the platform making its capabilities almost limitless. MetaTrader 5 offers the built-in Market of trading robots, the Freelance database of strategy developers, Copy Trading and the Virtual Hosting service (Forex VPS). Use all these services from one place, and access new trading opportunities. MetaTrader 5 is also highly accessible with it being available as a desktop download, application for iOS and Android devices and even as a WebTrader where you can trade from within your internet browser.
Leverage
Leverage is dependant on the account you are using, the Entry and Standard accounts can have the potential to be leveraged up to 1:500, the premium account can go up to 1:400 and the VIP account has a maximum of 1:200. Leverage can be selected when opening your EverFX account.
Trade Sizes
Trade sizes start as small as 0.01 lots which are also known as a micro lot, trade sizes then increase in increments of 0.01 lots so the next available would be 0.02 lots and then 0.03 lots. We did not see mention of the maximum trade size but this normally sits between 50 lots and 100 lots which is more than enough, in fact, we do not recommend making trades more than 50 lots as it becomes increasingly harder for smooth and instant fulfillment of trade orders at higher lot sizes.
Trading Costs
The Entry, Standard and Premium accounts use a spread based payment structure that we will look at later in this review. The VIP account uses a commission-based system and currently charges $6 per lot traded, this is level with what appears to be the industry standard. There are also swap fees charged for holding trades overnight unless you get a swap-free account in which case there are some additional administration fees. Swap fees can be viewed from within your trading platform.
Assets
The EverFX website states that there are over 130 different instruments to trade, these have been broken down into various different categories.
Forex: The largest and most liquid market in the world, there are major, minor and exotic pairs available to trade with pairs such as EUR/USD, USD/CAD, GBP/CHF and many others being available to trade.
Metals: There isn't a full breakdown of which metals are available, the only two being mentioned are Gold and Silver so it may be just the two that are available for trading with EverFX.
Stocks: There is a list of 20 stocks available including the likes of ASLN, PAL, and TTGT, however, there is no indication if the 20 listed are all the stocks or if there are additional ones too.
Cryptocurrencies: It is great to see the crypto world being available at EverFX, there are 15 different coins tradable on EverFX which is a decent amount considering the majority of brokers only have a couple. These include the likes of Bitcoin, Ethereum, Litecoin, Ripple and many more.
Indices: Indices are also available with the likes of Nasdaq, Dow Jones, S&P 500 and many more being available to trade.
Energies: Commodities such as crude oil are available to trade, there is not a full breakdown of all the energies that are available so we can not list any others.
Spreads
Spreads minimum spreads are dependant on the account type that you are using, an entry account will have minimum spreads of 1.5 pips, the standard account will have minimum spreads of 1.2 pips, the premium account 0.8 pips and finally he VIP account will have spreads as low as 0.0 pips.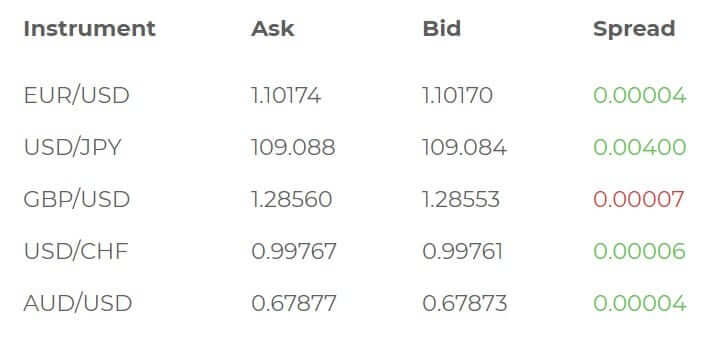 It is worth noting that these are the minimum spreads, so they will often be seen higher. These spreads are variable which means that they will increase with market volatility, also the stated spreads are for EUR/USD which naturally have the lowest spread, so other currencies such as GBP/CHF will have higher starting spreads.
Minimum Deposit
The minimum deposit to open up an account is $250 which is reasonable. We are unsure if this minimum decreases once an account is open, often once you have an account you can use smaller amounts to top up the account but there is no mention of this so if this feature is here it is unknown to us.

Deposit Methods & Costs
There are plenty of ways to deposit, the good news is that for all of them there are no added fees, we have put the methods into a convenient list for you with the different currencies that you can deposit with.
Visa Credit / Debit Card – USD, EUR, GBP
MasterCard Credit / Debit Card – USD, EUR, GBP
iSignthis Bank Transfer – EUR
Bank One Transfer – GBP, EUR, AUD, USD
Abanca Transfer – EUR
TriO – RUB
PayTrust – THB, VND, MYR, IDR
PayBoutique – USD
FasaPay – USD, IDR
VLoad – USD, EUR
Qiwi – USD, RUB, EUR
Yandex Money – RUB
Perfect Money – USD, EUR
Apcopay – USD, GBP, EUR
PayR – USD
VoguePay – USD, GBP, EUR
Neteller – USD, EUR, GBP, AUD
Skrill – USD, EUR, GBP, AUD
GlobPay – USD, GBP, EUR
EasyEFT – ZAR
EstroPay – USD, EUR
Piastrix – RUB, USD, EUR
SticPay – EUR, USD, GBP
Alipay – CNY
AloGateway – CNY
Awepay – THB, VND, MYR, IDR, CNY
RPNPay – CNY
Pay2Bee – USD, GBP, EUR
Solid Payments – USD, GBP, EUR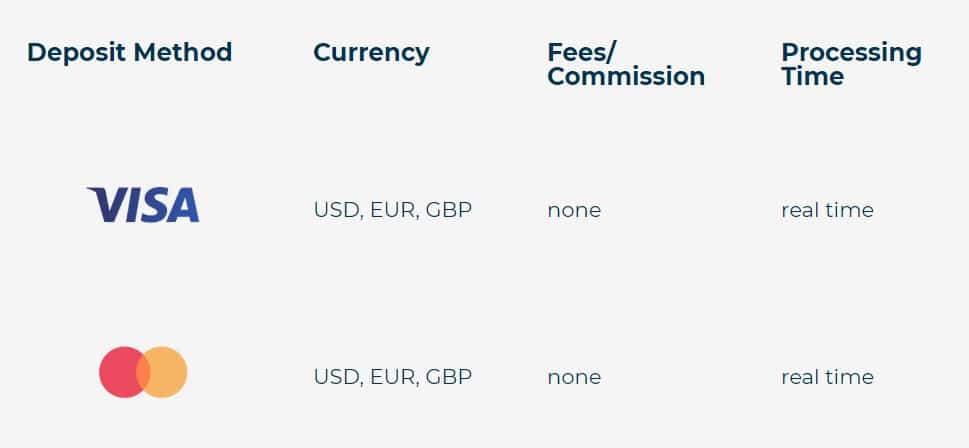 So there is plenty on option, but there doesn't appear to be any way to deposit via cryptocurrencies which his strange for there being so many methods available. Also please note that which EverFC does not add any fees when using bank transfer, make sure to check if your won bank adds any processing or transfer fees of their own.
Withdrawal Methods & Costs
The majority of the same methods are available to withdraw with which is great (there are a few missing), the downside is that there are fees attached to different payment methods. We have outlined them below for you.
Visa Credit / Debit Card – 3% (Minimum charge $3, €2.50 or £2)
MasterCard Credit / Debit Card – 3% (Minimum charge $3, €2.50 or £2)
iSignthis Bank Transfer – No fees
Bank One Transfer – No fees
Abanca Transfer – No fees
PayTrust – 4%
PayBoutique – 3%
FasaPay – 3%
Qiwi – 3%
Yandex Money – 3%
Perfect Money – 3%
Apcopay – 3%
VoguePay – 3%
Neteller – 3%
Skrill – 1% (Minimum charge $1)
GlobPay – 3%
EasyEFT – No fee
EstroPay – 3%
Piastrix – 3%
Alipay – 3%
AloGateway – 3%
Awepay – 3%
RPNPay – 3%
Pay2Bee – 3%
Solid Payments – 3%
It is a shame to see withdrawal fees, this is a practice that a lot of brokers are beginning to reduce, so it would be nice to see EverFX follow suit as 3% is relatively high.
Please note that when using bank transfers or EasyEFT there may be charges by your own bank, so be sure to check with them prior to making a transfer.
Withdrawal Processing & Wait Time
We have categorized each withdrawal method into different groups depending on how long it takes for them to be processed:
Real-Time: Pay2Bee, SolidPayments
One Busines Day: Visa credit/debit cards, MasterCard credit/debit cards, Neteller, Skrill, GlobPay
Within 48 Hours: Qiwi, PayTrust, PayBoutique, FasaPay, Yandex Money, Perfect Money, Apcopay, VoguePay, EstroPay, Piastrix, Alipay, AloGateway, Awepay, RPNPPay
Within 72 Hours: EasyEFT
Within 5 Business Days: iSignthis bank transfer, BankOne Transfer, Abanca Transfer
It should be noted that while some payments such as credit and debit cards state one business day, it can take up to 5 for it to appear in your account.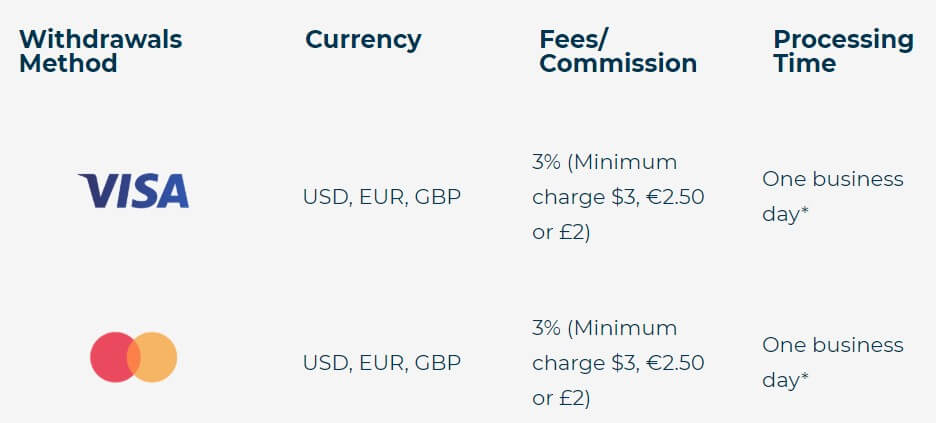 Bonuses & Promotions
As we mentioned on the account page, there are deposit bonuses, you can receive between 30% and 100% as a deposit bonus, however, it was very hard to find the information regarding this but we managed in the end.
You can receive a bonus up to $10,000 if you have a 100% bonus this means you need to deposit $10,000 to get $10,000 bonus, if you are on 50%, you will need to deposit $20,000 to get a $10,000 bonus, you can, of course, use smaller amounts too. These bonus funds are for trading only, however, every time you trade a lot, you will convert $2 of the bonus funds into real funds.
If you have a VIP account, then you can request a free VPS, if you do not have a VPS account then it will cost you $20 per month which is still a reasonable price.
We could not locate any information about any other potential bonuses or promotions.
Educational & Trading Tools
Trading Central is a place where licensed financial advisors come together and offer you a few different features such as Impartial analysis from award-winning licensed investment advisors, global coverage 24 hours per day at a number of timeframes, available through a variety of delivery methods and, multi-asset multi-language support. There is also a basic economic calendar, but there are more detailed ones available for free on the internet.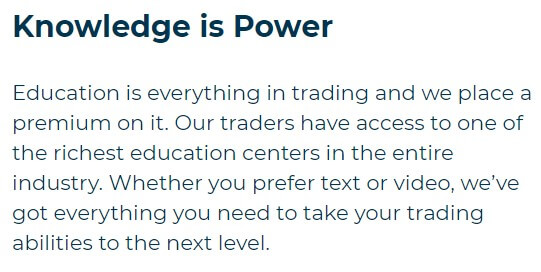 In terms of education, there are some educational videos around different subjects such as trading strategies, how to use MT4, how indicators work and so forth. There is also an educational blog section but it appears that there is only one post available there so it is not the most helpful educational program around.
Customer Service
Should you wish to get in contact with EverFX, you can do so in a number of ways. Everyone's favorite web form is present, fill in your query and you should get a reply via email. There is also a physical address available should you wish to send a letter, there is also an email address to get in touch with support and finally a telephone number to use to talk to someone directly.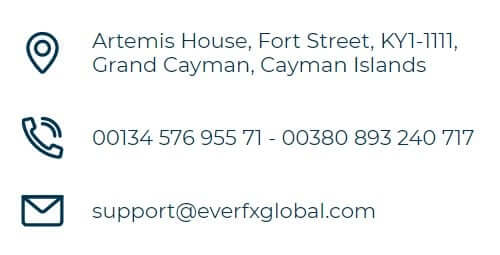 It should be noted that the EverFX support is open 24/5 and is closed at the same time as the markets over the weekend. We did not get a chance to use the support system so we can not comment on their effectiveness.
Demo Account
Demo accounts are available, however, we struggled to find much information in regards to their features or how long they last. In order to open a demo account, you need to have a client account already and then simply select a demo account when opening a new account.
Countries Accepted
The following statement is on the website: "EverFX does not provide services for the residents of certain countries, such as the United States of America, Canada, Cyprus, Belgium, Latvia, Lithuania, Iran, Ukraine, and North Korea." If you are unsure whether or not you are eligible for an account, we recommend getting in contact with the support department to find out.

Conclusion
EverFX offers some decent trading conditions however rin order to get the best conditions you need a pretty hefty initial deposit. Plenty of ways to deposit however the withdrawals fees are a little bit of a letdown. In terms of trading, lots of instruments to trade with including crypto which his great to see. EverFX seems to be a competent broker but whether they are right for you, is up to you and only you.
We hope you like this EverFX review. Be sure to check out some of the other reviews to help find the broker that is right for you.